中文名: 系统优化工具
英文名: Bitsum Technologies Process Lasso Pro
资源格式: 压缩包
版本: v6.0.1.74 x86|x64
发行时间: 2012年
制作发行:
Bitsum Technologies
简介: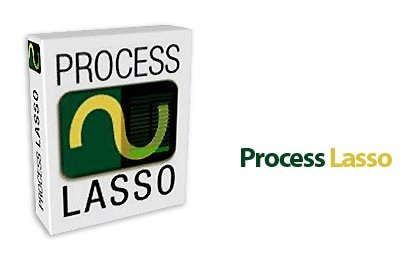 软件类型:系统工具-系统优化
软件性质:免费破解软件
操作系统:Windows
应用平台:Windows 2000, XP, 2003, 2008, Vista, and Windows 7.
问题反馈: http://www.bitsum.com/phplogin/
网站链接: http://www.bitsum.com/prolasso.php
软件介绍:

优化进程、内核和电源消耗,防止CPU垄断,让系统运行流畅!

Process Lasso并非另一个任务管理器。它是一个进程的优化和自动化工具。Process Lasso最受欢迎的功能之一是它的一种独特的技术,称为ProBalance(进程平衡),它会优化进程的优先级,从而提高您的PC的响应速度和稳定性。Windows的设计允许程序在不受足够的限制的情况下垄断您的CPU,从而导致系统停滞和反映滞后。ProBalance根据需求智能调节运行的程序的优先次序,从而使不良进程不会对您的PC的响应产生负面影响。这一目的并非通过提高进程优先级实现,而是通过临时降低后台进程的优先级,以避免它干扰前台进程的响应速度。

除了ProBalance,Process Lasso还有诸多功能允许用户在PC上对进程实现全面的自动化控制。您可以执行很多操作或应设置用,每次只有一个进程运行。您可以设定进程以什么优先级运行,应该分配给他们多少CPU资源。您也可以禁止某些程序运行,记录所有进程运行日志,当进程终止时或达到资源的消耗极限时自动重启,限制了运行实例数量,等等。您甚至可以指示进程,促使其进入高性能电源使用方案和/或防止PC睡眠。游戏模式可以很容易地帮助狂热的游戏玩家优化进程优先级。


功能

ProBalance

安全有效地平衡进程优先级,从而使电脑在高负荷的时候提高系统的响应速度和防止系统失速和反应滞后。我们的技术并不做额外的前台推进而是适当降低了后台进程优先级。我们多年的经验使我们的算法高度优化、独一无二。

持久的优先级和亲和力

为您的进程设置"默认"的优先级和CPU亲和力,让您可以调整它们的执行方式。

自动终止

对于您所选择的特定进程,它一旦运行,Process Lasso将自动终止它。

进程看守

当达到指定的阈值的时候,将终止、重新启动或更改CPU亲和力。

实例数量限制

将进程实例数量限制在指定的范围内。

多核优化

通过预设的CPU亲和力和ProBalance亲和力的调整,可以优化多核处理器,提高您CPU运行效率。它还避免使用逻辑核心,从而在超线程CPU下提高提高某些应用程序的性能。

I/O优先级 新!

Windows Vist及Windows7下可以设置进程的当前的/默认的/持续的I / O优先级

电源模式自动化

设置电源模式,当某些进程正在运行时自动更改为"高性能",当进程退出后再换到原先的模式(较新版本功能更强大,可以更改到任何电源模式)。节约能源,或当需要时提高性能!

系统响应标准

我们将以独特的算法,以惊人的准确率监测系统响应

独立的核心引擎

这个独立的后台进程可以一个普通的过程或服务形式运行。这个"核心引擎"被命名 ProcessGovernor.exe,它实际上可以强制执行进程规则和ProBalance。它根本不需要GUI(主窗口)的存在。这可以实现最小的资源利用率。

最小的资源利用

在实现最小的资源利用方面,没有任何一个程序可以与Process Lasso相比。它是用原生的C + +编写的,并不断改进以获得最大的效率。我们也提供原生的64位版本。本程序的内存使用量通常在1MB以下!(依系统而定)

采用的Windows Vista / 7的新功能

使用Windows 7的最新功能,但同时可以向下兼容Windows 2000!

还有更多... ...

您可以自己去发现Process Lasso可以为自己做什么!举个简单的例子:批量操作功能. 是的,选择多个进程进行批量操作!

顺便说一句,在Windows Vista和Windows 7下,进程优先级的调整也可以对这一进程的I / O和SuperFetch内存优先级起作用。

一旦您安装Process Lasso,它将立刻工作。熟练的用户可以调整配置,但即使您不做任何设置,它也可以立刻提升您的系统响应速度和防止在高负荷情况下瘫痪。

Process Lasso是非常有用和有效的,甚至对最新的高端电脑也同样起作用。但是,它的ProBalance算法可以在一些低配电脑上将作用发挥到极致,比如在CPU相对较弱的上网本,平板电脑和旧台式电脑上。

Process Lasso可以在几乎所有的Windows版本上运行,包括Windows 2000, XP, 2003,2008,Vista,7和8, 2012。

Process Lasso是用原生的C++编写的,而非用.NET编写。调控进程的后台核心引擎可以完全独立于图形用户界面之外,让您毫不费劲地应用进程规则。Process Lasso可以实现即刻载并且占用最少的资源消耗。



引用
ed2k:
//|file|Bitsum.Technologies.Process.Lasso.Pro.v6.01.74.Cracked-EAT.zip|4384426|F1AB371E624368F82972489D205B767F|h=OPATWWJXTMQ6QVWPNQ6MICYRL4WR4GOY|/

ed2k:
//|file|Bitsum.Technologies.Process.Lasso.Pro.v6.0.1.74.x64.Incl.Keygen-BRD.zip|1347589|0FEE177A1B42ADED5FFD987D578186CE|h=ZEBQS4CQMYB4MERCK75C54GRF5KXEH3W|/


ed2k:
//|file|Bitsum.Technologies.Process.Lasso.Pro.v6.0.1.74.Keygen.Only-BRD.zip|55100|7EBD1B68143D874E8E40B526F8CBC444|h=OJCLYQJIDYWFUYWXEDY3H244WRCIMVLW|/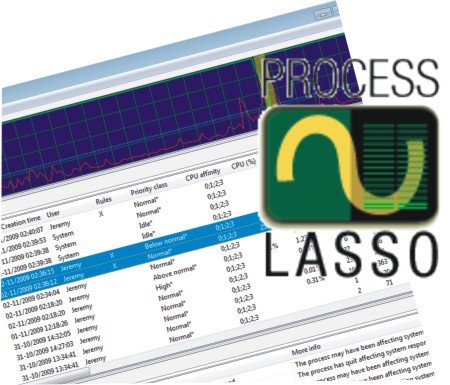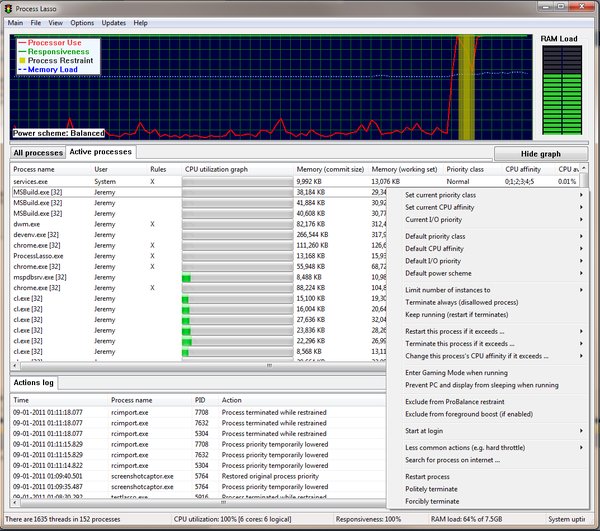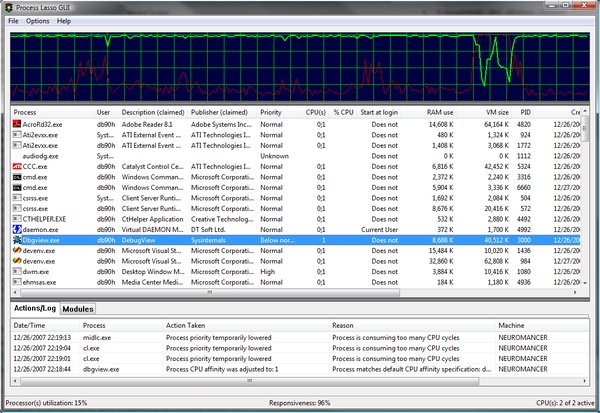 Process Lasso is NOT yet another task manager. It is a process priority optimization and system automation utility. Priority optimization, affinity optimization, core optimization, automated rules, automated power schemes, you name it and Process Lasso has it. Although most consider it the ultimate process priority optimizer, it does so much more!
Process Lasso's most popular feature is the unique process optimization technology called ProBalance (Process Balance) that will improve your PC's responsiveness and stability through process priority optimization and/or CPU affinity adjustments. Windows, by design, allows programs to monopolize your CPU without sufficient restraint -- leading to hangs, micro-lags, and delays in your keystroke or mouse actions. ProBalance intelligently adjusts the priorities and/or CPU affintiies of running programs, on-demand, as-needed so that badly behaved processes won't negatively impact the responsiveness of your PC.
Don't just take our word on ProBalance, try the graphical demo - a simple 'CPU Eater' running at normal priority, something any programmer can easily recreate in any language. How many threads running at normal priority, doing nothing other than consuming CPU cycles, do you think it would take to bring your PC to its knees? On a single core system it takes merely one thread at normal priority! Yes, it would almost seem like a bug in Windows, but it is by design, an explanation we also give in the above link. Now that others have realized ProBalance is a good idea, there might be copy-cats. However, we've been at this for over a decade and have numerous trade secrets that make our algorithm superior.
In addition to ProBalance, there are countless features allowing the user to take full automated control of the processes on their PC. You can have a wide range operations performed, or settings applied, each time a process is run. Core optimization technologies allow you to choose on what CPUs/cores a process should run, as well as what their CPU priority class and I/O priority class should be. You can also disallow certain processes from running, log all processes run, and even set various other process rules. These rules, amongst many others, include automatically restarting or terminating a process after it reaches some CPU or memory threshold. For license enforcement, you can limit the number of instances of a process that can be running. A gaming mode allows for easy process priority optimization for avid gamers.
We must not leave out our power scheme automation capabilities. These allow you to associate specific power schemes with particular processes on your PC. So, when you start a resource intensive process, you can enter High Performance power mode (for example). When it terminates, the previous power scheme is restored. We are adding new power scheme (aka power profile) automation capabilities all the time.
Version 5 adds many features, including I/O Priorities (default and current), Default Power Schemes, HyperThreaded Core Avoidance, Automated Updates, and much more. We even offer lifetime licenses for a very small surcharge, so you never have to worry about paying for another upgrade again.
ProBalance
Balance process priorities (or CPU affinities) in a safe, effective manner to improve PC responsiveness during high loads and prevent system stalls and micro-lags. Our technology does NOT do additional foreground boosting, instead it lowers background process priorities where appropriate. Our years of experience have resulted in a highly optimal algorithm duplicated nowhere.
Persistent (sticky) priorities and affinities
Set 'default' (persistent, sticky) priorities and CPU affinities for your processes, allowing you to tweak the way in which they are executed
Auto-terminate
Terminate select processes any time they are found to be running
Process Watchdog
Terminate, restart, or change CPU affinity when a specified threshold is met
Instance Count Limits
Limit processes to a specified number of instances
Independent Core Engine
This core engine (the governor) is what actually does the work. It can operate in the background as either a normal process *or* as a service. By having only it start, there is no user interface or system tray icon. The GUI can be launched on-demand as needed for ocnfiguration changes.
Multi-Core Optimization
Through default CPU affinities and ProBalance affinity adjustments, you can optimize your multi-core processor to make the most efficient use of your CPUs (cores). It also offers logical core avoidance to improve performance of certain applications on HyperThreaded CPUs.
I/O Priorities new
For Vista and above you can set the current or default/persistent I/O priority of processes
Power Scheme Automation
Set the power scheme to automatically change to 'High Performance' when certain processes are running, then change back when they exit (more powerful in new beta, can change to any scheme). Save energy, or increase performance on-demand!
System Responsiveness Metric
Our unique algorithm monitors system responsiveness with amazing accuracy
Minimal Resource Use
NOBODY uses less resources for this type of task than Process Lasso. It is written in native C++ and continually refined for maximum efficiency. A native 64-bit build also available. Private memory usage by the core engine is typically under 1MB! (depends on system)
Utilizes new features of Windows Vista/7
Makes use of latest features of Windows 7, but maintains full backwards compatibility to Windows 2000!
So much more...
Discover for yourself what Process Lasso can do for you! Quick example of one more feature -- the multi-select feature.. That's right, select multiple processes and act on all of them at once!
Select Multiple Processes at Once
Want to terminate 5 different processes at once? Or set their current or sticky priority class or CPU affinity? No problem. Select multiple processes and work with them.
As an aside, in Windows Vista and Windows 7, adjustments of the process priority class also have an effect on the I/O and SuperFetch memory priorities for that process.
Once you install Process Lasso, it will just start working. More advanced users can tweak the configuration, but you needn't touch anything to have it instantly improve your system responsiveness and prevent stalls in high load situations.
Process Lasso is very useful and effective on even the latest high-end PCs. However, its ProBalance algorithm achieves maximum effect on PCs with relatively little CPU 'power', such as Netbooks, Tablets, and older desktops.
Process Lasso runs on all editions of Windows 2000, XP, 2003, 2008, Vista, and Windows 7.
Process Lasso is written in native C++, not .NET. The background core engine that manages processes is completely independent from the graphical user interface, allowing you to keep process rules applied with almost no overhead. With Process Lasso, load time is instant and resource consumption is minimal.
Screenshots
Here are some screenshots of Process Lasso. Note that sometimes we may have screenshots of the current beta instead of last final. Naturally, we are eager to announce our new capabilities.
Graphical Interface Features
Basic task manager capabilities for convenience
Act on *multiple* processes at once
Show only active processes, or all processes
Displays per-process CPU history
Change process settings and rules
System tray icon with notifications
Extremely low resource use, and sleeps when minimized to tray
代码




Bitsum.Technologies.Process.Lasso.Pro.v6.01.74.Cracked-EAT



°ÛÛ ± SUPPLIER ....: TEAM EAT ± ÛÛ°
ÞÛÝ ± PROG TYPE ...: APPLICATION ± ÞÛÝ
ÛÛ ° LANGUAGE ....: ENGLISH / OTHERS ° ÛÛ
ÛÝ RELEASE DATE.: 2012-10-28 ÞÛ
Û ° ° Û
Û ° CRACKER ......: TEAM EAT ° Û
Û PROTECTION ...: DEMO-LIMITS Û
Û DIFFICULTY ...: GUESS! Û
Û Û
Û PACKAGER ....: TEAM EAT Û
Û FORMAT ......: ZIP/RAR Û
Û ARCHIVE NAME.: eatpl60c.zip Û
Û No OF DISKS .: [XX/01] Û
Û Û
Û REQUIREMENTS .: Win2000/XP/2003/Vista/2008/Win7 (x86) Û
Û PRICE ........: $24.95 Û
Û WEBSITE.......: http://www.bitsum.com Û


Û Process Lasso is a unique new technology that will Û
Û improve your PC's responsiveness and stability Û
Û during periods of high CPU load. Windows, by design, Û
Û allows programs to monopolize your CPU without Û
Û restraint - leading to freezes, hangs, and Û
Û micro-lags. Process Lasso's ProBalance (Process Û
Û Balance) technology intelligently adjusts the Û
Û priorities of running programs so that badly behaved Û
Û processes won't negatively impact the responsiveness Û
Û of your PC. Û
Û Û
Û Process Lasso also offers an assortment of ways to Û
Û take full control of how your CPUs are allocated to Û
Û running programs. In essence, it is an all-in-one Û
Û automated Windows process tuner. You can choose at Û
Û what priority processes should run, and which CPUs Û
Û should be assigned to them. You can also disallow Û
Û certain programs from running, log all programs run, Û
Û automatically restart programs, limit the number of Û
Û instances of a program, and much more. You can even Û
Û indicate processes that should induce entrance into Û
Û the High Performance power scheme or prevent the PC Û
Û from sleeping. A gaming mode also allows for easy Û
Û process priority optimization for avid gamers. Û
Û Û
Û * ProBalance. Balance process priorities (or CPU Û
Û affinities) in a safe, effective manner to improve Û
Û PC responsiveness during high loads and prevent Û
Û system stalls and micro-lags. Our technology does Û
Û NOT do additional foreground boosting, instead it Û
Û lowers background process priorities where Û
Û appropriate. Our years of experience have resulted Û
Û in a highly optimal algorithm duplicated nowhere. Û
Û * Persistent (sticky) priorities and affinities. Set Û
Û 'default' (persistent, sticky) priorities and CPU Û
Û affinities for your processes, allowing you to Û
Û tweak the way in which they are executed Û
Û * Auto-terminate. Terminate select processes any Û
Û time they are found to be running Û
Û * Process Watchdog. Terminate, restart, or change Û
Û CPU affinity when a specified threshold is met Û
Û * Instance Count Limits. Limit processes to a Û
Û specified number of instances Û
Û * Multi-Core Optimization. Through default CPU Û
Û affinities and ProBalance affinity adjustments, Û
Û you can optimize your multi-core processor to make Û
Û the most efficient use of your CPUs (cores). In Û
Û v4.1 (in beta), we also offer logical core Û
Û avoidance to improve performance of certain Û
Û applications on HyperThreaded CPUs. Û
Û * I/O Priority. For Vista and above you can view and Û
Û set the current or default/persistent I/O priority Û
Û of processes Û
Û * Power Scheme Automation. Set the power scheme to Û
Û automatically change to 'High Performance' when Û
Û certain processes are running, then change back Û
Û when they exit (more powerful in new beta, can Û
Û change to any scheme). Save energy, or increase Û
Û performance on-demand! Û
Û * System Responsiveness Metric. Our unique algorithm Û
Û monitors system responsiveness with amazing Û
Û accuracy Û
Û * Independent Core Engine. This stand-alone Û
Û background process can run as a normal process or Û
Û as a service. This 'core engine', named Û
Û ProcessGovernor.exe, is what actually enforces Û
Û process rules and ProBalance. It doesn't need the Û
Û presence of the GUI (main window) at all. This Û
Û allows for minimal resource utilization. Û
Û * Minimal Resource Use. NOBODY uses less resources Û
Û for this type of task than Process Lasso. It is Û
Û written in native C++ and continually refined for Û
Û maximum efficiency. A native 64-bit build also Û
Û available. Private memory usage by the core engine Û
Û is typically under 1MB! (depends on system) Û
Û * Utilizes new features of Windows Vista/7. Makes Û
Û use of latest features of Windows 7, but maintains Û
Û full backwards compatibility to Windows 2000! Û
Û * So much more... Discover for yourself what Process Û
Û Lasso can do for you! Quick example of one more Û
Û feature -- the multi-select feature.. That's Û
Û right, select multiple processes and act on all of Û
Û them at once! Û
Û Û
Û Process Lasso runs on all editions of Windows 2000, Û
Û XP, 2003, 2008, Vista, and Windows 7. As an aside, Û
Û in Windows Vista and Windows 7, adjustments of the Û
Û process priority class also have an effect on the Û
Û I/O and SuperFetch memory priorities for that process. Û
Û Û
Û Once you install Process Lasso, it will just start Û
Û working. More advanced users can tweak the Û
Û configuration, but you needn't touch anything to Û
Û have it instantly improve your system responsiveness Û
Û and prevent stalls in high load situations. Process Û
Û Lasso is very useful and effective on even the Û
Û latest high-end PCs. However, its ProBalance Û
Û algorithm achieves maximum effect on PCs with Û
Û relatively little CPU 'power', such as Netbooks, Û
Û Tablets, and older desktops. Û
Û Û
Û Process Lasso is written in native C++, not .NET . Û
Û The background core engine that manages processes is Û
Û completely independent from the graphical user Û
Û interface, allowing you to keep process rules Û
Û applied with almost no overhead. With Process Lasso, Û
Û load time is instant and resource consumption is minimal. Û



±ÞÛÛ ± Try it, Like it, Buy it! ± ÛÛݱ
°ÞÛÝ ± ± ÞÛÝ°
°ÛÛ ÛÛ°
ÞÛÝ ° ° ÞÛÝ
ÛÛ ° ° ÛÛ
ÛÝ ° ° ÞÛ
Û 1. Unpack and install (standard or portable edition) Û
Û 2. Import the included registry file Û
Û 3. Copy the included files over the originals Û
Û Û
Û That's all. Have fun using it!;-) Û
Û Û




代码
i'm the black rider, always faster than you...

ÜÜÜÜÜÜÜÜÜ°°°°ÜÜÜÜÜ
ÜÜÛÛÛÛÛÛÛÛÛÛÛÛÛÛÛÛÛÛ° °°±²ÛÛ²±²Û²°Ü
ÜÜÜÛÛÛÛ ±°°°° ÛÛ± °° ÛÛÛ±Ü
°ÜÛÛÛÛÛ² Û Û ±± Û ÛÛ°° Û°ÛÛ ²Û±Ü
ÜÛÛÛÛ± ±² ²Û² Û ±±± Û ² ²Û² ²ÛÛÛÛ ²ÛÛÛÛÛÛ° ÛÛÛÜÜ
ÜÛÛÛÛÛ° ÛÛ± ±Û° ÛÛÛÛÛÛ² ÛÛÛÛ°°ÛÛÛÛÛÛÛÛÛÛÛÛ² ÛÛÛÛÛÛÛÛÛÛÛÛÛÛÜ
ÜÛ²ÛÛÛÛ±ÛÛÛÛÛÛÛÛÛÛÛÛÛÛÛÛÛÛÛÛÛÛÛÛÛÛÛÛÛÛÛÛÛÛÛÛÛÛÛÛÛÛÛÛÛÛÛ²²ÛÛÛÛÛ°
°Û°ÛÛÛÛÛÛÛÛÛÛÛÛÛÛÛÛÛÛÛÛÛÛÛÛÛÛÛÛÛÛÛÛÛÛÛÛÛÛÛÛÛÛÛÛÛÛÛÛÛÛÛÛÛÛÛÛÛÛÛÛÛ
ÛÛÛÛÛÛÛÛÛÛÛÛÛÛÛÛÛÛÛÛÛÛÛÛÛÛÛÛÛÛ²°ÛÛ²ÛÛÛÛÛÛ°ÛÛÛÛÛÛ²ÛÛÛÛÛÛÛÛÛÛÛÛÛ²Û
ÛÛÛÛÛÛÛÛÛÛÛÛÛÛß ±²ßÛÛßÛß°± ±ÛÛÛÛÛÛÛÛÛÛÛ ßßÛÛßÛÛÛÛÛÛÛÛÛ²
ÛÛÛÛÛÛÛÛÛÛÛÛß° ÛÛÛÛÛÛÛÛÛÛÛÛÛÜ ²ÛÛÛÛÛÛÛÛ
ÛÛÛÛÛÛÛÛß°² ÜÛÛÛÛÛÛÛÛÛÛÛÛÛÛÛÛ² °²ÛÛ²²ÛÛ
ÛÛÛÛÛÛÛÛÛ± ÜÛÛÛÛÛÛÛÛÛÛÛÛÛÛÛÛÛÛÛÛÜ° ²ÛÛÛÛ
ÛÛÛÛÛÛÛÛ ÜÜÛÛÛÛÛÛÛÛÛÛÛÛÛÛÛÛÛÛÛÛÛÛÛÛ²° ²ÛÛÛÛÛÛ
ÛÛÛÛÛÛ² °ÛÛÛÛÛÛÛÛÛÛÛÛÛÛÛÛÛÛÛÛÛÛÛÛÛÛÛÛ° ÛÛÛÛÛÛ
°ÛÛÛÛÛÛ ±ÛÛÛÛÛÛÛÛÛÛÛÛÛÛÛÛÛÛÛÛÛÛÛÛÛÛÛÛ² ÛÛÛÛÛ²
ÛÛÛÛÛ° ÛÛÛÛÛÛÛÛÛÛÛÛÛÛÛÛÛÛÛÛÛÛÛÛÛÛÛÛÜ°²²²± ßÛÛÛÛ°
ÛÛÛÛÛÛ ° °Û²ÛÛÛÛÛÛÛÛÛÛÛÛÛÛÛÛÛÛÛÛÛÛÛÛÛÛÛÛ° ÛÛÛ±
ÛÛÛÛÛÛ °²²²ÛÛÛÛÛÛÛÛÛÛÛÛÛÛÛÛÛÛÛÛÛÛÛ° °ÛÛ
ÛÛÛÛÛÛ ÜÛÛÛÜ ²ÛÛÛÛÛÛÛÛÛÛÛÛÛÛÛÛÛÛÛÛÛÛÛ² ÜÛÛÛÛÛÛÜÜ ±Û±
Û ÛÛÛ± ÜÛÛÛÛÛÛÛÛÛÛÛÛÛÛÛÛÛÛÛÛÛÛ²ÛÛÛÛÛÛÛÛÛÛÛÛÛÛÛÛÛÛÛÛÛ ÛÛÛÛÛÜ
ÛÛ °°ß ÜÛÛÛÛÛÛÛÛÛÛÛÛÛÛÛÛÛÛÛÛÛÛÛÛÛÛÛÛÛÛÛÛÛÛÛÛÛÛÛÛÛÛÛÛÛÛÛÜ ²Û °ÛÛÛÜ
²±Û °Û ²ÛÛÛÛÛÛÛÛÛÛÛ ²ÛÛÛÛÛÛÛÛÛÛÛÛÛÛÛÛÛÛÛÛÛÛÛ °ßÛÛÛÛÛÛÛÛÛÛÛ °Û° °ÛÛ±Û
Û ÛÛ Û °Û±ÛÛÛÛÛÛÛÛÛÛÛÛÛÛÛÛÛÛÛ²ÛÛÛÛÛÛÛÛÛÛÛÛÛÛÛÛÛÛÛÛÛÛÛÛÛÛßß± ±Û ±Û±ÛÛÛ
°Û ÛÛ Û ßßÛÛÛÛÛÛÛÛÛÛÛÛÛÛÛÛÛÛÛÛÛÛÛÛÛÛÛÛÛÛÛÛÛÛßß °Û ÛÛ Û
± ÛÛÛ Û ßßÛÛÛÛÛÛÛÛÛÛÛÛÛÛÛÛÛÛÛÛÛÛÛÛÛÛß ²Û ÛÛÛÛ
Û°Û²ÛÛÛ °²ÛÛÛÛÛÛÛÛÛÛÛÛÛÛÛÛÛÛÛÛÛÛÛÜÜ ²Û °Û°Û
ßÛÛ²ÛÛÛ Û²²ÛÛÛÛÛÛÛÛÛÛÛÛÛÛÛÛÛÛÛÛÛÛÛÛÛÛÛÛ² ÛÛÛ ÛÛÛ±
²Û²°²Ü ÜÛÛÛÛÛÛÛÛÛÛÛ±ÛÛÛÛÛ ±ÛÛÛÛÛÛÛÛÛÛÛÛÛÛ ±±ÛÛÛ
±ÛÛÛ ²ÛÛÛÛÛ²ÛÛÛÛÛÛ² ÛÛÛÛÛ ²ÛÛÛÛÛÛÛÛÛÛÛ ±Û ÛÛÛ
ßÛÛ °ÜÛÛÛÛÛÛÛÛÛÛÛ² ²ÛÛÛÛÛÛ °ÜÛÛÛÛÛÛÛÛ±ÛÛ²±Û° ±Û±Û±
ÛÛ± °ÜÛ ÛÛÛ ÛÛÛÛÛÛÛܲ±ÛÛÛÛÛÛÛÛ ²ÛÛÛÛÛ²Û° ÛÛÛ± ÛÛÛ°
°ÛÛ ° ÛÛÛÛÛÛÛÛÛÛÛÛÛÛÛÛÛÛÛÛÛÛÛÛÛ²ÛÛÛÛ² ° ±ÛÛÛ
ÛÛ ÛÛÛÛÛÛÛÛÛÛÛÛÛÛÛÛÛÛÛÛÛÛÛÛÛÛÛÛÛÛÛÛÛÛ ÛÛÛ²
²Û± ²ÛÛÛÛÛÛÛÛÛÛÛÛÛÛÛÛÛÛÛÛÛÛÛÛÛÛÛÛÛÛÛÛÛÛ ÛÛÛ²Ü
ÛÛ ÛÛÛÛÛÛÛÛÛÛÛÛÛÛÛÛÛÛÛÛÛÛÛÛÛÛÛÛ²ÛÛÛÛÛÛÛ ÛÛÛÛÛÛÛÛ۲ܰ°
ÜÜÛÛÛÛÛÛ° ÛÛÛÛ²²ÛÛÛ²ÛÛÛÛÛÛÛÛÛÛÛÛÛÛÛÛÛÛÛÛÛ² ÛÛ° ÛÛÛÛ °ÛÛÛÛÛ²Û°
±ÛÛÛÛß Û² °ÛÛÛÛÛÛÛÛÛÛÛÛÛÛÛÛÛÛÛÛÛ²²ÛÛÛ± ÛÛÛÛ± ßÛÛ±
²ÛÛ Ü²ÛÛÛÜ ÛÛÛÛÛÛÛÛÛÛÛÛÛÛÛÛÛÛÛÛÛÛÛÛÛÛÛ °ÛÛÛÛÛÛÛÛÛ ²Û²
Û ÛÛÛÛÛÛ²ÛÛܱ °ÛÛÛÛÛÛÛÛÛÛÛÛÛÛÛÛÛÛÛÛÛÛÛÛÛÛÛÛ ²ÜÛÛÛÛÛÛÛÛÛ ÛÛ ±
°ÛÛÜ ÛÛÛÛÛÛÛÛÛÛÜ ²ÛÛÛÛÛÛÛÛÛÛÛÛÛÛÛÛÛÛÛÛÛÛÛÛÛÛÛ°ÜÜÛÛÛÛÛÛÛÛÛÛÛÛ± ÛÛ Û
²ÛÛÛ ÛÛÛÛÛÛÛÛÛÛÛÛÛ²ÛÛÛÛÛÛÛÛÛÛÛÛÛÛÛÛÛÛÛÛÛÛÛÛÛÛÛÛÛÛÛÛÛÛÛÛÛÛÛÛÛ² ±ÛÛ ±±
²ÛÛß ÛÛÛÛÛÛÛÛÛÛÛÛÛÛÛÛÛÛÛÛÛÛÛÛÛÛÛÛÛÛÛÛÛÛÛÛÛÛÛÛÛÛÛÛ²± ÛÛÛÛ
ÛÛ ²ÛÛÛÛÛÛÛÛÛÛÛÛÛÛÛÛÛÛÛÛÛÛÛÛÛÛÛÛÛÛÛÛÛÛÛÛÛÛÛÛÜ ÛÛ
ÛÛß Û²±ÛÛÛÛÛÛÛÛÛÛÛÛÛÛÛÛÛÛÛÛÛÛÛÛÛÛÛÛÛÛÛÛÛÛÛÛÛÛÛÛÛÛÛÛÛÛÛÛÜ ÛÛ
°ÛÛ± ÛÛÛÛÛÛÛÛÛÛÛÛÛÛÛÛÛÛÛÛÛÛÛÛÛÛÛÛÛÛÛÛÛÛÛÛÛÛÛÛÛÛÛÛÛÛÛÛÛÛÛÛÛ² ÛÛÛ
ÛÛ± ±ÛÛÛÛÛÛÛÛÛÛÛÛÛÛÛÛÛÛÛÛÛÛÛÛÛÛÛÛÛÛÛÛÛÛÛÛÛÛÛÛÛÛÛ²²ÛÛÛÛÛÛÛÛÛ± Û° °ÛÛÛ±
ÛÛÜ ÛÛÛÛÛÛÛÛÛÛÛÛÛÛÛÛÛÛÛÛÛÛÛÛÛÛÛÛÛÛÛÛÛÛÛÛÛÛÛÛÛÛÛÛÛÛÛÛÛÛÛÛÛÛÛ² Û ÜÛÛÛÛÛ
ßÛÛÜ°²±²ÛÛÛÛÛÛÛÛÛÛÛÛÛÛÛÛÛÛÛÛÛÛÛÛÛÛ²ÛÛÛÛÛÛÛÛÛÛÛÛÛÛÛÛÛÛÛÛÛÛÛÛÛÛÛÛÛÛÛÛÛ Û ±Û ° Û
ÛÛÛ ±ÛÛÛÛÛÛÛÛÛÛÛÛÛÛÛÛÛÛÛÛÛÛÛÛÛ²ÛÛÛÛÛÛÛÛÛÛÛÛÛÛÛÛÛÛÛÛ²ÛÛÛÛÛÛÛÛÛÛÛÛ ²°ÜÛÛ ß
°±Û ²Û² °ÛÛÛÛÛÛÛÛÛÛÛÛÛÛÛÛÛÛÛÛÛÛÛ²ÛÛÛÛÛÛÛÛÛÛÛÛÛÛÛÛÛÛÛÛÛÛÛÛÛÛÛÛÛÛÛÛÛÛÛÛÛÛÛ
ÜÛ ÛÛÛÛÛÛÛÛÛÛÛÛÛÛÛÛÛÛÛÛÛÛÛÛÛÛÛÛÛÛÛÛÛÛÛÛÛÛÛÛÛÛÛÛÛÛÛÛÛÛÛÛÛÛÛÛÛÛÛÛÛÛÛÛÛÛÛÛ ²
ÜÛÛÛÛÛÛÛÛÛÛÛÛÛÛÛÛÛÛÛÛÛÛÛÛÛÛÛÛÛÛÛÛÛÛÛÛÛÛÛÛÛÛÛÛÛÛÛÛÛÛÛÛÛÛÛÛÛÛÛÛÛÛÛÛÛÛÛÛÛÛ ÛÛÛ ß
ÛÛÛÛÛÛÛÛÛÛÛÛÛÛÛÛÛÛÛÛÛÛÛÛÛÛÛÛÛÛÛÛÛÛÛÛÛÛÛÛÛÛÛÛÛÛÛÛÛÛÛÛÛÛÛÛÛÛÛÛÛÛÛÛÛÛÛÛÛÛÛÛÛÛ²Û° Û
ÛÛÛÛÛÛÛÛÛÛÛÛÛÛÛÛÛÛÛÛÛÛÛÛÛÛÛÛÛÛÛÛÛÛÛÛÛÛÛÛÛÛÛÛÛÛÛÛÛÛÛÛÛÛÛÛÛÛÛÛÛÛÛÛÛÛÛÛÛÛÛÛÛÛÛÛÛÛÛ²
ÛÛÛÛÛÛÛÛÛÛÛÛÛÛÛÛÛÛÛÛÛÛÛÛÛÛÛÛÛÛÛÛÛÛÛÛÛÛÛÛÛÛÛÛÛÛÛÛÛÛÛÛÛÛÛÛÛÛÛÛÛÛÛÛÛÛÛÛÛÛÛÛÛÛÛÛÛÛÛÛ
ÛÛÛÛÛÛÛÛÛÛÛÜÛÛÛÛÛÛÛÛÛÛÛÛÛÛßßßÛÛÛÛÛÛÛÛßÜÛÛÛÛÛÛÛÛÛÛÛÛÛÛÛÛÛÛÛÛÛÛÛÛÛÛÛÛÛÛÛÛÛÛÛß ß²Û
ÛÛÛß Ü ßÛÛÛÛÛÛÛÛÛÛÛÛÛÛÛß Üܲ ÛÛÛÛ²ß ßÛÛÛÛÛÛÛÛÛÛÛÛÛÛÛÛÛÛÛÛÛÛÜÛÛÛÛÛß°ÛÛÛÛÛ² ²
°ÛÛ ß²ß Û²ßßßßÛÛßß²ÛÛß ÜÛÛÛÛ ÛÛÛ °ßÛÛ²ßßÛÛÛßßßÛÛÛßßßß²Û °ÛÛÛÛ° Û
Û° ßþ. ß ÛÛÛÛÛ Û² °Û²° ß .þß °ÛÛß
ÜÜÜ ² ÛÛÛÛÛ ² þ ÜÜÛ Ü
ÜÛÛÛÛ ÛÛÛÛÛ Û °ÜÛÛÛÛ
ÛÛÛÛÛ ÛÛÛÛÛ ÜÛÛÛÛ²
ÛÛÛÛÛ ÛÛÛÛÛ Ü ÛÛÛÛÛ°
ÛÛÛÛÛ² ÛÛ± ÛÛÛÛÛ ÜÛÛÜÜ ÜÛÛÛÛÛÛÜ ÛÛÛÛÛ ÜÛ°
ÛÛÛÛÛÛÛÛÛÛÛ² ÛÛÛÛÛ ÛÛÛÛÛÛÛÛÜ ÜÛÛÛÛÛÛÛÛÛ ÛÛÛÛÛ ÜÛÛÛ
ÛÛÛÛÛÛ ÛÛÛÛÛ ÛÛÛÛ² ÛÛÛ²ÛÛÛÛÛÛÛ ÛÛÛÛÛÛÛÛÛÛÛ± ÛÛÛÛÛ ÛÛÛÛ
ÛÛÛÛÛ° ±ÛÛÛÛ ÛÛÛÛ± ÛÛÛÛ ÛÛÛÛÛ ÛÛÛÛÛ ÛÛÛ² ÛÛÛÛÛ ÛÛ±
ÛÛÛÛÛ ÛÛÛÛ ÛÛÛÛ ÛÛÛÛ ÛÛÛÛÛ ÛÛÛÛÛ ÛÛÛÛÛ ÛÛÛ
ÛÛÛÛÛ ÛÛÛÛ ÛÛÛÛ ÛÛÛÛ ÛÛÛÛÛÛ ÛÛÛÛÛ ÛÛÛÛÛ ÛÛÛÛÛÜ
ÛÛÛÛÛÛÜ°ÛÛÛÛ ÛÛÛÛ²Ü ÛÛÛÛÜÛÛ ÛÛÛÛ ÛÛÛÛÛÛÜ ÜÛ ÛÛÛÛÛÛÛÛÛÛÛÛÛ
ÛÛÛÛÛÛÛÛÛÛÛ ÛÛÛÛÛÛÛ ÛÛÛÛÛß ÛÛÛÛ ÛÛÛÛÛÛÛÛÛ ÛÛÛÛÛ² ÛÛÛÛÛ
ÛÛÛÛß ßÛÛ ßÛÛÛß ÛÛÛÛ ÛÛÛÛÛ ßÛÛÛÛÛ² ÛÛÛÛÛ ÛÛÛ
Ûß Û ß ²ß Ûßß Û
ÜÛÛ² ܲÛ
ÜÛÛÛÛÛ ÜÛÛÛÛ
²Û ²ÛÛÛÛÛÛÛÛ² ²ÛÛÛÛÛ ²ÛÛÛÛÛ² ÛÛÛÛÛ ²ÛÛÛÛÛÛÛÛÛÛÛÛÛÛÛÛÛÛÛÛÛÛÛÛÛÛÛÛÛÛÛÛÛÛÛÛ² Û²
ÛÛÛÛ ÛÛÛÛÛ
ÛÛÛÛÛ
ÛÛÛÛ ÜÛÛÛÛ ÜÜÛÛ ÜÛÛÛÛÛÛÛÛ² ÜÛÛÛÛÛÛÛÛ ÛÛÛÛ °ÜÛÛÛ ÜÜÛÛÛÛÛÛÛÛÜ
ÛÛÛÛ ÛÛÛÛ ÜÛÛÛÛÛÛ ÛÛÛÛÛÛÛÛÛÛ² ²ÛÛÛÛÛÛÛÛÛÛ ÛÛÛÛÜÜÛÛÛ ÛÛÛÛ²ÛÛÛÛÛÛß
ÛÛÛÛÛÛÛÛß ÛÛÛÛÛÛÛ ÛÛÛÛ ÛÛÛÛ± ÛÛÛÛ ÛÛÛÛ² ÛÛÛÛÛÛÛß ÜÛÛÛÛß
ÛÛÛÛÛ ° ÛÛÛÛÛ ÛÛÛÛ ÛÛÛÛÛ± ÛÛÛÛÜ ÛÛÛ° ÛÛÛÛÛ ° ±ÛÛÛÛÛÛÛÛÛÜÜÜ
ÛÛÛÛ² ÛÛÛÛÛ ±ÛÛÛÛ ²ÛÛÛÛÛ± ÛÛÛÛ²ÛÛÛÛÛ ÛÛÛÛ² ± ÛÛÛÛÛÛÛÛÛÛÛÛÛ
ÛÛÛÛÛ ± ÛÛÛÛÛ ² ±ÛÛÛÛ Û ÛÛÛÛ² ÛÛÛÛ² ² ÛÛÛÛÛ ßßßÛÛÛÛÛÛÛÛÛ
± ÛÛÛÛÛÛÛ ²± ÛÛÛÛÛ Û °ÛÛÛÛÛ ÛÛÛÛÛ Ü ÛÛÛÛÛÜ ÜÛ Û ÛÛÛÛÛÛÛ ² Ü ßÛÛÛÛß
Û ÛÛÛÛÛÛß ²²² ÛÛÛÛÛ Û ÛÛÛÛ ÛÛÛÛÛ ² ²ÛÛÛÛÛÛÛÛ ÛÛ ÛÛÛÛÛÛ± ²² ÛÛÛÛÛÛÛÛÛÛÛß
ÛÛ ßÛÛÛÛ ÛÛÛ ÛÛÛÛÛ ÛÛ ÛÛß Û ßÛÛÛÛ ÛÜ °ßÛÛÛÛß ÛÛÛ ßÛÛÛÛ ÛÛ °ßÛÛÛÛÛÛÛß
ÛÛÛÛÜÜÜÜÜÜÛÛÛÛÛÜÜÜÜÜÜÜÛÛÜÜÜÜÛÛÛÛÜÜÜÜÜÜÛÛ² ÜÜÜÜÜÜÜÛÛÛÛÛÛÜÜÜÜÜÜÛÛÛÛ²ÜÜÜÜÜÜÜÜÜÜÜܲ
ÛÛÛÛÛÛÛÛÛÛÛÛÛÛÛÛÛÛÛÛÛÛÛÛÛÛÛÛÛÛÛÛÛÛÛÛÛÛÛÛÛÛÛÛÛÛÛÛÛÛÛÛÛÛÛÛÛÛÛÛÛÛÛÛÛÛÛÛÛÛÛÛÛÛÛÛÛÛÛÛ
ßÛÛÛÛÛÛÛÛÛÛÛÛÛÛÛÛÛÛÛÛÛÛÛÛÛÛÛÛÛÛÛÛÛÛÛÛÛÛÛÛÛÛÛÛÛÛÛÛÛÛÛÛÛÛÛÛÛÛÛÛÛÛÛÛÛÛÛÛÛÛÛÛÛÛßßßßÛ
ßÛÛÛÛÛÛÛÛÛÛÛÛÛÛÛÛÛÛÛÛÛÛÛÛÛÛÛÛÛÛÛÛÛÛÛÛÛÛÛÛÛÛÛÛÛÛÛÛÛÛÛÛÛÛÛÛÛÛÛÛÛÛÛÛÛÛÛß
ÛÛßÜÛÛÛÛÛÛÛÛÛÛÛÛÛÛÛÛÛÛÛßßßßßßÛÛÛßß ßßßßÛÛÛÛÛÛÛßßÛÛÛÛÛÛÛÛÛÛÛÛÛÛÛÛÛß|
Ü ß ßßßßßÛÛÛÛÛÛßßßß ßÝ ßÛßß ßßßÛÛÛÛßßß ß
ßÛß ß ÛÛ jer^dfs
ß ß ÞÝ
ß Ü
Bitsum.Technologies.Process.Lasso.Pro.v6.0.1.74.Keygen.Only-BRD


Cracked by...: BRD Cult Size.....: 1
Suplied......: BRD Cult Date.....: 10/28/2012
Packaged.....: BRD Cult Type.....: Keygen
Protection...: Serial + Servercheck Os.......: WinALL



ÜÜ Ü ÜÜÜÜ Ü Ü
ÜÛÛÛÛÛÛÜÜÜÜÜ ßß ÜÛÛÛ ßßÛÛÛÛÜÜÜÛÛÛÜÜÜÜÜÜÜ ß Ü ÜÜÜ ÛÛÜÜ Ü²ÛÛÛÛÛÜÛÛÛÛÛÛß
ßÛÛÛÛÛÛÛÛÛßÛÛÜÛÜÛÛÛÛÛÛ²ÛÛÛÛÛÛÛÛÛÛÛÛÛ²²ÛÛÛÛ ÛÛÛÛÜßÛÛÛÛÛÛÛÛÛÛÛÛßßÛÛÛÛÛÛÛÛÛ²ÛÛß
ßÛÛÛÛÛÛÛÛÛÛÛÛÛÛÛÛÛÛÛÛÛÛÛÛÛÛÛÛÛÛÛÛÛÛÛÛÛÛÛÛÛÛÛÛÛÛÛÛÛÛÛÛÛÛÛÛÛÛÛÛÛÛÛÛÛÛÛÛÛÛÛÛÛÛßßßßÛ
ßÛÛÛÛÛÛÛÛÛÛÛÛÛÛÛÛÛÛÛÛÛÛÛÛÛÛÛÛÛÛÛÛÛÛÛÛÛÛÛÛÛÛÛÛÛÛÛÛÛÛÛÛÛÛÛÛÛÛÛÛÛÛÛÛÛÛÛß
ÛÛßÜÛÛÛÛÛÛÛÛÛÛÛÛÛÛÛÛÛÛÛßßßßßßÛÛÛßß ßßßßÛÛÛÛÛÛÛßßÛÛÛÛÛÛÛÛÛÛÛÛÛÛÛÛÛß|
Ü ß ßßßßßÛÛÛÛÛÛßßßß ßÝ ßÛßß ßßßÛÛÛÛßßß ß
ßÛß ß ÛÛ
ß ß ÞÝ
ß DESCRiPTiON Ü

Process Lasso is NOT yet another task manager. It is a
process priority optimization and system automation utility.
Priority optimization, affinity optimization, core
optimization, automated rules, automated power schemes, you
name it and Process Lasso has it. Although most consider
Lasso the ultimate process priority optimizer, it does so
much more!



URL: http://bitsum.com/


ÜÜ Ü ÜÜÜÜ Ü Ü
ÜÛÛÛÛÛÛÜÜÜÜÜ ßß ÜÛÛÛ ßßÛÛÛÛÜÜÜÛÛÛÜÜÜÜÜÜÜ ß Ü ÜÜÜ ÛÛÜÜ Ü²ÛÛÛÛÛÜÛÛÛÛÛÛß
ßÛÛÛÛÛÛÛÛÛßÛÛÜÛÜÛÛÛÛÛÛ²ÛÛÛÛÛÛÛÛÛÛÛÛÛ²²ÛÛÛÛ ÛÛÛÛÜßÛÛÛÛÛÛÛÛÛÛÛÛßßÛÛÛÛÛÛÛÛÛ²ÛÛß
ßÛÛÛÛÛÛÛÛÛÛÛÛÛÛÛÛÛÛÛÛÛÛÛÛÛÛÛÛÛÛÛÛÛÛÛÛÛÛÛÛÛÛÛÛÛÛÛÛÛÛÛÛÛÛÛÛÛÛÛÛÛÛÛÛÛÛÛÛÛÛÛÛÛÛßßßßÛ
ßÛÛÛÛÛÛÛÛÛÛÛÛÛÛÛÛÛÛÛÛÛÛÛÛÛÛÛÛÛÛÛÛÛÛÛÛÛÛÛÛÛÛÛÛÛÛÛÛÛÛÛÛÛÛÛÛÛÛÛÛÛÛÛÛÛÛÛß
ÛÛßÜÛÛÛÛÛÛÛÛÛÛÛÛÛÛÛÛÛÛÛßßßßßßÛÛÛßß ßßßßÛÛÛÛÛÛÛßßÛÛÛÛÛÛÛÛÛÛÛÛÛÛÛÛÛß|
Ü ß ßßßßßÛÛÛÛÛÛßßßß ßÝ ßÛßß ßßßÛÛÛÛßßß ß
ßÛß ß ÛÛ
ß ß ÞÝ
ß iNSTALL NOTES Ü

1. Install programm
2. Run our keygen and patch HOSTS file
3. Generate a licence
4. Copy generated licence files to install dir
5. Enjoy!




ÜÜ Ü ÜÜÜÜ Ü Ü
ÜÛÛÛÛÛÛÜÜÜÜÜ ßß ÜÛÛÛ ßßÛÛÛÛÜÜÜÛÛÛÜÜÜÜÜÜÜ ß Ü ÜÜÜ ÛÛÜÜ Ü²ÛÛÛÛÛÜÛÛÛÛÛÛß
ßÛÛÛÛÛÛÛÛÛßÛÛÜÛÜÛÛÛÛÛÛ²ÛÛÛÛÛÛÛÛÛÛÛÛÛ²²ÛÛÛÛ ÛÛÛÛÜßÛÛÛÛÛÛÛÛÛÛÛÛßßÛÛÛÛÛÛÛÛÛ²ÛÛß
ßÛÛÛÛÛÛÛÛÛÛÛÛÛÛÛÛÛÛÛÛÛÛÛÛÛÛÛÛÛÛÛÛÛÛÛÛÛÛÛÛÛÛÛÛÛÛÛÛÛÛÛÛÛÛÛÛÛÛÛÛÛÛÛÛÛÛÛÛÛÛÛÛÛÛßßßßÛ
ßÛÛÛÛÛÛÛÛÛÛÛÛÛÛÛÛÛÛÛÛÛÛÛÛÛÛÛÛÛÛÛÛÛÛÛÛÛÛÛÛÛÛÛÛÛÛÛÛÛÛÛÛÛÛÛÛÛÛÛÛÛÛÛÛÛÛÛß
ÛÛßÜÛÛÛÛÛÛÛÛÛÛÛÛÛÛÛÛÛÛÛßßßßßßÛÛÛßß ßßßßÛÛÛÛÛÛÛßßÛÛÛÛÛÛÛÛÛÛÛÛÛÛÛÛÛß|
Ü ß ßßßßßÛÛÛÛÛÛßßßß ßÝ ßÛßß ßßßÛÛÛÛßßß ß
ßÛß ß ÛÛ
ß ß ÞÝ
ß GROUP NOTES Ü


Team BRD is not responsible for the bad usage of this product.
This release is for EVALUATION PURPOSES ONLY.
if you like it, u MUST buy it, Software Authors deserve support!.

Remember, this is an INTERNAL SCENE RELEASE, we DONT support
the spread of this rls over web or p2p networks.


The Black Riders Cult is looking for:

<.> Experienced Crackers, Unpackers and keygenners.
<.> Software Suppliers.


t h e b r d [at] m a i l [dot] r u


° Ü ß²ÛÛß °°° °° ÜÜÜÜÜÜÜÜÜ ° ° °° ° ß Ü °
ܲÜÜ Ü ß²ß ° °°° ÜÜÜÜÛÛ ÛÛÜÜÜÜ °° ° ߲߰ Ü ÜܲÜ
°ÜÛÛß Ü °° °°° ÜÜÛÛÛÛ°²² ÛÛÛÛÛÛ ° ÛÛÛÛÛÛ ²²°ÛÛÛÛÜÜ °° Ü ßÛÛÜ°
²ÛÛÛÛÜ ÜÜÛÛÛÛßßßßßÛÛÛÛÛÛ°ÛÛ ÛÛÛÛÛÛ °°° ÛÛÛÛÛÛ ÛÛ°ÛÛÛÛÛÛßßßßßÛÛÛÛÜÜ ÜÛÛÛÛ²°
ÛÛÛÛÛÛÛ ÛÛÛÛÛÛ°ÛÛÛ ÛÛÛÛÛÛ°ÛÛ ÛÛÛÛÛÛ ²Û² ÛÛÛÛÛÛ ÛÛ°ÛÛÛÛÛÛ ÛÛÛ°ÛÛÛÛÛÛ ÛÛÛÛÛÛÛ°
ÛÛÛÛÛÛÛ ÛÛÛÛÛÛ°ÛÛÛ ÛÛÛÛÛÛ°ÛÛ ÛÛÛÛÛÛ ÛÛÛ ÛÛÛÛÛÛ ÛÛ°ÛÛÛÛÛÛ ÛÛÛ°ÛÛÛÛÛÛ ÛÛÛÛÛÛÛ°
°ÛÛÛÛÛÛ ÛÛÛÛÛÛ°ÛÛÛ ÛÛÛÛÛÛ°ÛÛ ÛÛÛÛÛÛÜÜÜÜÜÛÛÛÛÛß ÛÛ°ÛÛÛÛÛÛ ÛÛÛ°ÛÛÛÛÛÛ ÛÛÛÛÛÛ°
°ßÛÛÛÛÛ ÛÛÛÛÛÛÜÜÜÜÜÛÛÛÛß ÛÛ ÛÛÛÛÛÛÛÛÛÛÛÛÛÛß ÛÛ°ÛÛÛÛÛÛ ÛÛÛ°ÛÛÛÛÛÛ ÛÛÛÛÛß°
°ÛÛÛÛÛ ÛÛÛÛÛÛÛÛÛÛÛÛÛß ÛÛ ÛÛÛÛÛÛßßßßßÛÛÜÜÜ ÛÛ°ÛÛÛÛÛÛ ÛÛÛ ÛÛÛÛÛÛ ÛÛÛÛÛ°
°ßÛÛÛÛ ÛÛÛÛÛÛßßßßßÛÛÛÛ °ÛÛ ÛÛÛÛÛÛ ÛÛÛ ÛÛÛÛÛÛ ÛÛ°ÛÛÛÛÛÛ ÛÛÛ°ÛÛÛÛÛÛ ÛÛÛÛß°
°ÛÛÛÛ ÛÛÛÛÛÛ°ÛÛÛ ÛÛÛÛÛÛ°ÛÛ ÛÛÛÛÛÛ ÛÛÛ ÛÛÛÛÛÛ ÛÛ°ÛÛÛÛÛÛ ÛÛÛ°ÛÛÛÛÛÛ ÛÛÛÛ°
°ÛÛÛÛ ÛÛÛÛÛÛ°ÛÛÛ ÛÛÛÛÛÛ°ÛÛ ÛÛÛÛÛÛ ÛÛÛ ÛÛÛÛÛÛ ÛÛ°ÛÛÛÛÛÛ ÛÛÛ°ÛÛÛÛÛÛ ÛÛÛÛ°
ÛÛÛÛ ÛÛÛÛÛÛ°ÛÛÛ ÛÛÛÛÛÛ°ÛÛ ÛÛÛÛÛÛ ²Û² ÛÛÛÛÛÛ ÛÛ°ÛÛÛÛÛÛ ÛÛÛ°ÛÛÛÛÛÛ ÛÛÛÛ°
ÛÛÛÛ ÛÛÛÛÛÛ°ÛÛÛ ÛÛÛÛÛÛ°ÛÛ ÛÛÛÛÛÛ ²²² ÛÛÛÛÛÛ ÛÛ°ÛÛÛÛÛÛ ÛÛÛ°ÛÛÛÛÛÛ ÛÛÛÛ°
°ÛÛÛÛ ßßÛÛÛÛÜÜÜÜÜÛÛÛÛÛÛ°ÛÛ ÛÛÛÛÛÛ °°° ÛÛÛÛÛÛ ÛÛ°ÛÛÛÛÛÛÜÜÜÜÜÛÛÛÛßß ÛÛÛÛ
°ÛÛÛÛÛÛÜÜÜÜÜÜÜÜÜ ßßÛÛÛÛ°ÛÛ ÛÛÛÛÛÛ ° ÛÛÛÛÛÛ ÛÛ°ÛÛÛÛßß ÜÜÜÜÜÜÜÜÜÛÛÛÛÛÛ°
²ÛÛÛÛÛÛÛÛÛÛÛÛÛÛÛÛÜÜÜÜÜÜÛÛ ßßßßÛÛ ÛÛÛßßß ÛÛÜÜÜÜÜÜÛÛÛÛÛÛÛÛÛÛÛÛÛÛÛÛÛ
ÛÛÛÛÛÛÛÛÛÛÛÛÛÛÛÛÛÛÛÛÛÛÛÛÛÛÛÛÛ ßß ßß ÜÛÛÛÛÛÛÛÛÛÛÛÛÛÛÛÛÛÛÛÛÛÛÛÛÛÛÛÛ
ßÛÛÛÛÛÛÛÛÛÛÛÛÛÛÛÛÛÛÛÛÛÛÛÛÛÛÛÛÛÛÛÛÛÛÛÛÛÛÛÛÛÛÛÛÛÛÛÛÛÛÛÛÛÛÛÛÛÛÛÛÛÛÛÛÛÛÛß
ÛÛßÜÛÛÛÛÛÛÛÛÛÛÛÛÛÛÛÛÛÛÛßßßßßßÛÛÛßß ßßßßÛÛÛÛÛÛÛßßÛÛÛÛÛÛÛÛÛÛÛÛÛÛÛÛÛß|
Ü ß ßßßßßÛÛÛÛÛÛßßßß ßÝ ßÛßß ßßßÛÛÛÛßßß ß
ßÛß ß ÛÛ jer^dfs
ß ß ÞÝ
ß Ü
you will never defeat the riddle of the black riders..

Keygen.exe:FDFC1D57
这里是其它用户补充的资源(我也要补充):
暂无补充资源