专辑英文名: He Never Mentioned Love
专辑中文名: 不了情
音乐风格: 爵士
资源格式: FLAC
版本: [Linn 24bit/96KHz]
发行时间: 2007年06月04日
简介: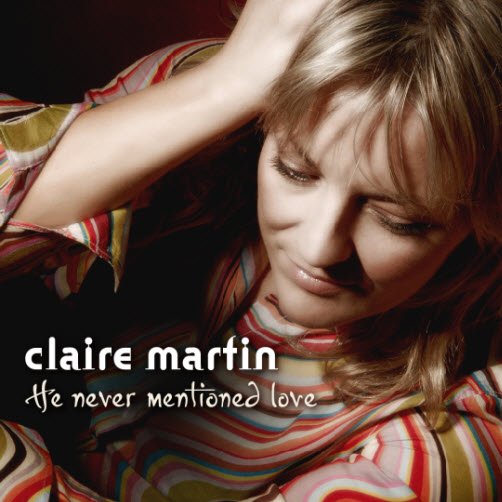 专辑介绍:

来自英国的爵士女歌手Clair Martin最新的一张专辑
《He Never Mentioned Love》。
此为该歌手在LINN公司的第七张专辑,
与Barb Jungr和Carol Kidd同为Linn公司的当家Jazz女声。
具有极富感染力的嗓音和极强的节奏感,她的歌大都比较轻快,而且非常接近流行的曲风。
我自己认为她的歌首首值得拥有,包括这张的13首。

Artist: Claire Martin
Album: He Never Mentioned Love
Label: Linn Records
Genre: Vocal
Styles: Vocal, Vocal Jazz, Standards
Original Release Date: June 4, 2007
Quality/Bitrate: FLAC / Mode: 8, Best Compression / 24bit / 96kHz / Stereo
Total Time: 60:39 Min

Produced by Laurence Cottle

A perfect match...

I heard Shirley Horn's first album, "Embers and Ashes", on a visit to New York City in 1964. I shall never forget the moment when I put the needle down on the disc and heard Shirley singing and playing He Never Mentioned Love, which I had chosen because it was unfamiliar and intriguing. I had never heard of the song, nor of Miss Horn.

Here was a lovely, confiding, gentle voice, telling a touching story of youthful heartbreak; the piano played four beautiful, steady chords in every single bar right through to the end of the song; there was only one simple chorus, no vocal arabesques, no pianistic arabesques, no melodrama and no display, yet the track is perfection.

This was the album which Miles Davis heard, and which made him refuse to play at the Village Vanguard unless this unknown singer-pianist was booked to play opposite him.

I probably heard every note that Shirley recorded from then on. I saw her perform many times. We became good friends, and she even used sometimes to cook dinner for me at her house in Washington, D.C., when I was in the neighbourhood, refusing to sit down at the table and eat with her husband Shep and me. She used to have a little drink and make sure we had enough of her excellent cooking. But I never got over the fact that I was in the presence of a great musician.

Everything that could reasonably have been said about Shirley's work was written by the late Joel E. Siegel, who managed her for a while, and who was largely responsible for her re-emergence from quiet domesticity in the 1980s. He was a close and important friend, not only of Shirley's, but of Claire Martin's and of mine. Joel was possibly the most perceptive, knowledgeable and articulate of any writer who ever discussed the art of the jazz singer. He wrote the liner notes for seven of Shirley's albums.

***

One night in 1992, I was in Glasgow, Scotland, and I was checking out a concert hall where I was going to be working. The name of the artist who was appearing that night was unknown to me, since I don't live over there. It was Claire Martin.

In the twenty-eight years since I had first heard Shirley, I had listened to a great many new jazz singers, good, indifferent and awful. I was told that Miss Martin was "the British Anita O'Day". I was expecting a lot of vocal trickery and Sweet Georgia Brown. There was only one Anita, and she was a wizard.

When the concert began, onto the stage came a dazzling young blonde girl, who swung like mad with You Hit The Spot; I turned to my friend, an operatic soprano, as it happened, and whispered "That's a star!"

Claire already had it all; a lovely, rich voice, an immaculate jazz sense, taste, humour and emotional intensity. The repertoire escaped from the usual rut, there were some fierce jazz pieces and some great, searing ballads. Backstage after the concert, we became instant friends and she asked me to write the liner notes for her first Linn CD, 'The Waiting Game'.

Fifteen years on, Claire and I have done many concerts and club dates together and we made a CD for Linn Records, "When Lights Are Low", which made us both happy. The years have only deepened and enriched her sound, her musicality is extraordinary and her grasp of lyrics unparalleled.

Like me, she is a major fan of Shirley Horn. Probably no other singer has had such an influence on her, and yet there are no traces of borrowing or imitation. I am sure that no other singer would have been so ideal for a Shirley Horn tribute.

When I started out, with some trepidation, to write this liner note, I thought I would probably dissect the CD, commenting on each song and the differences in tempo and interpretation between the two artists' work.

But now I don't feel any need to do this. The CD is such a warm, musical celebration of a great artist, it speaks so directly to the listener that I don't feel that I need to conduct a guided tour.

The musicians and the arrangements are faultless; there are some brilliant ways of rethinking pillars of Shirley's repertoire (Everything Must Change, A Song For You, All Night Long). There are a couple of shining new creations in her honour (Slowly But Shirley, Slow Time).

I knew Shirley pretty well. I am sure she would have been overcome by this lovely homage.

Richard Rodney Bennett


引用
04 June 2007
Atlanta Audio Society

In "He Never Mentioned Love," her latest release on Linn, Claire Martin pays homage to her greatest influence, the late and legendary American songstress Shirley Horn. If it's true as they say that "imitation is the sincerest form of flattery," this lady is nothing if not dead-on sincere. There is a noticeable borrowing here, but with differences in tempo, style and emphasis that allow Ms. Martin to make these songs all her own.

In an earlier review I praised Claire's ability to "hold and caress the underlying moods in [a song], the sensual joy and pain that slowly percolate up through the melodies or flow as smooth as cream." She does it beautifully here, in a voice so deeply rich and seamless that she sounds eerily like her professed role model. There's no cheap melodrama in these songs of heartbreak and missed chances at love. Claire Martin has an intuitive sense of how to handle the emotion in a song lyric, or even a single word, right to the end of the bar, a "jazz sense" that distinguishes the true artist.

"He left me broken / every dream I had was left unspoken / Just as he had come, / he gave no warning and was gone again! / He never mentioned love / He never even mentioned love..." Consider yourselves alerted, jazz deejays. There are thirteen songs on this SACD. Set the needle down (or whatever you say nowadays) on any track, and you'll have an instant hit. The songs are all the more welcome for not being overly familiar. Besides the title song, Claire gives us memorable accounts of "Forget me," "Trav'llin' light," "The music that makes me dance," "All night long," and "Everything must change." "There are not many things in life that we can be sure of / except... / Rain comes from the clouds, / sunlight from the sky / and hummin'birds do fly!"

And also "A song for you," "Slowly but Shirley," and "Slow time." Plus "If you go, / if you love me no more / If I know / that you want me no more / Then the sun would lose its light / and day turn into night / Night without stars / Deep night without stars!" And "L.A. Breakdown" ("Don't be hard and unforgiving / It's tough enough for me just living / Getting tired of being a loser on the run"), "You're nearer" (than my head is to the pillow, / nearer / than the wind is to the willow), and "The sun died." Winners all.

Credit some yeoman support on this disc from Gareth Williams, piano; Clark Tracey, drums; and Laurence Cottle, bass.
引用
艺人:Claire Martin
专辑:He Never Mentioned Love
风格:Soul、Pop Jazz
时间:Linn Records/June 4, 2007

Linn Records的录音向来以高品质而在音乐发烧友中喜闻乐见。Carol Kidd就在这家唱片录制过几张传世爵士人声佳作。同样作为英国人。这张Claire Martin新专一展其低沉的牛皮糖嗓音,磁力十足。整张专辑大可一口气听完而不觉厌烦。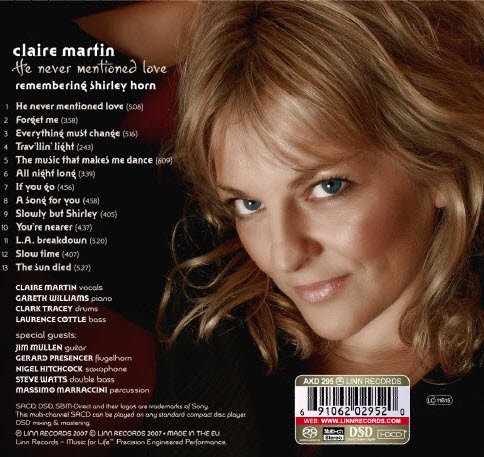 专辑曲目:
01. He never mentioned love 5:08
02. Forget me 3:58
03. Everything must change 5:16
04. Trav llin light 2:43
05. The music that makes me dance 6:09
06. All night long 3:39
07. If you go 4:56
08. A song for you 4:58
09. Slowly but Shirley 4:05
10. You re nearer 4:37
11. L.A. breakdown 5:20
12. Slow time 4:07
13. The sun died 5:27
这里是其它用户补充的资源(我也要补充):
暂无补充资源