中文名: 计算机个人隐私清除工具
英文名: Acesoft Tracks Eraser Pro
资源格式: 压缩包
版本: v8.8 build 1001
发行时间: 2012年
简介: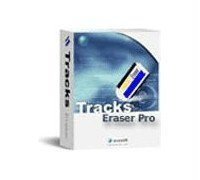 软件类型:安全相关-隐私清除
软件性质:破解软件
操作系统:Windows
应用平台:Windows 98/ME/NT/2000/XP/Vista/Windows 7 compatible
问题反馈: http://www.acesoft.net/support.htm
网站链接: http://www.acesoft.net/
软件介绍:

  Tracks Eraser它将会清除你计算机上网的活动踪迹,以保护你个人的隐私。藉由鼠标单键,你可以清除快取、cookies、history、URLs、自动完成记忆和浏览器中的index.dat、空资料夹、执行history、搜寻history、开启/储存的history和最近的文件。藉由免费的plug ins,你可以简单清除大约50个一般程序的踪迹。它也有个让你摆脱那些档案及注册登记的自订项目。

Tracks Eraser 可以删除 IE、Netscape、AOL、Opera 浏览器相关的记录文件以及缓存,清除 Windows 缓存、资源回收站、开启的文件记录等,还可以免费下载外挂程序,来删除近 50 种的程序记录文件!




引用
ed2k:
//|file|Acesoft.Tracks.Eraser.Pro.v8.8.build.1001-LAXiTY.zip
|2411732|1C60E91A4C4C38176B2EACF085ECE8BB
|h=7GV4Z5ZXZ5NZBIYO4WHUUTXWUOEAK4AE|/

资源更新列表
http://www.VeryCD.com/i/5190747/create/fol...postTime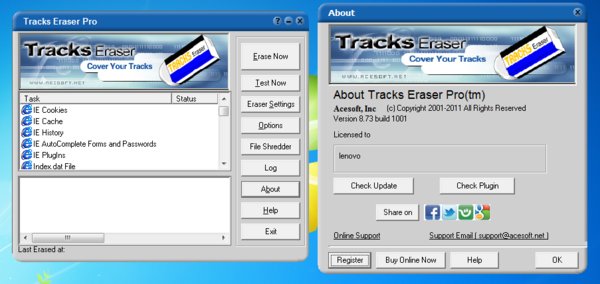 Erase unwanted files fast and secure without damaging important files and folders with this app released by team LAXiTY.Tracks Eraser Pro is designed to protect you by cleaning up all the unwanted history data on your computer. With simply one click, Tracks Eraser Pro allows you to erase the cache, cookies, history, typed URLs, autocomplete memory, index.dat from your browsers, and Window's temp folder, run history, search history, open/save history, and recent documents, etc. With Tracks Eraser Pro's free plugins, you can easily erase the tracks of up to 100 popular applications, such as the playlist of RealOne , the playlist of Windows Media Player, QuickTime, recent files of Office, Acrobat ,Winzip, etc. Tracks Eraser Pro also allows you to customize chosen files and registry entries are to be erased. With Tracks Eraser Pro's Secure Erasing feature, you can erase the files completely , thus protecting yourself from anyone trying to obtain them, since they are not recoverable.
Features:
Erase IE, Netscape, AOL, Opera's location bar history list
Erase IE, Netscape, AOL, Opera's Cookies
Erase Internet cache (temporary Internet files)
Erase Internet history files
Erase Internet search history
Erase autocomplete history
Erase IE plugins (selectable)
Clean index.dat file
Erase start menu run history
Erase start menu search history
Erase windows temp files
Erase open/save dialog box history
Empty recycle bin
Erase Realplayer playlist history
Erase Media Player playlist history
Erase QuickTime playlist history
Erase Microsoft Office recent files list
Erase Winzip recent extract files list
Erase Acrobat recent files list
代码

°
þßÛÛ²ÜÜ ßÛÛÛÛÛÜÜÜÜ þßÛÛßÜÜ ÜÜßÛÛßþ ÛÛÜ ßÛÛÜÜ °° þÜÜ Üܲ²Ûßþ
ÛÛÛ²² ° Û²ÛÜßß²ÛÛÛÜ Û°°²Û Û²°°² ÛÜÜ ßß Û²²ÛÛ °°±²°° ÞÛ²ÛÜ ÛÛ²²Û
ÛÛ²²ÛÛ °° Û²²ÛÛ ÛÛ²²ÛÝÞ±±²Ý ÞÛ±±²Ý Þ²²Û²ÛÜ Û²²Û °± °Þ²²ÛÝ Þ²ßßÛÝ
ÛßßÛ² °°±²°°ßßß Û²ßß² Û²Û ° Û²²ÛÛ Û²ßß²² ÛßÛÜÜÛÛß ° °° Û²ÛßÜÜÜÛ°°²Û
ÛÛ°°ÛÛ °°ÜÜþÞÛ²²ÛÜÜÛ°°ÛÝÞÛ²²ÜÛ²Ûßß ° ÞÛ°°ÛÛÛ°°Ûßß ÜÜþ ÜÛ²²ÛÛßßßßÛ±±ÛÝ
Û±±²Û ÜÛÛ²ÝÞ²ß ßßßÛ±±Û² ÛÛß ßÛ²²ÛÜ Û²±±Û Û±±Û ÜÛ²²Ý ß ÜÜÜÜ Û²²²Û
ÛÛ²²ÛÛ ÛÛ²²ÝÞ²Ý °±° Û²²ÛÝÞ²Ý ° ÞÛßß²Û Û²²ÛÛÛÛ²²ÛÝ Þ²²ÛÝ ÞÛ²²ÛÝ Þ²²²ÛÝ
ßÛ²²ÛÜÜßÛ²Û Û² ° Þ²²ÛÛ ÛÛ °±° Û°°²ÛÝÛÛ²Û ßÛÛ²²ÜÜßÛ²Û Û²ÛßÜÜܲ²ÛÛÛß
ßÜÜ ßßßßÛÛÛÛÛÜßÛÜÜÜÛ²Ûß Þ²²Ý °° Û±±²Û Û²ÛÛÛ ÜÜ ßßßß²²ÛÛÛÜ ßÛ²²²Ûßßß ÜÜß
ßßß²ÜÜÜÜÜÜ ß ²ÜÜÜÜÜÜÜÜ ßÛ ° Þ²²ÛÛß ÜÜ ßß ² ßßß²ÜÜÜÜÜÜ ß ÜÜÜÜÜܲßß
± ° ß Û²ßß ° ° ±
° ß °
ß þÜ Üþ ß
Þ²Ü ÜÜܲÛÛÛ²Ü tEAM LAXiTY ܲÛÛÛ²ÜÜÜ Ü²Ý
ܲ²ß ÜÛ²ßßß ß²²ß pROUDLY pRESENTS: ß²²ß ßßßÛ²Ü ß²²Ü
ÜÛ²²ß Üß þßß ßßþ ßÜ ß²²ÛÜ
Û²²Û ² ² Û²²Û
ÛÛ²Û ± Acesoft.Tracks.Eraser.Pro.v8.8 build 1001 ± Û²ÛÛ
Û ßÛ ° (c) Acesoft ° Ûß Û
Û°°Û Û°°Û
Û°°Û URL ........: http://acesoft.net/ Û°°Û
Û°°Û Û°°Û
Û°°Û Supplier ...: TEAM LAXiTY Soft Type ...: APP [X] Û°°Û
Û°°Û Packager ...: TEAM LAXiTY GAME [ ] Û°°Û
Û°°Û Cracker ....: TEAM LAXiTY OTHER [ ] Û°°Û
Û°°Û Rel. date ..: 22.10.12 Û°°Û
Û°°Û Û°°Û
Û±±Û ° Rape Solution: Keygen [ ] Serial [X] RegKey [ ] ° Û±±Û
Û²²ÛÝ Crack [ ] Other [ ] ÞÛ²²Û
ÛÛÛÛÛÜ ÜÛÛÛÛÛ
ÜÛÛß ß ß ßÛÛÜ
ßÛß ²²±±°° °°±±²² ßÛß
ß þÜ °° °° Üþ ß
Þ²Ü ° ÜÜܲÛÛÛ²Ü Ü²ÛÛÛ²ÜÜÜ ° ܲÝ
ܲ²ß ÜÛ²ßßß ß²²ß R E L E A S E . N O T E S ß²²ß ßßß²ÛÜ ß²²Ü
ÜÛ²²ß Üß þßß ßßþ ßÜ ß²²ÛÜ
Û²²Û ² ² Û²²Û
ÛÛ²Û ± ± Û²ÛÛ
Û ßÛ ° ° Ûß Û
Û°°Û Tracks Eraser Pro is designed to protect you by cleaning up Û°°Û
Û°°Û all the unwanted history data on your computer. With simply Û°°Û
Û°°Û one click, Tracks Eraser Pro allows you to erase the cache, Û°°Û
Û°°Û cookies, history, typed URLs, autocomplete memory, Û°°Û
Û°°Û index.dat from your browsers, and Window's temp folder, run Û°°Û
Û°°Û history, search history, open/save history, and recent Û°°Û
Û°°Û documents, etc. With Tracks Eraser Pro's free plugins, you Û°°Û
Û°°Û can easily erase the tracks of up to 100 popular Û°°Û
Û°°Û applications, such as the playlist of RealOne , the Û°°Û
Û°°Û playlist of Windows Media Player, QuickTime, recent files Û°°Û
Û°°Û of Office, Acrobat ,Winzip, etc. Tracks Eraser Pro also Û°°Û
Û°°Û allows you to customize chosen files and registry entries Û°°Û
Û°°Û are to be erased. With Tracks Eraser Pro's Secure Erasing Û°°Û
Û°°Û feature, you can erase the files completely , thus Û°°Û
Û°°Û protecting yourself from anyone trying to obtain them, Û°°Û
Û°°Û since they are not recoverable. Û°°Û
Û°°Û Û°°Û
Û±±Û ° ° Û±±Û
Û²²ÛÝ ÞÛ²²Û
ßÛÛÛÛÜ ÜÛÛÛÛß
ßÛÛÛÛÜ ÜÛÛÛÛß
ÜÛÛß ß ß ßÛÛÜ
ßÛß ²²±±°° °°±±²² ßÛß
ß þÜ °° °° Üþ ß
Þ²Ü ° ÜÜܲÛÛÛ²Ü Ü²ÛÛÛ²ÜÜÜ ° ܲÝ
ܲ²ß ÜÛ²ßßß ß²²ß i N S T A L L . N O T E S ß²²ß ßßß²ÛÜ ß²²Ü
ÜÛ²²ß Üß þßß ßßþ ßÜ ß²²ÛÜ
Û²²Û ² ² Û²²Û
ÛÛ²Û ± ± Û²ÛÛ
Û ßÛ ° ° Ûß Û
Û°°Û use the included serial to register Û°°Û
Û°°Û Û°°Û
Û±±Û ° ° Û±±Û
Û²²ÛÝ ÞÛ²²Û
ßÛÛÛÛÜ ÜÛÛÛÛß
ßÛÛÛÛÜ ÜÛÛÛÛß
ÜÛÛß ß ß ßÛÛÜ
ßÛß ²²±±°° °°±±²² ßÛß
ß þÜ °° °° Üþ ß
Þ²Ü ° ÜÜܲÛÛÛ²Ü Ü²ÛÛÛ²ÜÜÜ ° ܲÝ
ܲ²ß ÜÛ²ßßß ß²²ß A P P L Y . i N F O ß²²ß ßßß²ÛÜ ß²²Ü
ÜÛ²²ß Üß þßß ßßþ ßÜ ß²²ÛÜ
Û°°Û ° ° Û°°Û
Û±±Û ° *** CLOSED *** ° Û±±Û
ßÛ²²ÛÜ ÜÛ²²Ûß
ßÛ²²²Ü ܲ²²Ûß
ÜÛ²²Ûß TEAM LAXiTY ßÛ²²ÛÜ
ÜÛ°°Ûß ravishing since 1998 ßÛ°°ÛÜ
ßÛ±±ÛÜ ÜÛ±±Ûß
ßÛ²²ÛÜ ° ° ° ° ° ÜÛ²²Ûß
ßßÛ²ÛÜ ßÜ ²Û ÜßßÛ² ²² Û² ßß ²Û ²Û Û² Üß ÜÛ²Ûßß
ß²²Û ß±±° °°±±Û ÜÜÛ± ßÜÜß ²Û ±Ûßß ßßßÛ±±°° °±²ß Û²²ß
Þ²ß (asc) mx °Û ²Û ²² Û° ܲ ²Ü ±Û °Û ²Û ²² Û° ß²Ý
Ü þß ßß± ßßß ß± ßß °ß ßß± ßßß ßþ Ü
° ° °
LXTCRC:133501:5270
这里是其它用户补充的资源(我也要补充):
暂无补充资源