中文名: 刻录软件
英文名: NCH Express Burn
资源格式: 压缩包
版本: v4.62
发行时间: 2012年
简介: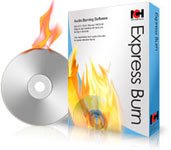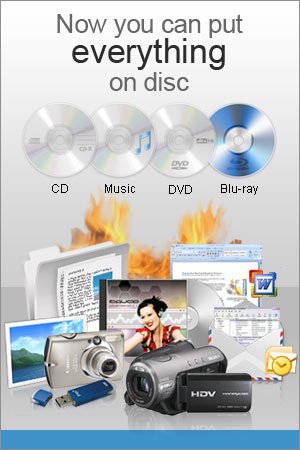 软件类型:软件>多媒体类
软件性质:破解软件
应用平台:Windows
操作系统:Windows 7, XP, Vista and 8
问题反馈:http://www.nch.com.au/burn/support.html
网站链接:http://www.nch.com.au/burn/index.html
软件介绍:

NCH Express Burn 是一款Windows下的刻录软件,能创建和刻录音乐CD、数据CD或DVD!

NCH Express Burn 可以在CDR和CDRW上面刻录;支持Jolliet和CDA格式;音乐CD支持wav、mp3、wma、au、aiff、ra、ogg、flac、aac等音乐文件格式;数据CD则完全与ISO标准兼容;数据CD支持多层目录和长文件名;支持命令行操作,可以和其它程序整合;界面简单易用。



引用
ed2k:
//|file|NCH.Express.Burn.v4.62-LAXiTY.zip
|775282|F427755E403F8E40CDC44DD5A127D1E9
|h=XEOHEAUROQKQVWS5CNOXGNUFNC5KIEBX|/

资源更新列表
http://www.VeryCD.com/i/5190747/create/fol...postTime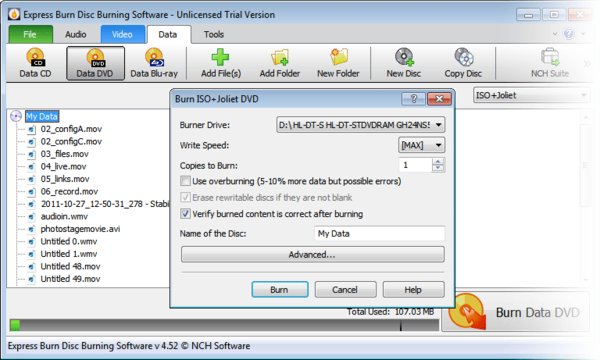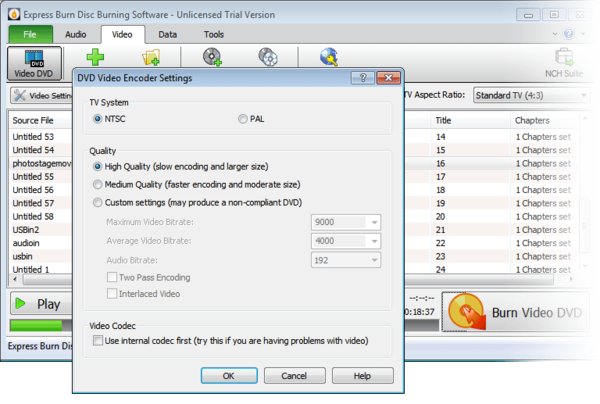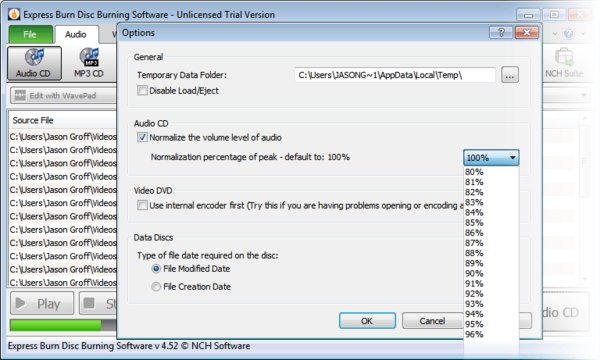 Express Burn Disc Burning Software
Burn Audio, Video and Data to CDs, DVDs & Blu-ray Discs
Burning software to create and record discs quickly and easily on Windows or Mac.
Ultra fast burning to save you time
Burn audio, video or files to CD, DVD or Blu-Ray
Drag and drop files straight into the application
Audio CD Recording
Audio is recorded with direct digital recording so perfect audio quality is maintained
Create MP3 CDs or Audio CDs for a traditional CD player
Audio CD burner supports a wide range of audio file formats including wav, mp3, wma, ogg, flac, aac and more
Normalize audio volume and customize the pause between tracks when burning audio CDs
Video DVD Authoring and Blu-ray Burning
To play on a DVD or Blu-ray player
Video files are re-encoded for standard movie discs
Video burning supports avi, mpg, vob, asf, wmv, mp4, ogm and all video formats with a DirectShow based codec
Create and manage chapters on DVD and Blu-ray discs
Template menu screens and buttons for DVD authoring
Widescreen or standard formats for video burning
Record video files to PAL or NTSC
Data CD, DVD or Blu-Ray Writing
Perfect for creating backup discs
Burn data discs as ISO/Joliet, UDF or Hybrid
ISO burner will record ISO images to disc
Create ISO files in addition to burning to disc
Burn Blu-ray data and video discs
Advanced Disc Burning Features
Burn to recordable and re-recordable discs (CDR, CDRW)
Copy and burn DVDs and other discs
Command line operation for automation and integration with other programs
* Subject to copyright. NCH Software products cannot be used to break copy-protected or region-protected videos. Audio and video functionality is for use with your own content only.
System Requirements
Works on Windows 7, XP, Vista and 8
For earlier versions see Windows 98/ME and Windows 2000
Mac OS X 10.3 or later
CD-ROM drive which supports recording
For DVDs, a DVD-ROM drive which supports recording
For Blu-ray Discs, a BD-ROM drive which supports recording
代码

°
þßÛÛ²ÜÜ ßÛÛÛÛÛÜÜÜÜ þßÛÛßÜÜ ÜÜßÛÛßþ ÛÛÜ ßÛÛÜÜ °° þÜÜ Üܲ²Ûßþ
ÛÛÛ²² ° Û²ÛÜßß²ÛÛÛÜ Û°°²Û Û²°°² ÛÜÜ ßß Û²²ÛÛ °°±²°° ÞÛ²ÛÜ ÛÛ²²Û
ÛÛ²²ÛÛ °° Û²²ÛÛ ÛÛ²²ÛÝÞ±±²Ý ÞÛ±±²Ý Þ²²Û²ÛÜ Û²²Û °± °Þ²²ÛÝ Þ²ßßÛÝ
ÛßßÛ² °°±²°°ßßß Û²ßß² Û²Û ° Û²²ÛÛ Û²ßß²² ÛßÛÜÜÛÛß ° °° Û²ÛßÜÜÜÛ°°²Û
ÛÛ°°ÛÛ °°ÜÜþÞÛ²²ÛÜÜÛ°°ÛÝÞÛ²²ÜÛ²Ûßß ° ÞÛ°°ÛÛÛ°°Ûßß ÜÜþ ÜÛ²²ÛÛßßßßÛ±±ÛÝ
Û±±²Û ÜÛÛ²ÝÞ²ß ßßßÛ±±Û² ÛÛß ßÛ²²ÛÜ Û²±±Û Û±±Û ÜÛ²²Ý ß ÜÜÜÜ Û²²²Û
ÛÛ²²ÛÛ ÛÛ²²ÝÞ²Ý °±° Û²²ÛÝÞ²Ý ° ÞÛßß²Û Û²²ÛÛÛÛ²²ÛÝ Þ²²ÛÝ ÞÛ²²ÛÝ Þ²²²ÛÝ
ßÛ²²ÛÜÜßÛ²Û Û² ° Þ²²ÛÛ ÛÛ °±° Û°°²ÛÝÛÛ²Û ßÛÛ²²ÜÜßÛ²Û Û²ÛßÜÜܲ²ÛÛÛß
ßÜÜ ßßßßÛÛÛÛÛÜßÛÜÜÜÛ²Ûß Þ²²Ý °° Û±±²Û Û²ÛÛÛ ÜÜ ßßßß²²ÛÛÛÜ ßÛ²²²Ûßßß ÜÜß
ßßß²ÜÜÜÜÜÜ ß ²ÜÜÜÜÜÜÜÜ ßÛ ° Þ²²ÛÛß ÜÜ ßß ² ßßß²ÜÜÜÜÜÜ ß ÜÜÜÜÜܲßß
± ° ß Û²ßß ° ° ±
° ß °
ß þÜ Üþ ß
Þ²Ü ÜÜܲÛÛÛ²Ü tEAM LAXiTY ܲÛÛÛ²ÜÜÜ Ü²Ý
ܲ²ß ÜÛ²ßßß ß²²ß pROUDLY pRESENTS: ß²²ß ßßßÛ²Ü ß²²Ü
ÜÛ²²ß Üß þßß ßßþ ßÜ ß²²ÛÜ
Û²²Û ² ² Û²²Û
ÛÛ²Û ± NCH Express Burn v4.62 ± Û²ÛÛ
Û ßÛ ° (c) NCH Software ° Ûß Û
Û°°Û Û°°Û
Û°°Û URL ........: http://www.nch.com.au Û°°Û
Û°°Û Û°°Û
Û°°Û Supplier ...: TEAM LAXiTY Soft Type ...: APP [X] Û°°Û
Û°°Û Packager ...: TEAM LAXiTY GAME [ ] Û°°Û
Û°°Û Cracker ....: TEAM LAXiTY OTHER [ ] Û°°Û
Û°°Û Rel. date ..: 10.10.12 Û°°Û
Û°°Û Û°°Û
Û±±Û ° Rape Solution: Keygen [ ] Serial [ ] RegKey [X] ° Û±±Û
Û²²ÛÝ Crack [ ] Other [ ] ÞÛ²²Û
ÛÛÛÛÛÜ ÜÛÛÛÛÛ
ÜÛÛß ß ß ßÛÛÜ
ßÛß ²²±±°° °°±±²² ßÛß
ß þÜ °° °° Üþ ß
Þ²Ü ° ÜÜܲÛÛÛ²Ü Ü²ÛÛÛ²ÜÜÜ ° ܲÝ
ܲ²ß ÜÛ²ßßß ß²²ß R E L E A S E . N O T E S ß²²ß ßßß²ÛÜ ß²²Ü
ÜÛ²²ß Üß þßß ßßþ ßÜ ß²²ÛÜ
Û²²Û ² ² Û²²Û
ÛÛ²Û ± ± Û²ÛÛ
Û ßÛ ° ° Ûß Û
Û°°Û Express Burn is a program that allows you to create Audio Û°°Û
Û°°Û CDs (CD-DA) or music CDs as they are also known. A wide Û°°Û
Û°°Û range of audio files can be used for the CD. You can also Û°°Û
Û°°Û create Data CDs (or Mode 1 ISO CDs) containing any type of Û°°Û
Û°°Û file. Lastly you can also create data DVDs and Blu-ray Û°°Û
Û°°Û discs (ISO) containing any type of file. Û°°Û
Û°°Û Û°°Û
Û±±Û ° ° Û±±Û
Û²²ÛÝ ÞÛ²²Û
ßÛÛÛÛÜ ÜÛÛÛÛß
ßÛÛÛÛÜ ÜÛÛÛÛß
ÜÛÛß ß ß ßÛÛÜ
ßÛß ²²±±°° °°±±²² ßÛß
ß þÜ °° °° Üþ ß
Þ²Ü ° ÜÜܲÛÛÛ²Ü Ü²ÛÛÛ²ÜÜÜ ° ܲÝ
ܲ²ß ÜÛ²ßßß ß²²ß i N S T A L L . N O T E S ß²²ß ßßß²ÛÜ ß²²Ü
ÜÛ²²ß Üß þßß ßßþ ßÜ ß²²ÛÜ
Û²²Û ² ² Û²²Û
ÛÛ²Û ± ± Û²ÛÛ
Û ßÛ ° ° Ûß Û
Û°°Û Run "eb462.reg". Û°°Û
Û°°Û Û°°Û
Û±±Û ° ° Û±±Û
Û²²ÛÝ ÞÛ²²Û
ßÛÛÛÛÜ ÜÛÛÛÛß
ßÛÛÛÛÜ ÜÛÛÛÛß
ÜÛÛß ß ß ßÛÛÜ
ßÛß ²²±±°° °°±±²² ßÛß
ß þÜ °° °° Üþ ß
Þ²Ü ° ÜÜܲÛÛÛ²Ü Ü²ÛÛÛ²ÜÜÜ ° ܲÝ
ܲ²ß ÜÛ²ßßß ß²²ß A P P L Y . i N F O ß²²ß ßßß²ÛÜ ß²²Ü
ÜÛ²²ß Üß þßß ßßþ ßÜ ß²²ÛÜ
Û°°Û ° ° Û°°Û
Û±±Û ° *** CLOSED *** ° Û±±Û
ßÛ²²ÛÜ ÜÛ²²Ûß
ßÛ²²²Ü ܲ²²Ûß
ÜÛ²²Ûß TEAM LAXiTY ßÛ²²ÛÜ
ÜÛ°°Ûß ravishing since 1998 ßÛ°°ÛÜ
ßÛ±±ÛÜ ÜÛ±±Ûß
ßÛ²²ÛÜ ° ° ° ° ° ÜÛ²²Ûß
ßßÛ²ÛÜ ßÜ ²Û ÜßßÛ² ²² Û² ßß ²Û ²Û Û² Üß ÜÛ²Ûßß
ß²²Û ß±±° °°±±Û ÜÜÛ± ßÜÜß ²Û ±Ûßß ßßßÛ±±°° °±²ß Û²²ß
Þ²ß (asc) mx °Û ²Û ²² Û° ܲ ²Ü ±Û °Û ²Û ²² Û° ß²Ý
Ü þß ßß± ßßß ß± ßß °ß ßß± ßßß ßþ Ü
° ° °
LXTCRC:89583:8356
这里是其它用户补充的资源(我也要补充):
暂无补充资源