中文名: 互联网中继聊天程序
英文名: MIRC
资源格式: 压缩包
版本: v7.27
发行时间: 2012年
简介: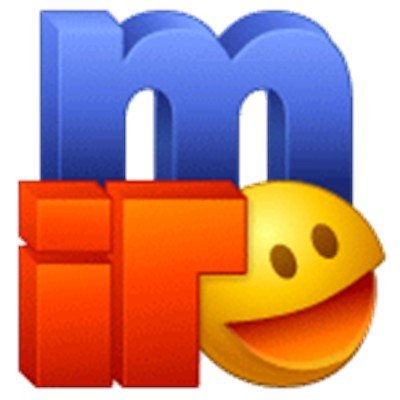 软件类型:软件>网络软件
软件性质:破解软件
操作系统:Windows
应用平台:Windows 2000/XP/Vista/7
问题反馈: http://www.mirc.co.uk/help.html
网站链接: http://www.mirc.co.uk/
软件介绍:

英国 mIRC 公司出品的 IRC 类客户端软件,目前风靡于全世界。界面优美,彩色文本行,全 DCC、XDCC 文件发送和接收能力,aliases,远程命令和事件操作,与位置相关的下拉菜单,WWW 和声音支持。还可以为你建立自己的组群,满足你和朋友们单独沟通的需求。

mIRC是Windows系统下的一个互联网中继聊天程序( IRC )。就如你需要一个浏览器来上网,你需要一个IRC客户端进行交谈。 mIRC是高度可配置的,并且非常稳定,还有很多好东东隐藏在其中。

它提供多服务器的支持,全彩控制,DCC 文件发送和接收能力,远程命令和事件处理能力,与当前位置相关的下拉菜单,声音的支持等等。最重要的是,使用mIRC聊天工具,你不必弄懂以上知识。只需安装后开始聊天就OK了。你可以和朋友们建立一个群进行群聊,满足大家沟通的需求。

mIRC是一个Windows系统上的即时通讯共享软件,由Khaled Mardam-Bey开发并在1995年发佈。直至现在它的mIRC语言己由原来的功能伸展到其他更高阶的设定。

其他功能包括:
自动的IRC频道管理
多人游戏服务器
MP3播放器
网页parser(多数用於观看搜寻结果或标题)
DCC、HTTP及IRC服务器
游戏平台(这些游戏多被称为mIRC游戏)

它是一个很知名的软件,曾在2004年内於CNET的download.com上被人下载七百万次。而在Neilsen网上排名调查之中mIRC是2003年网上软件最受欢迎的头10位。它的成名可能是很多mIRC的用户会误以为他们所用的协议与软件的名称相同,所以他们会想到连到"mIRC服务器"或"加入mIRC频道"。

主要功能
同时连接至多个服务器(新增在版本6.0)
高智能的事项性及指令性的程式语言
支援基本CTCP
支援CTCP的音讯(可播放MP3、WAV和MIDI)
支援DCC的交谈及档案发送
能停止隐藏的木马下载
档案服务器(由DCC交谈控制)允许用户浏览和下载指定的档案
支持ANSI-风格和mIRC-风格的文字
可安装外掛使用语音辨识及发声





引用
ed2k:
//|file|MIRC.v7.27.Cracked-EAT.zip
|2930113|68AC4BA70794680C6DC74E7F7B93C0E2
|h=QWIHQVZ4D25G4S4GON54ISEJZCYOMTDE|/

资源更新列表
http://www.VeryCD.com/i/5190747/create/fol...postTime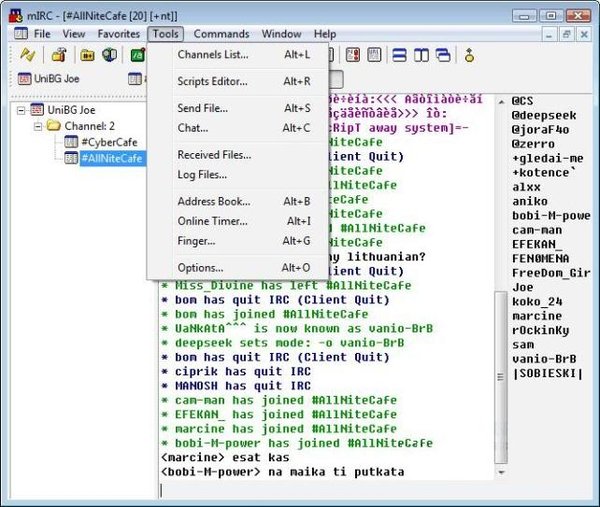 mIRC is a popular Internet Relay Chat client used by millions of people, and thousands of organizations, to communicate, share, play and work with each other on IRC networks around the world. Serving the Internet community for over a decade, mIRC has evolved into a powerful, reliable and fun piece of technology.
Latest News
mIRC 7.27 has been released! (October 20th 2012)
This is a small update that addresses a number of issues reported by users since the last release. It includes improvements, changes and fixes to a number of features, including:
A "Mark As Read" option has been added to the treebar, switchbar, toolbar and MDI popup menus to allow you to clear all flashing/highlighted windows.
The $hfind() identifier has been extended to allow results to be saved to a @window listbox or passed to a command.
An SSL connection issue has been fixed that prevented mIRC from connecting to servers with certificates that used unrecognized date formats.
A hotlink display issue has been fixed that caused text to flicker when hovering the mouse over a link.
SSL support for Subject Alternative Names (SAN) has been added when verifying whether a certificate is valid for the connection.
A number of issues with the reload logs feature have been fixed, including incorrect line indentation and missing lines at the end of a log in some situations.
An issue with the split long messages feature has been fixed which occurred when handling color formats in some contexts.
An Address Book bug that prevented removal of an existing timed unignore has been fixed.
The way incremental search works in channel nickname listboxes has been changed so that it behaves more like Windows explorer.
The /localinfo -p option has been changed to use a random UPnP port outside the first 1056 services port range as some routers block these ports.
An $inellipse() bug caused by a compiler optimization issue has been fixed.
Other changes and bug fixes.
代码





þ E A T P R E S E N T S þ

MIRC.v7.27.Cracked-EAT






°ÛÛ ± SUPPLIER ....: TEAM EAT ± ÛÛ°
ÞÛÝ ± PROG TYPE ...: APPLICATION ± ÞÛÝ
ÛÛ ° LANGUAGE ....: ENGLISH ° ÛÛ
ÛÝ RELEASE DATE.: 2012-10-21 ÞÛ
Û ° ° Û
Û ° CRACKER ......: TEAM EAT ° Û
Û PROTECTION ...: DEMO-LIMITS Û
Û DIFFICULTY ...: GUESS! Û
Û Û
Û PACKAGER ....: TEAM EAT Û
Û FORMAT ......: ZIP/RAR Û
Û ARCHIVE NAME.: eatmr727.zip Û
Û No OF DISKS .: [XX/01] Û
Û Û
Û REQUIREMENTS .: WinXP/Vista/Win7 x86 Û
Û PRICE ........: $20.00 Û
Û WEBSITE.......: http://www.mirc.com Û
Û Û






Û mIRC is a full featured Internet Relay Chat client Û
Û for Windows that can be used to communicate, share, Û
Û play or work with others on IRC networks around the Û
Û world, either in multi-user group conferences or in Û
Û one-to-one private discussions. Û
Û Û
Û It has a clean, practical interface that is highly Û
Û configurable and supports features such as buddy Û
Û lists, file transfers, multi-server connections, Û
Û IPv6, SSL encryption, proxy support, UTF-8 display, Û
Û UPnP, customizable sounds, spoken messages, tray Û
Û notifications, message logging, and more. Û
Û Û
Û mIRC also has a powerful scripting language that can Û
Û be used both to automate mIRC and to create Û
Û applications that perform a wide range of functions Û
Û from network communications to playing games. Û
Û Û
Û mIRC has been in development for over a decade and Û
Û is constantly being improved and updated with new Û
Û technologies. The most recent changes can be found Û
Û on the latest news page: www.mirc.com/news.html Û
ÛÝ ÞÛ






Ü Do NOT distribute this release outside of the scene Ü
Ü Keep the scene alive and secure! Ü
Ü Ü
All good progs start as freeware,
then things get worse ...;-)






±ÞÛÛ ± Try it, Like it, Buy it! ± ÛÛݱ
°ÞÛÝ ± ± ÞÛÝ°
°ÛÛ ÛÛ°
ÞÛÝ ° ° ÞÛÝ
ÛÛ ° ° ÛÛ
ÛÝ ° ° ÞÛ
Û 1. Unpack and install. Û
Û 2. Import the included registry file, Û
Û 3. Copy the included file to the installed folder. Û
Û Û
Û That's all... Enjoy!;-) Û
Û Û
Û ___________________________________________________________________ Û
Û Û
Û Always remember to block applications (or go off line) from calling Û
Û home 'during install'. Once installed, disable 'check for automatic Û
Û updates' option if available, so that you don't get it blacklisted. Û
ÛÝ ÞÛ




± ÛÛÛ ° EAT is a closed group. We would consider only: ° ÛÛÛ ±
± ÛÛÛ ° ° ÛÛÛ ±
° ÛÛÝ ° þ Excellent reverse-engineers ° ÞÛÛ °
°ÞÛÛ ° þ Experienced coders/scripters ° ÛÛÝ°
°ÛÛÝ ° þ Supplier of quality software who can do so on a ° ÞÛÛ°
ÞÛÛ ° frequent basis (retail date not older then 6 months) ° ÛÛÝ
ÛÛÝ ÞÛÛ
ÛÛÝ We do *NOT* want... ÞÛÛ
ÛÛ þ Distros, Shells, etc ÛÛ
ÛÝ ° þ Carders <You aren't what the scene is & bring even more ° ÞÛ
Û security risk> Û
Û ° þ Couriers ° Û
Û Û


ÛÝ ° ° ÞÛ
Û All our friends out there ... Û
Û Û
Û Respect goes out to the competition Û
Û and to those who keep the scene secure! Û
Û Û




这里是其它用户补充的资源(我也要补充):
暂无补充资源