中文名: 3D动画专业应用设计
英文名: Aurora 3D Animation Maker
资源格式: 压缩包
版本: v12.09.26 Multilingual
发行时间: 2012年
制作发行:
Aurora3D Software Co Ltd.
简介: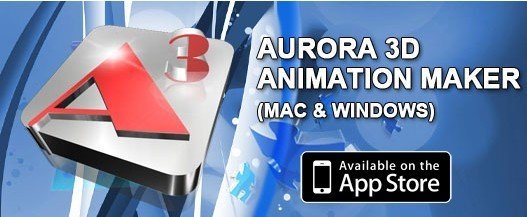 软件类型:软件>多媒体类
软件性质:破解软件
应用平台:Windows
操作系统:Windows 95/98/ME/NT/2000/2003/XP/Vista/Win 7
问题反馈:http://www.presentation-3d.com/support.html
网站链接:http://www.presentation-3d.com/products/animation-3d.html
软件介绍:

Aurora 3D Animation Maker软件是一个使你创造独特的3 D动画专业应用设计。

  当你完成视频编辑和网页设计,你会认为文本需要一个超酷动画,突出描述我们的内容。或者也许你需要一个标志在录像中。这可非常方便地设计出使用这个应用程序。

Aurora 3D Animation Maker简单而灵活。不需要复杂的设计,任何人可以作出一个好的三维动画。

Aurora 3D Animation Maker包含所有Marker3D软件,也有各种动态的背景,是制作三维动画和旗帜的最佳选择。

Aurora 3D Animation Maker可以使标志,广告,产品促销设计出动画等,并可以导出为网页或其他设计软件Flash,视频和图像序列。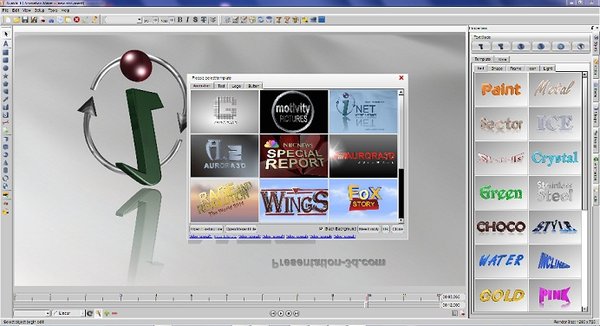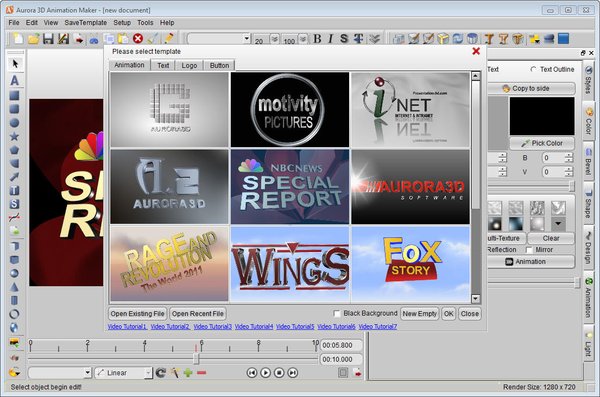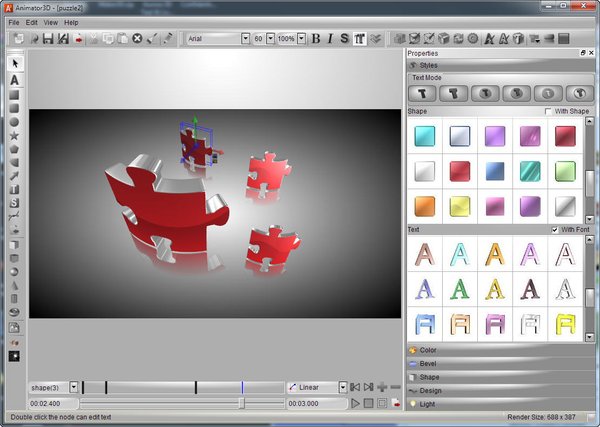 3D Animation Software | Movie Title Animation Creator | Aurora 3D Animation Maker | Mac & PC

Put your creativity to work with easy-to-use 3D Movie Title, Flash Banner and Gif Animation! Quickly Design Video Title, Web Banner and 3D Logo Animation! Export to Video, Flash(windows), Gif Animation and Image Sequences! Full Compatibility with Photoshop, llustrator, iMovie, Final Cut, Premiere and so on.
iTunes App Store

Web design entails much more than just selecting the right graphics and layout. If you plan to make an impact into the competitive market of websites, most of them looking bland and uninteresting, you need to use eye-popping visuals that capture and hold your audience's attention!

Aurora 3D Animation Maker will allow you to create beautiful and eye-catching 3D animations that will transform your text or logos into original and awesome looking creations! Using just a single timeline, you'll be able to control all aspects of your animation, including its length, speed of playback, and much more! Make your own movie title animations for the web and your movies in minutes. You don't even need mastery over the basics of 3D Design. Try it for free!
1. Key frame animation, easy to use
2. 3000+ Symbols and import SVG
3. 60+ Professional Project templates
4. 60+ Additional TrueType fonts
5. 80+ Object Style
6. One click to apply animated effects(10+)
7. One click to add 3D object(200+ templates)
8. Export Animation to HD or SD Movie, SWF(Windows), GIF animation or Image Sequence as you like



Key-Frame Animation

Using just a single timeline, you will be able to control all aspects of your animation, including the length, playback speed, and more.

Particles
Particles Effects

You will have a more splendid scene effects, such as space radiation, rain, snow, fireworks, smoke, etc., with these, you are free to improve the scenes, when you need to attract the eye.

animation template and style
Internal Animation Style

Every object can have many types of animations, such as rotate, swing, beat, wave, fade, typewriter, pulse.

3D Manipulator
3D Manipulator

Drag the button at the right-bottom of an object, and you can extrude the text or shape.
You can control the object position, rotate and scale at X/Y/Z.

3D Graphic Template
Animation Templates

Get a lot of 3D title and logo templates. Make you own 3D title animation in minutes for web and movie. Don't need the basic of 3D Design.

Free-hand Shapes
Free-Hand Shape

Create your shape easily. Use the freehand shape tool, to edit your shape. You can import an .SVG file to the canvas and edit the nodes of the shape.

3D Shapes and Text Quick Style
Quick Styles

You can change an object's appearance quickly, just select the object and click the styles color button. You can get your results quickly.

SVG and Picture Import
SVG & Picture Import

You can import a 2D shape such as an .SVG file, and you can also import the SVG file to the freehand canvas and edit it.
You can import picture to the software and change to 3D Effect.

Six 3D Graphic Mode
3D Graphic Mode

Changing the graphic mode can quickly change the style of your design. You have Borders, Board, Buttons, 2D and 3D Text.

Shape Switch
Shape Switch

Change an object's shape. Just select the shape and select another shape on the panel. You can edit the shape detail by editing the properties.

SVG Text Graphic Library
Graphic Library

Add a shape from the SVG shape library, text shape library, or from the toolbox. There are as many as four thousand shapes in the library.

Text Edit
Text Edit

Full control of the text. Every text can use a different format and colors.

Color and Texture
Color and Texture

Select different parts of an object and change the color.
Supports dynamic texture, let the texture move, rotate and scale automatically on the object.

Bevels
Bevel Effects

Change the bevel effect for shape and text separately.

3D Graphic Distort
Distort Effects

Shape and text can have many types of distortions, such as sector, curve, arch, heave, sunken, wave.

Dynamic Background
Dynamic Background

Supports dynamic background, let the background move, rotate and scale automatically.

Light Control
Light Control

Full control of light settings.

Set Render Size
Set Render Size

You can set the size of preview and export.

Export Image
Export Image

Export designs as PNG, JPG, Tiff, BMP, GIF, TGA files, which can be imported and edited in other illustration applications.

Export Animation
Export Animation

Export Animation to Movie, GIF animation or Image Sequence as you like.Which can be imported and edited in other video edit applications.




代码
ÜÜÜÜÜ
ܲ²²²Ü Ü ßÛÛÛÛÛÛ²²ÜÜ
ÜÛÛÛÛÛ²²ß Ü ÜÛÛÛÛÛÜÜÜßßÛÛÛÛ²²ÛÜ Ü ß Ü
ÜÛÛÛÛÛÛßß ÜÛÛÛÜ ²ÛÛÛÛÛÛÛÛÛ²²ÜßÛÛÛ²²Û² ÛÜ
ÜÜ ß ÛÛÛÛÛßßܲÛÛÛÛÛÛÛÛ ÛÛÛÛÛÛÛÛÛÛÛÛ²² ßßÛÛ²²ÛÝ ÞÛ°
ÞÛ ÜÛÛÛßß Ü²²²ÛÛÛÛÛÛß ÜÛ ÛÛÛßßßßßßÛÛÛÛÛ²Ý ÛÛ²²ÛÜ ÜÛ±
°ÛÛÜ ÜÛÛÛß ß²²ÛÛßßÜÛÛÛÛÛÛÜ ÞßÜÛÛÛÛÛÛÛÛÛÜÜßÛ ÛÛ²ÛÛÛÜÜÜÜÛÛÛß Ü
ß²ÛÛÛÛÛß ÞßܲÛÛÛÛÛÛÛÛÛÛÝ ÛÛÛÛÛÛÛÛÛÛÛÛÛÛ²Ý ßÛ²ÛÛÛÛÛÛßß Ü²Ý
Ü ßß Û²²ÛÛÛÛÛßßÛÜÜ ÛßÜÜÜÜÜÜÜÜßßßÛÛÛ² ßßßß ÞÛ²
Û²Ý ²ÛÛßÛÜÜßßßß ÜÜÜÜÜÜÜÜÜÜÜÜßßßÜßßÝ ÛÛ
ÛÛ ßÜÛßß ÜÜÛÛÛÛÛÛÛÛÛÛÛÛÛÛÛÛÛÛÛÜÜßÜ ßÛ
Þ± Û ÜÜÛÛÛÛÛÛÛÛÛÛÛÛÛÛÛÛÛÛÛÛÛÛÛÛÛÛÛÜ ÜÜÛÝ
ßßÜ ÜÛÛßÛÛÛÛÛÛÛÛÛÛÛÛÛÛÛÛÛÛÛÛÛÛÛÛÛÛÛÛÛÛÜ Üß ßÜ
ÜÛÜ ÛÛÛÛ²ÜÜßßÛÛÛÛÛÛÛÛÛÛÛÛÛÛÛÛÛÛßßßܲÛÛÛÛ² Û ÜÛÛÛÜ Û
ÜÜÝ Û ÞÜ ÞÛÛÛÛÛÛÛ²²ÜßÛÛÛÛÛÛÛÛÛÛÛÛßßÜÜÛ²²²ÛÛÛÛÛÛ± ÞÝÞÛ Û ÛÝÞÝ
Ûß ÜÛÛÛÜ ßÜ ÛßÜ ßÛÛÛ²²ÜÛÛÛÛÛÛÛÛÛÛÜÛÛÛÛÛßßß ÜÜßÛ± ÜÛÛß Û ÛÛÛÛÛÛÛ Û
ÞÝ ÛÛ Û ÛÛ ÞÝ ßßß²²²±Ü ßÛÛßÛÛÛÛÛÛÛÛÛßÛÛÛß ÜÜܲ²²²²ÝÛ ÛÛ±Ý ÞÝÞÛ Ü ÛÝÞÝ
Þ ÛÛÛÛÛÛÛ Ý Þ±° ß²±±Ü ß²ÜßÛÛÛÛÛßܲÛß Ü²²²²²ßß ÜܲÝÛÛ±Û ÛÜßÛÛÛßÜÛ
Ý ÞÛ ß ÛÝ Þ Û² ß²±Ü ²²ÞÛÛÛÝÛ²ß Ü²²²²ß °±² Û±ÛÝ ßÝ Û Þß
ÞÜ ßÛÛÛß ÜÝ ÛÝ ß²±Ü²ÝÛÛÛÞ² ܲ²ßß ±±ÞÛ±Û ßÛß
ß±ÜÜÛÜÜ±ß ÞÛÜ ß²²ÛÛÛÛÛÛݲ²ß ±ßÛ±ÛÝ
ßßß Ü²ÜßÛÜÜ ²²ÞÛ²²²ÛÛ²ß ÜÛÞÛÛÛÛ
ÞÛÛÛ²²Ü²ßÛÛÜÜÜÜÜ°Ûݲ²ÛÛÛÞÜ ÜÜÜÛßßÜÛ²ÛÛÛÛ
ÛÛÛÛÛÛÛÛÛÛÛÛÛÛÛÛÛÛß²ÛÛÛÛݲÛÛÛÛÛÛÛßßßÛÜÛÛß±²²Û± ÛÝ
ÞÛÛÛÛÛÛÛÛÛÛÛÛÛÛÛÛ ²ÛÛÛÛÛ²Þ²ÛÛÛÛÛÛÛÛÛÛÛÛÛ²ÜÞ²²±°ÛÛ
²ÛÛÛÛÛÛÛÛÛÛÛÛÛß ²ÛÛÛßܲÜß²²ÛÛÛÛÛÛÛÛÛÛÛÛÛ² ÛÛÛÛÛ
²ÛÛÛÛÛÛÛÛÛß ßÞ²²ÛÛÛÛÛÛ±Ü Û²ÛÛÛÛÛÛÛÛÛÛÛÛÛ ßßß
ßÛÛÛÛÛÛß Ü²²Ü ²²ÛÛÛÛ Üß ²²ÜßÛÛÛÛÛÛÛÛÛÛÝ
ßÛÛÛ Ü²Û²ß²ÜÜ ßßß Ü²ß²Üß²±ÜßÛÛ²ÛÛÛÛÛ
ÛÛ ²Û²ÜÛßܲ²ÛÛÛ²²²²Üß²ÜÛ± ÞÛÛÛÛÛß
ß²ÛÛ ÛÜÛß ßÛ ² Û °ÛÛÛß
ÞÛÛÛß² ÛÜÛÛÜÜÜÜܲÛÜßÜÛ߲߱Ûß
ܲ ²Ûß²ÜÛß²ÛÛ²ÛÛÛßÛ²²Ü²²Ü²ßÜ
Üß Þß²ÛÛß²ÛÛÜßßÛßßܲ²²ß²ÛÜ²Ý ß
۲߲ÛÛܲßÛÛÛÜÛÛ²ßßܲÛß²²ßÝ
ÛßÛÛ²ßßÛÛÛÜÜßÛßÜܲ²ßßܲÛÜÛ
ß ÛÜÛÛ²²ÜÜßÛÛÜÛÜÛßÜÜÛ²ßÛÜÝ ßÜ
ܲÜÛßÛ²ÛÛ ²ÜÛÜÛ ²ÛÛ ²²Ý ²
Ü Û² ²²Û ²²ß²ÛÜÛÜÛ²ßÛÞÛÜÛ² Ü
ß Ûßܲ۲ÜßÛ Û Ûßܲ ÛÞÜÝ
²ÝÞÛ۲߲ÛÛÛÛ۲߲ ² ²ßÜ
Ü Ü ß Þ ²²ÛÜßÛܱÜÛßܲ Û Û ß Ü ß Ü
ÜÛß ÜÛß Û² ßß߲ܲ߱²² Ü ß Ü ÛÜ ÛÜ
ÛÛ ÛÛ ß Û۲߱߱ßÜ Ü ÛÛ ÛÛ
ÛÛ ÛÛ Üß ÞÛ±±ß ß ÛÛ ÛÛ
ÛÛÛ ÛÛÛ ± ÛÛÛ ÛÛÛ
ÛÛÛ ÛÛÛ Ü ÛÛÛ ÛÛÛ
ÞÛÛÛ ßßß ßßß ÛÛÛÝ
ÛÛÛÝ ±±±±±±±±ÜÜÜ ±±±± ±±Ü ±±Ü ±±±± ±±Ü ±±±± ÞÛÛÛ
ÛÛÛÝ ÛÛÛÛÛÛÛÛÛÛÛÛÜ ÛÛÛÛ ÛÛÛÝ ÛÛÛÛ ÛÛÛÛ ÛÛÛÛ ÛÛÛÛ ÞÛÛÛ
ÛÛÛÝ ÛÛÛÛ ßßÛÛÛÛÛÛ ÛÛÛÛ ßßßß ÛÛÛÛÛ ÛÛÛÛ ÛÛÛÛÛ ÛÛÛÛ ÞÛÛÛ
ÛÛÛ² ÛÛÛÛ ßÛÛÛÛÝ ÛÛÛÛ ÛÛÛÛ ÛÛÛÛÛÛ ÛÛÛÛ ÛÛÛÛÛÛ ÛÛÛÛ ÛÛÛ²
ÞÛÛ² ÛÛÛÛ ÞÛÛÛÛ ÛÛÛÛ ÛÛÛÛ ÛÛÛÛÛÛÛ ÛÛÛÛ ÛÛÛÛÛÛÛ ÛÛÛÛ ÛÛ²Ý
ÛÛ²² ÛÛÛÛ ÛÛÛÛ ÛÛÛÛ ÛÛÛÛ ÛÛÛÛ ÛÛÛÛ ßÛÛ ÛÛÛÛ ÛÛÛÛ ßÛÛ ÛÛÛÛ ÛÛ²²
ÞÛÛ²² ÛÛÛÛ ÛÛÛÛ ÞÛÛÛÝ ÛÛÛÛ ÛÛÛÛ ÛÛÛÛ ÛÛ ÛÛÛÛ ÛÛÛÛ ÛÛ ÛÛÛÛ ÛÛ²²Ý
ßÛÛ² ÛÛÛÛ ß ÜÜ ÜÜÜÜÜ ÛÛÛÛ ÛÛÛÛ ÛÛÛÛ ÛÛÜÜßß ÛÛÛÛ ÛÛÜÜßß Û²²ß
ßßß ÛÛÛÛÛÛÛÛÛÛÛÛÛÛÛ ßÛÛÛÛÛÛÛÛ ÛÛÛÛ ÛÛÛÛ ßÛÛÛÛ ÛÛÛÛ ßÛÛÛÛ ßßß
ÜÛÛÛÛÜÜÜÜÜÜÜÜÜÜÜÜÜÜÜÜÜÜÜÜÜÜÜÜÜÜÜÜÜÜÜÜÜÜÜÜÜÜÜÜÜÜÜÜÜÜÜÜÜÜÜÜÜÜÜÜÜÜÜÜÜÜÜÜÛÛÛÛÜ
ÛÛÛßßß ÜÜÜÜÜÜÜÜÜÜÜÜÜÜÜÜÜÜ ÜÜÜ ÜÜ ÜÜ ÜÜÜÜ ÜÜ ÜÜ ÜÜÜ ÜÜÜÜÜÜÜÜÜÜÜÜÜÜÜÜ ßßßÛÛÛ
ÛÛß ÜÛÛÛÛÛÛÛÛÛÛÛÛÛÛÛßßßßßßßÜ ÛÛÜßÛÜßÛ ßß ÛßÜÛßÜÛÛ ÜßßßßßßÛÛÛÛÛÛÛÛÛÛÛÛÛÛÜ ßÛÛ
Û ÛÛÛÛßß ÜÜßßÛÛÛÜ ßÛÜßÛÜßÛÜ ÜÛßÜÛßÜÛß ÜÛÛßßßÜÜ ßßÛÛÛÛ Û
ÛÛÛß Üß ÛÛÛÛÜ ßÛÜßÛÜÜßßÜÜÛßÜÛß ÜÛ²ß ßÜ ßÛÛÛ
ÛÛÛ Û° ÛÛÛÛÜ ßÛÜÜÜßßÜÜÜÛß ÜÛ²²ß °Û ÛÛÛ
ÞÛÛÝ Ü ÛÛÛÛÜÜ ßßßß ÜÜÛ²²ß Ü ÞÛÛÝ
ÞÛÛ ß°ÜÜÜÜÜÜ ÛÛÛÛÛÛÛÜÜÜÜÛÛ²²Û²ß ÜÜÜÜÜ°ß ÛÛÝ
ÞÛÛ ßÜ ßßßÛÛÛÛÛÛ²²²ßß Üß ÛÛÝ
ÞÛÞÝ ÞÝÛÝ
ÞÛÝÛÜ ÜÛÞÛÝ
ÞÛÛ ßÜ Üß ÛÛÝ
ÞÛÛ ß Aurora 3D Animation Maker v12.09.26 ß ÛÛÝ
ÞÛÛ ÛÛÝ
ÞÛÛ Company - [ Aurora3D ] ÛÛÝ
ÞÛÛ URL - [ http://www.presentation-3d.com/ ] ÛÛÝ
ÞÛÛ Cracker - [ TeaM DJiNN ] ÛÛÝ
ÞÛÛ Type - [ Cracked ] ÛÛÝ
ÞÛÛ Protection - [ Trial ] ÛÛÝ
ÞÛÛ OS - [ WINALL ] ÛÛÝ
ÞÛÛ Language - [ Multilingual ] ÛÛÝ
ÞÛÛ Date - [ 15/10/2012 ] ÛÛÝ
ÞÛÛ ÛÛÝ
ÞÛÛ Ü°Ü ÛÛÝ
ÞÛÛ Ü ß ÛÛÝ
ÞÛÛÞ ß°ß Ü°Ü ÜÜÛÛÛÛ²ÜÜßÝ
ÞÛÛ Û ÜÜÜÜ ÜÜ ÜÜÜÜß ÜÛ±°° ßÛ²
ÞÛÛÝßÛÜ ÜÜßßß ÜÜÜ ßÛ²ß ÜÜÜÜ ßßßÜÜ Û±°° Þ²²
ÞÛÛÛÜ ßßßßßßßßßßßßßßßßßßßßß ÜÜÛÛÛÛÛÛÛÜÜÜÜÛÛÛÛ²²²²ÜÜ ßßßßßßßßßßßßßßß°° Û²
ÛÛÛÛÛÛÛÛÛÛÛÛÛÛÛÛÛÛÛÛÛÛÛÜÜ ßÛÛÛÛÛÛÛÛÛÛÛÛÛÛÛÛÛÛÛ²²²²ß ÜÜÛÛÛÛÛÛÛÛÛÛÛÛÛ°° Þ²Ý
ßÛÛÛÛÛÛÛÛÛÛÛÛÛÛÛÛÛÛÛÛÛÛÛÛÜ ßÛÛÛÛÛÛÛÛÛÛÛÛÛÛÛÛ²²²ß ²²ÛÛÛÛÛÛÛÛÛÛÛÛÛÛÛÛÛÛÜÜܲ²ß
ßßÛÛÛÛÛÛÜÜÜ ßßßßÛÛÛÛÛ²ßßß Üܲ²²ÛÛÛÛßß
iNFORMATION ON ßßÛÛÛÛÛÛÛÛÛÜÜÜÜÜÜÜÜÛÛ²²²²ÛÛßß HOW TO INSTALL
ÜÜÜÜÜÜÛÛÛÛÛÛÜÜ ßßßÛÛÛÛÛÛÛÛÛÛÛÛÛÛÛÛßß ÜÜÛÛÛÛÛÜÜÜÜÜÜ
ÜÛÛÛÛÛÛÛÛÛÛÛÛÛÛßßßßßß ÜÜÜÜÜÛÛÜÜÜÜ ßßßßßßßßß °°°±ÜÜÜÜ ßßßßßßÛÛÛÛÛÛÛÛÛÛÛÛÛÛÜ
ÛÛÛß ÛÛÛÛÛÛÛÛÛÛÛÛÛÛÛÛÛÛÛÛÛÛ²²²²²²²ÛÛÛÛÛÛÛÛÛÛ²²²ÜÜ ßÛÛÛ
ÞÛÛÝ ßßßßßÛÛÛÛÛÛÛÛÛÛÛÛÛÛÛÛÛÛÛÛÛÛÛÛÛÛÛÛ²²²²ßßß ÞÛÛÝ
ÞÛÛ ÛÛÝ
ÞÛÛ ÜÜ Ü Ü ÜÜ ÛÛÝ
ÞÛÛ Ü²ß ß ÜÜß ßÜÜ ß ß²Ü ÛÛÝ
ÞßÜÜ Û²ß ß²Û ÜÜßÝ
Þ²ßßß²Ü ß 1 - Unpack and install ß Ü²ßßß²Ý
Û ßÛÜ ÜÛß Û
ÝÛßÛÜ ß² 2 - Copy cracked file over the original ²ß ÜÛßÛÞ
ÛÝ ÛÛ ÞÝ ÞÝ ÛÛ ÞÛ
ÝÛÜÛß Ü² 3 - Enjoy ! ²Ü ßÛÜÛÞ
Û ÜÛß ßÛÜ Û
ÞÛÜÜÜ²ß Ü --- --- Ü ß²ÜÜÜÛÝ
ÞÜßß Ü²ÛÛ ÛÛ²Ü ßßÜÝ
ÞÛÛ ß²Û²Ü Ü ßßÜ Üßß Ü Ü²Û²ß ÛÛÝ
ÞÛÛ ßßßß ß ß ßßßß ÛÛÝ
ÞÛÛ ÛÛÝ
ÞÛÛ ÜÜß ÜßßÜ ÜÜ ÜßßÜ ßÜÜÜ ÛÛÝ
ÞÛÛ Ü ßÜÜÜÜÜ ÛÜÜÛ ÜÜÜÜÜß Ü ÛÛÝ
ÞÛÛ ßßßÜÜÜÜÜÜÜ ßÜ ÜßÛÜÜÜÜÛßÜ Üß ÜÜÜÜÜÜÜßßßß ÛÛÝ
ÞÛÛ ÜÜÜÜÜÜÜÜ ßܱÜÛÛÛÜÜ ÜÜÜÛÛÛܱÜß ÜÜÜÜÜÜÜÜ ÛÛÝ
ÞÛÛ ßÜ Üß ßܱÜÛÛÛßßß ßßßÛÛÛÛܱÜß ßÜ Üß ÛÛÝ
ÛÛÛÜÜÜ ßßßß ÜÛßßßßßß ÜÛÛßܱ Ü ±ÜßÛÛÛÜ ßßßßßßÛÜ ßßßß ÜÜÛÛÛ
ßßÛÛÛÛÛÛÛÛÛÛÛÛÛß ÜÛß ÜÛGROUPÛÛÜ±ß ÜÛßÛÜ ß±ÜÛÛÛ²iNFOÛÜ ßÛÜ ßÛÛÛÛÛÛÛÛÛßß
ßßßßßßßßß ÜÛß ßßßßßßßÛÛÜß±±Ü ßÛß Ü±±ßÜÛ²²ßßßßßßß ßÛÜ ßßßßßß
ÜÛÛÛÛÛÛÛßßßßßßßßßßßßßßßßßß ßÛÛÜß± ±ßÜ²Û²ß ßßßßßßßßßßßßßßÛÛÛÛÛÛÛÜ
ÛÛÛÛß ßÛÛÜß±Ü Ü±ßÜÛ²Ûß ßÛÛÛÛ
ÞÛÛÛ ßÛÛÜܱ߱ßÜ²Û²ß ÛÛÛÝ
ÞÛÛÝ ßÛÛÜßÜÛ²Ûß ÞÛÛÝ
ÞÛÛ ßÛÛÛ²ß ÛÛÝ
ÞÛÛ ßß ÛÛÝ
ÞÛÛ ÛÛÝ
ÞÛÛ Underground is our land, ÛÛÝ
ÞÛÛ Reversing is our religion, ÛÛÝ
ÞÛÛ Binary is our language. ÛÛÝ
ÞÛÛ Greetz to all our friends and all who ÛÛÝ
ÞÛÛ support us :) ÛÛÝ
ÞÛÛ ÛÛÝ
ÞÛÛ DJiNN is looking for ÛÛÝ
ÞÛÛ - talented crackers, keygenners and ÛÛÝ
ÞÛÛ unpackers (Win32, DotNet, x64, ...) ÛÛÝ
ÞÛÛ - 100Mbit+ affils EU prefered ÛÛÝ
ÞÛÛ - Suppliers ÛÛÝ
ÞÛÛ ÛÛÝ
ÞÛÛ djinn<at>girlmail.ru ÛÛÝ
ÞÛÛÝ ÞÛÛÝ
ÛÛÛÜ ÜÛÛÛ
ÛÛÛÛÛÛÜÜÜÜÜÜÜÜÜÜÜÜÜÜÜÜÜÜÜÜÜÜÜÜÜÜÜÜÜÜÜÜÜÜÜÜÜÜÜÜÜÜÜÜÜÜÜÜÜÜÜÜÜÜÜÜÜÜÜÜÜÛÛÛÛÛÛÛ
ßßÛÛÛÛÛÛÛÛÛÛÛÛÛÛÛÛÛÛÛÛÛÛÛÛÛÛÛÛÛÛÛÛÛÛÛÛÛÛÛÛÛÛÛÛÛÛÛÛÛÛÛÛÛÛÛÛÛÛÛÛÛÛÛÛÛÛÛßß ÜÜÝ
ASCii by yiX/09-10 ÜÜÜÜÜÜÜÜÜÜÜÜÜÜÜÜÜÜÜÜÜÜÜÜÜÜÜÜÜÜÜÜÜÜÜÜÜÜÜÜÜÛßß
YES TO EVOLUTiON ²²±±²±²±²²²²²²²²ÛÛÛÛ²²²Û²²²²±²²±°±Ûßß
NO TO MUTATiON °±±±²±±²²²²ÛÛÛÛÛÛÛÛÛ²²ÛÛ²²²²±²±°Ý
ß°±²±²²ÛÛÛÛÛÛÛÛÛÛÛÛ²ÛÛÛ²²²²±²±°
Ü°ß ß°Ü °±±²²ÛÛÛÛÛÛÛÛÛÛÛÛÛÛÛÛ²Û²²±²±±
²ß° ²±²²ÛÛÛÛÛÛÛÛÛÛÛÛ²ÛÛÛ²²²²±²±Ý
²±° ±²²²ÛÛÛÛÛÛÛÛÛÛÛ²ÛÛÛ²Û²±±±²Ý
Û²° °²²²ÛÛÛÛÛÛÛÛÛÛ²ÛÛÛÛ²²²²±²°
²²Û° °±²²ÛÛÛÛÛÛÛÛÛ²ÛÛÛÛÛ²±²±±±²
ß²²ÛÛ° °±²²²ÛÛÛÛÛÛÛÛÛÛÛÛÛÛÛ²²²±²±°
°²²ÛÛÛÜÜ ÜÜܲ²²²ÛÛÛÛÛÛÛÛÛÛÛÛÛÛÛ²²²²±±°ß
ß²²ÛÛÛÛÛÛÛÛÛÛÛÛÛÛÛÛÛÛÛÛÛÛÛÛÛÛÛÛ²²Û²±°°ß
ß²Û²ÛÛÛÛÛÛÛÛÛÛÛÛÛÛÛÛÛÛÛÛÛÛ²²Û²±±°ß
ß²²²²Û²ÛÛÛÛÛÛÛÛÛÛÛÛÛÛ²²²±±±ßß
ßß²²²ÛÛÛÛÛÛÛÛ²Û²²²ßßß
ßßßßßßßß
引用
ed2k:
//|file|Aurora.3D.Animation.Maker.v12.09.26.Multilingual.WINALL._ed-DJiNN.rar
|78982961|A0DC14F154E7069832FBA9F0FF92DE44
|h=GUBLOV532XYMEG5BZWJQGT4M7GHK76FW|/
资源更新列表
http://www.VeryCD.com/i/5190747/create/fol...postTime
这里是其它用户补充的资源(我也要补充):
暂无补充资源