专辑英文名: Mozart in Vienna
专辑中文名: 在维也纳的莫札特
古典类型: 全集作品
资源格式: FLAC
版本: [Linn 24bit/192KHz]
发行时间: 2010年05月17日
简介: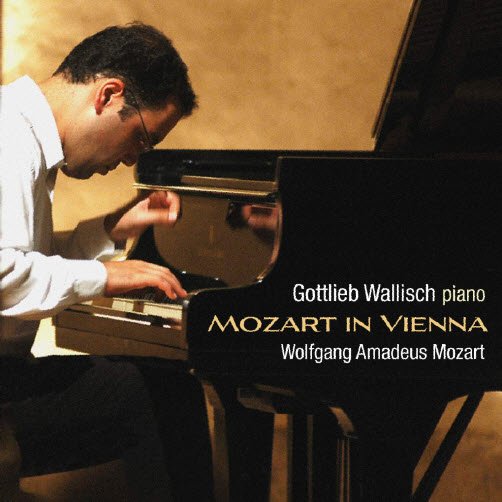 专辑介绍:

Gottlieb Wallisch(钢琴)

一位快速走红的澳大利亚年轻音乐家,拥有精湛的技巧以及独特的个人风格, 曾与世界著名乐团合作,例如维也纳爱乐乐团、马勒青年交响乐团、皇家利物浦爱乐乐团、斯图加特室内乐团等 萨尔茨堡室内乐团的演奏"忠实於音乐,充满了欢乐与感染力"

——瑞士《新苏黎世》杂誌

格特利伯•瓦利施

奥地利钢琴家格特利伯•瓦利施(Gottlieb Wallisch)出生于一个音乐世家,在儿童时代就显现出惊人的音乐天赋,在6岁那年就被维也纳大学破格录取,研习音乐与表演专业。在这之后,他又陆续得到一些名师的指点,并且在欧洲各国游学,演奏技艺得到了迅速提升。

格特利伯•瓦利施是首届美国"斯特拉文斯基奖章"的获得者,与此同时他还获得了1999年度布鲁塞尔的"伊丽莎白皇后奖章"以及2005年第21届"克拉拉•哈丝姬儿音乐大奖",是一位正受到国际乐坛高度关注的乐界新秀。

在加盟Naxos这个国际性唱片出版品牌后,格特利伯•瓦利施备受公司方面的重视,陆续录制推出了一系列的录音。

Mozart - Mozart In Vienna [Hybrid SACD - Plays on all CD Players]
唱片数: 1
条型码: 0691062035224
发行时间: 2010-05-17
唱片名: Mozart - Mozart In Vienna [Hybrid SACD - Plays on all CD Players]
表演者: piano Gottlieb Wallisch
版本特性: SACD
出版者: Linn records
介质: Audio CD

Austrian pianist Gottlieb Wallisch's debut on Linn Records, Mozart in Vienna, features a selection of Mozart's best-loved works, all composed in Vienna during one of the composer's most fruitful periods: 1781-1791.

The SACD layer is both 5.1 channel and 2-channel. The Studio Master files are 192 kHz or 88.2kHz / 24-bit.
Download includes - cover art, inlay, booklet

Booklet Notes:

Wolfgang Amadeus Mozart and Vienna: a relationship that appears perfectly obvious and logical at first since Mozart
is widely regarded as the main protagonist of the Viennese Classical movement. Yet Mozart in Vienna encompasses a time
span of merely ten years from 1781 to his death in this city in 1791. Relocating to Vienna was important to Mozart in two aspects: he gained freedom from his feudalist chains as court organist and concertmaster for the Archbishop Hieronymus von Colloredo of Salzburg; and furthermore he was able to cut the umbilical chord to his father, Leopold Mozart. Now Mozart lived the life of an independent artist in Vienna, relieved of prior servile obligations. Another crucial step towards self-reliance was his marriage to Constanze Weber in Vienna in August 1782 at St. Stephan's Cathedral. But what was Mozart's actual motivation to move his life from his hometown Salzburg to Vienna?

Archbishop Colloredo travelled to Vienna in early 1781, and since he was keen on presenting himself in the most glamorous fashion, adorned with a force of servants and equipment, he also brought along some of his best musicians as part of his courtly entourage. Therefore Mozart, who was staying in Augsburg at the time, was summoned to Vienna in the middle of March. He complied immediately. The 'arch-rascal' had rejected Mozart's desire for a solo concert. Things became increasingly difficult, and two heated confrontations lead to the final discord with the Archbishop. Mozart quit his service in Salzburg on June 8th 1781 and settled in Vienna.

The start in Vienna was most promising: '...my good fortune is now about to begin', Mozart wrote to his father in Salzburg. 'P.S. I assure you this is a splendid place, and for my profession the best place in the world.' Mozart's 'profession': not only music in general, but the art of the piano in particular which here he was able to deliver to an abundance of students. '...My phase of art is so much liked here, that I feel I am on a sure basis. This is certainly the Pianoforte land!' He engaged in an almost manic productivity (nearly half his oeuvre originates from his ten Vienna years) and became increasingly established in Viennese society.

Mozart was an exceptionally gifted pianist. His pianistic battle with Muzio Clementi is in the history books of music: initiated by Emperor Joseph II. This musical showdown took place at the Vienna Hofburg on December 24th 1781. The combatants were required to perform their own works as well as prove their skills in sight-reading and free improvisation. Which pieces Mozart might have performed has not been accounted for; yet one could imagine him turning to a Fantasy on such an occasion, possibly similar to the Fantasy in D minor, K.397 which is included in this recording. This remarkably expressive and touching piece from 1782 resembles a miniature opera with its alternating arioso and recitative episodes. It is comprised of two parts: Adagio (d minor) and Allegretto (D major). Mozart left the piece unfinished by a few bars, the abrupt final chords were added later (presumably by August Eberhard Müller). The Fantasy in D minor is a splendid example of Mozart's command of improvisation, yet it is equally impressive in formal aspects by its coherence and the masterful framing of minor and major parts.

By 1783 Mozart had established himself in Vienna as a pianist, conductor and composer. He organised numerous concerts for himself, and in the first half of 1783 managed to host no less than six such 'academies'. In a letter to his father Mozart recounts his concert on March 23rd 1783: 'I need not tell you much about the success of my concert, for no doubt you have already heard of it. Suffice it to say that the theatre could not have been more crowded, and every box was full. What gratified me most was the Emperor being present, who gave me great applause.' The audience in the Old Court Theatre demanded an encore, '... so I played variations on the aria, "Unser dummer Pöbel meint", from The Pilgrimme von Mekka [by Gluck]'. This marks the origin of the Ten Variations in G Major, K. 455 which Mozart put to paper not until a year later in August 1784. An aria from Gluck's comic opera The Pilgrims from Mecca serves as the main theme: a dervish makes fun of the pious people gullibly trusting his Order's vow of poverty. Gluck's 'Turkish opera' was a popular piece in Vienna at that time and provided musical inspiration for Mozart's opera Die Entführung aus dem Serail. In his Ten Variations Mozart shrouds Gluck's witty plump melody in humorous counterpoint, daring harmonies, trills and shimmering soundscapes.

'Rondò di W. A. Mozart il 11 Marzo 1787' is the autograph inscription for a solitary piece of deep inner significance for Mozart. His Rondo in A minor, K. 511 came about in between the composition of Figaro and his new opera Don Giovanni. Mozart's public performances were on a steep decline. The Rondo signifies his turning away from the stage; it is an intimate piece of chamber music for solo piano, full of melancholy, poetry and confession. The different sections vary between the light and shadow of minor and major. A continuous 6/8 time signature suggests a Siciliano which appears transfigured and iridescent, a similar effect as in the F-sharp minor Adagio from his Piano Concerto in A Major, K. 488. The intense ascending chromatic line of the main theme dominates the course of events; two middle sections in F major and A major bring a hint of hope before the material is condensed into a coda of muted resignation. We get a deeper look into Mozart's soul in this passage from a letter to his father, written only three weeks later:

'As death (when closely considered) is the true goal of our life, I have made myself so thoroughly acquainted with this good and faithful friend of man, that not only has its image no longer anything alarming to me, but rather something most peaceful and consolatory; and I thank my heavenly Father that He has vouchsafed to grant me the happiness, and has given me the opportunity, (you understand me,) to learn that it is the hey to our true felicity. I never lie down at night without thinking that (young as I am) I may be no more before the next morning dawns. And yet not one of all those who know me can say that I ever was morose or melancholy in my intercourse with them. I daily thank my Creator for such a happy frame of mind, and wish from my heart that every one of my fellow-creatures may enjoy the same.'

At the end of the 18th century composers were widely interested in combining the old master's art of polyphony with their modern 'gallant' style. Trying to integrate the complex counterpoint techniques into an elegant and plain composition was the main challenge. Mozart accomplished this feat impressively in his last two sonatas, dating from 1789. Finished in February, the Sonata No. 17 in B-flat Major, K. 570 is the more sober of the two and represents a late style of utmost serenity. The two themes in the first movement are identical, therefore any dramatic contrast is eliminated. In return we get a development generously endowed with contrapuntal finesse, including double counterpoint. Thirds, fifths and sixths shape the second movement with their imitation of a noble vision, an atmosphere only disrupted by a sad solitary C minor section. The reductionist Rondo Finale comes along quite minimalist, evoking an oddly humorous mood that recalls final movements by Mozart's friend Joseph Haydn.

The same year Mozart was informed that the Prussian King Friedrich Wilhelm II was an avid cellist and entertained a luxurious court orchestra. Mozart did not hesitate and hoping for new means of income, he travelled to Potsdam to audition for the King. His Majesty's reaction has not been recorded. However it is for certain that Mozart received commissions for new pieces which he mentioned in a letter to his Freemason friend, Michael von Puchberg: '...meanwhile I am writing 6 easy Piano Sonatas for the Princess Friederika and 6 Quartets for the King, which I will order Kozeluch to print at my own expenses; besides I expect the 2 dedications to be profitable for me'. Only three of the six quartets were finished (K. 575, 589, 590) and only one of the six sonatas, his final sonata, Sonata in D Major, K. 576, which was completed in Vienna in July 1789. Mozart's intent of writing easy sonatas for the princess caused astonishment, since K.576 became his pianistically most demanding sonata. Commanding the technical difficulties without losing a light and playful sound is a challenging task in itself, but even more daunting is mastering its polyphonic style. In 1782, his friend Gottfried van Swieten had introduced Mozart to the works of Bach and Handel in Vienna and he continued to study them with great care and devotion. From this perspective the Sonata in D Major - even more so than the Sonata in B flat Major - presents itself as the solution for the compositional problems Mozart was dealing with at that time. The piece is mainly shaped in two-part linearity (resembling a suite by Bach) which Mozart works into one of his characteristically transparent compositions. In addition he creates space for lyrical moments: the Adagio's melody blossoms between the outer movements with a long and peaceful breath. © Gottlieb Wallisch, 2010 (Translation by Gero Mertens)

Recorded at St George's, Bristol, UK: 5th-7th August 2009
Produced and engineered by Philip Hobbs
Post-production by Julia Thomas, Finesplice, UK
Design by John Haxby


引用
Published on July 19, 2010
"MOZART in Vienna" = MOZART: Sonata No. 18 in D Major; Fantasy in D Minor, K. 397; Sonata No. 17 in B-flat Major, K. 579; Rondo in A Minor, K. 511; Ten Variations in G Major, K. 456, "Unser dummer Pöbel meint" – Gottlieb Wallisch, piano – Linn Records
"MOZART in Vienna" = MOZART: Sonata No. 18 in D Major, K. 578; Fantasy in D Minor, K. 397; Sonata No. 17 in B-flat Major, K. 579; Rondo in A Minor, K. 511; Ten Variations in G Major, K. 456, "Unser dummer Pöbel meint" – Gottlieb Wallisch, piano – Linn Records multichannel SACD CKD 352, 61:53 [Distr. by Naxos] *****:
Variety being the spice of life, Gottlieb Wallisch supplies it in a program of very much assorted piano works from Mozart's Vienna years. This includes two of the less frequently heard late sonatas, a standalone fantasy and rondo, and the striking variations Mozart wrote on Gluck's Unser dummer Pöbel meint.
In a day when such recycling was much less frowned on than today, this last piece became, quoted verbatim and orchestrated, the finale of Tchaikovsky's Fourth Suite for Orchestra. If you hear it in its piano incarnation for the first time, you'll probably wonder why Tchaikovsky ever thought it needed his help. The theme itself is a grinning, mock-serious one from Gluck's comic opera The Pilgrim of Mecca. Mozart has fun with this quasi-serious demeanor, injecting repeated grumblings in the bass, pompous counterpoint, and taunting repeated trills. But then there is the near tragic Variation V, which is vintage Mozart no matter what the context. Variation XI is reflective and could be a moment from a comic opera in which a character shares his or her more serious concerns. Then a series of comic rising grace notes announce that the clouds are about to lift for the bounding final variation, with its mock-operatic cadenzas and one last reprise of the serious opening before a leaping, scampering coda.
Getting the subtle tongue-in-cheek tone and the various moods of the work just right—its air of quasi-seriousness, dead seriousness, and outright fun—is something of a balancing act, so I turn here first as an indicator of the kind of program we're in for. I can report that with Viennese-born Gottlieb Wallisch, we're in good hands.
Mozart's last two sonatas aren't heard with any of the regularity of earlier sonatas having an obvious "hook," such as the so-called "Turkish" Sonata (No. 11) or "Easy" Sonata (no. 16), so it's good to have them included, especially in such refined performances as these. Wallisch's runs and ornamentation are impeccable, while his subtle dynamic shadings give these pieces an equally subtle emotional trajectory. These sonatas may lack memorable earmarks such as the ethereal variations of No. 11 or the proto-Romantic yearning of No. 12's first movement. But they are fully mature Mozart, featuring slow movements tinged with a noble melancholy that may be their central attraction. Of the two, No. 17 is the more interesting, with its near-monothematic first movement and simple, jovial last movement, both of which may point to the influence of Haydn.
The Fantasy in D minor, with its subtle range of moods and tempi—from the disquietingly chromatic opening through the sober main theme, at a walking tempo, to the running bridge passages that surround it to the smiling arioso at the conclusion— probably gives us a good idea of Mozart's brilliant improvisations. On the other hand, the prevailingly melancholy Rondo in A Minor of 1787 came at a time when Mozart's public performances were being greatly curtailed and may speak to personal anxieties and a search for inner peace.
So Mozart in Vienna is the story of technical mastery and brilliance, as well as some humor, coexisting with and colored by a growing soberness. Gottlieb Wallisch's technical assurance and understanding of the subtle emotional variances in this music make for a stimulating program very well executed.
Linn's multichannel piano sound is beautifully detailed, the acoustic convincingly rendered. There is a noticeable splice in the first movement of Sonata No. 18 that shouldn't be there—proof, if any is needed, that nothing's perfect.
-Lee Passarella
http://audaud.com/2010/07/%E2%80%9Cmozart-...r-k-456/
引用
Gottlieb Wallisch - Mozart in Vienna - hi-fi+

06 August 2010
hi-fi+
Richard Foster
5 Stars

Gottlieb Wallisch has been performing on the World stage for over a decade. He's played with the Vienna Philharmonic, the Royal Liverpool Philharmonic Orchestra and the London Philharmonic Youth orchestra to name but a few. The programs on this disc are from some of Mozart's most fruitful period of composition and are some of his best-loved works.

The period in Vienna is 1781-1791. Sonata No. 18, K.576 is very well known as is the very short Fantasy in D minor, K.397. Sonata 17, K.570 is a wonderful intro to the last works here, the Rondo in A, K.511 and a stunning Ten Variations in G major, K.455. Wallisch, born into a family of musicians, plies his craft with aplomb and demonstrates his competition prizewinning ways in the truest sense of the Viennese piano tradition. His tone is clear, precise with excellent fingering techniques that are sure to captivate the listener. Linn has given us some of the finest Steinway piano sounds I have ever heard. This is a disc that offers a true window into the genius of Mozart through exceptional talent. An intimate, lifelike endeavour.

Wolfgang Amadeus Mozart (1756 - 1791)
01.-03. Sonata in D major, K.576
04. Fantasy in D minor, K.397
05.-07. Sonata No.17 in B-flat major, K.570
08. Rondo in A minor, K.511
09.-19. Ten Variations in G major, K.455

Gottlieb Wallisch - piano
Produced by Philip Hobbs
Recorded at St George's, Bristol, UK: 5th-7th August 2009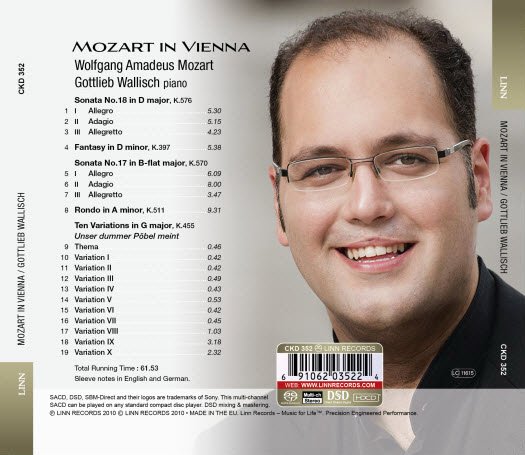 专辑曲目:
01. Sonata in D major, K.576 - I Allegro 05:25
02. Sonata in D major, K.576 - II Adagio 05:15
03. Sonata in D major, K.576 - III Allegretto 04:24
04. Fantasy in D minor, K.397 05:39
05. Sonata No.17 in B-flat major, K.570 - I Allegro 06:09
06. Sonata No.17 in B-flat major, K.570 - II Adagio 08:01
07. Sonata No.17 in B-flat major, K.570 - III Allegretto 03:47
08. Rondo in A minor, K.511 09:31
09. Ten Variations in G major, K.455 - Thema 00:47
10. Ten Variations in G major, K.455 - Variation I 00:42
11. Ten Variations in G major, K.455 - Variation II 00:42
12. Ten Variations in G major, K.455 - Variation III 00:49
13. Ten Variations in G major, K.455 - Variation IV 00:43
14. Ten Variations in G major, K.455 - Variation V 00:54
15. Ten Variations in G major, K.455 - Variation VI 00:42
16. Ten Variations in G major, K.455 - Variation VII 00:45
17. Ten Variations in G major, K.455 - Variation VIII 01:03
18. Ten Variations in G major, K.455 - Variation IX 03:17
19. Ten Variations in G major, K.455 - Variation X 02:31
这里是其它用户补充的资源(我也要补充):
暂无补充资源