中文名: 数据恢复工具
英文名: OSForensics Pro
资源格式: 压缩包
版本: v1.2 Build 1003
发行时间: 2012年
简介: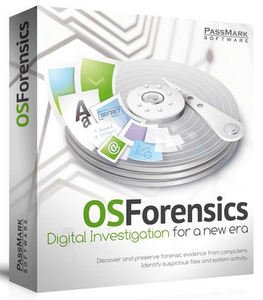 软件类型:软件>系统工具
软件性质:破解软件
操作系统:Windows
应用平台:Windows XP SP2, Vista & Win 7, Server 2000, 2003, 2008. Available for both 32-bit and 64-bit platforms.
问题反馈:http://www.osforensics.com/support.html
网站链接:http://www.osforensics.com/osforensics.html
软件介绍:


OSForensics 是一个数据恢复工具软件,能够快速地找到电脑中隐藏的东西,快速地查找索引文件,恢复已删除文件,并鉴别可疑的文件,数字签名等。结果将会组织并生成报告文件。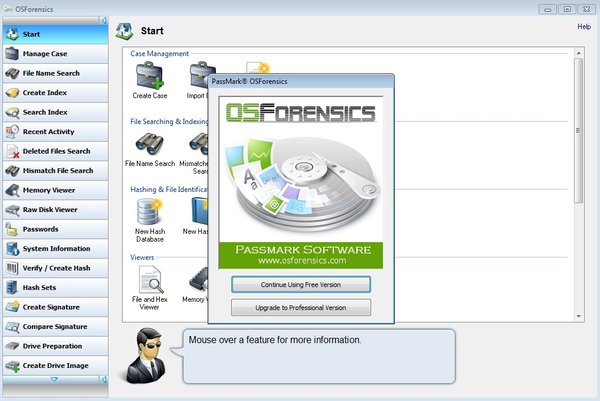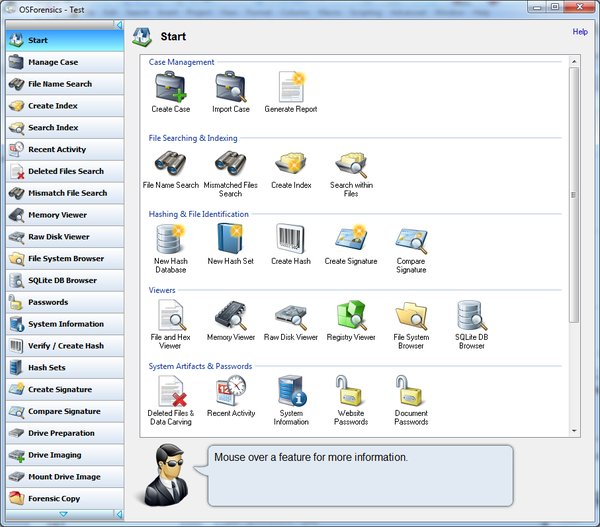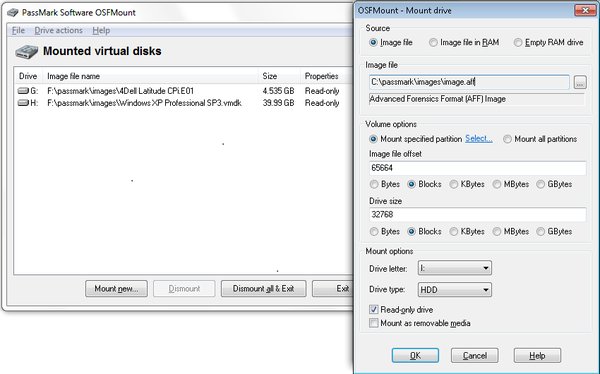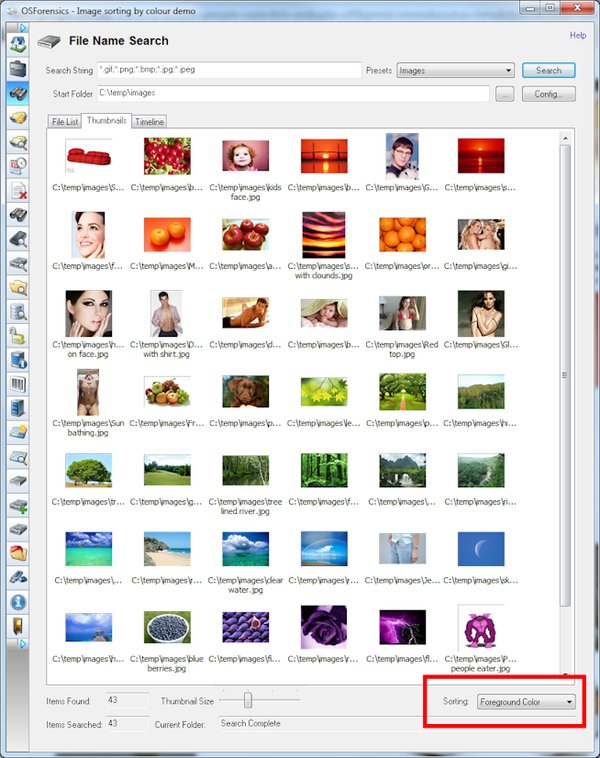 PassMark OSForensics — is a new digital investigation tool which lets you extract forensic data or uncover hidden information from computers. OSForensics has a number of unique features which make the discovery of relevant forensic data even faster, such as high-performance deep file searching and indexing, e-mail and e-mail archive searching and the ability to analyze recent system activity and active memory. OSForensics can build and let you view an events timeline which shows you the context and time of activities. You can even recover data and files that have been deleted by users. OSForensics comes with a built-in file viewer which lets you examine a file contents, properties and meta-data, as well as an e-mail viewer which is compatible with most popular mail client formats.


Key Features:
Find files quickly:
— OSForensics allows you to search for files many times faster than the search functionality in Windows.
— Results can be analyzed in the form of a file listing, a Thumbnail View, or a Timeline View which allows you to determine where significant file change activity has occurred.

Search within Files:
— If the basic file search functionality is not enough, OSForensics can also create an index of the files on a hard disk. This allows for lightning fast searches for text contained inside the documents. Powered by the technology behind Wrensoft's acclaimed Zoom Search Engine.

Search for Emails:
— An additional feature of being able to search within files is the ability to search email archives. The indexing process can open and read most popular email file formats (including pst) and identify the individual messages. This allows for a fast text content search of any emails found on a system.

Recover Deleted Files:
— After a file has been deleted, even once removed from the recycling bin, it often still exists until another new file takes its place on the hard drive. OSForensics can track down this ghost file data and attempt to restore it back to useable state on the hard drive.

Uncover Recent Activity:
Find out what users have been up to. OSForensics can uncover the user actions performed recently on the system, including but not limited to:
— Opened Documents
— Web Browsing History
— Connected USB Devices
— Connected Network Shares

Collect System Information:
Find out what's inside the computer. Detailed information about the hardware a system is running on:
— CPU type and number of CPUs
— Amount and type of RAM
— Installed Hard Drives
— Connected USB devices
— and much more. Powered by Passmark's SysInfo DLL.

View Active Memory:
— Look directly at what is currently in the systems main memory. Attempt to uncover passwords and other sensitive information that would otherwise be inaccessible.
— Select from a list of active processes on the system to inspect. OSF can also dump their memory to a file on disk for later inspection.



代码




ÛÛÛÛÛÛÛÛÛÛÛÜ ÛÛÛÛÛÛÛÛÛÛÛÛÛÜ
ÛÛÛÛÛÛÛÛÛÛÛÛÛÛÛ ÜÛÛ°°±±±±±±±±±±±±
ÛÛÛÛ²²±±±±±±±±ÛÛÛ²²² ù°°°°°°°°°°°°°±±±±±±
ÛÛÛÛ²²²²²²²²²²²±±ÛÛ²²²²°°°°°°°°°°°°°°°°±±±±±
ÛÛ²²±±±±±±²²²²²²²²±ÛÛÛÛ²²²²°°°°°ùßßßßÛ°°°±±±±Ý
ÛÛ²²²±± °²²²°ùùÛÛ²²²°°°°°²²²²²ÛÛÛÛÛÛß
ÛÛ²²±±± ±±±±±±±±°°²²²ùùùÛÛ²²°°°°°°°°°²² ßßÛÜ
ÛÛ²²±± ±±±²²²²²±±°°°°²²°°ùùÛ²²°°²±ßßÛÛ°²²²² ÛÛÜ
ÛÛ²²±± ±±±±±±±±°²²°°°°°°°°°ù Û²²°°²±ÛúÛ±²²²±° ÛÜ
ÛÛÛ²²± ±±±±±°°°°°°²²°°°°ù°ù °ß²²²°°²²²Ûß±±²²²²± ÛÛÜ
ÛÛÛ²²±± ²²²±±°°°°°°°°°°°ù°°°°° ß²²°°°°±±±±±±±ß²²²° ÛÛÜ
ÛÛÛ²²²± ±±±±±±°²²°°°°°ùù°° ß²²°°°°ß ß±±ß±²Ý² ±ÛÝ
ÛÛÛ²²±± ±±±±±°°²°°°°ù°°° ß²²°±± ßÛ±±±±±ÛÛ
ÛÛ²²²±± ±±±±°°°°°ù°° ß²²°± ÛßßßÛß
ÛÛÛ²²±±± ±±±±°°°°ù ß²²² Þú Þú
ÛÛ²²²±± ±±±°°°° ß±²²². Ý Ý ..
ßÜ .ÛÛÛ²²±±± ±±±ù° ß±²±Ü . . Üß
ÛÛ .ÛÛÛ²²²±±± ±±±° ßßÛ.. . ÛÛ
Û² .ÛÛÛÛ²²²±±±±±±° ... ²Û
Û²² ù .ÛÛÛÛ²²²± ±±°° ... ²²Û
ÛÛ²² ù°ù .ÛÛÛÛ²²± ±±° . ²²ÛÛ
ÛÛ² ù°ù ..ÛÛÛ²²± ±±±° . ²ÛÛ
Û²² ù°ù ..ÛÛ²±± ±±°° ²²Û
ÛÛ²² Û°° ..ÛÛ±± °°° ²²ÛÛ
ÛÛ²² ÛÛ°° .ÛÛÛ±± °°° ²²ÛÛ
ÛÛ²² ÛÛ°°° .ÛÛÛ±± °°° ²²ÛÛ
ÛÛ²² ÛÛÛ²°° .ÛÛÛ±± °° ²²ÛÛ
ÛÛ²² ÛÛÛ²°° .ÛÛÛ±±±°° ²²ÛÛÛ
ÛÛÛ² ÛÛÛÛ²°° .°ÛÛÛ±°°°° ²ÛÛÛ
ÛÛÛ² ßÛÛÛÛ²° .°ÛÛÛÛ°°° ù. ²ÛÛÛ
ÛÛÛ° ÛÛÛÛ²° °ÛÛÛÛ°°°° .° °ÛÛÛÛ
ÛÛÛ° ßÛÛÛ°° °°ÛÛÛ°°° Û° °ÛÛÛÛ
ÛÛ° °ÛÛÛ
ÛÛÛ° ÛßßßßßßßßßÜÜ ÛßßßßßßßßßßßßÛ ÛßßßßßßßßßÜÜ ÛßßßßßßßßßßßÛ °ÛÛÛÛ
ÛÛÛ°° Û ²ßßßß² ßÛ ² ° ²ßßßß²ÜÜܲ Û ²ßßßß² ßÛ ßßßß² ° ²ßßßß °°ÛÛÛ
ÛÛÛ° Ü ± ± ± ± ± ± ± ± ± ± ± ± ± ± ± ± ± ± Ü °ÛÛÛ
ÛÛ°²² Û ° ² ° ° ß ° ° ² ° ° ² ° ° ß ° ° ² ° Û ²²°ÛÛ
ÛÛ°°² Ûß Û Û ßßßßßß Û Û Û ßßßßÛ Û Û ßßßßßßÜÜßß Û Û Û ßÛ ²°°ÛÛ
ÛÛÛÛÛÛÛ ° ° ÛßßßßÛ Ü ° ° ° Ûßßßß ° ° Ûßßßßß ° ° ° ÛÛÛÛÛÛÛ
ßÛÛß ± ± ± ± ² ± ± ± ± ± ± ± ± ± ± ßÛÛß
ÛÛÛÛ ² ² ² ² ² ² ² ² ² ²ßßß² ² ² ² ² ² ² ÛÛÛÛ
ÛÛ°²²Û° Û Û Û Û Û ß ßßßßßß ß Û Û Û Û ß Û °Û²²°ÛÛ
ÛÛ° ²²Ûß ßßßßß ßßßßß ßßßßßßßßßßßßßß ßßßßß ßßßßß ßÛ²² °ÛÛ
ÛÛ°°ÜÜÜÜ ÜÜÜÜ °°ÛÛ
Û°° Û Û Û Ü Ü °°Û
Û°° ÛÜÜÛ ÜÜÜ Ü Ü ÜÜÜ ÜÜÜ ÜÜÜ ÜÜÜ ÛÜÜ ÜÜÜ ÜÜÜ Ü ÜÜÜ ÜÜÜ ÜÜÜ ÜÜÜ Ü ÜÜÜ ÜÜÜ °°Û
Û° Û ÛÜ ÛÜÛ Û Û ÛÜÛ Û ÛÜÜ ÛÜÛ Û Û Û Û Û Û Û Û ÛÜÛ ÛÜÛ Û Û Û Û Û Û °Û
Û° Û Û ÛÜÜ ßÛß ÛÜÜ Û ÜÜÛ ÛÜÜ ÛÜÜÜ Û Û ÛÜÛ Û Û Û ÛÜÜ ÛÜÜ Û Û Û Û ÛÜÛ °Û
Û°° Û Û °°Û
Û°° ÜÜÜÜ ÜÜÜÜÜ °°Û
ÛÛ°° Û Û Û Ü Û Û °°ÛÛ
Û°°° Û° ÛÜÜÛ ÜÜÜ ÜÜÜ ÜÜÜ Ü ÜÜÜ ÜÜÜ Û ÜÜÜ ÜÜÜ ÜÜÜÜÜ °Û °°°Û
ÛÛ°°Û° Û ÜÜÛ ÛÜÜ ÛÜÜ Û Û Û Û Û Û ÛÜÛ ÜÜÛ Û Û Û °Û°°ÛÛ
ÛÛ°Û° Û ÛÜÛ ÜÜÛ ÜÜÛ Û ÛÜÛ Û Û Û ÛÜÜ ÛÜÛ Û Û Û °Û°ÛÛ
ÛÛ°°° °°°ÛÛ
Û°Û°° ÜÜÜÜ Ü °°Û°Û
ÛÛ° Û°°° Û Û Û °°°Û °ÛÛ
ÛÛÛÛ°° Û°° ÛÜÜÛ ÜÜÜ ÜÜÜ ÜÜÜ ÜÜÜ ÜÜÜ ÜÛÜ ÜÜÜ Û °°Û °°ÛÛÛÛ
ÛÛ²°ÜÛÛÜ Û°°° Û Û ÛÜÛ ÛÜÜ ÛÜÛ Û Û Û ÛÜÜ °°°Û ÜÛÛÜ°²ÛÛ
ÛÛÛÛÛÛÛÛÛÛ ÛÛ°° Û Û ÛÜÜ ÜÜÛ ÛÜÜ Û Û ÛÜ ÜÜÛ Û °°ÛÛ ÛÛÛÛÛÛÛÛÛÛ
ßÛÛÛ°²°°ÛÛ Û°° ______________________________________ °°Û ÛÛ°°²°ÛÛÛß
ÛÛ°²²°ÛÛ Û° °Û ÛÛ°²²°ÛÛ
Ü °ÛÛÛ Û OSForensics Û ÛÛÛ° Ü
°°ÛÛÛ Û PassMark Software © 2012 Û ÛÛÛ°°
°ÛÛÛ http://www.osforensics.com/ ÛÛÛ°
°°Û Û°°
°ÛÛ ÉËËËËËËËËËËËËËËËËËËËËËËËËËËËËËËËËËËËËËËËËËËËËËËËËËË» ÛÛ°
°ÛÛ ÌÎÊÊÊÊÊÊÊÊÊÊÊÊÊÊÊÊÊÊÊÊÊÊÊÊÊÊÊÊÊÊÊÊÊÊÊÊÊÊÊÊÊÊÊÊÊÊÊÊι ÛÛ°
²ÛÛ Ì¹ ̹ ÛÛ²
²ÛÛ Ì¹ CRACKED BY: gta126 ̹ ÛÛ²
²²Û ̹ÍÍÍÍÍÍÍÍÍÍÍÍÍÍÍÍÍÍÍÍÍÍÍÍÍÍÍÍÍÍÍÍÍÍÍÍÍÍÍÍÍÍÍÍÍÍÍÍ̹ Û²²
²²Û ̹ SUPPLIED BY: gta126 ̹ Û²²
²²Û ̹ÍÍÍÍÍÍÍÍÍÍÍÍÍÍÍÍÍÍÍÍÍÍÍÍÍÍÍÍÍÍÍÍÍÍÍÍÍÍÍÍÍÍÍÍÍÍÍÍ̹ Û²²
Ü ²²Û ̹ PACKAGED BY: gta126 ̹ Û²² Ü
Û ²²Û ̹ÍÍÍÍÍÍÍÍÍÍÍÍÍÍÍÍÍÍÍÍÍÍÍÍÍÍÍÍÍÍÍÍÍÍÍÍÍÍÍÍÍÍÍÍÍÍÍÍ̹ Û²² Û
Û² ²²Û ̹ PROTECTION: Serial ̹ Û²² ²Û
²² ²Û ̹ÍÍÍÍÍÍÍÍÍÍÍÍÍÍÍÍÍÍÍÍÍÍÍÍÍÍÍÍÍÍÍÍÍÍÍÍÍÍÍÍÍÍÍÍÍÍÍÍ̹ Û² ²²
Û²² ²²Û ̹ RELEASE TYPE: Loader ̹ Û²² ²²Û
Û² ²² ̹ÍÍÍÍÍÍÍÍÍÍÍÍÍÍÍÍÍÍÍÍÍÍÍÍÍÍÍÍÍÍÍÍÍÍÍÍÍÍÍÍÍÍÍÍÍÍÍÍ̹ ²² ²Û
Û²² ²Û ̹ RELEASE SIZE: 1 x 1,44Mb ̹ Û² ²²Û
Û²² Û Ì¹ÍÍÍÍÍÍÍÍÍÍÍÍÍÍÍÍÍÍÍÍÍÍÍÍÍÍÍÍÍÍÍÍÍÍÍÍÍÍÍÍÍÍÍÍÍÍÍÍ̹ Û ²²Û
Û²² Ü Ì¹ RELEASE DATE: 5/10/2012 ̹ Ü ²²Û
Û²² ̹ÍÍÍÍÍÍÍÍÍÍÍÍÍÍÍÍÍÍÍÍÍÍÍÍÍÍÍÍÍÍÍÍÍÍÍÍÍÍÍÍÍÍÍÍÍÍÍÍ̹ ²²Û
Û²² ̹ OS TYPE: WinAll ̹ ²²Û
Û²² ̹ÍÍÍÍÍÍÍÍÍÍÍÍÍÍÍÍÍÍÍÍÍÍÍÍÍÍÍÍÍÍÍÍÍÍÍÍÍÍÍÍÍÍÍÍÍÍÍÍ̹ ²²Û
ÛÛ² ÌÎËËËËËËËËËËËËËËËËËËËËËËËËËËËËËËËËËËËËËËËËËËËËËËËËι ²ÛÛ
ÛÛ° ÈÊÊÊÊÊÊÊÊÊÊÊÊÊÊÊÊÊÊÊÊÊÊÊÊÊÊÊÊÊÊÊÊÊÊÊÊÊÊÊÊÊÊÊÊÊÊÊÊÊ' °ÛÛ
ÛÛ° ÜÜÜÜ Ü ÜÜÜ Ü Ü °ÛÛ
Û°° Û Û Û Û Û Û Û °°Û
ÛÛÛ° ÛÜÜÛ ÜÜÜ Û ÜÜÜ ÜÜÜ ÜÜÜ ÜÜÜ Û Û Û ÜÜÜ ÜÛÜ ÜÜÜ ÜÜÜ Û °ÛÛÛ
ÛÛÛ°° Û ÛÜ ÛÜÛ Û ÛÜÛ ÜÜÛ ÛÜÜ ÛÜÛ Û Û Û Û Û Û ÛÜÛ ÛÜÜ °°ÛÛÛ
ÛÛÛ° Ü Û Û ÛÜÜ Û ÛÜÜ ÛÜÛ ÜÜÛ ÛÜÜ Û ÛÜÛ ÛÜÛ ÛÜ ÛÜÜ ÜÜÛ Û Ü °ÛÛÛ
ÛÛ°²² Û ______________________________________________________ Û ²²°ÛÛ
ÛÛ°°² Ûß ËËËËËËËËËËËËËËËËËËËËËËËËËËËËËËËËËËËËËËËËËËËËËËËËËËËËËË ßÛ ²°°ÛÛ
ÛÛÛ°²ÛÛ ÊÊÊÊÊÊÊÊÊÊÊÊÊÊÊÊÊÊÊÊÊÊÊÊÊÊÊÊÊÊÊÊÊÊÊÊÊÊÊÊÊÊÊÊÊÊÊÊÊÊÊÊÊÊ ÛÛ²°ÛÛÛ
ßÛÛÛÛ ÛÛÛÛß

OSForensics is a new computer forensics solution which lets you
discover and extract hidden forensic material on computers with
reliability and ease.

ÜÛÛÛÜ ÜÛÛÛÜ
ÛÛÛÛÛÛÛ ÛÛÛÛÛÛÛ
ÛÛ ²°°ÛÛ ÜÜÜ Ü Ü Ü ÜÜÜ Ü Ü ÛÛ°°² ÛÛ
Û ²²°ÛÛ Û Û Û Û Û Û Û Û ÛÛ°²² Û
Ü °ÛÛÛ Û ÜÜÜ ÜÜÜ ÜÛÜ ÜÜÜ Û Û Û Û Û ÜÜÜ ÜÛÜ ÜÜÜ ÜÜÜ Û ÛÛÛ° Ü
°°ÛÛÛ Û Û Û ÛÜÜ Û ÜÜÛ Û Û Û Û Û Û Û Û ÛÜÛ ÛÜÜ ÛÛÛ°°
°ÛÛÛ ÜÛÜ Û Û ÜÜÛ ÛÜ ÛÜÛ Û Û Û ÛÜÛ ÛÜÛ ÛÜ ÛÜÜ ÜÜÛ Û ÛÛÛ°
°°Û _________________________________________________ Û°°
ÛÛÛ ËËËËËËËËËËËËËËËËËËËËËËËËËËËËËËËËËËËËËËËËËËËËËËËËË ÛÛÛ
Û ÊÊÊÊÊÊÊÊÊÊÊÊÊÊÊÊÊÊÊÊÊÊÊÊÊÊÊÊÊÊÊÊÊÊÊÊÊÊÊÊÊÊÊÊÊÊÊÊÊ Û

Install the program.
Start the installer.
Enjoy!

ÜÜÜÜÜ ÜÜÜÜ ÜÜÜÜ ÜÜÜÜ ÜÜÜÜÜ
Û Û Û Û Û Û Û
Û ÜÜÜ ÜÜÜ ÜÜÜÜÜ ÛÜÜÛ ÛÜÜ ÛÜÜÛ Û Û
Ü Û ÛÜÛ ÜÜÛ Û Û Û Û ÛÜ Û Û Û Ü
Û Û ÛÜÜ ÛÜÛ Û Û Û Û Û ÛÜÜÜ Û Û Û Û
Û² ______________________________________________ ²Û
²² ËËËËËËËËËËËËËËËËËËËËËËËËËËËËËËËËËËËËËËËËËËËËËË ²²
Û²² ÊÊÊÊÊÊÊÊÊÊÊÊÊÊÊÊÊÊÊÊÊÊÊÊÊÊÊÊÊÊÊÊÊÊÊÊÊÊÊÊÊÊÊÊÊÊ ²²Û
Û² ²Û
Û²² ²²Û
Û²² [ Master Mind................founder/reverser/coder/gfx'er/web ] ²²Û
Û²² [ cdwayneforemost............................cracker/co-leader ] ²²Û
Û²² [ ThE-WaR.......................................cracker/gfx'er ] ²²Û
Û²² [ Levis...................................cracker/gfx'er/coder ] ²²Û
Û²² [ Tracer................................................gfx'er ] ²²Û
Û²² [ kameo.................................................gfx'er ] ²²Û
Û²² [ pandagrind............................................gfx'er ] ²²Û
Û²² [ JJHACKER.........................................cracker/web ] ²²Û
Û²² [ Silence....................................reverser/Unpacker ] ²²Û
Û²² [ GIV........................................reverser/Unpacker ] ²²Û
Û²² [ RaY-29........................................reverser/coder ] ²²Û
Û²² [ Departure.....................................reverser/coder ] ²²Û
Û²² [ Kingstaa......................................reverser/coder ] ²²Û
Û²² [ Exidous.......................................reverser/coder ] ²²Û
Û²² [ gta126........................................reverser/coder ] ²²Û
Û²² [ DE!...........................................reverser/coder ] ²²Û
Û²² [ andhepie............................................reverser ] ²²Û
Û²² [ Ellvis..............................................reverser ] ²²Û
Û²² [ unn4m3D_BR..........................................reverser ] ²²Û
Û²² [ K4K.................................................reverser ] ²²Û
Û²² [ Rnd0M...............................................reverser ] ²²Û
Û²² [ RaBBiT..............................................reverser ] ²²Û
Û²² [ Jagged1600..........................................reverser ] ²²Û
Û²² [ sebangzat.............................................Tester ] ²²Û
Û²² [ Tester................................................Tester ] ²²Û
Û²² ²²Û
Û²² [ SuperNewbie...................................trial reverser ] ²²Û
Û²² [ HackMutant....................................trial reverser ] ²²Û
Û²² ²²Û
Û²² ²²Û
Û²² ²²Û
Û²² ²²Û
Û²² ²²Û
Û²² ²²Û
Û²² ÜÜÜÜ Ü ²²Û
Û²² Û Û ²²Û
Û²² Û ÜÜ ÜÜÜ ÜÜÜ ÜÜÜ ÜÛÜ ÜÜÜ Û ²²Û
ÛÛ² Û Û Û ÛÜÛ ÛÜÛ Û ÛÜÜ ²ÛÛ
ÛÛ² ÛÜÜÛ Û ÛÜÜ ÛÜÜ ÛÜ ÜÜÛ Û ²ÛÛ
ÛÛ° ______________________________ °ÛÛ
ÛÛ° ËËËËËËËËËËËËËËËËËËËËËËËËËËËËËË °ÛÛ
ÛÛ° ÊÊÊÊÊÊÊÊÊÊÊÊÊÊÊÊÊÊÊÊÊÊÊÊÊÊÊÊÊÊ °ÛÛ
ÛÛÛ° °ÛÛÛ
ÛÛ°° °°ÛÛ
ÛÛ°° TeaM-RePT SEND GREETS TO: °°ÛÛ
ÛÛ°° °°ÛÛ
ÛÛ°° All cracking groups and ppl working hard °°ÛÛ
ÛÛ°° who bring quality releases, friends, °°ÛÛ
ÛÛ°° supporters & all reverse engineering °°ÛÛ
ÛÛ°° related boards! °°ÛÛ
ÛÛ°° °°ÛÛ
ÛÛ°° SPECIAL GREETS FLY OUT TO: °°ÛÛ
ÛÛ°° °°ÛÛ
ÛÛ°° SND, RES, s0m, CiN1, AHTeam, LZ0, trsh °°ÛÛ
ÛÛ°° tonyweb, loki, Diver, DonDD and °°ÛÛ
ÛÛ°° all other talented groups out there. °°ÛÛ
ÛÛ°° °°ÛÛ
ÛÛÛ° °ÛÛÛ
ÛÛÛ°°° °°°ÛÛÛ
ÛÛÛ° Ü Ü °ÛÛÛ
Û°²² Û Û ²²°Û
Û°°² Ûß ßÛ ²°°Û
ÛÛÛÛÛÛ ÜÜÜÜ Ü Ü ÛÛÛÛÛÛ
ßÛÛß Û Û Û ßÛÛß
ÛÛÛÛß Û ÜÜÜ ÜÜÜ ÜÛÜ ÜÜÜ ÜÜÜ ÜÛÜ Ü ßÛÛÛÛ
ÜÛÛÜ Û Û Û Û Û Û ÜÜÛ Û Û ÜÛÛÜ
ÛÛÛÛÛÛ ÛÜÜÜ ÛÜÛ Û Û ÛÜ ÛÜÛ ÛÜÜ ÛÜ Ü ÛÛÛÛÛÛ
Û°°² ÛÛ __________________________________ ÛÛ ²°°Û
Û°²² Û ËËËËËËËËËËËËËËËËËËËËËËËËËËËËËËËËËË Û ²²°Û
ÛÛÛ° Ü ÊÊÊÊÊÊÊÊÊÊÊÊÊÊÊÊÊÊÊÊÊÊÊÊÊÊÊÊÊÊÊÊÊÊ Ü °ÛÛÛ
ÛÛÛ°° °°ÛÛÛ
ÛÛÛ° TeamREPT is currently looking for good crackers, °ÛÛÛ
Û°° keygenners, unpackers, gfxer and coders. If you feel °°Û
ÛÛ° yourself talented enough to join in, then feel °ÛÛ
ÛÛ° free to contact us at: °ÛÛ
ÛÛ² ²ÛÛ
ÛÛ² teamrept[at]gmail[dot]com ²ÛÛ
Û²² ²²Û
Û²² or visit our board. ²²Û
Û²² ²²Û
Û²² ²²Û
Û²² ²²Û
Û²² ²²Û
°Û² ²Û°
°Û² ²Û°
°Û Û°
°Û ASCII by Diver (c) 2012 Û°
°Û Team REPT Û°
ÛÛ ÛÛ

引用
ed2k:
//|file|OSForensics.Pro.1.2.Build.1003-REPT.rar
|44855273|0181275502CA7A93C2DA32FC554E7717
|h=4BH6LSN56V62WOHFYAUD5EM65BP3FLYY|/
资源更新列表
http://www.VeryCD.com/i/5190747/create/fol...postTime
这里是其它用户补充的资源(我也要补充):
暂无补充资源