中文名: 图片设计软件
英文名: Xara Photo And Graphic Designer 2013
资源格式: 压缩包
版本: v8.1.3.23942
发行时间: 2012年
制作发行: Xara Group Limited,
a MAGIX AG company.
简介: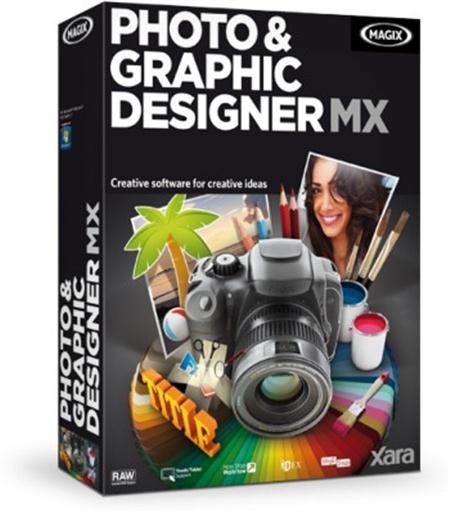 软件类型:软件>多媒体类
软件性质:破解/免费软件
操作系统:Windows
应用平台:Windows 2000, XP, Vista or 7
问题反馈:http://support.xara.com/
网站链接:http://www.xara.com/us/products/designer/
http://www.magix.com/us/xara-photo-graphic-designer/
软件介绍:




Photo & Graphic Designer 是英国向量图形软件公司Xara开发的老牌图片设计软件 Xara,可以用以绘图、处理图片、制作WEB图形、具有制图速度快、软件体积小、介面美观等特点、被誉为世界上速度最快的绘图软件。

Xara Photo & Graphic Designer、Designer Pro (即以前的 Xara Xtreme、Xtreme Pro)是Xara所开发的Windows矢量图编辑器。其用于Linux的部分开源版本则名为Xara Xtreme LX。Xara Photo & Graphic Designer 与同类产品相较,快捷质优。Xara Photo & Graphic Designer (及早期产品ArtWorks)是第一个抗锯齿、高级的梯度填充、透明工具的矢量编辑器。 当前版本支持多页文卷、对任何类型的DTP(详细实验计划)工作均可选其全图工具。其Pro版本包括 Pantone、颜色分割, 可综合用于网页设计。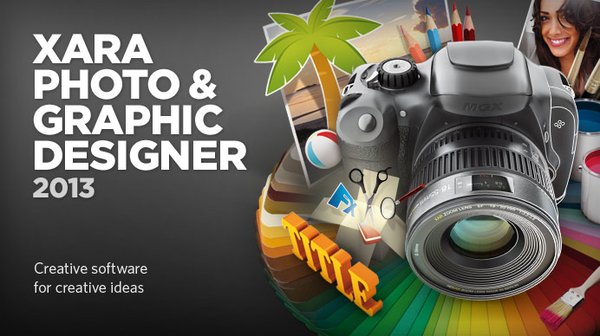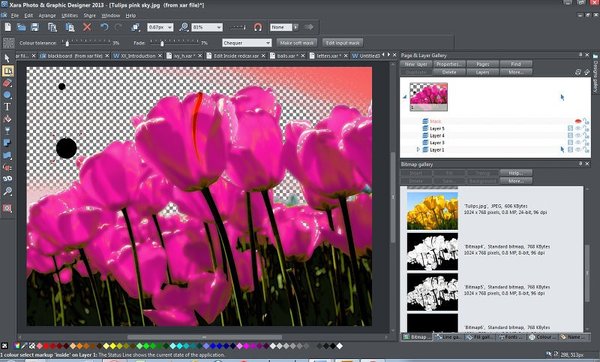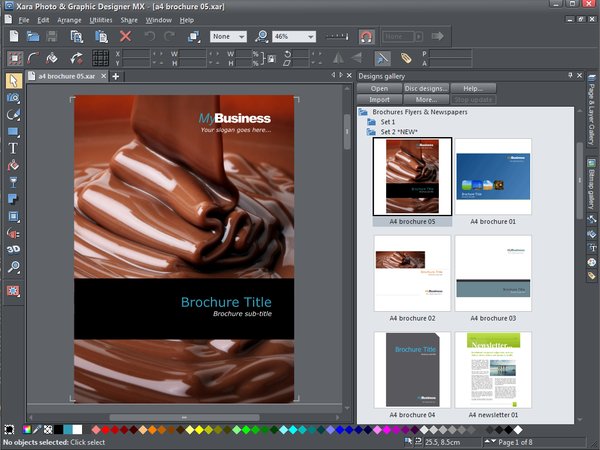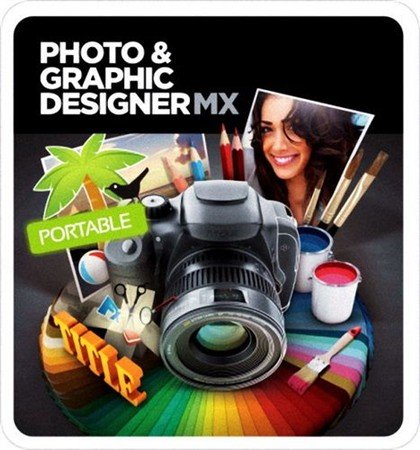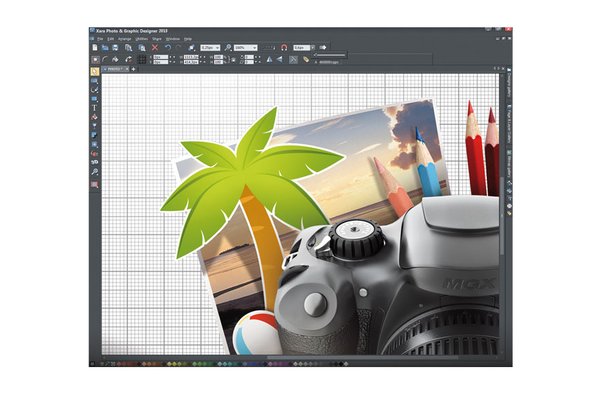 Xara Photo and Graphic Designer 2013

Take advantage of a high-performance program with a huge selection of photo and graphics tools and an unbeatable price-performance ratio.

The best solution for editing images and designing graphics all in a single user interface. Work with all of the innovative features in realtime and see for yourself just how fast and effective this program is. Take advantage of all the flexible options and creative possibilities. You'll be amazed!

Save in 3 ways: time, money and effort Whether for editing photos or designing graphics, you can work on all sorts of different projects using only one program and output your creations in any way necessary: as image files, web graphics, or PDFs for printing.
User - friendly Concept

That means learning just one program quickly, easily and intuitively instead of having to learn several photo editing and graphics programs. The best thing is, everything you learn can be used for other Xara design software. This also makes it faster and easier for you to get familiar with other MAGIX programs.
NEW! Color Picker and Color Mask
Extract Objects

You want to combine several different objects and need an extracted image without a distracting background? With the color picker and the color mask this is now possible and easy to do. Simply pick a color in the photo or image and remove it with a click.
Color Correction

With the new color picker you can select a specific color or a color range and remove it from the entire image. This lets you create artistic color effects for your photos.
NEW! Shape Eraser

With the help of the new shape tool "shape eraser" you can adjust your graphics and illustrations just the way you want. If you use this tool to "erase" an image into two separate parts, each separate shape can be edited individually. You can also use the shape eraser to make contact with a line form the outside and move it further in. This allows you to create even more detailed shapes than ever before. This tool is also really useful for extracting image elements from photos.
IMPROVED! Magic Erase 2.0 (Intelligent Photo Retouching)

Magic Erase is a "magical" tool for removing unwanted objects from your photos. In the new Version 2.0 you can get better results than ever before. Simply select the unwanted area and remove it from the picture with a click. The Magic Erase logarithm fills the empty space with the appropriate pixels - it's like the object was never there! You'll get faster and better results than you would with similar tools in other programs, e.g. a clone tool.

No matter what you want to do Magic Erase makes it possible:

Enhance nature photos
Remove unwanted areas from you snapshots
Delete unimportant objects
Get rid of shadows
Retouch portraits (e.g. remove skin blemishes or circles under the eyes)

NEW! Quick Text Formatting

Set up a specific format for headers or text blocks. This format can easily be applied to other text areas allowing you to easily create a document with a uniform appearance. Whether you use the format for a short paragraph or an entire block of text it will always look amazing! You can choose from a wide range of format presets or create your own and save it as a template to be used on other projects. Now it's easier than ever to give your creations an impressive uniform design!
NEW! Improved Galleries
The New Design Gallery

All user-friendly photo and graphics software relies on adjustable templates and graphic elements. These allow you to get a quick start and achieve impressive results without any prior experience. The Design Gallery in Xara Photo and Graphic Designer 2013 has been completely redesigned and now offers more high-quality templates, design elements and clipart to make it even easier for you to achieve amazing results quickly. Thanks to a completely new structure you'll have no problems finding exactly what you need for every project. Through a direct connection with our servers we can ensure that your Design Gallery is constantly updated with the newest templates and design elements.
Page and Layer Galleries

The improved Page and Layer Galleries give you even more creative freedom. Now you can select more pages and move, delete, copy, cut or integrate them into other projects in one go. You can easily work on different projects at the same time and simplify your workflow by copying several elements from one project and inserting them into others. It's never been easier! For users who want to keep things simple it's still possible to work without layers in Xara Photo and Graphic Designer.
NEW! The MAGIX Online Album Premium

Would you like to share your photos and graphics with friends and family or present them online?

With MAGIX Online Album Premium you can do just that - easily and securely! You get the Online Album free for one year with unlimited storage space for your photos and videos. Take advantage of all the features and additional options: Choose from various album views, add background images, integrate video players and visitor counters, add download and Facebook links, or include some background music.

You can choose between a gallery or slideshow display including zooms and effects. You can also rest easy knowing that your media is privacy protected. With guest access settings you can decide who is allowed to view your photos and videos. It's completely compatible with iPhones, iPods and devices with Android operating systems.
NEW! MX = Media-X-change

Perfectly connected: Transfer your media projects directly to other MAGIX programs such as Xara Web Designer MX to design detailed images and titles or to create animations. All of the products in the new MX series will enable the easy exchange of data from one to the other. This connectivity will also be expanded to include social networks, cloud services and mobile devices.
NEW! The MAGIX FunPix App for Windows 8

With the MAGIX FunPix App for Windows 8 you can give your cranky coworker a huge nose, add a beer belly to your friend, or have a good laugh at your boss with googly eyes. This free software lets you creatively distort your photos: photo editing just got a lot more fun! Create caricatures, body styling or artistic distortion - with the MAGIX FunPix App, the name of the game is FUN!
Design detailed images, titles and graphics for disc menus

Create disc menus, titles, graphics and images and use them for the movies you create with MAGIX Movie Edit Pro. It's also totally easy to add your own personal touch to already existing interactive disc menus (background images, graphics, buttons, fonts etc...).

A very special feature: Projects from Xara Photo and Graphic Designer (.xar files) can be opened with a double-click on the object in your arrangement. They can then be edited directly without having to change programs and create extra copies of your files.
Create Web Graphics

Graphics and photos have to be prepared differently for various applications. With Xara Photo and Graphic Designer you can optimize your graphics and images for the Internet and transfer them directly to Xara Web Designer to be added to your website. Enjoy the advantages of the unique, interconnected workflow that lets you achieve amazing results faster and easier.
Perfect Pictures for a Perfect Slideshow

Xara Photo and Graphic Designer is great for creating special accents for the slideshows you create with MAGIX PhotoStory on DVD. It's perfect for giving opening credits, text and disc menus an artistic flair or for creating logos and other graphics. You'll have all the high-performance photo and graphics tools you need to make your pictures look their best!

Operating Systems: Microsoft Windows 7, Microsoft Windows Vista, Microsoft Windows XP
Requirements: Intel Celeron or AMD Athlon processor 700MHz or newer; 500MB RAM, 300MB hard disk space for program files.



代码



ÜÜÜÛÛßßßßßßßßßßßßßßßßßßßßßßßßßß ÜÜÜÜ ßßßßßßßßßßßßßßßßßßßßßßßßßßßÛÛÜÜ
ÜÛß ÛÛÝ°Þ²²ÛÛÛÛÜ °ÛÛÛÛÛÜ Þ±ÛÛÞÛÛ±Þ±±ÛÛÝÛÛÛÛÜ ²ÛÛ°ÛÛÛÛÜß²ÛÛ Þ²²ÛÛ °ÞÛ°°ÛÛÜ
ÞÛÝ°ÜÛÛ°°Û²ÛÛÛÜÜÛÞÛ²ÛÛÜÜÛÝÛÛÛÛ ÛÛÛÝßßÜÜÞ²ÛÛÛÛÞÛÛÝÞÛÛÜÜÛÝÞÛÛÝÛÛÛÛÝ ° ÛÛÛ²ÛÛ²
ÛÛÛÛÛÛ²° ÛÛÛÛÛ±ÜÜÜß²²ÛÛÛÛÛÞ²ÛÛ±ÛÛÛݲ²ÛÛݲÛÛÛÛÛÛÛ ²ÛÛÛÛÛ² ÛÛÛÛÛÛß °°°ÞÛÛÝÛÛÛÝ
ÞÛ±±ÛÛÛ° Û°ÛÛÛÛÛÛÛÝÛÛÛÛßÛÝÞÛÛÛÛÛÛ² ²ÛÛÛÛÞÛÛÞÛÛÛÛ ²ÛÛÛÛÛÝÛÛÛÝÛÛÛÛÜ ° ÛÛß ÞÛ²
ßÛÛÛÛÛÝ ßÛÛÛÛÛÛÛßÜÛ±ÞÛÛÜ° ßÛÛÛÛß ÞÛÛÛßßÞÛÛ ÛÛÛÛÝÞÛÛÛÛßÜÛÛÛ Þ²ÛÛÛ± ÞÛ° ÜÛß
ßßßÛÛÛÜÜÜÜÜÜÜÜÜÜÜÜ ÛÛÛ²ß ÜÜÜÜÜÜÜÜÜÜÜÜÜÜÜÜÜÜÜÜÜÜÜÜÜÜÜÜÜÜ °ÛÜÛÛÝÞÛßß
ßß Þ ÞÝÛÛÛ²
° ÜÜ ÛÜßÞÛÛÛ
° Ü ²²ÛÝ ° Û± ÛÛÛÜÜþ
þ ± ° ßß úúúeúúúqúúúuúúúiúúúnúúúoúúúxúúú ÛÛÛßßß
ú ß Üܲ²Ý ±± þß
° þß Ûß °±±²²Û² ° presents
± °ÛÜ ÜÛ² ²ÛÛÛÝ ° ú
Ü þ Ûß þ °ß Photo Graphic Designer 2013
° þÜÜÞÜ ÜÛÜú ° þ ú .
±ÛÛÝßÞ²²ÛÝ. þ .°°ÚÄÄÄÄÄÄÄÄÄÄ¿úúúúúúúúúúúúúúúÚÄÄÄÄÄÄÄÄÄÄÄÄÄ¿úúúúúúúúúúúúúúúú
úßßÜ þ.°²²ß ÜÜÜ ³úúcrackerú³ Team EQUiNOX ³releaseúdateú³ 09 / 2012 :
°² °ÛÝÜÛ²Üú ܲ²ÛÛ²± ³úsupplierú³ Team EQUiNOX ³úúúOSútypeúúú³ WinALL :
þúß °Ü²²²ÛÛ²²±°³úúpackerúú³ Team EQUiNOX ³ú#úofúdisksúú³ 12 x 4.76MB :
²ÛÜ ÜÛÛ²ÛÛÛÛ²±±° ³úútesterúú³ Team EQUiNOX ³softwareútype³ Utility :
ÛÝ°Þ²ÛÛÛÛÛÛ²²±° ³protection³ - ³úúúúratingúúú³ You decide! :
°Ü Þ²²Û²²Û²²±° ú°ÀÄÄÄÄÄÄÄÄÄÄÙúúúúúúúúúúúúúúúÀÄÄÄÄÄÄÄÄÄÄÄÄÄÙúúúúúúúúúúúúúúúú
ÞÛ²Ý ß²²±²²²²°úÜ þÜÜÛ° ²Ûß °ÜÜ þ .
ßß Þ²ú ßßß° Þ²°Þ²ÛÛ±. þ ÞÛÛÛ²²ÛÜ .þ ܱÜÜ ú . ú
± °ÛÜ ÜÛ² °þ . ú ßßß úßßßÛÛÛÛ²Ý ß ú ß²ÛÛ²° . ß²² ú
Ü þ Ûß ÜÜÜÜ °° ²ÛÛÜÛÛÛ °° ÜÜÜÜÜÜÜÜÜÜÜÜÜÜÜÜ Ûß þ
° þÜÜÞÜ ÜÛ Û °° ²ÛÛ ²ÛÝ°° elease notes Û ú .
±ÛÛÝßÞÛÛ ßßßß °° ÛÛÛ °° ßßßßßßßßßßßßßßßß
úßßÜ þ ßÛ²ß
°² °ÛÝÜÛ±Ü Ü±
Ü Ü ßß ÜÜ
Þ²²ÛÜ Þ²°
þ ßÛÛß Ü Xara Photo & Graphic Designer MX 2013 is quite simply the best
ßß value and fastest all-in-one graphics package you'll find. For
úß ±ß ²± drawings or photo work, for print or web graphics, it's the
° þ ° ú ° perfect choice.

± °°
ú ß
° þß Ûß °°
± °ÛÜ ÜÛ²
Ü þ Ûß ÜÜÜÜ °° ßßßß °° ÜÜÜÜÜÜÜÜÜÜÜÜÜÜÜÜÜÜÜÜÜ
° þÜÜÞÜ ÜÛ Û °° ²ÛÛÛ °° nstallation notes Û
±ÛÛÝßÞÛÛ ßßßß °° ÛÛÛÛÝ°° ßßßßßßßßßßßßßßßßßßßßß
úßßÜ þ ßÛ²ß °
°² °ÛÝÜÛ±Ü °
Ü ßß Þ²° - install
úß ±ß ²± - extract patch.zip in installdir\protein
° þ ° ° - overwrite existing file
- start
- clic on finish
- use
° ú þ
ú ß °
þß Ûß °°
ú °ÛÜ ÜÛ²
° Ü þ Ûß ÜÜÜÜ °° ²ÛÛÛßÛÛ °° ÜÜÜÜÜÜÜÜÜÜÜÜÜÜ
úþÜÜÞÜ ÜÛ Û °° ÜÜÜÜÜÛÛ °° pplications Û
Ü ±ÛÛÝßÞÛÛ ßßßß °° ²ÜÜÛÛÛÛ °° ßßßßßßßßßßßßßß
Þ²² ßßÜ þ ßÛ²ß °
þ °ÛÝÜÛ±Ü °
± Ü ßß Þ²°
ú ß ±ß ²± We're in great need of new talented people, such as:
ú þ ° °
± ú - Suppliers, can you supply unreleased and new software?
ß þ ß - Crackers, able to break apps with today's protections?
° ú ± - Shells, host shells on a fast eu/us connection?
- Dumps, 100mbit+, with atleast 500Gb of storage?
Ûß þ ú
°
ú ß
þß Ûß °°
° °ÛÜ ÜÛ²
þÛÜ Ü þ Ûß ÜÜÜÜ °° ²ÛÛßÛÛÛÝ°° ÜÜÜÜÜÜÜÜ
Ü þÜÜÞÜ ÜÛ Û °° ßßßßßÛÝ °° reets Û
² ²ÛÛÝßÞÛÛ ßßßß °° ²ÛÛßÛÛÛ °° ßßßßßßßß
Þß ßßÜ þ ßÛ²ß ° ßßßßßßß
°ÛÝÜÛ±Ü °
þ ß Ü ßß Þ²°
ß ±ß ²±
þ ° °
ú . . BLiZZARD, DFS, DW2K, DYNASTY, ENFUSiA

ú . þ MYTH, SSG, TYPO, ViRiLiTY
° .
²Ü ±
° ß ú
° ú þ Ü þ .
ú ß ° ú ß.þ /TEAM EQUiNOX
þß Ûß ÛÝß ú
°ÛÜ ÜÛ² ß Ü² þ²Ü
Ü þ ÛßÜÜ ÜÛÛÝÞÛ²Ý
úþÜÜÞÜ ÛÛ²° ßß ßß . .
±ÛÛÝßÞÛÛÛÛÝþÛÜ ²²Ü þÜÛÛÝ . þ
² ßßÜ þ ß²²ß °ÜܲÛÝ° °.°°²Ûß
þ °ÛÝÜÛ±Ü ° ²ÜÜ ßß ú ÜÜ °°° ° ° °°°²ÛÛÛ
Ü ßß Þ² ßÛ² °° ú ° ° °°±²ÛÛÝ . ú ° ° °°Þ
ú ß ±ß ²± þß ß
þ ° ° arfer(DFS)
ú

引用
ed2k:
//|file|XARA.Photo.And.Graphic.Designer.2013.v8.1.3.23942-EQUiNOX.zip
|59116435|1637C43441B90C2738EE859A4B01D5AC
|h=6WLGS4KR4ELIP7IZYPNO5LBZH2JOYMP4|/
资源更新列表
http://www.VeryCD.com/i/5190747/create/fol...postTime
这里是其它用户补充的资源(我也要补充):
暂无补充资源