中文名: Electric Rain专业矢量3D软件for MAX插件
英文名: Electric Rain Swift 3D MAX
资源格式: 压缩包
版本: v4.0.169 x86|x64
发行时间: 2012年
简介:





软件类型:图像处理
软件性质:免费破解软件
操作系统:Windows
应用平台:Windows 98, NT, 2K, XP, Vista
问题反馈: http://www.erain.com/Company/Contact/
网站链接: http://www.erain.com/products/swift3d/
软件介绍:


Swift 3D创造出高质量、窄带矢量的3D效果或者FLASH的3D动画,使超过97%的网页浏览观众都能观看。拥有先进的RAViX 4矢量图技术,Swift 3D 提供了出众的综合FLASH的矢量输出。无论从动画还是色彩的饱和度它都为你创造出你想要的FLASH和打印效果,支持Adobe Illustrator, EPS, SVG,Toon Boom's PNT输出格式。

Swift 3D插件允许3ds max和LightWave 3D用户创造出高质量、窄带矢量的3D效果或者FLASH的3D动画,使超过97%的网页浏览观众都能观看。拥有先进的RAViX 4矢量图技术,Swift 3D 提供了出众的综合FLASH的矢量输出。无论从动画还是色彩的饱和度它都为你创造出你想要的FLASH和打印效果,支持Adobe Illustrator, EPS, SVG,Toon Boom's PNT输出格式。这是3ds max的插件。运行于 Discreet 3ds max、Autodesk Viz

新的矢量渲染功能具有速度快、模拟艺术化钢笔线条、提高透明度、真实的阴影效果等特点。用于渲染 SWF 动画以及 AI、EPS、SVG 和 PNT 格式。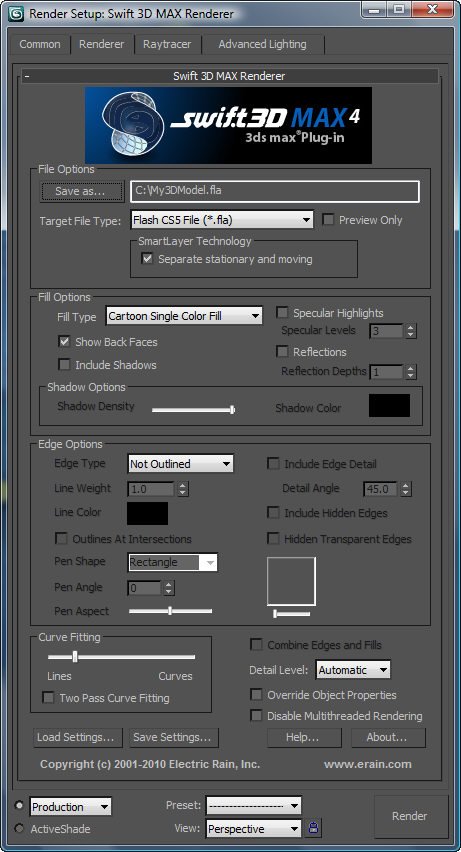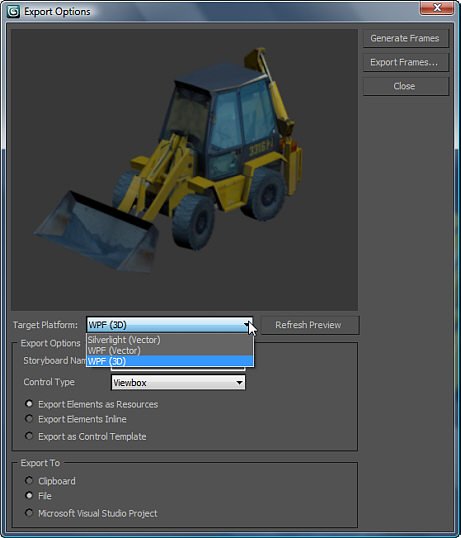 Swift 3D MAX V4 plug-in enables Autdesk 3ds Max users the ability to render 3D scenes as high-quality, low-bandwidth vector or raster Adobe Flash animations. Powered by the industry-leading RAViX 4 vector rendering technology, Swift 3D MAX offers superior integration with Flash and unrivaled vector, raster, video, and real-time Flash 3D output. From cartoon to full gradient shading, Swift 3D Max plug-in is certain to produce the style you need for your next Flash or print project. Additional export formats include the NEW Adobe CS5 native Flash FLA & XFL formats, Illustrator AI, EPS, SVG, video formats such as AVI, MOV, FLV, Microsoft XAML (3D WPF and Silverlight), and to pre-packaged Papervision 3D v2.0 and Collada DAE.



Autodesk 3ds Max 2013 support (32-bit & 64-bit)
Swift 3D MAX v4 plug-in supports the most recent version of Autodesk 3ds Max (2013), as well as previous versions of 3ds Max including R8, R9, 2008-2013. Oh and the best part is we support both 32 bit and 64 bit versions. Enjoy!

New Flash CS5 FLA & XFL formats supported

Flash CS5 FLA / XFL Export
Adobe has opened up the format for their source FLA files which now allows you to render content from Swift 3D MAX that integrates very tightly with existing Flash projects. Adobe also introduced a new format called XFL, which are XML-based project files that is used as an exchange format in Flash CS5, it imports XFL files that are exported from Adobe InDesign and AfterEffects, and now Swift 3D MAX.

Papervision3D v2.0 Support
Papervision3D v2.0 and Collada .DAE Format Support
Is Papervision3D too complex for you? Let Swift 3D MAX do the work for you by creating the PV3D project for you. Swift 3D MAX exports directly from 3ds Max to the latest Papervision3D v2.0 spec and Collada .DAE format, while automatically creating the full Papervision project for you in one simple export. Just compile the resulting FLA in Flash and you're ready to publish your real-time interactive 3D model, textures and all, to the web.

AVI / MOV Video Exports


AVI / MOV Video Exports
Swift 3D MAX exports to AVI and QuickTime* video formats, making it an essential tool for ALL of your motion design projects. From simple 3D video titling to advanced 3D video animations, Swift 3D MAX turns 3ds Max into a multi-faceted tool to expand your design possibilities at an affordable price.

* Only Swift 3D Max v4 32 bit versions can export to QuickTlime MOV

Flash FLV Video Export
Flash FLV Video Export
Export your Swift 3D MAX animations to the Flash Video .FLV format for import to Flash or direct playback through the Adobe Flash Player.

Microsoft WPF / Silverlight Export
Microsoft WPF / Silverlight Export
Swift 3D MAX now exports to both 3D WPF and Silverlight frame-by-frame animation in XAML format, which is the language that .NET & Silverlight players understand. These XAML files can also be used in Microsoft Expression Blend or Visual Studio as design elements of a larger .NET or Silverlight applications. Learn more about Swift 3D Max and Silverlight integration.

Swift 3D v6 (T3D) and ZAM 3D v2 (Z3D) Exports
Swift 3D v6 (T3D) & ZAM 3D v2 (Z3D) Exports
Swift 3D MAX v4 now exports to the Electric Rain family of products including ZAM 3D v2 (Z3D) & Swift 3D v6 (T3D). And since these products also export to 3DS, it makes round-tripping between all applications possible, allowing you to work in the environment you are most comfortable.

Multicore Rendering Support
Multicore Rendering Support
Swift 3D MAX can exploit all of the processors available on your system and can make the work simultaneously on the same raster render to provide faster renders.

For example, on a multiprocessing platform with 4 processors a user can expect up to a fourfold increase in render performance/speed.




代码
Ü ß ß Ü
Ü ÜÜÛß ßÛÜÜ Ü
ÜßßÛÜ ÜÛß ÜÜßÛÛß ßÛÛßÜÜ ßÛÜ ÜÛßßÜ
Ü ÞÛÜß Ü ßß ÜÛÛß t h e c r a c k e r s o f ßÛÛÜ ßß Ü ßÜÛÝ Ü
ßÜ ÛÛÛÜ ß ÜÜÜß ÛÛÛ ÛÛÛ ßÜÜÜ ß ÜÛÛÛ Üß
ß ÜÜ ßßßÜßÛÛÛß ÛÛÛ ÜÜÜ ÜÜÜ ÜÜÜ ÜÜÜÜ ÜÜÜ ÛÛÛ ßÛÛÛßÜßßß ÜÜ ß
ÛÛÛ ßÛß ÛÛÛ ÜÛÛ²²ÛÛÜ ÜÛÛÛ²ÛÛÜ ÛÛÛÛ²ÛÛÜ ÞÛ²²ÛÛÛ²ÛÝ ÛÛÛ ßÛß ÛÛÛ
ÛÛÛ ß ÛÛÛ ÛÛ²ÛßßÛÛÛÝÛ²ÛÛßßÛÛ²ÛÞÛ²ÛßÛÛÛÝ ²²ÛÛßÛÛßß ÛÛÛ ß ÛÛÛ
ÛÛÛ ÛÛÛ ÞÛÛÛÝ Û²ÛÞÛÛÛÝ ÞÛÛ ÛÛÛÝ Û²Û ÞÛÛÝ ÛÛÛ ÛÛÛ
ÛÛÛÛÛ ÞÛ²Û ÞÛÛßÞÛÛÛ ÛÛÛÝÛÛÛ ÜÛÛÛÝÛÛ²ÛÜÜÜ ÛÛÛÛÛ
ÛÛÛ ÛÛÛÝ Û²ÛÝ ÞÛ² Þ²ÛÛÛ²Ûß ÞÛÛÛÛÛÛÝ ÛÛÛ
ÜÛÜÜÜÛÜ ÞÛÛÛ ÛÛÜÞÛÛÛ ÛÛÛÝÛÛÛßßÛÛÛ ²ÛÛ²ßßß ÜÛÜÜÜÛÜ
[rAD!s] ÛÛÛßß ßßÜ Û²ÛÝ ÞÛÛÝÛÛÛÝ Þ²Û Û²Û Û²ÛÝÞÛÛÛÝÜÜ Üßß ßßÛÛÛ
ÛÛß ÞÛ²ÛÛÜÛ²ÛÝÞÛ²ÛÛÜÛÛÛÝ ÛÛÛ ÞÛÛÛ Û²ÛÛÛ²ÛÜ ßÛÛ
²ÛÛÜ ßÛÛÛ²ÛÛß ßÛÛÛ²²Ûß ÞÛ²ÛÝ ÞÛ²ÝÞ²ÛÛ²ÛÛÛÛÝ Ü²Û²
ß²²Û ßßß ßßß ßßßßß ßßß ßßßßß Û²Ûß
²Ý Ü ßÛÝ ÞÛß Ü Þ²
ÞÝ Û ÛÝ p r e s e n t t h e 2 0 k - c o l l e c t i o n ÞÛ Û ÞÝ
² ² þßß ßßþ ² ²
ÞÝ ÛÝ Electric Rain Swift 3D MAX v4.0.169 *INCL.KEYMAKER* ÞÛ Þ
þ ÞÛ ÛÝ þ
ÛÝ ÞÛ
ÞÛ Cracked by....: symmetry Release-Name..: CR-QXFT1.ZIP ÛÝ
ÛÛ Supplied......: CORE Release-Date..: 2012/09/18 ÛÛ
ÛÛÝ Packaged......: CORE Release-Type..: Util ÛÛ
Û²Ý Protection....: Serial OS............: Windows Þ²Û
ÞÛÛ Crack/SN......: Keymaker Language......: English ÛÛÝ
ÞÛÛÝ Rating........: [You decide!] Disks.........: 08 ÛÛÝ
ÞÛÛ ÛÛÝ
Û²Û Û²Û
ÛÛÛ ßÛÜ ÜßßßÜ ÜÛß ÛÛÛ
ÛÛÛÜ ßÜ ÜÛ²ßÜÜß ßÜÜß²ÛÜ Üß ÜÛÛÛ
þ ßÛ²ÛÜÜ ßßÜÜ Üßß ßÜ Üß ßßÜ ÜÜßß ÜÜÛ²Ûß þ
ßÜÜ ßßÛÛÛÛÛÜ ßÜ Þ ßÜÜ Üß ßÜ ÜÜß Üß ÜÛÛÛÛÛßß ÜÜß
ßßÛÜÜÜ ßÛ²ÛÛ Û ß ßßÛÜ ÜÛßß ß Û ÛÛ²Ûß ÜÜÜÛßß
Ü ßßÛÛß ßÛ þß Üßß Þ°² ²°Ý ßßÜ ßþ Ûß ßÛÛßß Ü
Üþ Ü Ü ÞÝ ±±Ý Þ±± ÞÝ Ü Ü þÜ
ÛÝ ß ²ÜÜß ßÜÜ ßÜÜ ²²Û Û²² ÜÜß Üßß ßÜܲ ß ÞÛ
Þ²ÛÜܱ ÜÜÜÛÛß ß Üܲ²ß ß²²ÜÜ ß ßÛÛÜÜÜ ±ÜÜÛ²Ý
ß²Û²ÛÛÛÛ²²Û ÜÛ²ß ß²ÛÜ Û²²ÛÛÛÛÛ²Û²ß
ßßßßß °Ûß ßÛ° ßßßßßßß
°Û ÜßßÜ ÜßßÜ Û
ÞÝ°²ß ÞÝ ÞÝ ß²°Þ
ßÜ Üß ßÜ Üß
ßß ßß
Üþ þÜ ÜÜß Üß²Ü
ܲßÜ ßÜÜ ÛÝ ß ²ÜÜß ßÜܲ ß ÞÛ Üßß ÜÜÜ Û
Û ÜÜÜ ßßÜ Þ²ÛÜܱ ÜÜÜÛÛß ßÛÛÜÜÜ ±ÜÜÛ²Ý ÞÝ Ü²° ßßÜÜ
ÜÜßß °²Ü ÞÝ ß²Û²ÛÛÛÛ²²Û Û²²ÛÛÛÛÛ²Û²ß ßÜ ß ß Ü ßÜ
Üß Ü ß ß Üß ßßßßß ßßßßßßß ßß²° Ûß ÞÛ
ÛÝ ßÛ °²ßß þß ²Ý
Þ² ßþ ..: DESCRiPTiON :.. ²Ý
Û² ²Û
Û² ²Û
² Swift 3D MAX V4 plug-in enables Autdesk 3ds Max users (versions 9, ²Û
² 2008-2011 running on both 32 bit and 64 bit OS's) the ability to ²Û
² render 3D scenes as high-quality, low-bandwidth vector or raster ²Û
² Adobe Flash animations. Powered by the industry-leading RAViX 4 ²Û
² vector rendering technology, Swift 3D MAX offers superior ²Û
² integration with Flash and unrivaled vector, raster, video, and ²Û
² real-time Flash 3D output. From cartoon to full gradient shading, ²Û
² Swift 3D Max plug-in is certain to produce the style you need for ²Û
² your next Flash or print project. Additional export formats ²Û
² include the NEW Adobe CS5 native Flash FLA & XFL formats, ²Û
² Illustrator AI, EPS, SVG, video formats such as AVI, MOV, FLV, ²Û
² Microsoft XAML (3D WPF and Silverlight), and to pre-packaged ²Û
² Papervision 3D v2.0 and Collada DAE. ²Û
² ²Û
² http://www.erain.com/ ²Û
Û² ²Û
Þ²ÝÜ ÜÞ²Ý
ß°ß ß°ß
þß ßþ
ßÜ ÜÜ Ü Ü ÜÜ Üß
ß Ü þ Üßß ß ß±ß ß±ß ß ßßÜ þ Ü ß
ÞÝ ß Ü Ü Ü Ü ß ÞÝ
ܲßÜ ßÜÜ ßþ Ü þß ßþ Ü þß ÜÜß Üß²Ü
Û ÜÜÜ ßßÜ Üßß ÜÜÜ Û
ÜÜßß °²Ü ÞÝ ÞÝ Ü²° ßßÜÜ
Üß Ü ß ß Üß ßÜ ß ß Ü ßÜ
ÛÝ ßÛ °²ßß ..: iNSTALL/REGiSTER NOTES :.. ßß²° Ûß ÞÛ
Þ² ßþ þß ²Ý
Û² ²Û
Û² ²Û
² Use our keymaker to register the application. ²Û
² ²Û
Û² ²Û
Û² ²Û
Û² ²Û
Û² Thanks for choosing ²Û
Û² (C)hallenge (O)f (R)everse (E)ngineering! ²Û
Û² ²Û
Û² ²Û
ÞÛ² ²ÛÝ
ÞÛ² Üþ þÜ ÜÜß Ü߲ܲÛÝ
ßÜ ßÜÜ ÛÝ ß ²ÜÜß ßÜܲ ß ÞÛ Üßß ÜÜÜ
ÜÜÜ ßßÜ Þ²ÛÜܱ ÜÜÜÛÛß ßÛÛÜÜÜ ±ÜÜÛ²Ý ÞÝ Ü²° ßßÜÜ
ÜÜßß °²Ü ÞÝ ß²Û²ÛÛÛÛ²²Û Û²²ÛÛÛÛÛ²Û²ß ßÜ ß ß Ü ßÜ
Üß Ü ß ß Üß ßßßßß ßßßßßßß ßß²° Ûß ÞÛ
ÛÝ ßÛ °²ßß þß ²Ý
ÜÜ Ü ..: CORE NEWS AND iNFOS :.. Ü ÜÜ
ÜÛÛÛÛ ßÜ Üß ÛÛÛÛÜ
ÞÛÛ²ÛÛÝ ÞÝ ÞÝ ÞÛÛ²ÛÛÝ
ÛÛ²ÛÛÛ Û - not available - Û ÛÛÛ²ÛÛ
Þ²Û²ÛÝ Üß ßÜ ÞÛ²Û²Ý
Û²ÛÛ ÞÝ ÞÝ ÛÛ²Û
ÞÛ²Ý ßÜÜ ÜÜß Þ²ÛÝ
ÛÛÝ ßÜ Üß ÞÛÛ
ßÛ ÞÝ ÞÝ Ûß
² Üß ßÜ ²
ÜÛß ßÛÜ
Üßß ßßÜ
Üß ßÜ
ÜÛÝ ÞÛÜ
²ÛÝ ÛÛ²
ÞÛÛ ÞÛÝ
ÛÛ ÛÛ
ÛÛ ÛÛ
ÛÛ ÛÛ
²ÛÛ ÛÛ
ÞÛÛÝ þßÜ Üßþ ÞÛÝ
Û²ÛÜ ÞÝ ÞÝ ÜÛ²
ßÛÛÛÛÜÜ ÜÜÜÜÛß ßÛÜÜÜÜ ÜÜÛÛÛÛ
ÛÛÛÛ²ÛÛÛÛÛßß ßßÛÛÛÛÛ²ÛÛÛÛ
Þ²Û ßßß ßßß Û²Ý
ÞÛÝ ÞÛÝ
ÞÛÝ ÞÛÝ
Û² ²Û
ÞÛÝ ÞÛÝ
Û² ²Û
ÞÛÝ ÞÛÝ
Û² ²Û
ÛÝ ÛÛ
ÛÛ ÞÛÝ
ÞÛÝ ÞÛÝ
Þ²Ý Þ²Ý
ÛÛ Ü ßþ þß Ü ÛÛ
Þ²Ý þ ß ß þ Þ²Ý
ÛÛ ÜÛßßÜÜ Ü ß ß ß ß Ü ÜÜßßÛÜ ÛÛ
Þ²ÝÜßß ßÛÜ ß²ß ß²ß ÜÛß ßßÜÞ²Ý
ÛÛ ß ß ÛÛ
ÛÛÛ ÛÛÛ
²ÛÛ ÛÛ²
ÞÛÛÝ ÞÛÛÝ
²ÛÛ ÛÛ²
ÛÛ² ²ÛÛ
²ÛÛ Û²Û
ÛÛÛ ÛÛÛ
ÛÛÛ ÛÛÛ
ÛÛ ÛÛ
ÞÝ ÞÝ
Û ÜÜÜ ÜÜÜ Û
Û Üßß ßßÜ lAYOUt & hEADER bY. [rAD!s] Üßß ßßÜ Û
ßÜ ßÜ Û nfO UPdATED ON [2012/01/13] Û Üß Üß
ßßÜÜÜ ÜÜÜß Ü (c) C.O.R.E. 2 0 1 2 Ü ßÜÜÜ ÜÜÜßß
ßßßßß ßßßßß
ú CRC 869A:0E2A
引用
ed2k:
//|file|Electric.Rain.Swift.3D.MAX.v4.0.169.Incl.Keymaker-CORE.zip
|39939573|D7FFAE0893AC98AB34B0D0985AD48158
|h=WK35RGWQLYS2BDJQAWQEVHBUBFYIUDPZ|/





ed2k:
//|file|Electric.Rain.Swift.3D.MAX.v4.0.169.x64.Incl.Keymaker-CORE.zip
|44243264|048F507D06BDB42CB41ADD3DB79AFD3B
|h=7442D4LRBMSXUIGG6EJFRHYCAR4IX3RE|/






资源更新列表
http://www.VeryCD.com/i/5190747/create/fol...postTime
这里是其它用户补充的资源(我也要补充):
暂无补充资源