专辑英文名: Almoraima
专辑中文名: 吉他神采
古典类型: 全集作品
资源格式: FLAC
版本: [LP 黑胶 24bit/96KHz]
发行时间: 1997年05月16日
简介: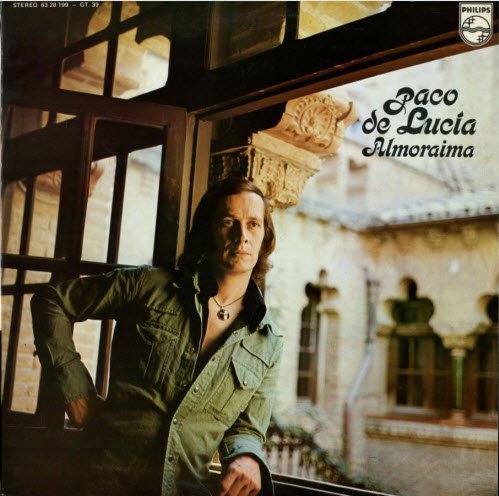 专辑介绍:

帕可‧迪鲁奇亚是20世纪后期,佛朗明哥音乐的重要革新者,出生於吉他世家,7岁便能弹奏佛朗明哥吉他,从小就有著为佛朗明哥舞者伴奏的丰富经历,12岁开始录唱片,13岁跟著Jose Greco的佛朗明哥乐团展开国际巡迴表演,青少年时便赢得数项比赛的冠军。

迪鲁奇亚会作曲,也替多位著名西班牙歌者伴奏,包括伟大的吉普赛佛朗明哥演唱家Camaron de la Isla,两人自1960年代一直合作到1990年初。
70年代,他的一首热门曲Entre dos Aguas深深影响了该年代的西班牙年轻人,接着又以Firday Night in San Francisco一曲征服了世界各地的听眾。70年代后期开始涉猎古典、爵士和蓝调领域,出版过的个人演奏专辑数不胜数。迪鲁奇亚不断地把拉美和爵士元素引入佛朗明哥音乐,被评为是当代最好的佛朗明哥吉他手之一,也是将传统西班牙音乐现代化的功臣。

review
by Chris Nickson

When Paco de Lucía made the groundbreaking Almoraima, he was just 28 years old. Already established as a prodigious talent, he used to opportunity to expand the possibilities of the flamenco music he loved so much. It wasn't so much the addition of bass and congas (he'd employed them before) as his entire rethinking of what constituted flamenco. The title cut, which opened the album, emphasized the Moorish influence, not only in the presence of the lute-like oud, but in its melody, which borrows from Arab maqams, or modes. "Rio Ancho" transports the rhumba rhythm to Brazil, melding it to a feel taken from bossa nova, which makes it all the more sinuous and sensual. More revolutionary is "Cobre," which virtually demolishes the flamenco form of sevillanas and rebuilds it in de Lucía's vision, giving it far more gravity. He never uses the record as a vehicle for his huge technical ability; instead, he focuses on serving the music, whether that's on the sad "Llanos de Real" or using a choir on "Perla de Cadiz" (which is dedicated to the singer of that name). This remains a landmark recording, not only in de Lucía's career, but in the annals of flamenco.

Audio CD (May 16, 1997)
Number of Discs: 1
Format: Import
Label: Polygram Int'l
ASIN: B000006Y23
Also Available in: Audio CD | Vinyl | MP3 Music
Paco de Lucía – Almoraima (1976)

Arranged By – J. Torregrosa*
Artwork By [Cover] – Ramón Rodriuez Y Lamarca
Composed By – Paco De Lucía
Engineer – J. Días Auñón, R. Jaimez
Guitar [2nd] – Ramón De Algeciras
Other [Liner Notes] – Félix Grande


引用
Almoraima

The title track "Almoraima" has nothing to do with the aforementioned groups, although this bulería lasting five minutes and twenty-four seconds does bear their influence. Upon a first listening, the aficionado may think that it involves difficult technique, but this is not the case. Its structure is based on the por medio position. That is, A major and B flat major are the chords used in the rhythmic base, demonstrating Paco's faithfulness to the teachings of Ricardo and Sabicas. With the capo at the second fret, the music for "Almoraima" is actually heard in B major and C major. The track begins with an entire compás of muted guitar, which Paco divides into three parts, in Jerez style. At this point, he plays a falseta heard previously in his accompaniment of Camarón, on the bulería "Con roca de pedernal". This idea places the same muted idea on the bass strings. It is an ordinary alzapúa in A major, thickened with the extra bass string at the fifth fret. This sensation of fullness is surprising when bearing in mind that the only tonal variation is found in a repetition of this same technique in G minor. The shockingly simple move is perhaps the most outstanding feature of the whole track.

Paco quickly compensates for the introduction on the bass strings with another great idea on the trebles. He mixes picado (alternating index and middle for single-note lines) with a downwards three-note arpeggio, offering playing that is stunning for the hands, but less so for the ears, since the tempo of the bulerías rhythm is quite slow. At this pace, he is able to include more notes than usual. The chord progression passes from A major to C major to B flat, closing the cycle by returning to A major. He plays the remate on the first string, with a slur that pulls off from the fifth fret to the third, the first, and, finally, the open string. Clearly, he has remained within the harmonic school of his mentors. Up until this point, only his right hand has moved on to new territory.

From this point on, the maestro uses the same format: one phrase after another without stopping. But the appearance of another alzapúa-an unusual technique at that time-brings on the muted strumming once again. All the falsetas follow the calculated approach that he acquired from Ricardo, alternating the placement of ideas on bass and treble strings.

In the final twenty seconds we hear a passage that perfectly fulfills the guitarist's proposal: traditional melody and harmony with revolutionary technique (Sabicas and Smash). This is the explanation for the title of the piece; Paco never names his compositions gratuitously. He plays another picado at the tenth fret, second string (a B note), to which he adds constant vibrato, in a clear reference to Arabic music, through the use of an instrument called an ud. The track slowly fades out, in accordance with Renaissance theory: masterpieces never have an ending, since the beholder adds the final note, and forms a part of the message. However, it should be remembered that this same concept in bulerías for guitar had been developed a year earlier by Niño Miguel on a piece titled "Vinos y caballos", included on another Polygram recording.

La cueva del Gato.

The second piece from the album, "La cueva del Gato", stands apart from "Almoraima" in all senses. With this rondeña lasting five minutes and forty-two seconds, Paco pays homage to the creator of this guitar style, Ramón Montoya. But, once again, he does so in the pattern of his mentors: They had stated that the toque abandolao is played por arriba, in E major/F major, and Paco was not one to disobey them. He even plays without capo, so that, in the sheet music, these chords appear as the rhythmic base. But this was not enough for the maestro. His fretboard wizardry led him to discover a chord equivalent to E major that opens a new harmonic road to composition. The chord is a D minor barred at the second fret of the sixth string, with an A flat. He begins the piece with this position, playing ad lib for the first half of the track. Apart from this, Paco again breaks the mold with a breathtakingly crystalline five-note tremolo lasting over a minute. He plays this on the first string, using passing chords of A minor, G major, F major, and E major. At the halfway point of "La cueva del Gato", we hear the rhythm pick up with an upwards three-note arpeggio on the first, second, and third strings over A, G, F, and E. And once again, a wonderful surprise: thumb-stroked glissandos over several frets. Don Francisco Sánchez is able to pass from the third fret to the first, making it sound as if the striking finger were sliding over the fretboard. He demonstrates once more that he has surpassed his mentors in technique, but not in harmony. Until this moment he has only created an E chord. But what an E chord!

Cobre

Paco de Lucía is perhaps the only guitarist that has played in concert all the styles that exist in flamenco. For this reason, the sevillanas style was included in "Almoraima". But this decision was also influenced by the fact that his friend and recording colleague Niño Miguel had also recorded this style a year earlier in his "Recuerdo a la Virgen del Rocío". This might lead one to think that "Cobre" could be a homage to Niño Miguel, but only Paco knows for sure.

"Cobre" lasts three minutes and nine seconds. But each sevillana is developed according to the maestro's demands for the piece, and avoids symmetries. All of them are played open, the first in E major and B major. The guitarist does not use basic chords here, but two equivalents that were traditional at that time, taken from a creation of Ramón Montoya. The first is a B, barred at the second fret in A major position; and the second is an E, barred at the fourth fret in C position. Paco adds a series of arpeggios to these chords in the first two tercios. But his innovation is heard in the last idea, where he is supported by the playing of his brother Ramón, with a fugue for two voices, one playing the falseta on the bass strings, the other on the trebles.

The same idea is heard in the second sevillana, the basic chords for which are E major/F major, played in a traditional manner on this occasion. It should be pointed out, once again, that there is not as much revolution here as the listener might imagine; only certain details, like the remate of this sevillana, also in a fugue for two, where Paco adds a tremendous alzapúa to the modal accompaniment.

The structure is repeated in the second sevillana, with rhythmic support of E minor and B major. But before concluding, Paco de Lucía leaves another testimony of his skill: the fourth sevillana is played over C sharp/D major. The chords are well-known, but no one until this time had ever considered creating a sevillana with them. Once again, he squeezes out new harmonic concepts in the style by combining elements learned from his two mentors.

A la Perla de Cádiz

The fourth track from the recording, "A la Perla de Cádiz", is a cantiña lasting four minutes and twenty-six seconds. The genius from Algeciras dedicated this piece to a cantaora that he met through his work with Camarón (she was a relative of el de la Isla). Logically, Paco plays it in the key in which Perla sang this style: E major/B major without capo. As a true homage, the first thing heard is a chorus of men and women singing the traditional "tirititrán". Paco surprises us once more, because the piece does not start with traditional chording, but a reference to the mirabrás style, strumming in rhythm over A major and G sharp major, finishing in E major/B major. There is really nothing new to this track, apart from the melody, as is logical for a great composer. The falsetas reflect the so-called "estilo salinero" on the treble strings. In the silencio, we might consider that there is innovation, since chords are used rather than phrases, but things then go back to normal with a perfectly traditional escobilla to which Paco adds two notes to each arpeggio: instead of the normal three, the maestro does it with five. The track finishes with a fade out that, once again, includes the listener as part of the message.

Ole

At this stage of the recording, Paco de Lucía has said nearly all that he has to say. However, in the jaleos titled "Ole", lasting four minutes and eighteen seconds, he establishes a rhythmic model used afterwards by many guitarists, the most recent being Vicente Amigo, in the track "Tatá", from "Ciudad de las ideas". The idea is to divide the bulerías rhythm into four strummed sub-rhythms of three beats each. On the third beat, the chorus sings: "ole". There is little more to be commented here, except for the fact that it is played por medio -A and B flat, with the capo at the third fret, resulting in the chords of C major and D flat.

Plaza Alta

The man from Algeciras is a great admirer of the soleá. For that reason, he usually includes this style in his recordings, although he is aware that it is a style that is not particularly attractive for inexperienced listeners. In this case, the title is "Plaza Alta", lasting six minutes and twelve seconds. It is played with the capo at the second fret in E and F positions, resulting in F sharp and G chords. The piece has practically no base rhythm, consisting, instead, of a long series of phrases with a wide variety of techniques. The most important of them is the five-note tremolo, lasting over a minute. The rest is once again based solidly on tradition. So solidly, in fact, that the new element introduced here is the acceleration of the rhythm, exactly three minutes into the track, converting the style in a soleá por bulerías that ends with a fade-out, as heard in much of the maestro's work.

Río Ancho

There is not much to say about the rumba "Río Ancho", since it is little more than a continuation of "Entre dos aguas", from his recording "Fuente y Caudal". The success of this piece caused Paco to repeat the same structure for the new track. Although the two differ melodically, the rest of the concepts are identical. The track lasts four minutes and twenty-nine seconds, played without capo over a rhythmic base of E minor/B major.

Llanos del Real

For the conclusion of this recording, don Francisco Sánchez chose "Llanos del Real", a superb minera. The base chords were created by Ramón Montoya to distinguish this style from the taranta, for the reason that the two singing styles entail different pitches. Although this is arguable-the pitches are exactly the same, it is only a matter of transposition-, Paco, knowing this, remains respectful and labels the track in accordance with the idea of Montoya. The taranta is normally played in F sharp/G major; while the minera, as in this case, is played in G sharp major and A major. With this base, Paco gives us three minutes and thirty-seven seconds of pure creation. The initial tremolo lasts nearly a minute, and is played on the first and second strings. The idea here is the following: As the piece progresses, the arpeggio is used-within the base chords-to adjust the piece to the taranto rhythm. In the end, it becomes a bulería that trails off into silence...
引用
5.0 out of 5 stars setting the record straight April 23, 2001
By Teye
Format:Audio CD
Paco de Lucia's name will stand as one of the innovators in flamenco guitar, along with other greats like Ramon Montoya and Sabicas, and being an innovator, he will be subject to adoration as well as to harsh criticism. When Ramon Montoya brought flamenco guitar to the stage front early in the last century, all traditionalists screamed: no, no, the guitar is for accompaniment only! When Paco de Lucia introduced new harmonies and new instruments into flamenco, purists were disgusted. Now, those then-new harmonies are accepted into the flamenco dictionary, and the cajón (a south American percussion instrument that Paco brought into flamenco use only a few decades ago) is considered a "very" flamenco instrument and is being used almost universally in the art form.

No one will ever be able to deny the great importance this one man has had on the development and the appreciation of the flamenco guitar, yes, of flamenco and of guitar music in general. An innovator will tread where others have not gone, and therefore will always be one step ahead of everyone else. And for that reason will be often misunderstood, certainly by those who cling to forms from the times that they themselves started appreciating flamenco.

Paco de Lucia has for the past 50 years devoted his life to the flamenco guitar and culture. While other mortals spent time with their families, Paco was spreading the word on his culture, and defending flamenco against prejudice that classified it as "music of the street". He would come back from a US tour, looking forward to spending three days over Christmas with his family before flying off to Argentina, only to learn that there was TV and press-conference duty that reduced his time off to ... three hours. To us, the audience, he gave his huge and incredible work output, both recorded, and on the concert stage. It has been a sacrifice, to gain appreciation for his beloved flamenco.

To me, his finest albums, the ones that I most recommend, are: "Almoraima" (1976), "Siroco" (1988) and "Luzia" (1998). Of those three to my ears, Almoraima is the first album in which Paco really outlines his signature unorthodox approach: the Alegría with the choir, the use of an oud (Arab lute), the deliberate build-up of the album as a whole, yes indeed the production (unheard of!). His albums up until this one had consisted of superior guitar playing, but in other people's mold. Here, Paco creates his own terrain, and that of many guitarists to follow. A gem, a jewel of a work where I cannot find a bad or overlooked moment.

After this, Paco comes out with extraordinary albums like "Solo Quiero Caminar" and many others, in which he explores his boundaries and does some of his best playing, but always in a jazzier context.

Then, he releases "Siroco": an album of so much purity, that it almost feels as if you are "there", listening to Paco play in an intimate setting. The first time I heard "Siroco" was in a very impersonal big department store in Córdoba. Tears streamed over my face during the opening song: I forgot totally where I was and let me be grabbed by this beautiful guitar playing. Well over a decade of listening to this album have not diminished its enchantment. This is to where the flamenco guitar had developed: the master first learned how to play traditionally, took an experimental and then jazzy approach, and now came back, enriched, to the roots to make a profound statement of what could be done within this traditional yet totally new idiom.

Other, younger players stood up and gave Paco a run for his money. We heard the records and concerts of people like Gerardo Nuñez, Cañizares, Tomatito, and of course Vicente Amigo, and these guitar players, who started with the level and musicianship of Paco as the leading example, and current trend, of course developed it further, and impressed us all. And, well, Paco surely was resting on his laurels. Wrong. Out comes "Luzia". It is as if Paco de Lucia wanted to set the record straight: who exactly is the master of flamenco guitar? This is an album by a mature player who is in total control of both his instrument and his idiom of choice. Gone is the youthful exploration of "Almoraima", and in comes a statement so profound and personal it is almost frightening. Paco sings (!) of how his friend and long-time collaborator, gypsy singer El Camaron, has been taken away from his side (Cameron died in 1992). There are two bulerias on this cd that are so flawlessly filled with new and exciting material it is frightening. A solea that has melodies straddling the traditional compas in a way that had never been done before and yet makes total sense; a siguiryias that builds like a classical composition.... All right, the Alegría seems a reworking of that on "Siroco" (but just as great), and the Tangos (with Duquende singing) sounds a little too easy-listening to me, but all-in-all this ranks in my world as the definitive Paco de Lucia-album.

To anyone who is in doubt whether to buy "Almoraima", "Siroco" or "Luzia", my honest advice is: skip dinner and buy all three.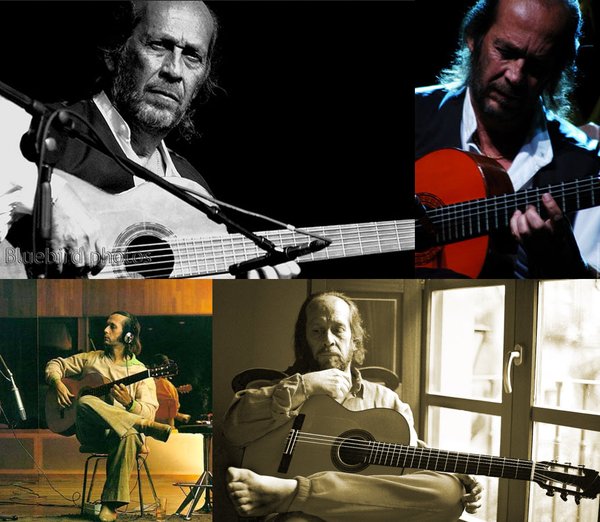 专辑曲目:
01. "Almoraima" – 5:25
02. "Cueva del gato" – 5:43
03. "Cobre" – 3:10
04. "A la Perla de Cádiz" – 4:27
05. "Ole" – 4:19
06. "Plaza Alta" – 6:13
07. "Río Ancho" – 4:29
08. "Llanos de Real" – 3:39
这里是其它用户补充的资源(我也要补充):
暂无补充资源