中文名: 计算机辅助设计软件
英文名: Megatech MegaCAD 3D
资源格式: 压缩包
版本: v2012
发行时间: 2012年
制作发行:
Megatech Software GmbH
简介: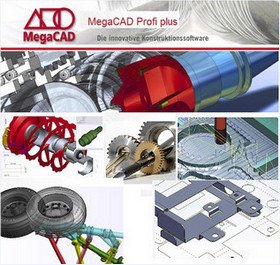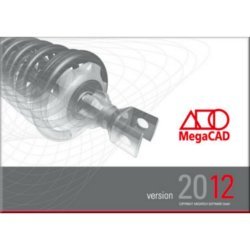 MegaCAD是一套功能优良的计算机辅助设计软件,该软件由德国Megatech Software BMGH公司研制开发,MegaCAD提供中文界面、图标菜单、鼠标操作、汉字提示;支持DOS、Windows、WindowsNT、LAN、UNIX及各种打印机、绘图仪和显示器等硬件,内存仅占640K,在所有286以上的微机上均可运行。 MegaCAD提供Meofig模块,供用户定义自己的热键,MegaCAD所有命令都可以用热键表示。MegaCAD提供47种尺寸标注方法,既可标注机械尺寸,又可标注建筑图纸尺寸。


MegaCAD特别提供三维功能,可以有四种投影方式,可任意定义视角。利用MegaCAD的3D图标,可以方便地生成轴侧图,还能为零件上色,共16种颜色可供选择。 MegaCAD提供"宏"的功能,用户无需编程,依旧能够做图库,所见即所得,而且MegaCAD的宏用图标表示,用户可将已有图形的全部或部分当成"宏"分门另类地加以保存,供随时调用,表示"宏"的文件名可以有32个字长,足以表达零件的字特征。用MegaCAD提供的零件自动生成功能,可自动搜索本装配图所有零件并统计数量,以每个零件的数据库中自动提取文字信息填入定义好的格式中。

MegaCAD被包括建筑业、制造业、绘图、造船业和土木工程等在内的多种行业的设计部门采用。

为了满足公司客户的实际需求,Megatech 希望MegaCAD具有以下功能:沿3D轮廓的圆角、变半径圆角以及在一个模型中可以同时进行曲面造型和实体造型。














MegaCAD 3D is the ideal synthesis of an innovative solid and surface modeling system and a full-feature 2D drafting program. If you are developing your model in 3D or if you are drawing a 2D design, each step will automatically be transferred from one dimension into the other one.

In MegaCAD 3D, the user has a powerful solid modeling system. In addition, any designs can be wholly or partly implemented in the surface modeler. Because they share a common data structure, the two forms of model can be combined. This makes it possible, for example, to trim a solid object with a complex free-form surface, to give the solid a new shape. Conversely, the surface of a solid body can be isolated as a separate surface.

Functions

Innovative technologies

MegaCAD 3D provides very fast algorithms for the shaded display of surfaces and solids, and to remove hidden lines from the display. The designer can work directly in this 'hidden lines removed' mode. Unlike when working with other systems, where the user has to invoke the hidden line calculation repeatedly after each drawing task, the MegaCAD operator always has a clear overview, even with larger drawings.

Flexible tree structure enhanced by local operations
MegaCAD saves all operations in a tree-like structure, a so-called 'feature tree'. The sequence in which procedures are applied can later be changed in any required way, leading to automatic recalculation of the component concerned. However, such a recalculation is not always necessary. Many changes can be restricted to local operations, applied directly to the component to be edited.

Object-oriented parametric
MegaCAD 3D provides for parametric objects. A simple mouse click can be used to assign new dimensions to any of the basic mathematical objects, such as spheres, cubes, cylinders, etc. Solid objects which are connected to the object which has been changed can, if required, be adjusted automatically.

This parametric approach extends to prismatic extrusion objects and sweep objects along a (curved) line in space. 2D drawings produced using MegaCAD can be parameterized in whole or in part, with any dimensions which are not defined being automatically regarded as constant. Geometric dependencies are also taken into account. If such a solid forms the base of an extrusion solid, then the latter is also recalculated.

Variable blends / rounding
The enhanced blending function allows the edges of solids to be rounded with a variable radius, and for this radius to be later altered locally or removed.

Thin wall objects
The shelling function is used to generate automatically a thin-walled shell from a full solid. It is possible in the same operation to remove one or more closing surfaces from the shell. This function is not limited simply to regular objects, but can also be applied to solids whose surfaces have been formed by trimming against a freeform surface.

Full-featured 2D drafting program
While other CAD programs lay emphasis on editing the 3D model, and only offer rudimentary 2D processing functions, MegaCAD can here show off its full strength. In MegaCAD 3D, all the drawing tools of the current version of MegaCAD 2D are available for further editing work on two-dimensional drawings derived from the 3D model.

Integrated working in 2D and 3D
MegaCAD allows 2D drawings and 3D models to be worked on in an integrated way. Any required 2D views can be produced from a 3D model, and if the latter is amended the 2D views can, if required, be automatically updated.
If desired, two-dimensional views can be used to generate a 3D solid object with no further work by the user.

Data interchange
Apart from direct data interchange with the over 170 CAD/CAM applications which, like MegaCAD, are based on ACIS, MegaCAD permits data to be imported and exported through fully-developed interfaces (HPGL, DXF, DWG , WMF, CDL, IGES , STEP, VDAFS and SAT).

Relational Assembly parts
MegaCAD provides a fully relational link between the assembly drawing and the associated parts. Parts can be integrated into an assembly drawing relative to the absolute coordinate system or relative to other parts or elements of the assembly. As an example, if an original component part is modified, the changes will be reflected in the assembly drawing and if a component part is changed in the assembly drawing, this will be reflected in the orthographic drawing. This bi-directional association serves to reduce errors, improve quality, accelerate manufacturing cycles and ultimately cut costs.





代码
ÜÜÜÛÛßßßßßßßßßßßßßßßßßßßßßßßßßß ÜÜÜÜ ßßßßßßßßßßßßßßßßßßßßßßßßßßßÛÛÜÜ
ÜÛß ÛÛÝ°Þ²²ÛÛÛÛÜ °ÛÛÛÛÛÜ Þ±ÛÛÞÛÛ±Þ±±ÛÛÝÛÛÛÛÜ ²ÛÛ°ÛÛÛÛÜß²ÛÛ Þ²²ÛÛ °ÞÛ°°ÛÛÜ
ÞÛÝ°ÜÛÛ°°Û²ÛÛÛÜÜÛÞÛ²ÛÛÜÜÛÝÛÛÛÛ ÛÛÛÝßßÜÜÞ²ÛÛÛÛÞÛÛÝÞÛÛÜÜÛÝÞÛÛÝÛÛÛÛÝ ° ÛÛÛ²ÛÛ²
ÛÛÛÛÛÛ²° ÛÛÛÛÛ±ÜÜÜß²²ÛÛÛÛÛÞ²ÛÛ±ÛÛÛݲ²ÛÛݲÛÛÛÛÛÛÛ ²ÛÛÛÛÛ² ÛÛÛÛÛÛß °°°ÞÛÛÝÛÛÛÝ
ÞÛ±±ÛÛÛ° Û°ÛÛÛÛÛÛÛÝÛÛÛÛßÛÝÞÛÛÛÛÛÛ² ²ÛÛÛÛÞÛÛÞÛÛÛÛ ²ÛÛÛÛÛÝÛÛÛÝÛÛÛÛÜ ° ÛÛß ÞÛ²
ßÛÛÛÛÛÝ ßÛÛÛÛÛÛÛßÜÛ±ÞÛÛÜ° ßÛÛÛÛß ÞÛÛÛßßÞÛÛ ÛÛÛÛÝÞÛÛÛÛßÜÛÛÛ Þ²ÛÛÛ± ÞÛ° ÜÛß
ßßßÛÛÛÜÜÜÜÜÜÜÜÜÜÜÜ ÛÛÛ²ß ÜÜÜÜÜÜÜÜÜÜÜÜÜÜÜÜÜÜÜÜÜÜÜÜÜÜÜÜÜÜ °ÛÜÛÛÝÞÛßß
ßß Þ ÞÝÛÛÛ²
° ÜÜ ÛÜßÞÛÛÛ
° Ü ²²ÛÝ ° Û± ÛÛÛÜÜþ
þ ± ° ßß úúúeúúúqúúúuúúúiúúúnúúúoúúúxúúú ÛÛÛßßß
ú ß Üܲ²Ý ±± þß
° þß Ûß °±±²²Û² ° presents
± °ÛÜ ÜÛ² ²ÛÛÛÝ ° ú
Ü þ Ûß þ °ß MegaCAD 3D
° þÜÜÞÜ ÜÛÜú ° þ ú .
±ÛÛÝßÞ²²ÛÝ. þ .°°ÚÄÄÄÄÄÄÄÄÄÄ¿úúúúúúúúúúúúúúúÚÄÄÄÄÄÄÄÄÄÄÄÄÄ¿úúúúúúúúúúúúúúúú
úßßÜ þ.°²²ß ÜÜÜ ³úúcrackerú³ Team EQUiNOX ³releaseúdateú³ 08 / 2012 :
°² °ÛÝÜÛ²Üú ܲ²ÛÛ²± ³úsupplierú³ Team EQUiNOX ³úúúOSútypeúúú³ WinALL :
þúß °Ü²²²ÛÛ²²±°³úúpackerúú³ Team EQUiNOX ³ú#úofúdisksúú³ 22 x 10MB :
²ÛÜ ÜÛÛ²ÛÛÛÛ²±±° ³úútesterúú³ Team EQUiNOX ³softwareútype³ Utility :
ÛÝ°Þ²ÛÛÛÛÛÛ²²±° ³protection³ License ³úúúúratingúúú³ You decide! :
°Ü Þ²²Û²²Û²²±° ú°ÀÄÄÄÄÄÄÄÄÄÄÙúúúúúúúúúúúúúúúÀÄÄÄÄÄÄÄÄÄÄÄÄÄÙúúúúúúúúúúúúúúúú
ÞÛ²Ý ß²²±²²²²°úÜ þÜÜÛ° ²Ûß °ÜÜ þ .
ßß Þ²ú ßßß° Þ²°Þ²ÛÛ±. þ ÞÛÛÛ²²ÛÜ .þ ܱÜÜ ú . ú
± °ÛÜ ÜÛ² °þ . ú ßßß úßßßÛÛÛÛ²Ý ß ú ß²ÛÛ²° . ß²² ú
Ü þ Ûß ÜÜÜÜ °° ²ÛÛÜÛÛÛ °° ÜÜÜÜÜÜÜÜÜÜÜÜÜÜÜÜ Ûß þ
° þÜÜÞÜ ÜÛ Û °° ²ÛÛ ²ÛÝ°° elease notes Û ú .
±ÛÛÝßÞÛÛ ßßßß °° ÛÛÛ °° ßßßßßßßßßßßßßßßß
úßßÜ þ ßÛ²ß
°² °ÛÝÜÛ±Ü Ü±
Ü Ü ßß ÜÜ
Þ²²ÛÜ Þ²°
þ ßÛÛß Ü MegaCAD 3D is the ideal synthesis of an innovative solid and
ßß surface modeling system and a full-feature 2D drafting
úß ±ß ²± program. If you are developing your model in 3D or if you are
° þ ° ú ° drawing a 2D design, each step will automatically be
transferred from one dimension into the other one.

In MegaCAD 3D, the user has a powerful solid modeling system.
In addition, any designs can be wholly or partly implemented
in the surface modeler. Because they share a common data
structure, the two forms of model can be combined. This makes
it possible, for example, to trim a solid object with a
complex free- form surface, to give the solid a new shape.
Conversely, the surface of a solid body can be isolated as a
separate surface.

± °°
ú ß
° þß Ûß °°
± °ÛÜ ÜÛ²
Ü þ Ûß ÜÜÜÜ °° ßßßß °° ÜÜÜÜÜÜÜÜÜÜÜÜÜÜÜÜÜÜÜÜÜ
° þÜÜÞÜ ÜÛ Û °° ²ÛÛÛ °° nstallation notes Û
±ÛÛÝßÞÛÛ ßßßß °° ÛÛÛÛÝ°° ßßßßßßßßßßßßßßßßßßßßß
úßßÜ þ ßÛ²ß °
°² °ÛÝÜÛ±Ü °
Ü ßß Þ²° - check \eqx\eqx.txt
úß ±ß ²±
° þ ° °

° ú þ
ú ß °
þß Ûß °°
ú °ÛÜ ÜÛ²
° Ü þ Ûß ÜÜÜÜ °° ²ÛÛÛßÛÛ °° ÜÜÜÜÜÜÜÜÜÜÜÜÜÜ
úþÜÜÞÜ ÜÛ Û °° ÜÜÜÜÜÛÛ °° pplications Û
Ü ±ÛÛÝßÞÛÛ ßßßß °° ²ÜÜÛÛÛÛ °° ßßßßßßßßßßßßßß
Þ²² ßßÜ þ ßÛ²ß °
þ °ÛÝÜÛ±Ü °
± Ü ßß Þ²°
ú ß ±ß ²± We're in great need of new talented people, such as:
ú þ ° °
± ú - Suppliers, can you supply unreleased and new software?
ß þ ß - Crackers, able to break apps with today's protections?
° ú ± - Shells, host shells on a fast eu/us connection?
- Dumps, 100mbit+, with atleast 500Gb of storage?
Ûß þ ú
°
ú ß
þß Ûß °°
° °ÛÜ ÜÛ²
þÛÜ Ü þ Ûß ÜÜÜÜ °° ²ÛÛßÛÛÛÝ°° ÜÜÜÜÜÜÜÜ
Ü þÜÜÞÜ ÜÛ Û °° ßßßßßÛÝ °° reets Û
² ²ÛÛÝßÞÛÛ ßßßß °° ²ÛÛßÛÛÛ °° ßßßßßßßß
Þß ßßÜ þ ßÛ²ß ° ßßßßßßß
°ÛÝÜÛ±Ü °
þ ß Ü ßß Þ²°
ß ±ß ²±
þ ° °
ú . . BLiZZARD, DFS, DW2K, DYNASTY, ENFUSiA

ú . þ MYTH, SSG, TYPO, ViRiLiTY
° .
²Ü ±
° ß ú
° ú þ Ü þ .
ú ß ° ú ß.þ /TEAM EQUiNOX
þß Ûß ÛÝß ú
°ÛÜ ÜÛ² ß Ü² þ²Ü
Ü þ ÛßÜÜ ÜÛÛÝÞÛ²Ý
úþÜÜÞÜ ÛÛ²° ßß ßß . .
±ÛÛÝßÞÛÛÛÛÝþÛÜ ²²Ü þÜÛÛÝ . þ
² ßßÜ þ ß²²ß °ÜܲÛÝ° °.°°²Ûß
þ °ÛÝÜÛ±Ü ° ²ÜÜ ßß ú ÜÜ °°° ° ° °°°²ÛÛÛ
Ü ßß Þ² ßÛ² °° ú ° ° °°±²ÛÛÝ . ú ° ° °°Þ
ú ß ±ß ²± þß ß
þ ° ° arfer(DFS)
ú
http://user.qzone.qq.com/812653212/main#!a...47427695
引用
ed2k:
//|file|Megatech.MegaCAD.3D.v2012-EQUiNOX.zip
|222145949|262595AE04D60A50BAF46D2E17855A27
|h=LJHPN6DIHLLT3REDNQJNGKSSWWFKK6AQ|/
资源更新列表
http://www.VeryCD.com/i/5190747/create/fol...postTime
这里是其它用户补充的资源(我也要补充):
暂无补充资源