中文名: MAGIX广播级音频工作站
英文名: MAGIX Sequoia
资源格式: 压缩包
版本: v12.1.0.125
发行时间: 2012年
简介: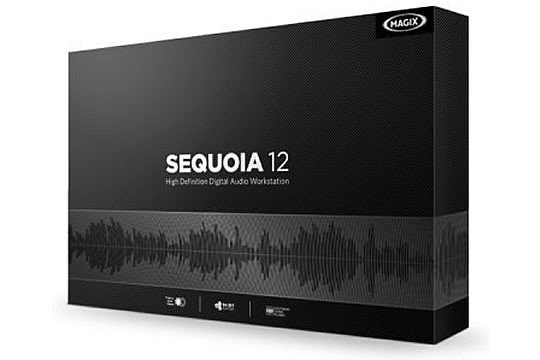 Sequoia是MAGIX的旗舰产品,属于广电级。
拥有最高的处理精度,售价在欧元2500。2万人民币左右。
德国的许多唱片公司也还是在使用Sequoia录混。

Sequoia 12主要新特性:
在电平技术上做了很大升级,支持所有目前的广播标准
界面使用了新的docking概念,用户可以通过简单的拖拽操作来管理打开的窗口
新的macro宏功能,可自创快捷键实现一系列的功能)
可进行音轨级别的频谱编辑,在录音的同时快速消除噪音
自动ducking功能适合广播时候让背景音乐避让人声
录音的同时就可以导出,节省大量时间
新的VCA编组提供更灵活的调音台通路设置
支持64位
内置Independence Sampler Workstation,带有70GB的素材,上百种采样乐器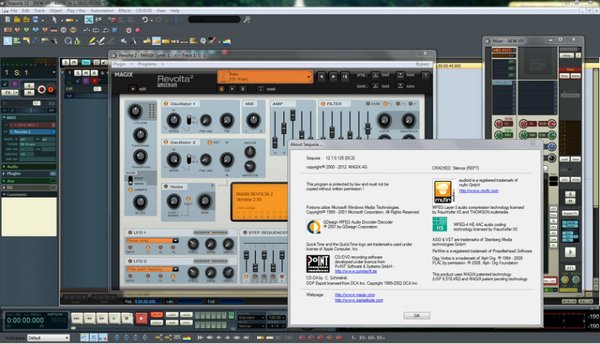 资源更新列表
http://www.VeryCD.com/i/5190747/create/fol...postTime



Sequoia 12

Sequoia 12 is designed to meet the high demands of professional users and represents a new milestone in the development of software solutions for radio broadcasting, audio post production and mastering. The newest generation of Sequoia sets new standards for high-definition DAWs by offering maximum flexibility, performance and efficiency. With extensive improvements to its unique multisync editing, loudness metering according to EBU R128, enhanced spectral cleaning and constant new developments to its source/destination editing, Sequoia 12 offers professionals everything they need for top level audio production.


Mastering & post production

For post-production, the option to use the audio input from the sound card for synchronizing Sequoia with the local external timecode is also available. AAF / OMF support enables projects to be exchanged between platforms quickly.

After a film has been dubbed completely, Sequoia allows a display copy to be created quickly without the use of any additional additional programs. The video can be exported including the finished mix directly from Sequoia in different formats.



Sequoia worldwide

For years, Sequoia has been an integral part of leading broadcast and mastering studios worldwide, including the BBC, German public broadcasters WDR, MDR, SWR, the Vienna Symphonic Library, and Sterling Sound in New York. For sound engineers, music producers, radio journalists, and so on, Sequoia is an indispensable tool for any type of professional media production. Registered users enjoy professional service and customer-oriented support.


Supported OS

Microsoft Windows 7
Microsoft Windows Vista
Microsoft Windows XP

Minimum System Requirements

Processor: 1,5 GHz and higher
RAM (32 Bit system): 1 GB Ram
RAM (64 Bit system): 4 GB Ram
Graphics card: Onboard graphic card with screen resolution of at least 1024 x 768
Sound cards: ASIO and / or WDM compatible soundcard
Hard disk space: 500 MB for minimal installation
Drive: DVD drive (for installation)

Optional:

Burning: Requires CD/DVD ±R(W) recorder
MP3 export: Requires Windows Media Player 10 or higher
MIDI recording: MIDI interface

Supported file formats

Export: MIDI-Standard-Format (MID), WAV, ACC, Broadcast WAV, MP3, CD-A, OGG-Vorbis, AIFF, WMA, FLAC
Import: MIDI-Standard-Format (MID, GM, GS, XG), WAV, ACC, Broadcast WAV, MP3, CDA, OGG Vorbis, AIFF, FLAC, MOV, AVI (audio material)

Note: Copyrights and laws against exploitation of accomplishments of artists and publishers shall be observed. Only non-copy-protected audio CDs can be imported.




代码
ÜÜÜ ÜÛÛßÛÜ
ÛÛÛÛÛ ÜÜÞÛÛÛÛÛÛÝ
ßßßÜÛßÛÜ ÛÛÛÝßÛÛÛÛß ÜÜÜ
ÛÛÛÛÛÜÛÝ ßßß ÜÜÜÜÜ ßßÛÜÜÜÜ Ü
ÜÜÜÜÜÜÜÜßß ÛÛÛß ÜÜÜÜÜÜÜÜß ßÜÜÜÜÜÜÜÜÜÜÛÛÛÛÛßß ÜÜÜÜÜÜÜÜ ßÛÛÛÛÜÜÜ ÛÛÛÛÜ
ÞÛÛÛÛÛß ßß ÛÜßÛÛÛÛÛÛÛÛÜ ÛÛÛÛÛß ÛÛÛÛÛß ÜÛÛÛÛÛÛÛÛÛÛÛÛÜ ÜßßÛÛÛÛÛÜ ÛÛÛÛ²
ÛÛÛÛÛ ±ÛÛÛÜÛÛÜßÛÛÛÛÛ °²ÛÛÛÛ ÛÛÛÛÛ² ²ÛÛÛÛß ßÛÛÛÛÛÞÛÛÜßÛÛÛÛÛ ÞÛÛÛ²
ÛÛÛÛÛ° ²ÛÛÛÛÛÛÛÛ ÞÛÛÛÝ ÞÛÛÛÛ Û²ÛÛÛÛÛÛÛÛÛÝ ÞÛÛÛÛÛÛÛÛÛ ÛÛÛÛÝ ÞÛÛÛÛ
° ÛÛÛÛÛ± °°°°° ÛÛÛÛÛÛÛÛ²° ÛÛÛÛ ÞÛÛÛ²° ÛÛÛÛÛ²ÛÛÛÛ² °°°°°° ÛÛÛÛÛÛÛÛÛ ÛÛÛÛ ÞÛÛÛ²°
ÛÛÛÛÛ² ÛÛÛÛÛÛÛÛÛ ÞÛÛÛÝÞÛÛÛÛ °ÛÛÛÛÛÛÛÛÛÛÛ ÜÜ ÛÛÛÛÛÛÛÛ²° ÞÛÛÛÝÞÛÛÛÛ
ÛÛÛÛÛÛÝ ÞÛÛÛÛÞÛÛÛÛ ÛÛÛÛÛÛÛÛÛ ±ÛÛÛÛÛ ²ÛÛÛÛÜ ßß ÜÛÛÛÛ²ÛÛÛÛ ÛÛÛÛÞÛÛÛÛ
Û²ÛÛÛÛÛÜÜÜÛÛÛÛÛÝÛÛÛÛÛ ÞÛÛÛÛÛÛÛÝ ²ÛÛÛÛÛ ÛÛÛÛÛÛÜÜÜÜÛÛÛÛÛ²ÛÛÛÛÛ ÞÛÛÛÛÞÛÛÝ
ßÛÛÛÛÛÛÛÛÛÛÛÛßÞÛÛÛÛÛÜÜ ÛÛÛÛÛÛß ÛÛÛÛÛÛ ßÛÛÛÛÛÛÛÛÛÛÛÛÛßÞÛÛÛÛÛ ÛÛÛÛÛÛÛ
ßßßßßßßß ÜÛÛÛßßßß ÛÛÛÛÛÜ ÜÛÛÛÛÝ ßÛÛÛßÛÛÛÛÜß ÜÛÛÛßßßß ÞÛÛÛßß
ÜÜÛÛÛÜÜ ÜÜßßß ßÛÛÛÛÛÛÛÛÛÛß ßÛ ÞÛß ß
ÛÛ ÜÛÛÛÜß ÜÜÜÜÜÜÜ ßßÛÛÛÛßß ÞÝÛÝ
ßÛÛÛÛÛßÜÜÜ ÛßßÛÛÛÛÛÛÛÛ ÛÛÝ ÜÜÜÜÛÛÛÛÛÛÜÜÜÜ
ßß ÛÛÛÛÛ ÛÛÜÛÛÛÛßßßßßß ÜÜÜÜÜÜÜÜÜÜÜÜ ßÛ ÜÛÛÛßßß ßßßÛÛÛÜ
ßßß ÜÛÛÛ²ÜßßÜÜÜÜÛÛÛÛÛÛÛÛßßßßßßßßßßßßÛÛÛÛÛÛÛÛÜÜ ÛÛß PRESENTS ßÛÛ
ÛÛÛÛÛÛÛÛ ßßßß ßß ÞÛÛ ON ÛÛÝ
ÜÜ ßÛÜÛÛß MAGIX Sequoia v12.1.0.125 ÛÛÜ 08/24/12 ÜÛÛ
ÜÛÛßß ÜÜ ßÛÛÛÜÜÜ ÜÜÜÛÛÛÞ
ÛÛÛ ÜÛÛß Cracker : Burial Supplier : UNION ß²ßÛÛÛÛÛÛÛÛßßß Û
ÞÛÛ ÛÛÛ Packager : UNION OS : Windows ° ÜÜ ²
ÛÛÜ ßÛÜ Protection : CodeMeter/Custom ÜÛÛ °
ßÛÛÛÜ ß ÜÛÛÛß
ÜÜßÜßÛÛÛÛÜÜÜÜ ° Retail: 2900 EUR ÜÜÜÜÛÛÛÛßß Ü
ÜÛßÛÛÝÞßÛÛÝ ßßßßÛÛÛÛÛÛÜÜܲÜÜÜÜ ÜÜÜÜÜÜÜÜÛÛÛÛÛÛßßßß Ü ÜÛÛÛÛ
ÛÛÛÛÛÛÜÜÞÛ ÜÜÜÜÜßßßßßßßßÛÛÛÛÛÛÛÛÛÛÛÛßÛßßßßßß ÜÜ ÜÛÛÛÛÛÝÛÜßßßÜ
ßßÛÛÛÛß Û ÜÛßÜÜÛÛÛÛÛÛÜ ßÛÛÛ ÛÝ ÛÝ ßÛÛÜÛßþÜÛÛÛÛÛÛÜ
ÞÛ² ÛÛÛÛÛÛÛÛÛÛÛÛ ÞÛÝ ² Þ²± ÜÜÛÛÛÛÛÛÛÛ ÛÞÛÛÛÜÜ
ß ßÛÛÛÛÛÛÛÛÛÛß ÜÛÛÛÜÜÜÜÞÛÝÜÜÜÜ ß ßÛÛÛÛÛÛÛÛÜÛßÞÛ ßÛ
ÜÜÜÜÛÛÛÛÛÜÜÜÜßßÛÛÛßß ÜÜÛÛÛÛÛÛÛÛßßßßß ß ßßßßÛÛÛÛÛÛÛÛÜÜÜÜÜÜßßßßÛßß ÛÛÛÛÜÜÛ
ÜÛÛÛßßß Ü ßßßÛÛÛÜ ßßßß ßßßßßßÛÛÛÛÜÜÜÜ ßßß
ÛÛß ÜÜß ßÛÛ ßÛÛÛÛÛÜÜ
ÞÛÛ °²ÛÝ NOTES ÛÛÝ °²ÛÞß ßÛÛÜ
ÛÛÜ ßÜ ÜÛÛ ßÛÛ ÛÛÜ
ßÛÛÛÜÜÜ ÜÜÜÛÛÛß ßÞ ÛÛ
ßßßÛÛÛÛÛÛÛßßß http://www.magix.com/us/sequoia Ü Û
ÛÛ Û
ÛÛÜ ÛÛ
Ü ÛÛÛÜ ÜÛÛ
ÜÛßÛÛÞÛßÛÛÛÜÜÜ ÜÛÛÛß
ÛÛÜÛÛÝÛÛÝ ßßÜßÛÛÛÛÜÜÜÜ ÜÜÜÜÛÛÛÛßß
ßÛÛÛÛÞÛ² ÞßÛÛÝ ßßßßÛÛÛÛÛÛÜÜÜÜÜÜÜÜ ÜÜÛÛÛÜÜ ÜÜÜÜÜÜÜÛÛÛÛÛÛßßßßÜÜÜÜÛÛÝ
ßß ² þÞÛ ßÛÛß ßßßßßßßß ÛÛ ÜÛÛÛÛÛ ÛÛßßßßßßß ßßÛÛÛÛßß
° ß ÜÛÛÜÜÜÜÜÜÜÜÜÜ ßÛÛÛÛÛÛÛß ÜÜ ÜÜÛÛÛÜÜ
ÜÜÜÜÜÛÛÛÛÛÛÛÛÛßßßßßßßßß²ß ßßß ÜÛÛÛÜßßÛÛÛÛÛÛÛÛÛÜÜÜÜ ßÛÛÛÛÜ ÛÛ
ÜÜÜÛÛÛÛßßßß ± ßÛÛÛß ßßßßÛÛÛÛÜÜÜßßÛÛß
ÜÜÛÛßßß ßßßÛÛÜÜ
ÛÛß We don't want sites, neither couriers and we don't take in new ßÛÛ
ÛÛ crackers. If we feel you are worthy you will be contacted. ÛÛ
ÜÜ ÜÜ
ÛÛÜ Greetings goes to: CLS.CORE.DSI.HBD.LND.OGN.PDM ÜÛÛ
ßÛÛß ÜÜÜÜÛÛÛÛÛÜÜÜÜ RZR.REBELS.X-FORCE.UCL.UCF ÜÛÛß
ÜÛÛÛßßß Ü ßßßÛÛÛÜ ÜÜÜÛÛßß
ÛÛß ßÛÜÜ ßÛÛ ° ÜÜÜÜÛÛÛßßß
ÞÛÛ UNION! Û²° ÛÛÝÛÜÜÜÜÜÜÜÜ ÜÜÜÜܲÜÜÛÛÛÛÛÛÛÛßÛÛßÛßÜÛÜÜ
ÛÛÜ ß ß ÜÛÛ ÜßßßßßßßßÛÛÛÛÛÛÛÛÛÛÛÛßßßßßßßß ÞßÛÛÛßÜ Û ÛÛÛÛÛÛÜ
ßÛÛÛÜÜÜ ÜÜÜÛÛÛßÜÛÛÛÛÛÛÛÛ ÞÛ ÛÛÝÛÞÛÛÛÛÛ Û
ßßßÛÛÛÛÛÛÛßßßÜÜÛÜßßÛÛÛßß Û ßÛÝþÛÛÛÛÛÜÛß
ßß ÞÛ² ßßÛÛÛÛßß
.nfo header and layout by Hetero ß
引用
ed2k:
//|file|MAGIX.Sequoia.v12.1.0.125-UNION.zip
|932494008|0E6FBB58A0BDFC22A1D932702B7FD64A
|h=MP3XTV5IZSTI7V65T7CRER63GVOPL5KD|/
http://user.qzone.qq.com/812653212/main#!a...46601634
这里是其它用户补充的资源(我也要补充):
暂无补充资源