专辑英文名: Mozart Clarinet Concerto K622 in A Major
专辑中文名: 莫扎特-单簧管协奏曲K.622
别名: Musical Fidelity / Stereoplay Magazine
古典类型: 全集作品
资源格式: FLAC
发行时间: 1998年
简介: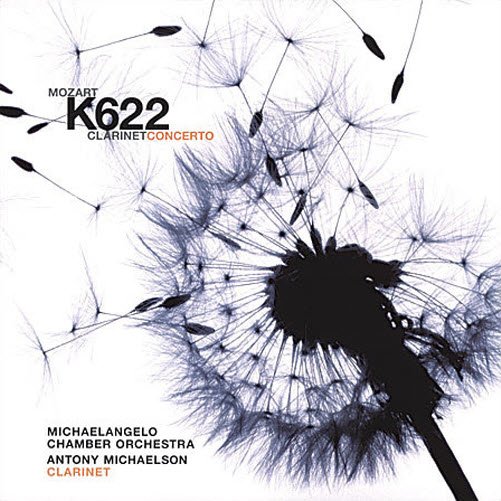 专辑介绍:

莫扎特 - A大调单簧管协奏曲 - 第一乐章

A大调单簧管协奏曲创作于1791年10月,莫扎特正是在这一年的12月5日去世,这部作品也就成了莫扎特留下的最后一部协奏曲,也是他唯一的单簧管协奏曲。它连同"单簧管五重奏"都是莫扎特为当时举世无双的单簧管高手史达德勒创作的。

除了未完成的「安魂曲」之外,A大调竖笛协奏曲K.622是莫札特生前最后一部作品。这首协奏曲是莫札特受当时维也纳宫廷乐团竖笛演奏家史塔德勒(Anton Stadler)委託所作,也因为史塔德勒的介绍,莫札特才得以认识了竖笛这种乐器的迷人之处。莫札特在这首乐曲中,展现出与之前完全不同的沈静面貌,将表面的幽美旋律化入深刻的精神层面,使得这首协奏曲成为他众多作品中,最深受乐迷喜爱的作品。

Work Title Clarinet Concerto in A major, K. 622
Composed By Wolfgang Amadeus Mozart
Duration 29:30
Recording Location Henry Wood Hall, London, England
Recording Date 2003-11-19

Description:
Antony Michaelson (clarinet)
Michaelangelo Chamber Orchestra
Robert Bailey (conductor)

Two months before his death in October 1791, Mozart completed the Clarinet Concerto, his last concerto and final major work. In the final period of his life, Mozart suffered poor health, domestic problems and financial difficulties. Despite these intrusive problems, or perhaps because of them, the concerto has a remarkable, other worldly serenity and beauty. This concerto is easily the greatest clarinet concerto and, for that matter, the greatest concerto ever written for any wind instrument.


引用
Mozart K622 Clarinet Concerto with Antony Michaelson on clarinet. A remarkable composition and a very nice performance, especially by Antony who is most well known for running Musical Fidelity, one of the finest audio companies around. The recording is of course awesome, given that it is sold by Stereophile magazine.
A Mosaic of Music: Stereophile's Clarinet Quintet CD Page 4
A Conversation with Antony Michaelson
I first met Antony Michaelson in the summer of 1978, when he and a friend were manufacturing tube amplifiers under the Michaelson & Austin name. We stayed in touch as M&A folded, as Antony spent a brief period working in the US, and as he founded British audio manufacturer Musical Fidelity. Throughout the years, Antony wore his passion for the clarinet on his sleeve, and, having played chamber music with him several times, it had always been at the back of my mind that someday I would record him playing some of the music we both loved. I spoke with him many months after the Kansas sessions and asked him what it was about the clarinet that had first attracted him.
Antony Michaelson: It was just that I loved the sound. I loved the way the thing looked and I loved the sound it made.
John Atkinson: You started playing the instrument relatively late in life.
Michaelson: Very late. I was 14, but I took to it instantly. However, being a good Jewish boy, when I was 18 I ignored whatever level of talent I had and went into accountancy. This made me utterly ill, and eventually I was sacked. Then I got a business degree, which was a complete waste of time. Then I had six jobs in one and a half years of employment, because I just couldn't settle. But finally I went to music college, where I studied with Keith Puddy and John McCaw.
Atkinson: You're currently studying with Dame Thea King, who has recorded all the major clarinet works for Hyperion Records.
Michaelson: Yes. When I was doing the Mozart Clarinet Concerto record [recorded by Tony Faulkner in DSD and released in 1998 on CD on Antony's Musical Fidelity label, MF018], I heard Thea doing a broadcast of a master class and I really liked her approach. I phoned her up but she was a bit leery; you know, who the hell was I? Nevertheless, she invited me to play for her. She ripped me apart, of course, really ripped me apart, but she did take me on. It was an epiphany. I can't tell you the change it made in my playing. It was huge.
Atkinson: All the years I've known you, you've always been searching for a better clarinet. What instrument did you play at the sessions for Mosaic?
Michaelson: It was a Rossi clarinet. I used to play a type of clarinet called a "pre-war 1010," which is a very English thing. The "1010" refers to the bore of the instrument, and they're not made anymore. Well, there is one chap making them, but they're just not the same as the pre-war instruments. I had some very careful measurements made, and there was a fundamental difference between the newer English-bore clarinets and my pre-war 1010 in terms of the wall thickness. Then I heard of this chap in Chile, Luis Rossi, who makes an English-bore clarinet. I had a long conversation with him. The guy's a genius—apart from making amazing clarinets, he's an amazing clarinetist. I got Rossi to make me a pair of clarinets to my spec, and they were better than my pre-war 1010. And that's what I used on my concerto record.
http://www.stereophile.com/content/mosaic-...d-page-4
专辑曲目:
Mozart Clarinet Concerto K622 in A Major
1. Allegro
2. Adagio
3. Rondo Allegro

Heinrich Josef Bärmann - Clarinet Quintet Op. 23
4. Allegro

Carl Maria Von Weber - Clarinet Quintet Op. 34
5. Rondo

Johannes Brahms - Clarinet Quintet Op. 115
6. Allegro
这里是其它用户补充的资源(我也要补充):
暂无补充资源