中文名: 数字绘画设计软件
英文名: Autodesk SketchBook Pro
资源格式: 压缩包
版本: v6.0
发行时间: 2012年
简介: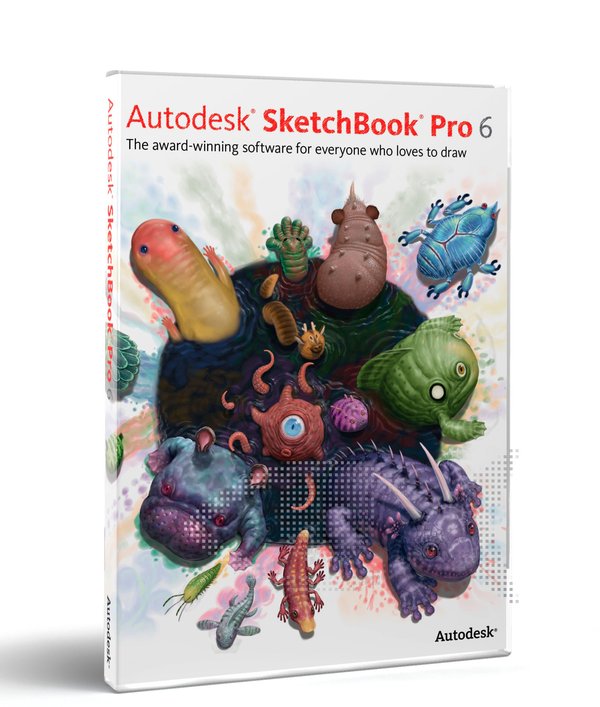 软件类型:软件>多媒体类
软件性质:破解软件
应用平台:Windows
操作系统:Microsoft® Windows7® or Microsoft® Windows® XP operating system
问题反馈:http://www.autodesk.com/support
网站链接:http://usa.autodesk.com/adsk/servlet/pc/index?siteID=123112&id=6848332
软件介绍:


Autodesk SketchBook Pro 素描和绘画软件,支持用户将台式机、笔记本、平板电脑转换成最终的素描册。借助于专业品质的素描能力和直观的用户界面,即使是新用户,也可以在几分钟之内诞生完美的作品。








SketchBook Pro软件提供了以下专业领域所期待的素描软件能力和质量结果:
插图
娱乐
平面设计
工业设计
汽车
制造业
建筑

自然的素描体验

SketchBook Pro是你的虚拟素描册。它专为笔式交互而设计,SketchBook Pro支持用户将台式机、笔记本、平板电脑转变成一个数字画板。直观的界面使得你能够轻松获得大量的工具和功能,包括铅笔、记号笔、笔刷、颜色、层和混合效果。

专业品质的工具

熟悉的画笔类型、超写实、完全定制的铅笔、钢笔、记号笔和喷筒,允许你快速而又轻松地制作图形。借助强大的绘画模式,绘制直线、矩形、圆和椭圆将易如反掌。使用最新添加的类型选项,可轻松添加注释和说明。

图像增强

通过调整色彩、对比度、画布大小和修剪,现在你的图像可以被更加精细的调整。包括了透明度和混合模式的全功能图层可帮助你修改颜色和创作。
几乎能适应所有的创作流程

SketchBook Pro几乎能适应所有的创造性工作流程;加载和查看供参考或标记和标注的图像和照片;SketchBook Pro可打开和保存各种格式的图像;可直接将文件移进或移出到Photoshop中。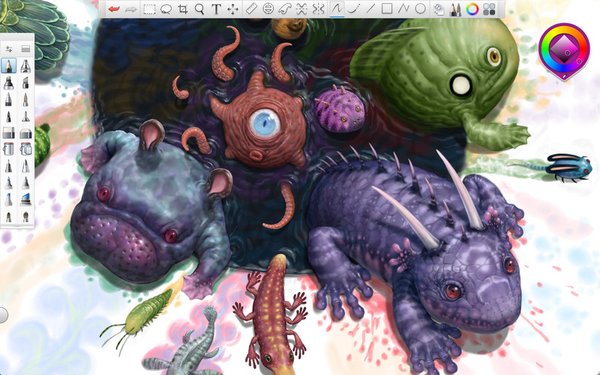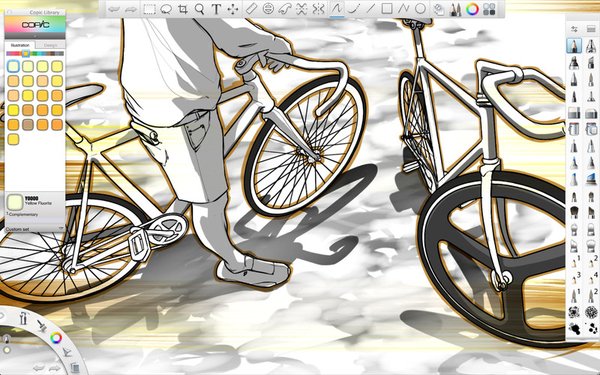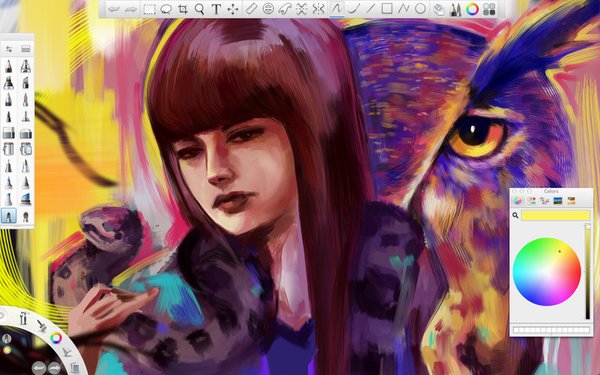 资源更新列表
http://www.VeryCD.com/i/5190747/create/fol...postTime




Sketching, Painting, and Drawing App

The award-winning application for everyone who loves to draw! Sketch, paint, and draw with a professional-grade app that is easy-to-use for every artist.

Autodesk® SketchBook® Pro sketching software for Windows or Mac computers is a fun and intuitive paint and drawing app, and can transform your computer into an ideal artist's toolkit. With tools designed for professional artists, illustrators, and designers, the easy-to-use interface can help unlock the artist in everyone. SketchBook Pro is specifically designed to work with pen tablets, such as Wacom® Bamboo™, Intuos®, and Cintq® products, or with Windows® tablet devices to deliver an authentic drawing experience.
Free up the sketching process with ultra-responsive digital pencils, pens, markers, paintbrushes, and airbrushes. Even customize your own brushes.
Draw Styles & Guide tools, like French curves, help you create clean and nearly precise strokes.
Layers let you build up and organize a drawing.
Incorporate your own images by dragging and dropping, or import into layers.
Familiar tools, like pencils, paintbrushes, markers, airbrushes, erasers, flood fill tools, and smudge brushes make it easier to get started.
Easy access to tools and commands in the intuitive and customizable menus.
Annotate images quickly by importing images and adding comments on top.

What's New in SketchBook Pro 6?
Streamlined interface delivers an unobstructed and discoverable environment, keeping you in the creative zone.
Multitouch navigation support on the latest Wacom devices.
Synthetic paintbrushes that behave more like traditional paint mediums.
Smudge brushes for blending colors.
Even more brush controls to customize.


System Requirements
For Autodesk SketchBook Pro 6 on Windows
Microsoft® Windows7® or Microsoft® Windows® XP operating system
1 GHz Intel or AMD processor
1 GB of RAM
Graphics card capable of 1,024 x 768 display with 128 MB RAM
Pressure-sensitive tablet and pen recommended for basic features.

Autodesk and SketchBook are registered trademarks or trademarks of Autodesk, Inc., and/or its subsidiaries and/or affiliates in the USA and/or other countries. All other brand names, product names, or trademarks belong to their respective holders. Autodesk reserves the right to alter product and services offerings, and specifications and pricing at any time without notice, and is not responsible for typographical or graphical errors that may appear in this document.




代码
ÜÜÜÜÜÜ ÜÜÜÜÜÜ
Û°ÜÜÜÛ ÛÛÛÛÛÛ ÜÜÛÛÛÛÛÛÛÛÛÛÛ
Û±ÛÛÛÛ ÛÛÛÛÛÛ ÜÛÛÛÛÛÛÛÛÛÛÛÛÛÛ
Û²ÛÛÛÛ ÛÛÛÛÛÛ ÞÛÛÛÛÛÛßßßßßßßßß
ßÜÛÛ ÛÛÛÛÛÛ ² ÛÛÛÛÛÛ ÛÛÛÛÛÛÜÜÜÜ ßßßßßßßßÛßß ß ß ß ß ßßÛÜß
ÜÛÛÛÜ ßÛÛÛÛÜÜÜÛÛÛÛß ÜÜ ÛÛÛÛÛÛÛÛ ÜÛÛÛÛÛÛÛÜ ÛÛÛÛÛ ÜÛÛÛÜ ßÛÛÛÛÛÛÛ ÛÛÛÛÛÛÛÛ ÛÛÜ
Ü ßÛÛß ÜÛÛÛÛßßßÛÛÛÛÜ ßß ÛÛÛÛÛßßß ÛÛÛßßÛÛÛÛÛ ÛÛÛÛÛÛÛÛÛÛÛÛ ÛÛÛßßßß ÛÛÛßßßßß Ûß Ü
ÜÛÛÛ ÛÛÛÛÛÛ ² ÛÛÛÛÛÛ ÛÛÛÛÛÛ ÛÛÛÛÛ ÛÛÛÛÛ ÛÛÛÛÛßÛÛÛÛÛß ÛÛÛ Û ÛÛÛÛÛÜÜ ÜÛÛÛÛÜ
ÜßÛÛ ÛÛÛÛÛÛ ± ÛÛÛÛ²Û ÛÛÛÛÛÛ ÛÛÛÛÛ ÛÛÛÛÛ ÛÛÛÛÛ ßßß ÜÛÛÛÛ ß ÛÛÛÛÛßß ßÛÛÛßÜ
ÛÛÛÛÛÛ ÛÛÛÛ±Û ÛÛÛÛÛÛ ÛÛÛÛÛÜÜÛÛÛÛÛ ÛÛÛÛÛ ÛÛÛÛÛÜÜÜÜ ÛÛÛÜÜÜÜÜ
ÛÛÛÛÛÛ ÛÛÛÛ°Û ÛÛÛÛÛÛ ßÛÛÛÛÛÛÛÛß ÛÛÛÛÛ ßÛÛÛÛÛÛÛ ÛÛÛÛÛÛÛÛ
ÛÛÛÛÛÛ ÛÜÜÜÜÛ ASCii<ROY>


P R E S E N T S

ÚÄÄÄÄÄÄÄÄÄÄÄÄÄÄÄÄÄÄÄÄÄÄÄÄÄÄÄÄÄÄÄÄÄÄÄÄÄÄÄÄÄÄÄÄÄÄÄÄÄÄÄÄÄÄÄÄÄÄÄÄÄÄÄÄÄÄÄÄÄÄÄÄÄÄÄÄ¿
³ ³
³ AUTODESK SKETCHBOOK PRO VERSION 6.0 -WIN32- ³
³ ³
ÀÂÄÄÄÄÄÄÄÄÄÄÄÄÄÄÄÄÄÄÄÄÄÄÄÄÄÄÄÄÄÄÄÄÄÄÄÄÄÂÄÄÄÄÄÄÄÄÄÄÄÄÄÄÄÄÄÄÄÄÄÄÄÄÄÄÄÄÄÄÄÄÄÄÄÄÂÙ
³ Type..........: SKETCHPAD ³ Packager......: TEAM XFORCE ³
³ Publisher.....: AUTODESK ³ Cracker.......: TEAM XFORCE ³
³ Supplier......: TEAM XFORCE ³ Release Date..: AUG 28TH 2012 ³
ÀÄÄÄÄÄÄÄÄÄÄÄÄÄÄÄÄÄÄÄÄÄÄÄÄÄÄÄÄÄÄÄÄÄÄÄÄÄÁÄÄÄÄÄÄÄÄÄÄÄÄÄÄÄÄÄÄÄÄÄÄÄÄÄÄÄÄÄÄÄÄÄÄÄÄÙ

ÚÄÄÄÄÄÄÄÄÄÄÄÄÄÄÄÄÄÄÄÄÄÄÄÄÄÄÄÄÄÄÄÄÄÄÄÄÄÄÄÄÄÄÄÄÄÄÄÄÄÄÄÄÄÄÄÄÄÄÄÄÄÄÄÄÄÄÄÄÄÄÄÄÄÄÄÄ¿
³ Release notes.. ³
ÀÂÄÄÄÄÄÄÄÄÄÄÄÄÄÄÄÄÄÄÄÄÄÄÄÄÄÄÄÄÄÄÄÄÄÄÄÄÄÄÄÄÄÄÄÄÄÄÄÄÄÄÄÄÄÄÄÄÄÄÄÄÄÄÄÄÄÄÄÄÄÄÄÄÄÄÂÙ
³ ³
³ ³
³ ³
³ Designed for use with tablet PCs or digitized pen tablets, Autodesk ³
³ SketchBook Pro software is your digital sketchpad. Use it in any ³
³ creative process where pen and paper would traditionally be used, ³
³ including : ³
³ ³
³ Product concept and ideation ³
³ Illustrations ³
³ Character studies ³
³ Set and level designs ³
³ Storyboarding ³
³ Annotation and review ³
³ ³
³ ³
³ ³
³ ³
³ ³
³ ³
³ http://www.autodesk.com ³
³ ³
³ ³
³ ³
³ ³
³ INSTALLATION: ³
³ ------------ ³
³ ³
³ 1. Unzip & Unrar, check crack/install.txt ³
³ ³
³ 2. Enjoy it ³
³ ³
³ ³
³ ³
³ ³
³ When so many groups bring you crap fakes non-working, X-FORCE always ³
³ gets you the Best of the Best. ACCEPT NO IMITATION ! ³
³ ³
³ X-Force 2012! ³
ÀÄÄÄÄÄÄÄÄÄÄÄÄÄÄÄÄÄÄÄÄÄÄÄÄÄÄÄÄÄÄÄÄÄÄÄÄÄÄÄÄÄÄÄÄÄÄÄÄÄÄÄÄÄÄÄÄÄÄÄÄÄÄÄÄÄÄÄÄÄÄÄÄÄÄÙ

ÚÄÄÄÄÄÄÄÄÄÄÄÄÄÄÄÄÄÄÄÄÄÄÄÄÄÄÄÄÄÄÄÄÄÄÄÄÄÄÄÄÄÄÄÄÄÄÄÄÄÄÄÄÄÄÄÄÄÄÄÄÄÄÄÄÄÄÄÄÄÄÄÄÄÄÄÄ¿
³ Group News & Greetings.. ³
ÀÂÄÄÄÄÄÄÄÄÄÄÄÄÄÄÄÄÄÄÄÄÄÄÄÄÄÄÄÄÄÄÄÄÄÄÄÄÄÄÄÄÄÄÄÄÄÄÄÄÄÄÄÄÄÄÄÄÄÄÄÄÄÄÄÄÄÄÄÄÄÄÄÄÄÄÂÙ
³ ³
³ OUR DiAMONDS-4-EVER GREETiNGS MUST GO TO : ³
³ ³
³ All our OLD friends ... and to all our fans ³
³ ³
³ ³
³ ³
ÀÄÄÄÄÄÄÄÄÄÄÄÄÄÄÄÄÄÄÄÄÄÄÄÄÄÄÄÄÄÄÄÄÄÄÄÄÄÄÄÄÄÄÄÄÄÄÄÄÄÄÄÄÄÄÄÄÄÄÄÄÄÄÄÄÄÄÄÄÄÄÄÄÄÄÙ


[----------------- X-FORCE 2012 SMOKING THE COMPETITION --------01/01/12-]






这里是其它用户补充的资源(我也要补充):
暂无补充资源