专辑英文名: Poème
专辑中文名: 诗曲
古典类型: 全集作品
资源格式: FLAC
发行时间: 2011年05月03日
简介: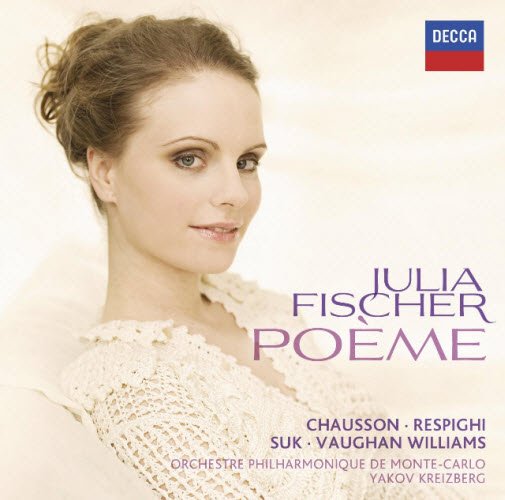 专辑介绍:

萧颂:诗曲、苏克:幻想曲、佛汉威廉士:云雀飞翔、雷史碧基:秋日诗曲
Chausson: Poeme, Suk: Fantasy, Vaughan Williams: The Lark Ascending, Respighi: Poeme autumnale
费雪,小提琴、克莱兹柏格 指挥 蒙地卡罗爱乐
Julia Fischer, Orchestre Philharmonique de Monte Carlo, Yakov Kreizberg

  这张专辑中,德国小提琴家茱莉亚.费雪刻意选了一套完全非德国的曲目,因为她想要探讨来自印象派时代作曲家的作品,而德国文化中并未出现这个乐派的作曲家。最后并以「诗」的概念统合本辑里的四首乐曲。

  辑中最特别值得留意的是捷克小提琴家苏克的《幻想曲》,此曲鲜有人知,更少人演奏,费雪也表示这是四首作品当中难度最高的。此曲以小提琴协奏曲的规格写成,全长二十五分鐘,与管弦乐团的搭配技巧上也颇具深度,因此不能仅以小品的角度来欣赏,堪称是全片中最值得期待的乐曲。

  至於雷史碧基的「秋日诗曲」则是费雪最成竹在胸的作品,早在1999年她便已经练好这首旋律优美的曲子,并準备与指挥辛诺波里合作录音,可惜辛诺波里不久即过世,计画因而遭到搁置。而这十多年来她也一直在寻觅能够与此曲等量齐观,且搭配成一张专辑的曲目,我们也才有幸於此听到苏克的这首《幻想曲》。

  费雪的妈妈是捷克人,因而早在她五、六岁的孩提时期,对苏克的《幻想曲》便已十分熟悉喜爱。而以「诗」做为专辑主题遴选乐曲,也是唱片录音史上的特例。

Performer: Julia Fischer
Orchestra: Monte-Carlo Philharmonic Orchestra
Conductor: Yakov Kreizberg
Composer: Ernest Chausson, Ottorino Respighi, Josef Suk, Ralph Vaughan Williams
Audio CD (May 3, 2011)
SPARS Code: DDD
Number of Discs: 1
Label: Decca
ASIN: B004NA3M1W

Julia Fischer follows her extraordinary Grammy-nominated recording of the fiendish Paganini Caprices with a contrasting album − a lyrical and poetic set of impressionistic works for violin and orchestra.

Comprising four substantial pieces, this unique program is headed by Suk's virtuosic Fantasy, a mini-concerto that is now justifiably finding its way into the concert repertoire. It is accompanied by two well-known tone poems – the elegant Poème by Chausson and the English pastoral The Lark Ascending by Vaughan Williams. The album is completed by Respighi's Poema autunnale (of which there is only one other recording in the catalogue), making the program truly multinational.

For this recording, Julia Fischer is joined by her long-term colleague on the podium, Yakov Kreizberg, directing his own orchestra, the Monte-Carlo Philharmonic Orchestra − with whom Julia Fischer has a very close artistic relationship as artist in residence for the 2010/11 season.

Critical acclaim for the Paganini album: She plays "with lyricism, digital brilliance and incredible finesse" (The Observer).


引用
Intended as a showcase for violinist Julia Fischer, this is also the last recording made by the hugely talented and popular Russian-born conductor Yakov Kreizberg, who died, tragically young, earlier this year. Much of the music is itself extremely poignant, and the circumstances surrounding its release inevitably add to its impact. The programme gathers together four post-Romantic works for violin and orchestra that pull away from the conventions of the traditional concerto – Chausson's Poème, Respighi's Poema Autunnale, Suk's Fantasy in D Minor and Vaughan Williams's The Lark Ascending. The Suk is extrovert and virtuosic, while the other three are exercises in melancholy: Vaughan Williams's nostalgia contrasts sharply with Chausson's sensuousness and Respighi's more voluptuous morbidity. By her own admission, Fischer has never performed the Vaughan Williams in concert, and it shows at times towards the close, where the lark's final unaccompanied ascent is less assured than it might be. But you can't fault her elsewhere. The Suk dazzles, the Chausson is restrained yet passionate, the Respighi beautiful in the extreme. Kreizberg's conducting, meanwhile, is notable for the emotional subtleties and fastidious sense of colour and line that characterised his best work. Touching and very fine.
引用
费雪的最新专辑《诗》,收录了四首富有诗意的小提琴作品,专辑强大的整体概念,即便还没有听到内容,也会为此及其所收录的曲目给吸引到。
除了大家比较常听到的萧颂的《诗曲》及佛汉威廉士的《云雀飞翔》外,本辑还收录了雷史毕基的《秋日诗曲》以及绝少听到捷克小提琴家苏克的《幻想曲》。比起上一张帕格尼尼无伴奏作品,笔者认为费雪在这里的表现要来的出色许多。正如同专辑的名称一般,费雪的詮释也充满了诗意与想像力;她细腻却不滥情的音色,非常适切的将乐曲中幻想般的线条给拉奏了出来。虽然苏克的作品也许是这张收藏这张专辑的重要理由之一,她在《秋日诗曲》及《云雀飞翔》中的精彩表现,或许才是整个发行最吸引人的地方。
这几年来,乐坛新生代的女性小提琴家辈出,像是同为DECCA旗下的吉妮杨森(Janine Jansen),或是DG的芭蒂雅许维莉(Lisa Batiashvili)等皆有不俗的表现,而费雪在当中拥有著最好的音乐性与敏感度,而她们之间的相互比较,相信除了能让乐迷不断讨论之外,也会激发出更多精彩的作品。(孙家璁,《MUZIK》发行人兼总编辑)
引用
18 of 20 people found the following review helpful
5.0 out of 5 stars Fischer shines in a lovely poetic program May 3, 2011
By Santa Fe Listener HALL OF FAMETOP 500 REVIEWER
Format:Audio CD
This ravishingly romantic program should win Julia Fischer even more fans as she continues her move from the relatively small circulation of her early label, Pentatone, to Decca. The repertoire has been astutely chosen, mixing two chestnuts -- the Chausson Poeme and The Lark Ascending of Vaughan Williams -- with two obscure works by Suk and Respighi. But this isn't 69 min. of swooning background music. After stating its dreamy melody in double-stops, the Respighi Poeme autumnale picks up speed and becomes a showpiece. I wouldn't call it inspired. Violinists are always looking to expand their fairly limited concerto repertoire, and yet there is only one other version of this work in the catalog, according to the product description. that may be because Respighi's idiom hews fairly close to movie music, but there's enough atmosphere to keep the ear engaged, especially when you have a soloist, like the impeccable Ms.Fischer, determined to bring out the best in the score.

Josef Suk was both composer and violinist, and his Fantasy Op. 24 fits the instrument better, falling directly in line with the folk-flavored romanticism exploited by Goldmakr, Joahcim, and Dvorak in their concertos. I've never been able to decide if Suk would be considered a prominent composer if his countryman Dvorak had never lived. the Fantasy is by turns lyrical, robust, and sparkling, but the orchestral accompaniment doesn't reveal themes or development of any great moment. There's enough sweep to keep your attention form wandering; the work is ambitious and fairly long (24 min.), but Suk winds up giving us a string of episodes more than an organically unfolding concerto. I doubt, despite the product description, that it will gain more than a toehold in the concert hall, but it's worth a listen.

The Chausson and Vaughan Williams owe their popularity to a shared mood of soaring lyricism and their focus on the violinist as a rhapsodic singer of melody. Both are inward, with the Chausson perhaps being the more private and voluptuous, the Vaughan Williams more ethereal and chaste. Audiences have cherished them equally, and Fischer joins a line of recorded versions. Her taste and innate musicality save them from being cloying. I'm not a fancier of either work, so I can't give reliable comparisons. Everything seems nicely in place here, and the late Yakov Kreizberg leads his Monte Carlo orchestra well, not that either is asked to do much. Fischer's recording career has moved step by step with Kreizberg, the brother of another Russian emigre conductor, Semyon Bychov, by her side. His death from cancer at the age of 51, which came this March, adds a sad note to this CD, and a special poignancy to The Lark Ascending, which is about the soul as much as anything in the natural world.
Ottorino Respighi (1879–1936)
1. Poema autunnale P.146
for violin and orchestra
Autumnal Poem ‧ Herbstdichtung ‧ Poeme automnal
Calmo – Molto lento – Allegro moderato – Allegro con fuoco –
Allegro con spirito – Tranquillo – Lento
Josef Suk (1874–1935)
2. Fantasy in G minor, op. 24
for violin and orchestra
Allegro impetuoso
ERNEST CHAUSSON (1855 –1899)
3. Poeme op. 25
for violin and orchestra
Lento e misterioso – Molto animato – Animato – Poco lento –
Poco meno lento – Allegro – Tempo I – Tranquillo
RALPH VAUGHAN WILLIAMS (1872–1958)
4. The Lark Ascending
Romance for violin and orchestra
Die Lerche steigt auf ‧ L'Envol de l'alouette
Andante sostenuto – Allegretto tranquillo (quasi Andante) – Allegretto molto tranquillo
Julia Fischer violin
Orchestre Philharmonique de Monte Carlo
Yakov Kreizberg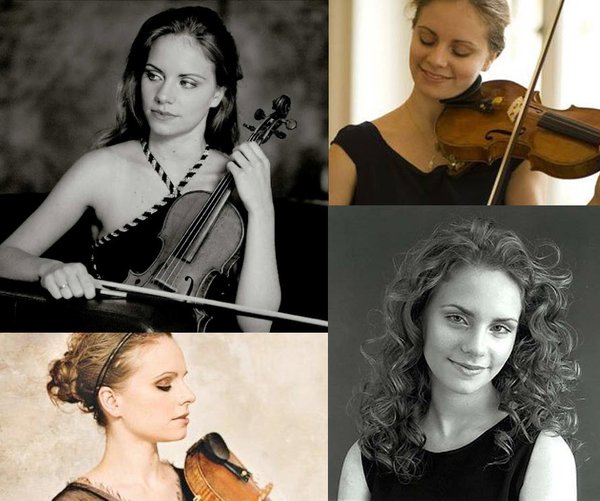 专辑曲目:
Ottorino Respighi (1879 - 1936)
[1] Poema autunnale for violin & orchestra [14:24]

Josef Suk (1874 - 1935)
[2] Fantasy Opus 24 [24:48]

Ernest Chausson (1855 - 1899)
[3] Poème, Op.25 [16:05]

Ralph Vaughan Williams (1872 - 1958)
[4] The Lark Ascending [14:28]
这里是其它用户补充的资源(我也要补充):
暂无补充资源