专辑英文名: Painting Signs
专辑中文名: 斑驳的记忆
音乐风格: 爵士
资源格式: FLAC
发行时间: 2001年08月07日
简介: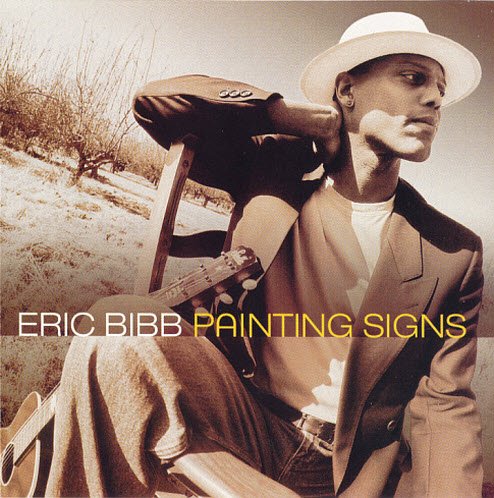 专辑介绍:

Ericy 在于05年时是一个新人,一个年轻的歌手,一个令我欣喜的拥有美好歌声,拥有精深技艺,和拥有对音乐根基有着深入了解的乐人。我极其喜欢他--他是那些成功的黑人新秀中极其耀眼夺目的明星。"-- Taj Mahal
  
  生于1951年的正宗纽约佬 Eric Bibb 家传正宗美国布鲁斯和乡村音乐。 他的父亲Leon Bibb是60年代的民谣和歌剧院歌手,兼玩电视业。他舅舅是鼎鼎大名爵士钢琴师和做曲家 John Lewis, Modern Jazz Quartet里的核心人物。他干爹是Paul Robeson -- 歌唱家加名演员。生长在触手可及的音乐环境了,小Bibb打小就颇受Odetta, Richie Havens, Pete Seeger, Earl Robinson, Joan Baez, 鲍勃·迪伦, 茱蒂·柯林斯等等的影响。
  
  Eric7岁开始玩吉他,到了初中已经完全迷恋音乐。18岁(69年)他进了纽约的"全黑伙伴"("Negro Ensemble Company")开始表演吉他。19岁去了巴黎闯天下,先是餐馆里弹弹。然后跑到瑞典,在70年代基本就呆在那里。
  
  Eric Bibb头次签约是80年代初期给瑞典BMG当词曲创做。后来,他签约独立的瑞典唱片公司 Opus3, 留下了他最著名的一些唱片。这些唱片给他在国际上获得认可铺平了道路,此后可谓一帆风顺。 Eric Bibb的演奏分是让人获得音乐上和精神上的愉快的满脚。音如其人--温和,亲密,热情!他分是让听的人卷入他的演奏,而不是做一个旁观者,所以经常有现场的听众听着听着站起来叫他"再来过再来过~~"。
  
  Bibb的歌喉温和淳厚的呼应着他完满的指尖技艺,加上他对福音和灵乐的融会贯通,他能够毫不费力地在本人的表演中混合各个音乐类型。就像评论写的:"Eric的歌声和千变万化的吉他融入了广泛的风格和音乐类型,创造了属于他的新的布鲁斯世界!"

Audio CD (August 7, 2001)
Number of Discs: 1
Label: Earthbeat
ASIN: B00005MKI6

发行年度:2001年8月,发行者:
制作: Dave Bronze
工程: Dave Bronze, Richard Studholme
内容类型: Blues

With Painting Signs, Eric Bibb makes a fine case for blues as a music of introspection, warmth, and supreme nuance. Easily his most mature album to date, Painting Signs continues Bibb's formula of socially aware songs performed from an acutely personal point-of-view; standout tracks "Don't Ever Let Nobody Drag Your Spirit Down" and a cover of "Hope in a Hopeless World" hammer home his message of individual freedom and the responsibilities that accompany it. (It's no coincidence that Pops Staples, to whom Bibb dedicates this album, once recorded the latter song.) That's not to say Painting Signs is overly didactic or, indeed, "heavy" in any way; even the most serious songs here, like the plea for peace and unity "Got To Do Better," are leavened by a musical backdrop that's soulful and immediately accessible. Gospel-leaning backing vocals by Linda Tillery and her Cultural Heritage Choir help flesh out several cuts, and robust accordion fills by Bibb's longtime accompanist Janne Petersson add a subtle Louisiana flavor to the rolling, propulsive "Kokomo" and, to surprisingly good effect, the deep-grooved version of Jimmy Reed's "Honest I Do." Elsewhere, he keeps a minimalist tone dominated by acoustic guitar, an arrangement that's particularly mesmerizing on the chilling title track. With its emphasis on sophisticated songcraft and its gentle blend of folk, gospel, and country influences, Painting Signs presents Bibb as an artist intent on blurring the line between blues and "roots music" in general. ~ Kenneth Bays, Rovi


引用
Painting Signs (WEA/Rhino)
First Appeared at The Music Box, January 2002, Volume 9, #1
Written by John Metzger
gif
Were it not for Bob Dylan's Love and Theft, Eric Bibb's Painting Signs would be the best blues album released this year. The reason is simple: By folding in a delightful mix of gospel, folk, and country, Bibb allows his songs to rise above the trappings typical of the genre. And he delivers each with the sense of supreme fortitude that perfectly conveys the thoughtful introspection of his lyrics. Don't Ever Let Nobody Drag Your Spirit Down (with guest vocalist Wilson Pickett) is defiantly uplifting, and the call for peace and harmony in Got to Do Better is fitted with a sprightly melody and rapturous harmonies.
Even the cover songs on Painting Signs seem well chosen. On Delia's Gone, he writes his own chapter to Stagger Lee; A swinging, old-time, spiritual groove elevates Rev. Gary Davis' I Heard the Angels Singing; and Hope in a Hopeless World (made famous by Pops Staples) slithers with a slinky, soulful R&B groove reminiscent of Marvin Gaye.
On its surface, blues music is rather elemental, but its simplicity can be deceiving. In truth, it is the most difficult genre to tackle. After all, it's been performed by generation after generation, making it that much harder for artists to say something new. Yet, with Painting Signs, Bibb has done just that — not so much by the type of styles he folds together, but the manner in which he does it: With warmly accessible melodies that blur the lines among folk, rock, gospel, and blues, and a soulful execution that paints a mesmerizing backdrop too difficult to resist. starstarstarstar
Read more: Eric Bibb - Painting Signs (Album Review)
http://www.musicbox-online.com/eb-paint.html#ixzz24Bqx8H2f
专辑曲目:
01. Kokomo
02. Hope in a Hopeless World
03. Five Miles Above
04. I Heard the Angels Singing
05. Delia's Gone
06. Got to Do Better
07. The Light Was Worth the Candle
08. Angel
09. Walkin' Home
10. To Know You
11. Honest I Do
12. Paintin' Signs
13. Don't Ever Let Nobody Drag Your Spirit Down
这里是其它用户补充的资源(我也要补充):
暂无补充资源