专辑英文名: SuperBass 2
专辑中文名: 超级牛筋
音乐风格: 爵士
版本: [SACD-R]
发行时间: 2002年02月
简介: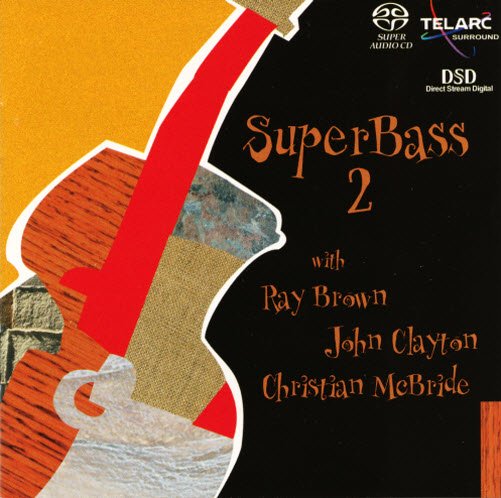 乐手:雷.布朗(Ray Brown)、约翰.克雷顿(John Clayton)、克里斯汀.马克布莱(Christian McBride)
发行:Telarc(上扬代理发行)

专辑介绍:

 一九九六年,那是一个我还没有开始写和爵士乐有关的文字的年代。也就在我刚开始和小可、小肠合作滚动音乐站的一九九八年,兴趣变成有点像工作,遂会有个趋力逼著自己找新发行的音乐来听,那时,第一次听见了《Super Bass》一辑,年过七十的老将雷.布朗(Ray Brown)、曾效力於贝西伯爵乐团的约翰.克雷顿(John Clayton),再加上九零年代才出道的新星克里斯汀.马克布莱(Christian McBride),老中青三代的合作,各自拥有不同的音乐风格与音色,但都是在同样的低频较劲,时而三人联演,时而双双竞奏,让我深深著迷。

 去(2001)年再次推出的《Super Bass 2》,同样这三个人分据左中右声道,各自拨弄拉奏,你来我往,不同的是当时略带稚气的马克布莱经过几年的乐坛走跳磨练,已经成熟了许多。在〈Get Happy〉一曲中,马克布莱展现的互动能力以及独奏能力,都有显著的提升。

 另外,由马克布莱负责编曲的〈Papa Was A Rolling Stone〉一曲中,加入了乔治.福禄达斯(George Fludas)的打击乐在后支撑,三位低音大提琴手则以拉弓配合拨弦,将这种大型乐器的各种音乐都搞将出来,再配合现场与听眾的互动以及他们的歌声,让这首略带三八气氛的曲子精彩万分。

 应该这么说,他们的技艺如何不必多言,整场音乐会的气氛像是一场愉快的三代同堂欢乐秀,没有互相侵略的杀气,却有互相挑逗的乐趣,是小品中的极品。

PS,后来听那个谁说那个谁跟那个谁在这场现场演出的台下喝著饮料,真是羡煞我也。


This is a hybrid Super Audio CD playable on both regular and Super Audio CD players.

In the liner notes to the initial CD Super Bass (recorded for Capri), Ray Brown assured that the next Super Bass release would be twice as good. He lives up to the promise, as he and John Clayton are joined by the young bass sensation Christian McBride this time. Although Brown is the senior statesman of the trio and hatched the conception of Super Bass, all three men equally share the solos, as well as the arranging and choosing of songs. Brown's contributions include a trio of imaginatively arranged, time-tested standards from Gershwin's Porgy and Bess as well as the group's lively signature theme and the campy "Taco With a Pork Chop" (which adds percussionists George Gludas and Larry Fuller). McBride's chart of "Get Happy" is a delightful swinger, while his pulsating rendition of the Temptations' "Papa Was a Rolling Stone" is a definite crowd pleaser that inspires the audience to sing along. Clayton's very effective treatment of "Mysterioso" has the trio alternating between plucked and arco bass; his funky "Three by Four" also proves very infectious upon its first hearing. Brown's comments in the midst of many of these performances gives the listener the feeling he or she is witnessing a private jam session between three old friends. ~ Ken Dryden

Recorded live at the Blue Note, New York, New York on December 15-17, 2000.

Includes liner notes by Dr. Herb Wong.

W/John Clayton & Christian Mcbride

Personnel: Ray Brown, John Clayton, Christian McBride (bass); George Fludus, Larry Fuller (percussion).

Down Beat (1/02, p.46) - 3.5 stars out of 5 - "...Sophisticated arrangements, smart programming choices, virtuoso improvisations and infectious joie de vivre..."


引用
牛筋发烧友或者想试低音的朋友不能错过本碟... 本碟係Double Bass 大师 Ray Brown 同John Clayton, Christian Mcbride 的Blue note live record.. 如果你觉得齌Double Bass 会好闷的话... 听过本碟你会改观.. 本碟係DSD remastering.. 三支bass 定位一流.. 难得係三支Bass 互不侵犯.. 不会炒埋一堆... 你会听到一支bass 在solo 时其他两支bass 轻轻地伴奏... 本碟连背景的杯杯碟碟声都录得好清...

演绎方面.. 在左边的John Clayton (因各人Solo 之后会由其他二人说出solo的人的名字.. 所以你会知道各人的位置..) 比较斯文... 在中间的Ray Brown 绝对係大师风范动静都掂.. 係右边的Christian McBride 係属火爆形.. 一开始的Super Bass Theme 已十分吸引.. 第四首三位牛觔大师仲同观眾一齐大合唱.. 气氛一流.. 听下听下你会觉得好似好快听完.. 有唔够候的感觉..!

牛筋发烧友或者想试低音的朋友千万不能不能错过本碟..!

Remark: 用Dyna 低音单元喇叭的朋友听过本碟一定会觉得Dyna 低音单元真係无..!

January/February 2002
Ray Brown/John Clayton/Christian McBride
SuperBass 2
Telarc

By Harvey Siders

The first Super Bass took place in 1996 and the enthusiasm of a long-overdue reunion is evident, not only by the musical and instrumental compatibility, but by the constant chatter and obvious love these bassists have for each other. If you have any doubt that a trio of basses-Brown, John Clayton, Christian McBride-can form a legitimate front line, lend an ear to the outstanding arrangements that constantly mix their functions: three-way harmony, or two playing while one slaps the side of the bass percussively as on "Get Happy;" two playing arco, with the third pizzicato, on an intriguing blues by Thelonious Monk, "Mysterioso"; an unforgettable medley of three tunes from Porgy and Bess in which Brown's arrangements vary the solo leads; Clayton's gut-wrenching, cellolike arco on "My Funny Valentine." It's all so classically correct.

Ah, but not every hair is in place. There are two vocals-"Papa Was a Rolling Stone" and "Taco With a Pork Chop"-replete with audience interaction and a bit of helpful percussion by George Fludas and Larry Fuller. Everyone has a ball without sacrificing one iota of virtuosity.


专辑解说:
由三位神奇的贝斯手雷‧布朗 (Ray Brown)、约翰.克雷顿(John Clayton)和克里斯汀.马克布莱(Christian McBride)组成的超级贝斯乐团,继1996年的首张CD之后,再度推出了他们的第二张专辑,在纽约的蓝调(Blue Note)爵士俱乐部的现场录音,三位乐手高强的演奏技艺,在其中表露无遗。
让人印象最深刻的是麦克布莱的进步,这个年轻人几年前出道的时候已经够够厉害了,但是他在这张唱片里的表现,例如在〈Get Happy〉曲中的独奏表现,旋律性和节奏的摇摆质感更加优异,显示出他的演奏功力提升了不少。唱片里另一首精彩的作品是加入了打击乐器一起演奏的〈Papa Was A Rolling Stone〉,现场演奏这首放克经典,对这三位贝斯手来说当然是一个很好玩的游戏,他们把乐器的表现能力推到一个恐怖的颠峰,特别是他们以拉弓表现的热烈节奏,让人几乎无法相信这是低音大提琴演奏出来的!同时值得注意的是,〈Get Happy〉和〈Papa Was A Rolling Stone〉都是由马克布莱担任编曲,也可以看出这位青年乐手创作上的优异能力。
透过专辑的优异录音处理,爱乐者可以清楚地欣赏到分开左右中间三方鼎立的乐手们不同的音色与风格,从而进入他们愉悦轻鬆的音乐世界当中



Now available in discrete multi-channel surround SACD as well as the CD recording!

Four years after the release of SuperBass (CD-83393), Telarc's groundbreaking live jam featuring veteran jazz bassist Ray Brown with colleagues John Clayton and Christian McBride, the three bassmasters reconvene in the equally innovative live summit, SuperBass 2 (CD-83483).

"People don't realize how much music you can get out of three basses," says Brown. "Each bassist is an extension of his own personality—traits coming through their prismatic temperament, nuances, and rhythmic attitude—peppered with deep passion and wit."

Recorded in front of an exuberant crowd at the prestigious Blue Note in New York City in December 2000, SuperBass 2 chronicles the last stop in a 12-night cross-country odyssey that started in Seattle and ended in the Big Apple. By the time tape was rolling, Brown, Clayton and McBride had evolved into an organic unit—highly improvisational yet seamlessly cohesive at the same time.

All three artists together bring almost a century's worth of combined experience to the table. Brown, a member of the Telarc roster since 1989, made his earliest musical mark in New York in the 1940s, alongside heavyweights like Dizzy Gillespie, Charlie Parker and Bud Powell—and later with Oscar Peterson in the '50s and '60s. Clayton, a protege of Brown, developed his chops with the Count Basie Orchestra in the '70s and the Clayton-Hamilton Jazz Orchestra in the '80s (with his brother, saxophonist Jeff Clayton, and drummer Jeff Hamilton). McBride, who also borrows from Brown's palette, is one of the hottest young jazz bassists of the past decade, with extensive session work and some ambitious solo recordings on his resume at the tender age of 29.

Together they weave a rich, multi-stylistic tapestry on SuperBass 2. The twelve tracks include several familiar touchstones, like a lengthy, improvisatory take on Thelonius Monk's bluesy "Mysterioso," and a churning rendition of "Papa Was a Rollin' Stone" that recaptures every ounce of the Temptations' original funk and groove. The trio gives a tip of the hat to the Gershwins with stylish renditions of "Summertime" and "I Loves You, Porgy," and a similar nod to Rodgers and Hart with a stirring reading of "My Funny Valentine."

Despite the differences in generations, the camaraderie on every track of SuperBass 2 is impossible to ignore—not just in the music but in the playful banter between musicians, and between the musicians and their audience. Despite their own successes, the two "youngsters" still look to Brown as a mentor and a pivotal jazz force. Clayton regards him as "one of the few bassists of his generation who has gotten progressively better by leaps and bounds," while McBride calls him "a man of great depth and wisdom." But working with star pupils like these has enabled the teacher to continue learning and growing. "It's great to have guys like John and Christian around to keep my juices flowing and to keep me on my toes," says Brown. "I've led them down a path for years...they're taking over now. They've blossomed as major league players."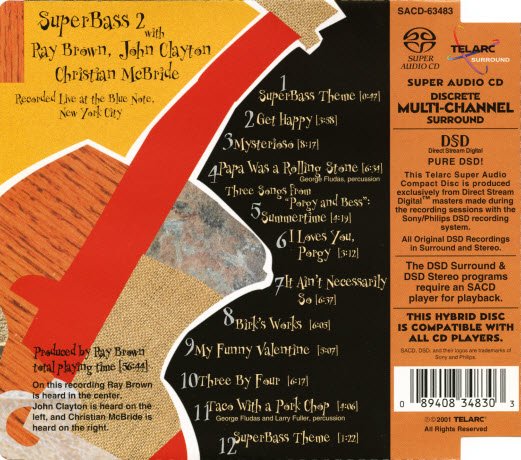 专辑曲目:
01. SuperBass Theme 0:47
02. Get Happy 3:59
03. Mysterioso 8:17
04. Papa Was a Rolling Stone 6:34
05. Three Songs from Porgy and Bess: Summertime 4:19
06. Three Songs from Porgy and Bess: I Loves You, Porgy 3:12
07. Three Songs from Porgy and Bess: It Ain't Necessarily So 6:37
08. Birk's Works 6:05
09. My Funny Valentine 5:07
10. Three By Four 6:17
11. Taco With a Pork Chop 4:07
12. SuperBass Theme 1:23
这里是其它用户补充的资源(我也要补充):
暂无补充资源