中文名: 屋顶建筑预算工具
英文名: RoofCalcWriter
资源格式: 压缩包
版本: v10.8.329
发行时间: 2012年
简介: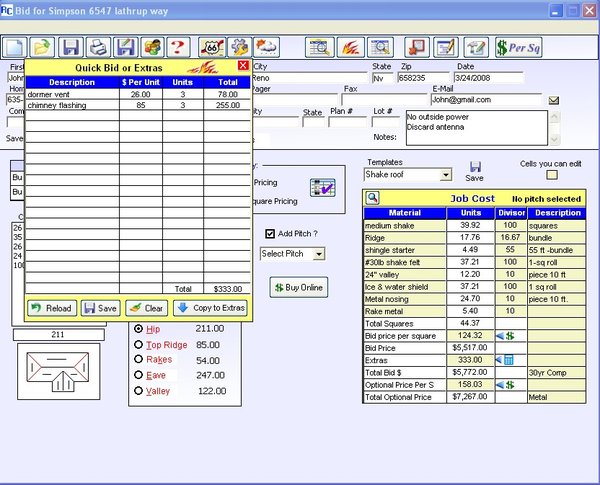 软件类型:软件>行业软件
软件性质:破解软件
操作系统:Windows
应用平台:windows XP, Vista, Windows 7
问题反馈:http://www.roofgenius.com/livezilla/livezilla.php
网站链接:http://www.roofgenius.com/RoofCalcWriter/OverviewRCalculator7.asp
软件介绍:


简单、 灵活。许多新的功能添加到 RoofCalWriter ,输入您招标编号、 名称地址,在短短几分钟内得到一个已保存的估计和材料的完整列表。通过输入单个项目材料和转包生产投标的用户模式,能够在您的报价获取在线地址。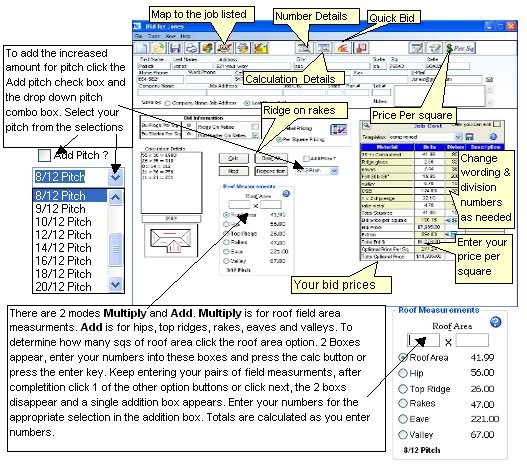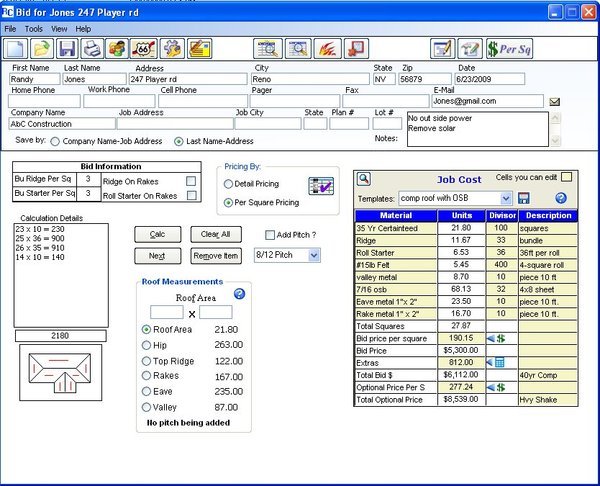 资源更新列表
http://www.VeryCD.com/i/5190747/create/fol...postTime




We have added many new features and the RoofCalcWriter program is still easy to use. Just type in the numbers from your estimate sheet. As you enter your numbers, all your materials as well as your total price are updated automatically. New features added 11-18-08 read here.

Take a look at the Roof Calculator program, you will not see a lot of confusing buttons and menu choices. The main purpose for this, is to make easy. Just like using a calculator. After entering your information, just click on save and your estimate will be will be saved under customer lastname-address or company name-job address. This makes finding a estimate easy !

A lot of little things are incorporated to prevent mistakes. Such as, the boxes numbers where numbers are entered will only accept the following : "Numbers", "Decimal (.)" and the "Minus Sign(-)".


RoofCalcWriter is a stand alone program, no need for any other programs, like (Excel, Access, etc)
Works with windows XP, Vista, Windows 7

RoofCalWriter Features

We have added many new features to the RoofCalWriter program. We view the RoofCalcWriter as never being finished.

The features listed here are the main new features.

Now fully compatible with windows vista

New create fully text formatted html emails.

Insert embedded pictures into emails.

New easy to use email program.

All new and fully illustrated context sensitive help file.

Emailed documents are saved under customer name and address.

Ability to backup bid files to and from a Usb flash drive.

Ability to backup data files to and from a Usb flash drive.

Automatically backup bid & data files as they are created.

Send comments, ideas, dislikes directly thru our server.

Option to check for program updates on program start.

New detail pricing mode for users who want to produce bids by entering individual items for materials, labor and subcontract

Ability to get an online map to the address listed in your bid. (Choose from 3 map providers)

Ability to get an online weather report (Choose from 3 weather providers)

Ability to get program updates to always have the latest software features with just a button click.

Ability to add waste to your squares for valleys, hips and rakes.

Ability to round your material units up to the next full unit.

Ability to your round your bid prices up to the next full dollar.

Ability to round your total squares up to the next full square.

Ability to create and print a detail work order in price per square or detail pricing mode.

Two new fields have been added to the address book and the ability to get an online map to the address selected.

New keyboard shortcuts for every task.

Ability to Email documents created with just a couple clicks.

Quick Bid, In this release we made improvements to allow adding and saving items to be used over and over.
Use it when entering roof measurements is un-needed (Dry-rott, etc) or for storing extras.

Improved printing layouts
Prints all your grids including individual numbers


Send an email containing a copy of your bid prices in the email message with Just
a button click. This button adds the prices to your email body.

Context sensitive help.
Pressing F1 Opens help to the topic information linked to the control that you have selected.


Recent file list.
To conviently open the last files you have worked on.

Choose your printer from a list printers installed on your system.



代码

ÜÜ Ü ÛÜÜ
ÜÛÛÛ²²Ü ßÛß ÜÜÜÜÜÛÛÛÛÛ ÛÛÛÛÛ
ÜÜÛ ÛÛÛ²ß ÜÜÜܲÛÛÛÛÛÛÛßßßßßÛÛÜÛÛÛÝ
ÛÛÛ²Ý ÜÜÜÛÛÜÛÛÛÛÛÛÛÛÛÛßßÜÛÛÛÜ ßÛÛÛÛß ßÛÜ
ÞÛÛ²ÜÛÛÛÛÛÛÛÛÛÛÛÛÛÛÛ²ß ßßßßÛÛÛÛÛÜÜ ÜÛÛÝ ÞÛÝ
ÞÛÛßÛÛÛÛßßßßÜÜÛÛÛ² Û²Ü ÜÜÛÛ²²²ßß ßßÛÜ ÜÛß
ÛÛÛ²Ü ßÛÛÛ²Ý ÛÛ ÜÛÛÛ²²ßÛÝ ÛÛßÛÛÜ ßßßß Ü
ÜÛÛßßÛ²Ü ßÛÛÜÛÛ² ÞÛÝ ÞÛÛÛ²² Þ² ÛÛ ÞÛÛ²²ÜÜ ß²ß
Ü Þ²²Ý ÛÛÛÛß °ÛÝ ÛÛÛÛ²Ý Û± ²² ÛÛÛ²²ßÛÜ
ß²ß Ü²²ß ÛÝ ÞÛÛÛÛÛÛÛ² ÛÛÛÛ²² Þ² ±± ÛÛÛ²Ý ÛÝ ßÜ
Üܲ²ß ÜÛß ÞÛÛ۲ݰÜÛ ÞÛÛÛÛ²²ÜÛÝ °° ÛÛÛ²ÝÞÛ ÞÛ
ÜÛÛßÛ² ÛÛ ÞÛÛÛ²Ý ÛÛ ßÛÛÛÛÛÛÛÛ °° ÞÛÛ²²ßß ÛÛÝ
ÛÛÛÝÞ²Ý ÞÛßßßÜ ÛÛÛ²² ÞÛÝ ÜßßßßßÛÛÛÜ ÛÛ²ß ÜÛÛÛ²
ßßÛÜÛ² ÞÝ ÞÝ ²ÛÛ²² ÞÛ² ßÛßÜÜÜÜ ßÛÛÜÛÛ² ÜÜÛÛßß ßÛ²Ü
ß²²Ü ß ÜÜß ±ÛÛÛ²²ÜÛ²²ÛÛ²²ßÛßßÜ ßÛÛÛ°ÜÜÛÛßß ÜÜÜÜÜßÛ²²ÜÜ
ßßßß ÜÜÜÛÛÛÛÛÛßßßÛ²²ÝÞÝ ÞÛÛÛßß Ü²²²²ÛßßÛÛÛ²²ß
ßÛÛÛÛßßßß ÜÜÜßßßÛ²²ÜÛÜ ÜÛß Ü²²ßÜÛß ß²ß
ÜÛÝ Ü²Ü ß ÜÜÛÛßß ßß²²²ÛÛÛßß Þ۲ݰ²Ý
ÜÛÛÛÛÜ ß ÜÜÜÛÛßßß ß²²Üß²Ü
ÜÛ ßÛÜßÛÛÛÛßß ßßßÛÛÜÜÜÛß ÛÜ
ÜÛÛÛ ÞÛÝ Ü TE 2012 PRESENTS Ü ÞÛÝ ÛÛÛÜ
ÛÛÛ ÜÛß ß²ß ß²ß ßÛÜ ÛÛÛ
ÛÛÛßßß ÜÛß ÜÛßßß ßßßÛÜ ßÛÜ ßßßÛÛÛ
ÜÜÜÛÛÛÜÜ ÜÜ ÛÛÜÜÜÛÛ ANOTHER FINE RELEASE ÛÛÜÜÜÛÛ ÜÜ ÜÜÛÛÛÜÜÜ
ßÛÜÜ ÜÜÛß

Release: RoofCalcWriter v10.8.329 (c) 2012 RoofGenius

Date: 08/09/2012

Cracked By: Twisted EndZ

Release Type:
[X] Registration/Serial Crack
[ ] Activation Crack
[ ] Trial Crack
[ ] Server Check Crack
[ ] Serial
[ ] Hidden/Added Features Enabler
[ ] Other

[ ] Loader Patcher [ ] Patch [X] Precracked [ ] RegFile
[ ] Keygen

Ü Ü
Ü²Ü ß²ß ß²ß Ü²Ü
ܲ²ÛÛÛÜ ßßÜÜÜÜ ÜÜÛßßß ßßßÛÜÜ ÜÜÜÜßß ÜÛÛÛ²²Ü
ßß²²ÛÜßßÛÛÜÜÜ ÜÜÜÛÛ RELEASE NOTES ÛÛÜÜÜ ÜÜÜÛÛßßÜÛ²²ßß
ß²ÛÜ ÜÛÜ ßÛÜÜ ÜÜÛß ÜÛÜ ÜÛ²ß
Ü Þ²ÛÝ ß ß ÞÛ²Ý Ü
ܲ²ÜÜÛÛß ßÛÛÜܲ²Ü
ßß ßß

Our goal: Easy and flexible.
We have added many new features to RoofCalWriter with-out making
it more difficult to use. You can still just enter your bid
numbers, a name & address and get a saved estimate and a complete
material list in just a few minutes. We believe in adding
features you can use if you want, but don't have to.

You might think with so many forms and buttons how can it be easy
to use ?

The answer is: You can use these options, but you don't have to.

Here are some things you don't have to do:
• You don't have to add pitch to your bid.
• You don't have to select your roof pitch.
• You don't have to add materials for waste for roof, valleys,
hips and rakes.
• You don't have open your address book to get a phone number or
have contact information added to your bid.

• You don't have fill in a material price list to do detail
pricing or create a work order.
• You don't have to send your prices by email.
• You don't have click a button and view all the individual
numbers of your estimate.
• You don't have click a button and view your bid totals in
detail.
• You don't have add your prices to the price per square module
to have your price per square inserted with just a click.

• You don't have use quick bid to add extras you use often to
your bid.
• You don't have to click a button and get an online map to your
job.
• You don't have to click a button and get a current online
weather report.
• You don't have press F1 and get detailed help instructions on
the task you are working on.
• You don't have to click a few buttons to produce custom written
proposals, invoices, change orders, letters and certifications.


The 3 main steps to arriving at a roofing estimate.
1. Measure the roof.
2. Add the numbers together and get your total squares.
3. Determine how much to charge per square or do detail pricing.

All three of these steps are extremely important and a mistake on
any one of the three could mean losing money. If you were to
choose one we would have to say measuring the roof would be most
important. RoofCalWriter can not help with measuring a roof, but
we do offer some roof measuring tips here and here.

Number 2 and 3 above is what the RoofCalWriter does.
RoofCalWriter totals up the estimate numbers you enter and
produces a material list and your total price. All of your
individual numbers are saved exactly as you entered them.

You can use The Price Per Square module to pre-determine how much
to charge per square for many different roofing situations. The
price per square does take some initial setup on your part. E.G.
Only you would know how much to charge for an 8/12 pitch, with
tear-off and OSB. Using Price Per square is optional.


RoofCalWriter Features:

We have added many new features to the RoofCalWriter program. We
view the RoofCalcWriter as never being finished.

The features listed here are the main new features.

• Now fully compatible with windows vista
• New create fully text formatted html emails.
• Insert embedded pictures into emails.
• New easy to use email program.
• All new and fully illustrated context sensitive help file.
• Emailed documents are saved under customer name and address.
• Ability to backup bid files to and from a Usb flash drive.
• Ability to backup data files to and from a Usb flash drive.
• Automatically backup bid & data files as they are created.
• Send comments, ideas, dislikes directly thru our server.
• Option to check for program updates on program start.
• New detail pricing mode for users who want to produce bids by
entering individual items for materials, labor and
subcontract
• Ability to get an online map to the address listed in your bid.
(Choose from 3 map providers)
• Ability to get an online weather report (Choose from 3 weather
providers)
• Ability to get program updates to always have the latest
software features with just a button click.
• Ability to add waste to your squares for valleys, hips and
rakes.
• Ability to round your material units up to the next full unit.
• Ability to your round your bid prices up to the next full
dollar.
• Ability to round your total squares up to the next full square.
• Ability to create and print a detail work order in price per
square or detail pricing mode.
• Two new fields have been added to the address book and the
ability to get an online map to the address selected.
• New keyboard shortcuts for every task.
• Ability to Email documents created with just a couple clicks.
• Quick Bid, In this release we made improvements to allow adding
and saving items to be used over and over. Use it when entering
roof measurements is un-needed (Dry-rott, etc) or for storing
extras.
• Improved printing layouts
- Prints all your grids including individual numbers
• Send an email containing a copy of your bid prices in the email
message with Just a button click. This button adds the prices
to your email body.
• Context sensitive help.
- Pressing F1 Opens help to the topic information linked
to the control that you have selected.
• Recent file list.
- To conviently open the last files you have worked on.
• Choose your printer from a list printers installed on your
system.
• New menus
• Designed for all versions of Microsoft Windows
• 100% error removal guaranteed
• Speed up your PC so it runs like new
• 24-hour USA based phone support Monday-Saturday
• Speeds up Windows startup
• 365 days of RegZooka and unlimited support
• 60 day 100% money-back guarantee
• Automatic scans or manual scans
• Automatic downloads or manual downloads



For More Info visit:
http://roofgenius.com/



TE Release Filename: trcw108x.zip



Ü Ü
Ü²Ü ß²ß ß²ß Ü²Ü
ܲ²ÛÛÛÜ ßßÜÜÜÜ ÜÜÛßßß ßßßÛÜÜ ÜÜÜÜßß ÜÛÛÛ²²Ü
ßß²²ÛÜßßÛÛÜÜÜ ÜÜÜÛÛ INSTALLATION NOTES ÛÛÜÜÜ ÜÜÜÛÛßßÜÛ²²ßß
ß²ÛÜ ÜÛÜ ßÛÜÜ ÜÜÛß ÜÛÜ ÜÛ²ß
Ü Þ²ÛÝ ß ß ÞÛ²Ý Ü
ܲ²ÜÜÛÛß ßÛÛÜܲ²Ü
ßß ßß

Install RoofCalcWriter10Setup.exe. After installation copy
precracked exe from the Crack folder to the installed folder of
RoofCalcWriter, making sure to overwrite the existing file.
Launch RoofCalcWriter and click on TOOLS then Register. Now use
any name and serial number and then click on Submit. You now
have a fully registered version of RoofCalcWriter!

Thats it! Enjoy.

ÜÛ²²Ü Ü Ü Ü²²ÛÜ
ß Þ²²Ý ܲ²ßÛßßß ß²ß ßÛß ßßßÛß²²Ü Þ²²Ý ß
ÜÜÜÜܲ²ß Ü Þ²²ÝÞÝ ÞÝÞ²²Ý Ü ß²²ÜÜÜÜÜ
ÜÛÛÛÛ²²²ß ÜÛ²²Ü ßÛ²ÜÛÜ T E 2 0 1 2 ÜÛܲÛß Ü²²ÛÜ ß²²²ÛÛÛÛÜ
²ÛÛßÜ²ß ± ßÛ²²²²²ÜÜ ßÛÛÛÛÜ ÜÛÛÛÛß Üܲ²²²²Ûß ± ß²ÜßÛÛ²
ÞÛÛÝ°²Ý ° ÞÛ²Ý ßßÛÛ²ÜÜßßÛÛ² ²ÛÛßßÜܲÛÛßß Þ²ÛÝ ° Þ²°ÞÛÛÝ
ßÛÛÜß²Ü ÜÛ²² ßßÛÛ²ÜÛÛ² ascii ²ÛÛܲÛÛßß ²²ÛÜ Ü²ßÜÛÛß
ßß²²ÛÛÛÜÜÛ²²ß °°±±²²ÛÜÛÛÛÛ²² by mx ²²ÛÛÛÛÜÛ²²±±°° ß²²ÛÜÜÛÛÛ²²ßß
ßßßßß Ü ß ± ± ß Ü ßßßßß
²ßßßßßßß ßßßßß ° ßßßßßßß ° ßßßßßßß ßßßßß²
Ü Don't Hate The Hacker, Hate The Code ß°
ß²ÜÜ ÜÜÜÜÜÜÜÜÜÜÜÜÜÜ ÜÜÜÜÜÜÜÜÜÜÜÜ ÜÜÜÜÜÜÜܲß
Ü ß²
° ß
这里是其它用户补充的资源(我也要补充):
暂无补充资源