中文名: 数码照片幻灯演示软件
英文名: Speedy Soft DIGISTUDIO
资源格式: 压缩包
版本: v9.2.3.231.b.04.08.12
发行时间: 2012年
简介:





软件类型:软件>多媒体类
软件性质:破解软件
操作系统:Windows
应用平台:Windows XP/Vista/7
问题反馈:http://www.drschef.de/kontakt/Kontakt.html
网站链接:http://www.drschef.de/digistudio/indexe.html
软件介绍:


DigiStudio是一套数码照片展示软体。它可将数码照片以幻灯片的形式播出,使用者可以插入自定的文字和动画,并提供有多种特殊效果。
使用 Adobe Flash,新一代的数码照片幻灯片放映软件,可配置动画标题、 副标题和放映结束,可配置构建菜单,更改图片的淡入淡出动画,可配置字幕和注释,可配置动画的文本点功能。在全屏幕模式、 高清晰度电视或在互联网上播放矢量和视频动画 (Flash, Corel, Swish) .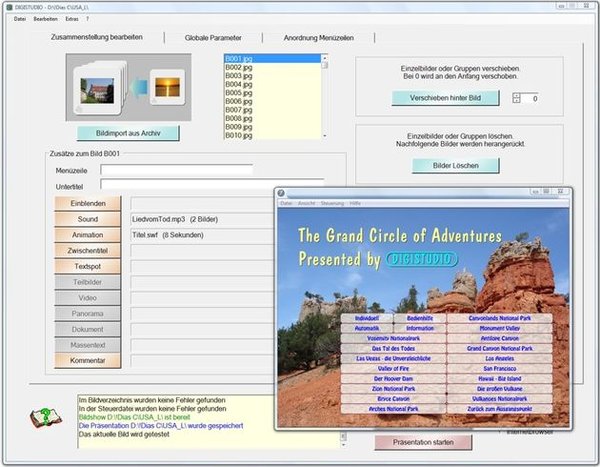 资源更新列表
http://www.VeryCD.com/i/5190747/create/fol...postTime


Design of picture presentations with new graphic possibilities. With vector animations and videos movement without practical borders comes into the otherwise static picture sequence, e.g. by configurable animations for titles, subheadings, text spots or freely shapable animations with Adobe Flash.

To each picture extensive notes can be deposited, which can be faded in if necessary. Subtitles in many graphic variants can be represented. In addition different decorative fonts can be used, which are shown also on other computers. For panoramas and documents are faded in automatically scroll bars.

The pictures can be overlaid by freely positionable charts and videos temporally transferred. Between the pictures different cross fadings can be selected. The interactivity during the presentatin achieves a new dimension with 25 control functions: Like that are possible full text search in the subtitles and preview of images during the rendition. At each time an structuring menu a image list or a help screen can be faded in. Merged sounds can be controlled via an invisible volume control. If the viewers the neck are set right, because they cannot read the subtitles, these are movable by pressing a key to the upper Border. If one feels the Windows cursor as mismatching, one switched him off or replaces him by a colored animated showing cursor.

Features:

*Configurable animations for title, subheadings and the end of show
*Configurable structuring with menu
*Animated crossfading by changing of pictures
*Configurable Subtitles and notes can be faded out and in
*Configurable animated text spots
*Collection of decorativ fonts
*Viewing of large imported texts
*Conscutively fading in of charts
*Viewing of horizontal moveable panoramas
*A large animated showing cursor can be faded in
*Sounds usable. Invisible controlling of volume
*List of pictures with searching, preview and jump function.




代码
°
þßÛÛ²ÜÜ ßÛÛÛÛÛÜÜÜÜ þßÛÛßÜÜ ÜÜßÛÛßþ ÛÛÜ ßÛÛÜÜ °° þÜÜ Üܲ²Ûßþ
ÛÛÛ²² ° Û²ÛÜßß²ÛÛÛÜ Û°°²Û Û²°°² ÛÜÜ ßß Û²²ÛÛ °°±²°° ÞÛ²ÛÜ ÛÛ²²Û
ÛÛ²²ÛÛ °° Û²²ÛÛ ÛÛ²²ÛÝÞ±±²Ý ÞÛ±±²Ý Þ²²Û²ÛÜ Û²²Û °± °Þ²²ÛÝ Þ²ßßÛÝ
ÛßßÛ² °°±²°°ßßß Û²ßß² Û²Û ° Û²²ÛÛ Û²ßß²² ÛßÛÜÜÛÛß ° °° Û²ÛßÜÜÜÛ°°²Û
ÛÛ°°ÛÛ °°ÜÜþÞÛ²²ÛÜÜÛ°°ÛÝÞÛ²²ÜÛ²Ûßß ° ÞÛ°°ÛÛÛ°°Ûßß ÜÜþ ÜÛ²²ÛÛßßßßÛ±±ÛÝ
Û±±²Û ÜÛÛ²ÝÞ²ß ßßßÛ±±Û² ÛÛß ßÛ²²ÛÜ Û²±±Û Û±±Û ÜÛ²²Ý ß ÜÜÜÜ Û²²²Û
ÛÛ²²ÛÛ ÛÛ²²ÝÞ²Ý °±° Û²²ÛÝÞ²Ý ° ÞÛßß²Û Û²²ÛÛÛÛ²²ÛÝ Þ²²ÛÝ ÞÛ²²ÛÝ Þ²²²ÛÝ
ßÛ²²ÛÜÜßÛ²Û Û² ° Þ²²ÛÛ ÛÛ °±° Û°°²ÛÝÛÛ²Û ßÛÛ²²ÜÜßÛ²Û Û²ÛßÜÜܲ²ÛÛÛß
ßÜÜ ßßßßÛÛÛÛÛÜßÛÜÜÜÛ²Ûß Þ²²Ý °° Û±±²Û Û²ÛÛÛ ÜÜ ßßßß²²ÛÛÛÜ ßÛ²²²Ûßßß ÜÜß
ßßß²ÜÜÜÜÜÜ ß ²ÜÜÜÜÜÜÜÜ ßÛ ° Þ²²ÛÛß ÜÜ ßß ² ßßß²ÜÜÜÜÜÜ ß ÜÜÜÜÜܲßß
± ° ß Û²ßß ° ° ±
° ß °
ß þÜ Üþ ß
Þ²Ü ÜÜܲÛÛÛ²Ü tEAM LAXiTY ܲÛÛÛ²ÜÜÜ Ü²Ý
ܲ²ß ÜÛ²ßßß ß²²ß pROUDLY pRESENTS: ß²²ß ßßßÛ²Ü ß²²Ü
ÜÛ²²ß Üß þßß ßßþ ßÜ ß²²ÛÜ
Û²²Û ² ² Û²²Û
ÛÛ²Û ± Digistudio v9.2.3.231.b.04.08.12 Bilanguage ± Û²ÛÛ
Û ßÛ ° (c) Speedy Soft ° Ûß Û
Û°°Û Û°°Û
Û°°Û URL ........: http://www.drschef.de Û°°Û
Û°°Û Û°°Û
Û°°Û Supplier ...: TEAM LAXiTY Soft Type ...: APP [X] Û°°Û
Û°°Û Packager ...: TEAM LAXiTY GAME [ ] Û°°Û
Û°°Û Cracker ....: TEAM LAXiTY OTHER [ ] Û°°Û
Û°°Û Rel. date ..: 08.08.12 Û°°Û
Û°°Û Û°°Û
Û±±Û ° Rape Solution: Keygen [ ] Serial [ ] RegKey [X] ° Û±±Û
Û²²ÛÝ Crack [ ] Other [ ] ÞÛ²²Û
ÛÛÛÛÛÜ ÜÛÛÛÛÛ
ÜÛÛß ß ß ßÛÛÜ
ßÛß ²²±±°° °°±±²² ßÛß
ß þÜ °° °° Üþ ß
Þ²Ü ° ÜÜܲÛÛÛ²Ü Ü²ÛÛÛ²ÜÜÜ ° ܲÝ
ܲ²ß ÜÛ²ßßß ß²²ß R E L E A S E . N O T E S ß²²ß ßßß²ÛÜ ß²²Ü
ÜÛ²²ß Üß þßß ßßþ ßÜ ß²²ÛÜ
Û²²Û ² ² Û²²Û
ÛÛ²Û ± ± Û²ÛÛ
Û ßÛ ° ° Ûß Û
Û°°Û DIGISTUDIO supports the comfortable elaboration, Û°°Û
Û°°Û optimization and play back of presentations of digital Û°°Û
Û°°Û photos with use of the PC, which are suitable for use on CD Û°°Û
Û°°Û or USB stick or for the Internet. It delivers best results Û°°Û
Û°°Û up to resolutions of the devices for play back of 2048*1536 Û°°Û
Û°°Û pixels. Software to click from picture to picture you can Û°°Û
Û°°Û find like sand by the sea. This is often even freeware. If Û°°Û
Û°°Û you want to achieve more effect, however, with your Û°°Û
Û°°Û pictures and provide this also for third or if you want to Û°°Û
Û°°Û develop yourself, then you are with DIGISTUDIO on the right Û°°Û
Û°°Û way. Û°°Û
Û°°Û Û°°Û
Û±±Û ° ° Û±±Û
Û²²ÛÝ ÞÛ²²Û
ßÛÛÛÛÜ ÜÛÛÛÛß
ßÛÛÛÛÜ ÜÛÛÛÛß
ÜÛÛß ß ß ßÛÛÜ
ßÛß ²²±±°° °°±±²² ßÛß
ß þÜ °° °° Üþ ß
Þ²Ü ° ÜÜܲÛÛÛ²Ü Ü²ÛÛÛ²ÜÜÜ ° ܲÝ
ܲ²ß ÜÛ²ßßß ß²²ß i N S T A L L . N O T E S ß²²ß ßßß²ÛÜ ß²²Ü
ÜÛ²²ß Üß þßß ßßþ ßÜ ß²²ÛÜ
Û²²Û ² ² Û²²Û
ÛÛ²Û ± ± Û²ÛÛ
Û ßÛ ° ° Ûß Û
Û°°Û Run "digistudio999.reg". Û°°Û
Û°°Û Û°°Û
Û±±Û ° ° Û±±Û
Û²²ÛÝ ÞÛ²²Û
ßÛÛÛÛÜ ÜÛÛÛÛß
ßÛÛÛÛÜ ÜÛÛÛÛß
ÜÛÛß ß ß ßÛÛÜ
ßÛß ²²±±°° °°±±²² ßÛß
ß þÜ °° °° Üþ ß
Þ²Ü ° ÜÜܲÛÛÛ²Ü Ü²ÛÛÛ²ÜÜÜ ° ܲÝ
ܲ²ß ÜÛ²ßßß ß²²ß A P P L Y . i N F O ß²²ß ßßß²ÛÜ ß²²Ü
ÜÛ²²ß Üß þßß ßßþ ßÜ ß²²ÛÜ
Û°°Û ° ° Û°°Û
Û±±Û ° *** CLOSED *** ° Û±±Û
ßÛ²²ÛÜ ÜÛ²²Ûß
ßÛ²²²Ü ܲ²²Ûß
ÜÛ²²Ûß TEAM LAXiTY ßÛ²²ÛÜ
ÜÛ°°Ûß ravishing since 1998 ßÛ°°ÛÜ
ßÛ±±ÛÜ ÜÛ±±Ûß
ßÛ²²ÛÜ ° ° ° ° ° ÜÛ²²Ûß
ßßÛ²ÛÜ ßÜ ²Û ÜßßÛ² ²² Û² ßß ²Û ²Û Û² Üß ÜÛ²Ûßß
ß²²Û ß±±° °°±±Û ÜÜÛ± ßÜÜß ²Û ±Ûßß ßßßÛ±±°° °±²ß Û²²ß
Þ²ß (asc) mx °Û ²Û ²² Û° ܲ ²Ü ±Û °Û ²Û ²² Û° ß²Ý
Ü þß ßß± ßßß ß± ßß °ß ßß± ßßß ßþ Ü
° ° °
LXTCRC:116355:4632
这里是其它用户补充的资源(我也要补充):
暂无补充资源