中文名: 幻灯制作软件
英文名: WnSoft PicturesToExe Deluxe
资源格式: 压缩包
版本: v7.0.7
发行时间: 2012年
简介: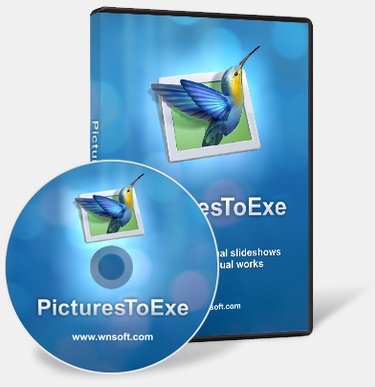 软件类型:多媒体类
软件性质:免费破解软件
操作系统:Windows
应用平台:Windows 7 (32-bit & 64-bit), Windows Vista, Windows XP
问题反馈:http://www.wnsoft.com/support/
网站链接:http://www.wnsoft.com/
软件介绍:

PicturesToExe 是一个用来将图片转成EXE可执行文件的工具,包括BMP、JPG、GIF等图片,使用上相当容易.这是一个幻灯制作软件的新版本,提供了比以前版本更多的功能.音乐,图片说明,3D效果和可定制复杂动画.可制作出令人印象深刻的幻灯片.程序创建的EXE文件无需任何额外程序支持即可运行( (甚至 PicturesToExe 本身也不是必需的).除可将单一图片转成EXE执行文件,也可将大量的图片转成EXE执行文件。

另外,也可以设定时间轴以幻灯片方式看图。软件虽然叫PicturesToExe,但也支持将幻灯片输出为适合PC和Mac高清视频,DVD视频光盘,ipad和iphone视频及AVI,支持直接发布到YouTube和Facebook。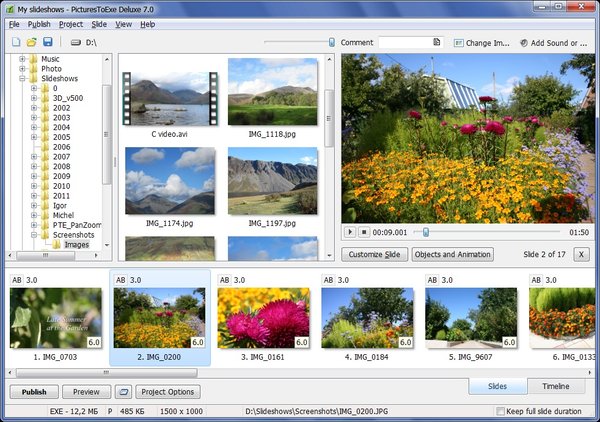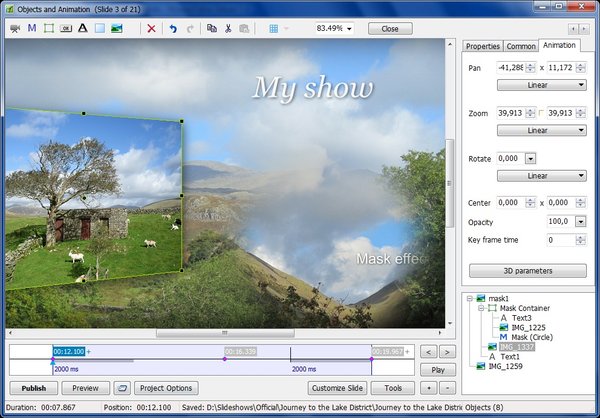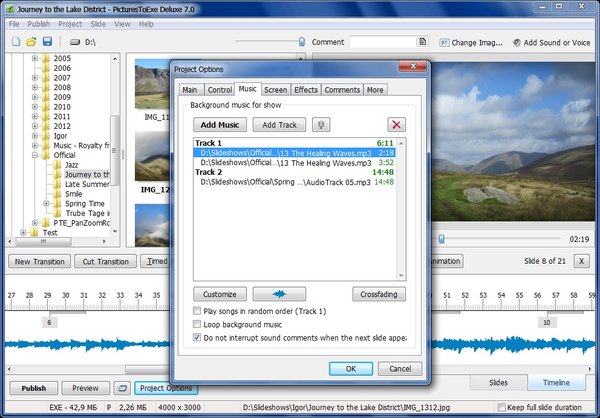 What is PicturesToExe


It is always fun to share pictures and experiences with friends and relatives. However, if you want to turn them into something special, consider creating a photo slideshow. Mix photos and video clips together in one show. Enhanced by music, animation (Pan/Zoom effects), and comments, it will ensure an absolutely fascinating experience for those who watch it. PicturesToExe Deluxe provides the user with all the necessary tools to create a great-looking photo & video slideshow, or documentary. PicturesToExe Deluxe is a professional slideshow software program for wedding photographers and AV enthusiasts.

Main Features

Images and Video Clips in Slideshows
Add video clips and images together with effects: Pan/Zoom/Rotate, 3D transformations, masks, and shadow.
Quality and Fast Performance
Instant preview of your slideshow in real time on full screen. PicturesToExe can use source media files without conversion. No need to wait to see the result of your work. PicturesToExe uses hardware acceleration for the flawless and smooth playback of slideshows. Highest quality of picture with all details. Sharpness control includes the unsharp mask.
Objects and Animation with 3D Effects
Hierarchical system of objects (Images, Videos, Text) for creative usage. Objects (layers) have key frames for complex animation and 3D effects.
Output for PC and Mac in Executable File
PicturesToExe produces a single executable file for PC or Mac, which contains all the images, music, and videos. A slideshow in executable file (EXE) can be played on any PC under Windows 7, Windows Vista, and Windows XP. Slideshows for Mac requires OSX 10.4 or later.
YouTube and Facebook Output
Publish your slideshows on YouTube and Facebook with FullHD quality at 1080p.
DVD and Video Output
Export high quality HD video file (in H.264 format) for playback on PC, Mac, or TV with USB. Watch slideshows on your iPad and iPhone. Burn DVDs with your slideshows quickly and easily.
Transition Effects
PicturesToExe suggests cinematographic transition effects between slides, including Flip 3D, Swap 3D and Curling of page 3D effects.
Recording of Voice Comments
You can easily record voice comments to slides directly in PicturesToExe.
Music and Audio Editing
Add background music to your slideshow and sound comments to selected slides. You can use the timeline with waveform to synchronize the slides to music. PicturesToExe supports multiple audio tracks. Each audio clip can be edited and customized.
Protection of Your Slideshows
PicturesToExe offers all the tools to protect your executable slideshows for PC and Mac: password on startup, time limited usage, and the copyright logo over the slide. You can control the behavior of the keyboard, mouse, and navigation bar.
Supported Input Files
Images: JPEG, GIF, PNG, BMP.
Audio: MP3, WAV, OGG, WMA.
Videos: AVI, MOV, MPG, MP4, FLV, DIVX, XVID, WMV, and more.

System Requirements
For PC

CPU 1.4 GHz
512 MB of system memory
Video card with 128 MB of video memory
Windows 7 (32-bit and 64-bit), Windows Vista, Windows XP
DirectX 9 or newer
DVD-RW drive for burning of DVD-Video discs



代码
Why users choose PicturesToExe

Incredible photo clarity and quality, since PicturesToExe uses the source files to create a photo slideshow with help from its unique image processing algorithms.
PicturesToExe is perfect for photo professionals and beginners alike.
Intuitive on the outside, feature-complete on the inside. PicturesToExe has all of the tools to create top-notch slideshows and AV shows. Pan/Zoom/Rotate effects, keyframe animations both simple and complicated, support for multiple slide objects, masks, 3D effects, and multiple audio tracks.
Flawless, seamless animations and slideshow effects in your PC and Mac slideshows. PicturesToExe synchronizes with the refresh rate of the PC monitor or projector.
The PicturesToExe user community, where you can discuss everything related to creating a slideshow or AV show.
An increasingly large number of professional photographers and AV enthusiasts in the United Kingdom and France have chosen PicturesToExe as the best photo slideshow software on the market.
At the 19th International Audio-Visual Festival of the Royal Photographic Society in the United Kingdom in 2010, over 70 works from 11 countries were submitted. Most of them were made with PicturesToExe.
DVD picture clarity far surpasses what is available in other programs.
Program interface and user guide are available in multiple languages.
这里是其它用户补充的资源(我也要补充):
暂无补充资源