中文名: 数字音频编辑软件
英文名: Harrison Mixbus
资源格式: 压缩包
版本: v2.1
发行时间: 2012年
制作发行:
Harrison Audio LLC,
简介:




软件类型:软件>多媒体类
软件性质:破解软件
操作系统:Windows
应用平台:Windows XP Pro or newer. Windows 7 is preferable.
问题反馈:mailto:mixbus@harrisonconsoles.com
网站链接:http://www.harrisonconsoles.com/mixbus/website/index.html
软件介绍:


Harrison Mixbus是一个全功能的数字音频工作站"真正的模拟与混合"(DAW软件):哈里森享誉世界的声音和价格实惠,功能旋钮接口功能相结合。 mixbus提供专业级的功能,导入或录制的音轨的数量不受限制到您的计算机,对其进行编辑,并混合在一起。 你可以使用Mixbus,记录你的乐队,混合记录,使播客,或为您的视频音频编辑。

Mixbus™ is a full-featured Digital Audio Workstation (DAW) with "True Analog Mixing"™: a combination of Harrison's world-renowned sound and features in an affordable, knob-per-function interface. Mixbus provides professional-level features to import or record an unlimited number of audio tracks to your computer, edit them, and mix them together. You can use Mixbus to record your band, mix a record, make a podcast, or edit the audio for your video.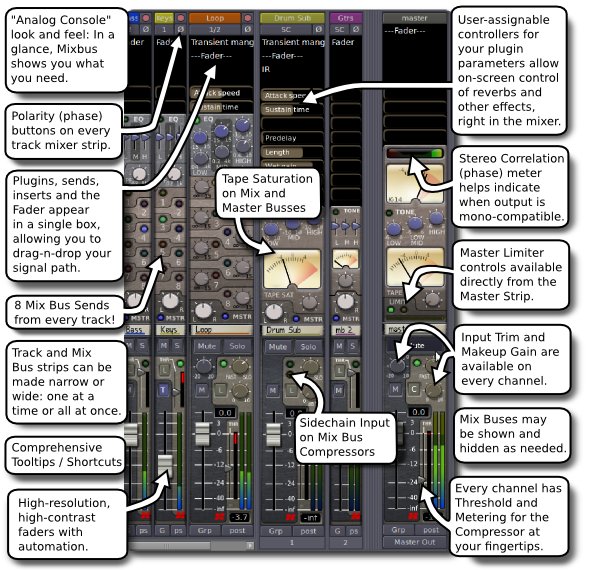 What is different about Mixbus?
Mixbus sounds better. Other DAW mixers are designed by companies with experience in computer sound, but no pedigree in world-class recording facilities. The Mixbus mixer is designed by Harrison: the maker of consoles used in the world's most demanding music, film, and live performance facilities. Harrison consoles are known for their great-sounding EQ, filters, dynamics, and bus summing. If you find a music recording from the golden age of albums - the 70s and 80s - that has stood the test of time, it is likely that a Harrison console was used during the production. With the Harrison sound and a logical knob-per-function mixer interface, Mixbus invites you to produce recordings that will stand with the best.
Mixbus is open. Mixbus is largely open-source and is the collaborative effort of a worldwide team including musicians, programmers, and professional recording engineers. Many workstations provide "open" control or plugin protocols... Mixbus goes far beyond that. Like a good piece of vintage hardware, you can open the box and look inside. This transparency encourages Mixbus development to happen with integrity. We spend our time on the issues that users want and need; not just items that look good in an advertisement. In the crazy world of DAW software, it is nice to know that a sane option exists for your business or personal use.

Mixbus is ultra-compatible. Mixbus works on all 3 popular desktop operating systems, and uses industry-standard I/O and plugin formats such as VST. You can collaborate with anyone, regardless of which platform they use.

Mixbus Features:
Straightforward "knob per function" mixer layout based on Harrison's renowned 32-series and MR-series music consoles.
DSP sounds based on Harrison's world-renowned analog and digital mixing console experience.
Precision algorithms for EQ, Filter, Compression, Analog Tape Saturation, and Summing.
Unlimited stereo or mono input channels, each with unlimited plugins, sends, and hardware inserts. (limited only by CPU speed)
Phase, Input trim, High-pass Filter, Sweepable 3-band EQ, Compression, and 8 Mix Bus sends on every track.
8 Stereo Mix Buses featuring Tone controls, Compression, Sidechaining, and Analog Tape Saturation.
Stereo Master Bus that features Tone controls, Analog Tape Saturation, K-meter, Stereo Correlation Meter, and Limiter.
Automatic plugin delay compensation to support effects such as parallel compression without time misalignment.
Comprehensive "at-a-glance" metering with peak, peak hold, and compressor gain reduction visible on every track and bus.
Extensive DAW features via the Ardour Digital Audio Workstation, refined by Harrison engineers to be smooth and stable.
Industry standard plugin support: Mixbus loads VST plugins on Windows, AudioUnit plugins on OSX, and LV2 plugins on Linux.
Industry standard audio I/O support: Mixbus uses ASIO/Directsound on Windows, CoreAudio on OSX, and JACK on Linux.



New Mixing Features in Mixbus v2:

The mixer in Harrison Mixbus has been streamlined based on comments from our users. There are certain mixing tasks which are performed dozens, hundreds, or even thousands of times each day. Mixbus provides these features directly under the user's control without a moment's delay, just like our hardware consoles.

For example, the fader area contains the input trim, fader level, compressor threshold (with meter), and compressor makeup gain. This provides the most-used functions within a very small "mouse travel" distance. Compare this to other DAWs which require juggling multiple windows, popups, and menus simply to navigate these most fundamental mixing features!

Metering is another aspect of DAW design that can make mixing more fluid. In the mixing window, Mixbus provides the channel meter, compressor gain reduction meter, tape saturation meters, peak limiting meter, K-14 average level meter, and a final peak limiting meter simultaneously. Again, compare this to other designs which require plugins from several manufacturers and several windows to find this important information. Mixbus provides it at your fingertips!


New Editing Features in Mixbus v2:

Similarly, the editing model in Mixbus 2 has been highly refined based on our user's feedback, as well as the "best practices" found in other workstations.

"Smart" mode combines the features of timeline-based editing and object-based editing depending on the location of the mouse within the track.

Mixbus allows the user to quickly "swipe" across the waveform and drag the gain level up or down. By reducing this very common task to a minimum of operations, editing in Mixbus becomes a real joy for professionals who have to work quickly.


System Requirements





CPU Architecture:
Intel or AMD, 64bit or 32 bit
2+ cores/processors required

OS Version:
Windows XP Pro or newer. Windows 7 is preferable.

Video:
Minimum 1024x768 screen size. 800 or more vertical pixels is preferable.

Audio:
Any system soundcard should work. High-quality ASIO-based soundcard with modern drivers is highly recommended for better performance.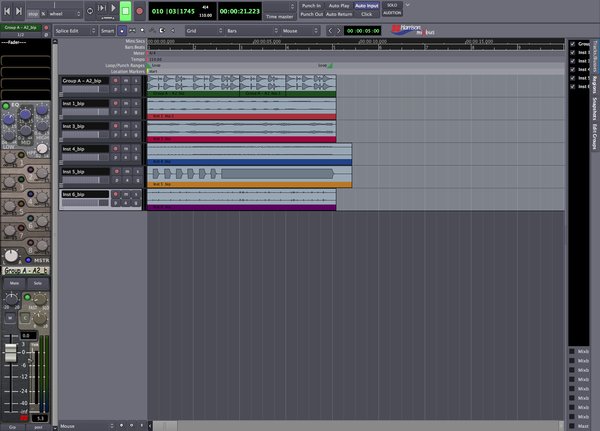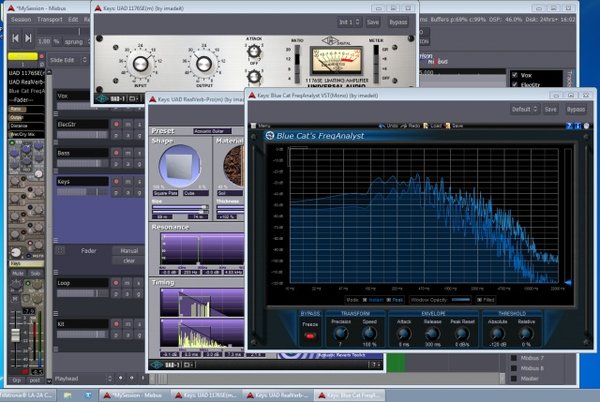 代码
ÜÜÜ ÜÛÛßÛÜ
ÛÛÛÛÛ ÜÜÞÛÛÛÛÛÛÝ
ßßßÜÛßÛÜ ÛÛÛÝßÛÛÛÛß ÜÜÜ
ÛÛÛÛÛÜÛÝ ßßß ÜÜÜÜÜ ßßÛÜÜÜÜ Ü
ÜÜÜÜÜÜÜÜßß ÛÛÛß ÜÜÜÜÜÜÜÜß ßÜÜÜÜÜÜÜÜÜÜÛÛÛÛÛßß ÜÜÜÜÜÜÜÜ ßÛÛÛÛÜÜÜ ÛÛÛÛÜ
ÞÛÛÛÛÛß ßß ÛÜßÛÛÛÛÛÛÛÛÜ ÛÛÛÛÛß ÛÛÛÛÛß ÜÛÛÛÛÛÛÛÛÛÛÛÛÜ ÜßßÛÛÛÛÛÜ ÛÛÛÛ²
ÛÛÛÛÛ ±ÛÛÛÜÛÛÜßÛÛÛÛÛ °²ÛÛÛÛ ÛÛÛÛÛ² ²ÛÛÛÛß ßÛÛÛÛÛÞÛÛÜßÛÛÛÛÛ ÞÛÛÛ²
ÛÛÛÛÛ° ²ÛÛÛÛÛÛÛÛ ÞÛÛÛÝ ÞÛÛÛÛ Û²ÛÛÛÛÛÛÛÛÛÝ ÞÛÛÛÛÛÛÛÛÛ ÛÛÛÛÝ ÞÛÛÛÛ
° ÛÛÛÛÛ± °°°°° ÛÛÛÛÛÛÛÛ²° ÛÛÛÛ ÞÛÛÛ²° ÛÛÛÛÛ²ÛÛÛÛ² °°°°°° ÛÛÛÛÛÛÛÛÛ ÛÛÛÛ ÞÛÛÛ²°
ÛÛÛÛÛ² ÛÛÛÛÛÛÛÛÛ ÞÛÛÛÝÞÛÛÛÛ °ÛÛÛÛÛÛÛÛÛÛÛ ÜÜ ÛÛÛÛÛÛÛÛ²° ÞÛÛÛÝÞÛÛÛÛ
ÛÛÛÛÛÛÝ ÞÛÛÛÛÞÛÛÛÛ ÛÛÛÛÛÛÛÛÛ ±ÛÛÛÛÛ ²ÛÛÛÛÜ ßß ÜÛÛÛÛ²ÛÛÛÛ ÛÛÛÛÞÛÛÛÛ
Û²ÛÛÛÛÛÜÜÜÛÛÛÛÛÝÛÛÛÛÛ ÞÛÛÛÛÛÛÛÝ ²ÛÛÛÛÛ ÛÛÛÛÛÛÜÜÜÜÛÛÛÛÛ²ÛÛÛÛÛ ÞÛÛÛÛÞÛÛÝ
ßÛÛÛÛÛÛÛÛÛÛÛÛßÞÛÛÛÛÛÜÜ ÛÛÛÛÛÛß ÛÛÛÛÛÛ ßÛÛÛÛÛÛÛÛÛÛÛÛÛßÞÛÛÛÛÛ ÛÛÛÛÛÛÛ
ßßßßßßßß ÜÛÛÛßßßß ÛÛÛÛÛÜ ÜÛÛÛÛÝ ßÛÛÛßÛÛÛÛÜß ÜÛÛÛßßßß ÞÛÛÛßß
ÜÜÛÛÛÜÜ ÜÜßßß ßÛÛÛÛÛÛÛÛÛÛß ßÛ ÞÛß ß
ÛÛ ÜÛÛÛÜß ÜÜÜÜÜÜÜ ßßÛÛÛÛßß ÞÝÛÝ
ßÛÛÛÛÛßÜÜÜ ÛßßÛÛÛÛÛÛÛÛ ÛÛÝ ÜÜÜÜÛÛÛÛÛÛÜÜÜÜ
ßß ÛÛÛÛÛ ÛÛÜÛÛÛÛßßßßßß ÜÜÜÜÜÜÜÜÜÜÜÜ ßÛ ÜÛÛÛßßß ßßßÛÛÛÜ
ßßß ÜÛÛÛ²ÜßßÜÜÜÜÛÛÛÛÛÛÛÛßßßßßßßßßßßßÛÛÛÛÛÛÛÛÜÜ ÛÛß PRESENTS ßÛÛ
ÛÛÛÛÛÛÛÛ ßßßß ßß ÞÛÛ ON ÛÛÝ
ÜÜ ßÛÜÛÛß Harrison Mixbus v2.1 ÛÛÜ 07/17/12 ÜÛÛ
ÜÛÛßß ÜÜ ßÛÛÛÜÜÜ ÜÜÜÛÛÛÞ
ÛÛÛ ÜÛÛß Cracker : Aria Supplier : UNION ß²ßÛÛÛÛÛÛÛÛßßß Û
ÞÛÛ ÛÛÛ Packager : UNION OS : Windows ° ÜÜ ²
ÛÛÜ ßÛÜ Protection : License ÜÛÛ °
ßÛÛÛÜ ß ÜÛÛÛß
ÜÜßÜßÛÛÛÛÜÜÜÜ ° Retail: 219$ ÜÜÜÜÛÛÛÛßß Ü
ÜÛßÛÛÝÞßÛÛÝ ßßßßÛÛÛÛÛÛÜÜܲÜÜÜÜ ÜÜÜÜÜÜÜÜÛÛÛÛÛÛßßßß Ü ÜÛÛÛÛ
ÛÛÛÛÛÛÜÜÞÛ ÜÜÜÜÜßßßßßßßßÛÛÛÛÛÛÛÛÛÛÛÛßÛßßßßßß ÜÜ ÜÛÛÛÛÛÝÛÜßßßÜ
ßßÛÛÛÛß Û ÜÛßÜÜÛÛÛÛÛÛÜ ßÛÛÛ ÛÝ ÛÝ ßÛÛÜÛßþÜÛÛÛÛÛÛÜ
ÞÛ² ÛÛÛÛÛÛÛÛÛÛÛÛ ÞÛÝ ² Þ²± ÜÜÛÛÛÛÛÛÛÛ ÛÞÛÛÛÜÜ
ß ßÛÛÛÛÛÛÛÛÛÛß ÜÛÛÛÜÜÜÜÞÛÝÜÜÜÜ ß ßÛÛÛÛÛÛÛÛÜÛßÞÛ ßÛ
ÜÜÜÜÛÛÛÛÛÜÜÜÜßßÛÛÛßß ÜÜÛÛÛÛÛÛÛÛßßßßß ß ßßßßÛÛÛÛÛÛÛÛÜÜÜÜÜÜßßßßÛßß ÛÛÛÛÜÜÛ
ÜÛÛÛßßß Ü ßßßÛÛÛÜ ßßßß ßßßßßßÛÛÛÛÜÜÜÜ ßßß
ÛÛß ÜÜß ßÛÛ ßÛÛÛÛÛÜÜ
ÞÛÛ °²ÛÝ NOTES ÛÛÝ °²ÛÞß ßÛÛÜ
ÛÛÜ ßÜ ÜÛÛ ßÛÛ ÛÛÜ
ßÛÛÛÜÜÜ ÜÜÜÛÛÛß ßÞ ÛÛ
ßßßÛÛÛÛÛÛÛßßß http://www.harrisonconsoles.com Ü Û
ÛÛ Û
ÛÛÜ ÛÛ
Ü ÛÛÛÜ ÜÛÛ
ÜÛßÛÛÞÛßÛÛÛÜÜÜ ÜÛÛÛß
ÛÛÜÛÛÝÛÛÝ ßßÜßÛÛÛÛÜÜÜÜ ÜÜÜÜÛÛÛÛßß
ßÛÛÛÛÞÛ² ÞßÛÛÝ ßßßßÛÛÛÛÛÛÜÜÜÜÜÜÜÜ ÜÜÛÛÛÜÜ ÜÜÜÜÜÜÜÛÛÛÛÛÛßßßßÜÜÜÜÛÛÝ
ßß ² þÞÛ ßÛÛß ßßßßßßßß ÛÛ ÜÛÛÛÛÛ ÛÛßßßßßßß ßßÛÛÛÛßß
° ß ÜÛÛÜÜÜÜÜÜÜÜÜÜ ßÛÛÛÛÛÛÛß ÜÜ ÜÜÛÛÛÜÜ
ÜÜÜÜÜÛÛÛÛÛÛÛÛÛßßßßßßßßß²ß ßßß ÜÛÛÛÜßßÛÛÛÛÛÛÛÛÛÜÜÜÜ ßÛÛÛÛÜ ÛÛ
ÜÜÜÛÛÛÛßßßß ± ßÛÛÛß ßßßßÛÛÛÛÜÜÜßßÛÛß
ÜÜÛÛßßß ßßßÛÛÜÜ
ÛÛß We don't want sites, neither couriers and we don't take in new ßÛÛ
ÛÛ crackers. If we feel you are worthy you will be contacted. ÛÛ
ÜÜ ÜÜ
ÛÛÜ Greetings goes to: CLS.CORE.DSI.HBD.LND.OGN.PDM ÜÛÛ
ßÛÛß ÜÜÜÜÛÛÛÛÛÜÜÜÜ RZR.REBELS.X-FORCE.UCL.UCF ÜÛÛß
ÜÛÛÛßßß Ü ßßßÛÛÛÜ ÜÜÜÛÛßß
ÛÛß ßÛÜÜ ßÛÛ ° ÜÜÜÜÛÛÛßßß
ÞÛÛ UNION! Û²° ÛÛÝÛÜÜÜÜÜÜÜÜ ÜÜÜÜܲÜÜÛÛÛÛÛÛÛÛßÛÛßÛßÜÛÜÜ
ÛÛÜ ß ß ÜÛÛ ÜßßßßßßßßÛÛÛÛÛÛÛÛÛÛÛÛßßßßßßßß ÞßÛÛÛßÜ Û ÛÛÛÛÛÛÜ
ßÛÛÛÜÜÜ ÜÜÜÛÛÛßÜÛÛÛÛÛÛÛÛ ÞÛ ÛÛÝÛÞÛÛÛÛÛ Û
ßßßÛÛÛÛÛÛÛßßßÜÜÛÜßßÛÛÛßß Û ßÛÝþÛÛÛÛÛÜÛß
ßß ÞÛ² ßßÛÛÛÛßß
.nfo header and layout by Hetero ß
这里是其它用户补充的资源(我也要补充):
暂无补充资源