专辑英文名: Concerto
专辑中文名: 协奏曲
古典类型: 协奏曲
资源格式: FLAC
版本: [LP 黑胶 24bit/96KHz]
发行时间: 1976年
简介: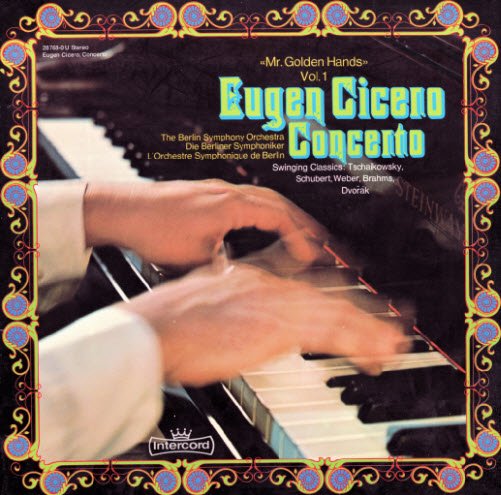 专辑介绍:

罗马尼亚钢琴手尤金‧西赛罗,自幼显现出如天才般音乐天赋,於六岁时即与交响乐团合作演奏莫札特钢琴协奏曲,以精準触键及大器演绎赢得如潮佳评;之后他进入音乐学院研习作曲及精进弹奏技巧,钻研愈深入愈发现学术研究的教学生涯或以演奏会为主的职业钢琴家身份对他来说过於严肃拘谨而影响其探索新事物及追求艺术展演自由的思维。西赛罗於六0年代巡迴演奏时,在德国柏林体验到爵士乐不拘泥小节的音乐型式正与其怀抱乐思全然吻合,於是后来便以深厚古典钢琴背景为根柢,开创出独树一帜兼容古典乐精髓及爵士摇摆韵致的崭新詮释风格。本辑收录西赛罗领军低音提琴手彼得‧惠特及鼓手夏利‧安东里尼於1965年至1968年间的演奏菁华,无论是巴哈、莫札特、萧邦或柴可夫斯基的作品,在三重奏信手拈来詮释下,除保有原典雅丰饶的音乐层次外,亦打造出洒脱奔放的自在格局!

Vinyl Rip in 24 Bit-96 kHz
1976
Genre: Jazz - Classic - Intercord - DE

The substance of classical works of Bach, Mozart, Chopin, Dvorak and others are part of his repertoire which he unites harmonically with swing and jazzimprovisations, full of sparkling ideas, everlasting pearly runs and a phenomenal feel of rhythm.
This is a very enjoyable album; classic can really swing.. Enjoy this album (beautiful open and clear soundquality) with Eugen Cicero; he was a fantastic musician!


引用
Born: June 26, 1940 | Died: 1997 Instrument: Piano

Eugen Cicero of Romanian-Hungarian descent, was born in Cluj-Napoca (Klausenburg), Romania, on June 26, 1940. His remarkable musical aptitude manifested itself at a very early age. He started taking piano lessons at the age of four and was taught by some of the country's most renowned teachers. He owed his brilliantly sensitive touch to the instruction he received from Aurelia Cionca, while Ana Pitis initiated him into the virtuoso tradition, as personified by Franz Liszt.

In addition, Cicero studied instrumentation and composition at the National Conservatory in Bucharest. However, neither the prospect of an academic career nor that of becoming a conventional concert pianist appealed to him. He saw these roles as much too restrictive. The key musical philosophy for Cicero was to be receptive towards everything new and to maintain a free spirit in developing his art.

Growing up in a communist country, he found swing music to be a magical source of inspiration. It was therefore almost inevitable that his first concert tour in the sixties took him West to Berlin, the melting pot of European jazz. There, Cicero encountered musicians with a multitude of different styles, and, thanks to his well-honed powers of perception, he was able to adapt some of these to his own musical approach. Soon his personal style crystallized into the so-called Classic-Swing idiom, forging a harmonious link between classical music and mainstream jazz.

The response to Cicero's distinctive keyboard work was an immediate, widespread and enthusiastic one. His recipe for success was to introduce into exquisite baroque, classical and romantic compositions an infectious swing and sophisticated harmonies, and his gifted and dexterous hands transformed these works into timeless masterpieces.

Many musicians had already sought to combine the classical and jazz idioms, but none of them could match

Cicero's ability to draw on a rich fund of knowledge and extraordinary technical expertise to achieve such an inspired synthesis. Cicero was, without question, the leading exponent of the so-called Classic-Swing style.

A true evaluation of Cicero's creativity requires not only an appreciation of his tremendous technique but also an ability to listen with the heart. Cicero loved music and he loved his audience. He never played for himself, but for his audiences, which he always succeeded in captivating. His careful selection of originals, prior to each performance, was a pure delight not only for the friends of classical music but also for jazz lovers.

Above all, however, it was the spontaneity and improvisational flair with which he presented his interpretations that transformed each of his concerts into a work of musical art something which is rarely to be experienced in the concert hall today.

In 1976 Eugen Cicero was awarded a German Schallplatten Preis for his arrangements of compositions by Franz Schubert. In addition to more than 70 recordings and numerous domestic and foreign TV appearances, he made pioneering recordings with the Berlin and Munich Philharmonic orchestras. He also toured Japan, a country where he achieved cult status thanks to his thousands of dedicated and loyal fans.

It was not easy for critics to categorize Eugen Cicero's playing. The designation 'golden hands', which was attributed to him throughout his career, was an indication that both music lovers and critics valued his consistently high level of performance, especially at times of radical change in the music scene. Even now, the name of Eugen Cicero stands for amazing musical virtuosity, phenomenal rhythmic feeling and an inexhaustibly inventive genius.

Source: Lisa Boulton
专辑曲目:
01. Barcarole-Tschaikowsky
02. Exercise-Schubert
03. Concerto de Aranjuez-Rodrigo
04. Sonate-Weber
05. Impromptu-Schubert
06. Concerto Nr. 2-Brahms
07. Slavic Dance-Dvorak
08. Valse Fantastique-Cicero & Ack v.Rooyen
09. Roger's Disneyland-Cicero & Brand-Olsen
这里是其它用户补充的资源(我也要补充):
暂无补充资源