专辑英文名: Telarc Classical Celebrating 25 years
专辑中文名: Telarc 古典精彩 25
古典类型: 全集作品
资源格式: APE
版本: [2 CD set]
发行时间: 2002年
简介: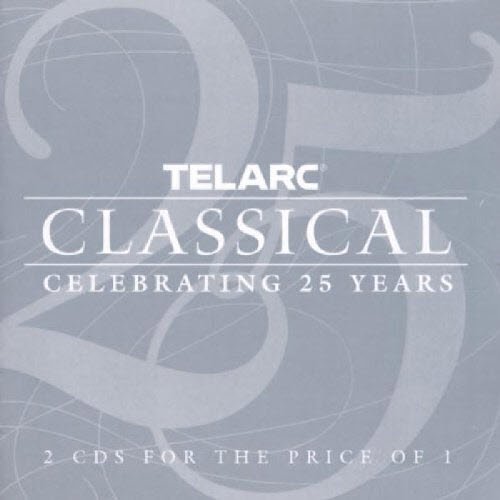 专辑介绍:

  如资深音响发烧友所熟知,当今美国发烧唱片龙头老大特丽公司,是1977年由一张以超级大砲为号召的《1812年序曲》LP唱片轰动全球起家,然后发展到现今的扎实规模。那张LP唱片由於大砲声动态超强,因此沟纹弯弯曲曲极为古怪壮观,曾经让许多玩家的珍贵唱头过不了关而报销。儘管最先进录音技术一直是特丽产品的标竿,但是他们也坚持《科技必须为艺术服务》,因此所灌录的唱片,内容水準非常高,曾经赢得36项《葛莱美奖》,至於《法国唱片大奖》、《金音叉大奖》、日本《年度最佳唱片》和德国《年度最佳发烧CD》的荣宠,更不在话下。这套25週年庆纪念盘,一共收录四十首精华片段,播放时间长达155分鐘,其中包括音响迷讚不绝口的《1812年序曲》大砲,《展览会之画》的爆棚结尾,《查拉图斯特拉如是说》的威猛开头等名作,最后则以数段最尖端DSD录音来结束。高科技发烧录音的辉煌历史尽在其中矣!

Audio CD (June 25, 2002)
Number of Discs: 2
Label: Telarc
ASIN: B00006879K

A solid track record...

Telarc International ( Telarc.com ) is celebrating its Silver Anniversary. Originally founded in 1977 and centered in Cleveland, Telarc began its life as a classical music recording company. In the past 25 years, the label has recorded a bountiful number of American and Foreign artists and orchestras. Not surprisingly, Christoph von Dohnanyi and the Cleveland Symphony are well represented in Telarc's catalog. This same catalog sports the likes of Martin Pearlman and the Boston Baroque, one of the United State's premier period instrument orchestras, and the irrepressible Benjamin Zander with the Boston Philharmonic Orchestra. Choral leader Robert Shaw spent the majority of his recording career with Telarc.

Also present in the Telarc classical catalog is Andre Previn, pianist and conductor extraordinaire. In the late 1980s, Telarc turned its attention to jazz and spotted Previn to produce the first Telarc Jazz recording and produce it he did. The result was After Hours (83302, 1989). Since that time, Telarc has had an impressive Jazz run, one that is amply displayed on the new twofer Telarc Jazz— Celebrating 25 Years. Compilations like this are a bit of a dicey affair as poor track choice or time use can sink an otherwise successful recording. Telarc packs two discs full of the best they have to offer and that benefits them in two ways. One, it offers the public a sampler of what the label has to offer regarding jazz. Two, it provides Jazz a greater exposure, which benefits everyone in the industry. Most of all, it benefits the listener who things of jazz in smatterings, wanting not a recording of a single artist, but one that approximates jazz radio station airplay. The same idea as the Now That's What I Call Music ... series, except with real music.

The collection is very up-to-date including music from the recently recorded pieces from The Rare Delight of You with John Pizzarelli and George Shearing (83546, 2002) and Kevin Mahogany's Pride and Joy (83542, 2002). Ray Brown is in wide supply, as well as Dave Brubeck and Stephane Grappelli. Compilations like this are always worth a turn under the laser. Come and see what Telarc Jazz has to offer.

Track Listing: Disc 1. I Only Have Eyes for You, Andre Previn - Piano, Joe Pass - Guitar, Ray Brown - Bass; Bebop, Slide Hampton, Steve Turre - Trombone, David Sanchez - Tenor Sax, Jon Faddis - Trumpet, Lewis Nash - Drums; Here's to Life, Joe Williams - Vocal, George Shearing - Piano; Tanga, Ray Brown - Bass, Benny Green - Piano, Jeff Hamilton - Drums; Brother Blues, Gerry Mulligan - Baritone Sax, Dean Johnson - Bass, Ron Vincent - Drums, Dave Grusin - Piano, Grover Washington, Jr. - Soprano & Tenor Sax; Lullaby, Dave Brubeck - Piano; Red Top, Jimmy McGriff - Hammond B3 Organ, Hank Crawford - Alto Sax, Rodney Jones - Guitar, Jesse Hameen - Drums; Some Cats Know, Jeanie Bryson - Vocal, John Chiodini - Guitar, Terry Trotter - Piano, Jim Hughart - Bass, Harold Jones - Drums, Red Holloway - Tenor Sax, Paquito D'Rivera - Clarinet, Ronnie Buttacavoli - Flugelhorn/Trumpet, Mayra Casales - Percussion; Conception, George Shearing - Piano, Louis Stewart - Guitar, Neil Swainson - Bass, Steve Nelson - Vibraphone, Dennis Mackrell - Drums; A Timeless Place (The Peacocks), Tierney Sutton - Vocals, Trey Henry - Bass, Ray Brinker - Drums, Gary Foster - Flute, Christian Jacob - Piano Disc 2. I'm Gonna Go Fishin', Mel Torme - Vocal, The Great American Songbook Orch.; Skylark, Ahmad Jamal - Piano Ephriam Wolfolk - Bass, Arti Dixson - Drums; Waltz for Debby, Jim Hall - Guitar, Scott Colley - Bass, Terry Clarke - Drums, The New York Voices - Vocal; Merry-Go-Round, Freddie Cole - Vocal, Cedar Walton - Piano, George Mraz - Bass, Curtis Boyd - Drums; Jerry Byrd - Guitar, Lew Soloff - Trumpet, Steve Davis - Trombone, Eric Alexander - Tenor Sax, Lou Marini - Alto Sax/Flute, Gary Smulyan - Baritone Sax; The Night Has a Thousand Eyes, McCoy Tyner - Piano, Stanley Clarke - Guitar/Electric Bass, Al Foster - Drums; Vivaldi: Allegro from the Four Seasons: Spring, Jacques Loussier - Piano, Vincent Charbonnier - Bass, Andr

Personnel: And a cast of thousands.

Record Label: Telarc Records | Style: Straight-ahead/Mainstream


引用
Excellent sampler March 25, 2011
By KyJoe
Amazon Verified Purchase
I love Telarc recordings. With their minimalist approach to miking, their CDs do the best job I've heard of reproducing the sound of actually attending a performance. With companies that employ a ton of mikes, the soundstage becomes confusing, making it seem that musicians are sitting in each others' laps. I much prefer the more natural sound of the Telarc recordings.

Keep in mind that I'm rating this CD for what it is: a sampler. You won't get the same enjoyment that you would from listening to a piece in its entirety. These are the highlights from 40 great Telarc recordings, which allows the listener to determine which ones they might want to go back and buy in full. They're long enough selections that you can get a good feel for the interpretation of a particular conductor, and the skill of the orchestra he is directing.

Also, I enjoy the sampler for listening at work. Most of these selections are the up-tempo sections, so they help me to re-energize during the dull parts of my day, or when I'm crashing after lunch and need to stay awake to knock out a project that requires focus.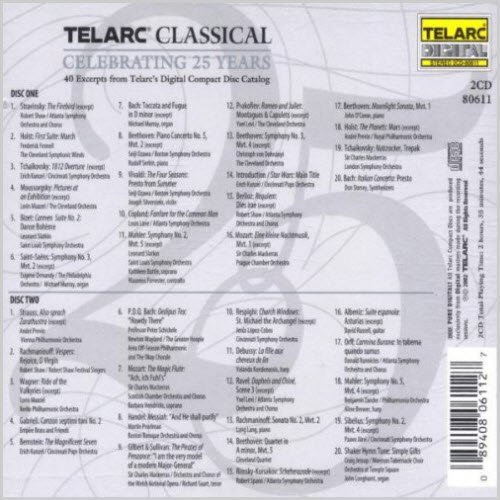 华文曲目的翻译是源自于 明月同学发布在 15-16楼的评论
Disc.01
01.火鸟[选曲] - 斯特拉文斯基
02.第一组曲:三月 - 霍尔斯特
03.前奏曲[选曲] - 柴可夫斯基
04.图画展览会[选曲] - 穆索尔斯基
05.第二号卡门组曲:波西米亚舞曲 - 比才
06.第三交响曲 第二乐章[选曲] - 圣.桑
07.d小调托卡塔与赋格曲[选曲] - 巴赫
08.第5钢琴协奏曲~第二乐章[选曲] - 贝多芬
09.四季~夏季之急板 - 维瓦尔第
10.众人信号曲 - 柯普兰
11.第二交响曲~第五乐章[选曲] - 马勒
12.罗密欧与茱丽叶:蒙太古与凯普莱特 - 普罗科菲耶夫
13.第三交响曲~第四乐章[选曲] - 贝多芬
14.星球大战主题曲
15.安魂曲:末日经[选曲] - 柏辽兹
16.弦乐小夜曲 K525 第一乐章[选曲]- 莫扎特
17.月光奏鸣曲~第一乐章 - 贝多芬
18.行星之火星[选曲] - 霍尔斯特
19.胡桃夹子~俄罗斯舞曲 - 柴可夫斯基
20.意大利协奏曲~急板 - 巴赫
Disc.02
01.查拉图斯特拉如是说[选曲] - 施特劳斯
02.晚祷:圣母颂 - 拉赫曼尼诺夫
03.女武神的骑行 - 瓦格纳
04.七度坎佐纳之二 - 乔瓦尼.加布里埃利
05.豪勇七蛟龙 - 伯恩斯坦
06.伊底帕斯王 - P.D.Q巴赫(彼得·席寇)
07.魔笛~"我知道,一切都成了过去"(帕米娜) - 莫扎特
08.弥赛亚:"他将救赎人们" - 亨德尔
09.潘赞斯的海盗:"我是个模范少将" - 吉尔伯特&沙利文
10.教堂之窗:圣弥额尔总领天使[选曲] - 雷斯庇基
11.亚麻色头发的少女 - 德彪西
12.达佛尼斯与克洛伊~第三幕[选曲] - 拉威尔
13.第二奏鸣曲 第二乐章 - 拉赫曼尼诺夫
14.a小调四重奏 第五乐章 - 贝多芬
15.舍赫拉查德[选曲] - 里姆斯基.柯萨科夫
16.西班牙组曲:阿斯图拉斯[选曲] - 阿尔贝尼兹
17.布兰诗歌:"当我们坐在酒店里" - 奥尔夫
18.第五交响曲 第四乐章[选曲] - 马勒
19.第二交响曲 第四乐章[选曲] - 西贝柳斯
20.简单的礼物 - 震教徒的诗歌
专辑曲目:
Disc 1

01. The Firebird (excerpt) - Stravinsky
02. First Suite: March - Holst
03. Overture (excerpt) - Tchaikovsky
04. Pictures at an exhibition (excerpt) - Moussorgsky
05. Carmen suite No. 2: Danse Boheme - Bizet
06. Symphony No. 3, Mvt. 2 (excerpt) - Saint-Saens
07. Toccata and fudge in D minor (excerpt) - Bach
08. Piano Concerto No. 5, Mvt. 2 (excerpt) - Beethoven
09. The four seasons: Presto from summer - Vivaldi
10. Fanfare for the common man - Copland
11. Symphony No. 2, Mvt. 5 (excerpt) - Mahler
12. Romeo and Juliet: Montagues & Capulets (excerpt) - Prokofiev
13. Symphony No. 3, Mvt. 4 (excerpt) - Beethoven
14. Main Title - Introduction / Star Wars
15. Requiem: Dies irae (excerpt) - Berlioz
16. Eine kleine Nachtmusik, Mvt. 1 (excerpt) - Mozart
17. Moonlight Sonata, Mvt. 1 - Beethoven
18. The Planets: Mars (excerpt) - Holst
19. Nutcracker, Trepak - Tchaikovsky
20. Italian Concerto: Presto - Bach

Disc 2

01. Also sprach Zarathustra (excerpt) - Strauss
02. Vespers: Rejoice, O Virgin - Rachmaninoff
03. Ride of the valkyries (excerpt) - Wagner
04. Canzon septimi toni No. 2 - Gabrielli
05. The magnificent seven - Bernstein
06. Oedipus tex: "Howdy there" - P.D.Q. Bach
07. The magic flute: "Ach, ich fuhl's" - Mozart
08. Messiah: "And he shall purify" - Handel
09. The pirates of penzance: "I am the very model of a modern Major- General" - Gilbert & Sullivan
10. Church Windows: St. Michael the Archangel (excerpt) - Respighi
11. La fille aux cheveux de lin - Debussy
12. Daphnis and chloe, scene 3 (excerpt) - Ravel
13. Sonata No. 2, Mvt. 2 - Rachmaninoff
14. Quarter in A minor, Mvt. 5 - Beethoven
15. Scheherazade (excerpt) - Rimsky-Korsakov
16. Suite espanola: Asturia (excerpt) - Albeniz
17. Carmina Burana: In taberna quando sumus - Orff
18. Symphony No. 5, Mvt. 4 (excerpt) - Mahler
19. Symphony No. 2, Mvt. 4 (excerpt) - Sibelius
20. Simple Gifts - Shaker Hymn Tune
这里是其它用户补充的资源(我也要补充):
网球高清 2012/09/16 19:56:44 补充
(就是这张CD,罗伯特.肖指挥亚特兰大交响与合唱乐团,唱片编号:TELARC 2CD-80109,哪位驴友有这)
该内容尚未提供权利证明,无法提供下载。