中文名: 文件保护工具
英文名: Newsoftwares Folder Protect
资源格式: 压缩包
版本: v1.9.4
发行时间: 2012年
简介:



软件类型:软件>安全相关
软件性质:免费破解软件
操作系统:Windows
应用平台:Windows 7 / Vista / XP (32 / 64-bit)
问题反馈:http://www.newsoftwares.net/contact
网站链接:http://www.newsoftwares.net/folder-protect/
软件介绍:



  Folder Protect是一款具有数据安全新理念的文件保护工具。它允许你设置多种不同的权限来保护你的文件、文件夹、驱动器和安装程序。Folder Protect的功能超出一般的加密软件,你可以选择不可打开、无法删除或者是写入保护来保护你的数据安全。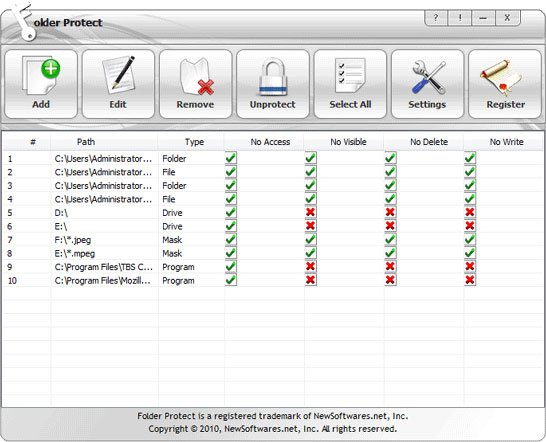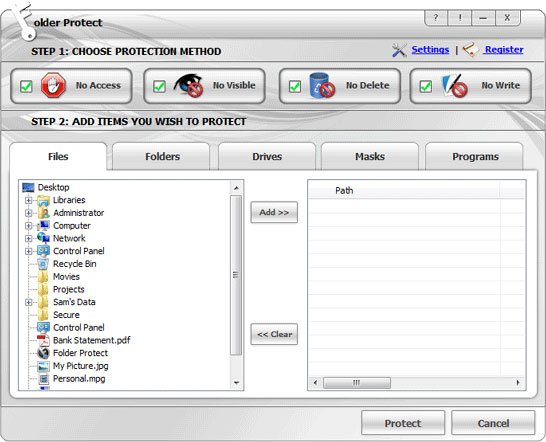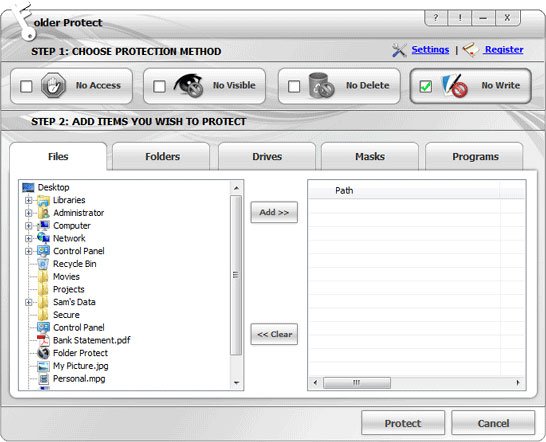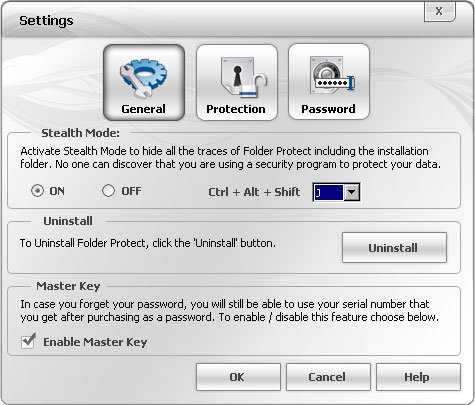 =========================================

下载链接来自STF,
未经过安装测试与安全检测,使用者后果自负与本论坛无关
软体版权归原作者及其公司所有,如果你喜欢,请购买正版

=========================================


Power protection for your Data-in Use!

Folder Protect is a powerful concept in Data Security. Using Windows Kernel level protection that even works in Safe Mode ensuring complete security of password protected folders, Folder Protect enables you to password protect your folders, files, drives , installed programs, and popular extensions, and lets you set variable access rights. Folder Protect goes beyond normal file locking and encryption by letting you customize your security between making files inaccessible, hidden, delete-proof, or write-protected, with options to set either one of these parameters in conjunction with the other. You can lock, hide, block access, prevent data from being deleted or modified, and mask popular media and document extensions with a single-click. The program can work in complete stealth mode and you can choose an idle time when the data gets protected automatically.

Key Benefits
Best-of-Breed Data Security Features: Folder Protect password-protects your important folders, files, drives, and programs. Folder Protect offers 'Data in Use' security and lets you protect your files by equipping you with a comprehensive set of Data-in-Use protection tools including Write-protect, Delete-protect, Access-protect, and Hide your data. Additional security features include Safe Mode locking, Stealth Mode, Hotkeys, and Auto-protection.
Block Access To Files: Folder Protect can easily block access to files, folders, drives and programs you choose. Make your files accessible without giving away any additional rights to it's contents.
Hide Files from Everyone... Except You: Tired of those prying eyes? Simply password-protect folders, files, pictures & videos using Folder Protect's No Visible feature and hide them from all snoopers.
Maximum Data Protection: Folder Protect's write protection is quite unique and first of its kind because it lets other users access the files but still doesn't allow them to make changes to them.
Delete-Proof Your Files: Folder Protect allows you to Delete-proof your important files. With a single-click password-protection, you can rest assured that your files are protected even from being accidently deleted.


What's New:
1.9.4 July, 16th 2012


Drag and drop feature now added for all flavors of Windows. All previous issues and glitches have been fixed. This version also includes enhancements to improve overall system and application performance.


代码
i'm the black rider, always faster than you...

ÜÜÜÜÜÜÜÜÜ°°°°ÜÜÜÜÜ
ÜÜÛÛÛÛÛÛÛÛÛÛÛÛÛÛÛÛÛÛ° °°±²ÛÛ²±²Û²°Ü
ÜÜÜÛÛÛÛ ±°°°° ÛÛ± °° ÛÛÛ±Ü
°ÜÛÛÛÛÛ² Û Û ±± Û ÛÛ°° Û°ÛÛ ²Û±Ü
ÜÛÛÛÛ± ±² ²Û² Û ±±± Û ² ²Û² ²ÛÛÛÛ ²ÛÛÛÛÛÛ° ÛÛÛÜÜ
ÜÛÛÛÛÛ° ÛÛ± ±Û° ÛÛÛÛÛÛ² ÛÛÛÛ°°ÛÛÛÛÛÛÛÛÛÛÛÛ² ÛÛÛÛÛÛÛÛÛÛÛÛÛÛÜ
ÜÛ²ÛÛÛÛ±ÛÛÛÛÛÛÛÛÛÛÛÛÛÛÛÛÛÛÛÛÛÛÛÛÛÛÛÛÛÛÛÛÛÛÛÛÛÛÛÛÛÛÛÛÛÛÛ²²ÛÛÛÛÛ°
°Û°ÛÛÛÛÛÛÛÛÛÛÛÛÛÛÛÛÛÛÛÛÛÛÛÛÛÛÛÛÛÛÛÛÛÛÛÛÛÛÛÛÛÛÛÛÛÛÛÛÛÛÛÛÛÛÛÛÛÛÛÛÛ
ÛÛÛÛÛÛÛÛÛÛÛÛÛÛÛÛÛÛÛÛÛÛÛÛÛÛÛÛÛÛ²°ÛÛ²ÛÛÛÛÛÛ°ÛÛÛÛÛÛ²ÛÛÛÛÛÛÛÛÛÛÛÛÛ²Û
ÛÛÛÛÛÛÛÛÛÛÛÛÛÛß ±²ßÛÛßÛß°± ±ÛÛÛÛÛÛÛÛÛÛÛ ßßÛÛßÛÛÛÛÛÛÛÛÛ²
ÛÛÛÛÛÛÛÛÛÛÛÛß° ÛÛÛÛÛÛÛÛÛÛÛÛÛÜ ²ÛÛÛÛÛÛÛÛ
ÛÛÛÛÛÛÛÛß°² ÜÛÛÛÛÛÛÛÛÛÛÛÛÛÛÛÛ² °²ÛÛ²²ÛÛ
ÛÛÛÛÛÛÛÛÛ± ÜÛÛÛÛÛÛÛÛÛÛÛÛÛÛÛÛÛÛÛÛÜ° ²ÛÛÛÛ
ÛÛÛÛÛÛÛÛ ÜÜÛÛÛÛÛÛÛÛÛÛÛÛÛÛÛÛÛÛÛÛÛÛÛÛ²° ²ÛÛÛÛÛÛ
ÛÛÛÛÛÛ² °ÛÛÛÛÛÛÛÛÛÛÛÛÛÛÛÛÛÛÛÛÛÛÛÛÛÛÛÛ° ÛÛÛÛÛÛ
°ÛÛÛÛÛÛ ±ÛÛÛÛÛÛÛÛÛÛÛÛÛÛÛÛÛÛÛÛÛÛÛÛÛÛÛÛ² ÛÛÛÛÛ²
ÛÛÛÛÛ° ÛÛÛÛÛÛÛÛÛÛÛÛÛÛÛÛÛÛÛÛÛÛÛÛÛÛÛÛÜ°²²²± ßÛÛÛÛ°
ÛÛÛÛÛÛ ° °Û²ÛÛÛÛÛÛÛÛÛÛÛÛÛÛÛÛÛÛÛÛÛÛÛÛÛÛÛÛ° ÛÛÛ±
ÛÛÛÛÛÛ °²²²ÛÛÛÛÛÛÛÛÛÛÛÛÛÛÛÛÛÛÛÛÛÛÛ° °ÛÛ
ÛÛÛÛÛÛ ÜÛÛÛÜ ²ÛÛÛÛÛÛÛÛÛÛÛÛÛÛÛÛÛÛÛÛÛÛÛ² ÜÛÛÛÛÛÛÜÜ ±Û±
Û ÛÛÛ± ÜÛÛÛÛÛÛÛÛÛÛÛÛÛÛÛÛÛÛÛÛÛÛ²ÛÛÛÛÛÛÛÛÛÛÛÛÛÛÛÛÛÛÛÛÛ ÛÛÛÛÛÜ
ÛÛ °°ß ÜÛÛÛÛÛÛÛÛÛÛÛÛÛÛÛÛÛÛÛÛÛÛÛÛÛÛÛÛÛÛÛÛÛÛÛÛÛÛÛÛÛÛÛÛÛÛÛÜ ²Û °ÛÛÛÜ
²±Û °Û ²ÛÛÛÛÛÛÛÛÛÛÛ ²ÛÛÛÛÛÛÛÛÛÛÛÛÛÛÛÛÛÛÛÛÛÛÛ °ßÛÛÛÛÛÛÛÛÛÛÛ °Û° °ÛÛ±Û
Û ÛÛ Û °Û±ÛÛÛÛÛÛÛÛÛÛÛÛÛÛÛÛÛÛÛ²ÛÛÛÛÛÛÛÛÛÛÛÛÛÛÛÛÛÛÛÛÛÛÛÛÛÛßß± ±Û ±Û±ÛÛÛ
°Û ÛÛ Û ßßÛÛÛÛÛÛÛÛÛÛÛÛÛÛÛÛÛÛÛÛÛÛÛÛÛÛÛÛÛÛÛÛÛÛßß °Û ÛÛ Û
± ÛÛÛ Û ßßÛÛÛÛÛÛÛÛÛÛÛÛÛÛÛÛÛÛÛÛÛÛÛÛÛÛß ²Û ÛÛÛÛ
Û°Û²ÛÛÛ °²ÛÛÛÛÛÛÛÛÛÛÛÛÛÛÛÛÛÛÛÛÛÛÛÜÜ ²Û °Û°Û
ßÛÛ²ÛÛÛ Û²²ÛÛÛÛÛÛÛÛÛÛÛÛÛÛÛÛÛÛÛÛÛÛÛÛÛÛÛÛ² ÛÛÛ ÛÛÛ±
²Û²°²Ü ÜÛÛÛÛÛÛÛÛÛÛÛ±ÛÛÛÛÛ ±ÛÛÛÛÛÛÛÛÛÛÛÛÛÛ ±±ÛÛÛ
±ÛÛÛ ²ÛÛÛÛÛ²ÛÛÛÛÛÛ² ÛÛÛÛÛ ²ÛÛÛÛÛÛÛÛÛÛÛ ±Û ÛÛÛ
ßÛÛ °ÜÛÛÛÛÛÛÛÛÛÛÛ² ²ÛÛÛÛÛÛ °ÜÛÛÛÛÛÛÛÛ±ÛÛ²±Û° ±Û±Û±
ÛÛ± °ÜÛ ÛÛÛ ÛÛÛÛÛÛÛܲ±ÛÛÛÛÛÛÛÛ ²ÛÛÛÛÛ²Û° ÛÛÛ± ÛÛÛ°
°ÛÛ ° ÛÛÛÛÛÛÛÛÛÛÛÛÛÛÛÛÛÛÛÛÛÛÛÛÛ²ÛÛÛÛ² ° ±ÛÛÛ
ÛÛ ÛÛÛÛÛÛÛÛÛÛÛÛÛÛÛÛÛÛÛÛÛÛÛÛÛÛÛÛÛÛÛÛÛÛ ÛÛÛ²
²Û± ²ÛÛÛÛÛÛÛÛÛÛÛÛÛÛÛÛÛÛÛÛÛÛÛÛÛÛÛÛÛÛÛÛÛÛ ÛÛÛ²Ü
ÛÛ ÛÛÛÛÛÛÛÛÛÛÛÛÛÛÛÛÛÛÛÛÛÛÛÛÛÛÛÛ²ÛÛÛÛÛÛÛ ÛÛÛÛÛÛÛÛ۲ܰ°
ÜÜÛÛÛÛÛÛ° ÛÛÛÛ²²ÛÛÛ²ÛÛÛÛÛÛÛÛÛÛÛÛÛÛÛÛÛÛÛÛÛ² ÛÛ° ÛÛÛÛ °ÛÛÛÛÛ²Û°
±ÛÛÛÛß Û² °ÛÛÛÛÛÛÛÛÛÛÛÛÛÛÛÛÛÛÛÛÛ²²ÛÛÛ± ÛÛÛÛ± ßÛÛ±
²ÛÛ Ü²ÛÛÛÜ ÛÛÛÛÛÛÛÛÛÛÛÛÛÛÛÛÛÛÛÛÛÛÛÛÛÛÛ °ÛÛÛÛÛÛÛÛÛ ²Û²
Û ÛÛÛÛÛÛ²ÛÛܱ °ÛÛÛÛÛÛÛÛÛÛÛÛÛÛÛÛÛÛÛÛÛÛÛÛÛÛÛÛ ²ÜÛÛÛÛÛÛÛÛÛ ÛÛ ±
°ÛÛÜ ÛÛÛÛÛÛÛÛÛÛÜ ²ÛÛÛÛÛÛÛÛÛÛÛÛÛÛÛÛÛÛÛÛÛÛÛÛÛÛÛ°ÜÜÛÛÛÛÛÛÛÛÛÛÛÛ± ÛÛ Û
²ÛÛÛ ÛÛÛÛÛÛÛÛÛÛÛÛÛ²ÛÛÛÛÛÛÛÛÛÛÛÛÛÛÛÛÛÛÛÛÛÛÛÛÛÛÛÛÛÛÛÛÛÛÛÛÛÛÛÛÛ² ±ÛÛ ±±
²ÛÛß ÛÛÛÛÛÛÛÛÛÛÛÛÛÛÛÛÛÛÛÛÛÛÛÛÛÛÛÛÛÛÛÛÛÛÛÛÛÛÛÛÛÛÛÛ²± ÛÛÛÛ
ÛÛ ²ÛÛÛÛÛÛÛÛÛÛÛÛÛÛÛÛÛÛÛÛÛÛÛÛÛÛÛÛÛÛÛÛÛÛÛÛÛÛÛÛÜ ÛÛ
ÛÛß Û²±ÛÛÛÛÛÛÛÛÛÛÛÛÛÛÛÛÛÛÛÛÛÛÛÛÛÛÛÛÛÛÛÛÛÛÛÛÛÛÛÛÛÛÛÛÛÛÛÛÜ ÛÛ
°ÛÛ± ÛÛÛÛÛÛÛÛÛÛÛÛÛÛÛÛÛÛÛÛÛÛÛÛÛÛÛÛÛÛÛÛÛÛÛÛÛÛÛÛÛÛÛÛÛÛÛÛÛÛÛÛÛ² ÛÛÛ
ÛÛ± ±ÛÛÛÛÛÛÛÛÛÛÛÛÛÛÛÛÛÛÛÛÛÛÛÛÛÛÛÛÛÛÛÛÛÛÛÛÛÛÛÛÛÛÛ²²ÛÛÛÛÛÛÛÛÛ± Û° °ÛÛÛ±
ÛÛÜ ÛÛÛÛÛÛÛÛÛÛÛÛÛÛÛÛÛÛÛÛÛÛÛÛÛÛÛÛÛÛÛÛÛÛÛÛÛÛÛÛÛÛÛÛÛÛÛÛÛÛÛÛÛÛÛ² Û ÜÛÛÛÛÛ
ßÛÛÜ°²±²ÛÛÛÛÛÛÛÛÛÛÛÛÛÛÛÛÛÛÛÛÛÛÛÛÛÛ²ÛÛÛÛÛÛÛÛÛÛÛÛÛÛÛÛÛÛÛÛÛÛÛÛÛÛÛÛÛÛÛÛÛ Û ±Û ° Û
ÛÛÛ ±ÛÛÛÛÛÛÛÛÛÛÛÛÛÛÛÛÛÛÛÛÛÛÛÛÛ²ÛÛÛÛÛÛÛÛÛÛÛÛÛÛÛÛÛÛÛÛ²ÛÛÛÛÛÛÛÛÛÛÛÛ ²°ÜÛÛ ß
°±Û ²Û² °ÛÛÛÛÛÛÛÛÛÛÛÛÛÛÛÛÛÛÛÛÛÛÛ²ÛÛÛÛÛÛÛÛÛÛÛÛÛÛÛÛÛÛÛÛÛÛÛÛÛÛÛÛÛÛÛÛÛÛÛÛÛÛÛ
ÜÛ ÛÛÛÛÛÛÛÛÛÛÛÛÛÛÛÛÛÛÛÛÛÛÛÛÛÛÛÛÛÛÛÛÛÛÛÛÛÛÛÛÛÛÛÛÛÛÛÛÛÛÛÛÛÛÛÛÛÛÛÛÛÛÛÛÛÛÛÛ ²
ÜÛÛÛÛÛÛÛÛÛÛÛÛÛÛÛÛÛÛÛÛÛÛÛÛÛÛÛÛÛÛÛÛÛÛÛÛÛÛÛÛÛÛÛÛÛÛÛÛÛÛÛÛÛÛÛÛÛÛÛÛÛÛÛÛÛÛÛÛÛÛ ÛÛÛ ß
ÛÛÛÛÛÛÛÛÛÛÛÛÛÛÛÛÛÛÛÛÛÛÛÛÛÛÛÛÛÛÛÛÛÛÛÛÛÛÛÛÛÛÛÛÛÛÛÛÛÛÛÛÛÛÛÛÛÛÛÛÛÛÛÛÛÛÛÛÛÛÛÛÛÛ²Û° Û
ÛÛÛÛÛÛÛÛÛÛÛÛÛÛÛÛÛÛÛÛÛÛÛÛÛÛÛÛÛÛÛÛÛÛÛÛÛÛÛÛÛÛÛÛÛÛÛÛÛÛÛÛÛÛÛÛÛÛÛÛÛÛÛÛÛÛÛÛÛÛÛÛÛÛÛÛÛÛÛ²
ÛÛÛÛÛÛÛÛÛÛÛÛÛÛÛÛÛÛÛÛÛÛÛÛÛÛÛÛÛÛÛÛÛÛÛÛÛÛÛÛÛÛÛÛÛÛÛÛÛÛÛÛÛÛÛÛÛÛÛÛÛÛÛÛÛÛÛÛÛÛÛÛÛÛÛÛÛÛÛÛ
ÛÛÛÛÛÛÛÛÛÛÛÜÛÛÛÛÛÛÛÛÛÛÛÛÛÛßßßÛÛÛÛÛÛÛÛßÜÛÛÛÛÛÛÛÛÛÛÛÛÛÛÛÛÛÛÛÛÛÛÛÛÛÛÛÛÛÛÛÛÛÛÛß ß²Û
ÛÛÛß Ü ßÛÛÛÛÛÛÛÛÛÛÛÛÛÛÛß Üܲ ÛÛÛÛ²ß ßÛÛÛÛÛÛÛÛÛÛÛÛÛÛÛÛÛÛÛÛÛÛÜÛÛÛÛÛß°ÛÛÛÛÛ² ²
°ÛÛ ß²ß Û²ßßßßÛÛßß²ÛÛß ÜÛÛÛÛ ÛÛÛ °ßÛÛ²ßßÛÛÛßßßÛÛÛßßßß²Û °ÛÛÛÛ° Û
Û° ßþ. ß ÛÛÛÛÛ Û² °Û²° ß .þß °ÛÛß
ÜÜÜ ² ÛÛÛÛÛ ² þ ÜÜÛ Ü
ÜÛÛÛÛ ÛÛÛÛÛ Û °ÜÛÛÛÛ
ÛÛÛÛÛ ÛÛÛÛÛ ÜÛÛÛÛ²
ÛÛÛÛÛ ÛÛÛÛÛ Ü ÛÛÛÛÛ°
ÛÛÛÛÛ² ÛÛ± ÛÛÛÛÛ ÜÛÛÜÜ ÜÛÛÛÛÛÛÜ ÛÛÛÛÛ ÜÛ°
ÛÛÛÛÛÛÛÛÛÛÛ² ÛÛÛÛÛ ÛÛÛÛÛÛÛÛÜ ÜÛÛÛÛÛÛÛÛÛ ÛÛÛÛÛ ÜÛÛÛ
ÛÛÛÛÛÛ ÛÛÛÛÛ ÛÛÛÛ² ÛÛÛ²ÛÛÛÛÛÛÛ ÛÛÛÛÛÛÛÛÛÛÛ± ÛÛÛÛÛ ÛÛÛÛ
ÛÛÛÛÛ° ±ÛÛÛÛ ÛÛÛÛ± ÛÛÛÛ ÛÛÛÛÛ ÛÛÛÛÛ ÛÛÛ² ÛÛÛÛÛ ÛÛ±
ÛÛÛÛÛ ÛÛÛÛ ÛÛÛÛ ÛÛÛÛ ÛÛÛÛÛ ÛÛÛÛÛ ÛÛÛÛÛ ÛÛÛ
ÛÛÛÛÛ ÛÛÛÛ ÛÛÛÛ ÛÛÛÛ ÛÛÛÛÛÛ ÛÛÛÛÛ ÛÛÛÛÛ ÛÛÛÛÛÜ
ÛÛÛÛÛÛÜ°ÛÛÛÛ ÛÛÛÛ²Ü ÛÛÛÛÜÛÛ ÛÛÛÛ ÛÛÛÛÛÛÜ ÜÛ ÛÛÛÛÛÛÛÛÛÛÛÛÛ
ÛÛÛÛÛÛÛÛÛÛÛ ÛÛÛÛÛÛÛ ÛÛÛÛÛß ÛÛÛÛ ÛÛÛÛÛÛÛÛÛ ÛÛÛÛÛ² ÛÛÛÛÛ
ÛÛÛÛß ßÛÛ ßÛÛÛß ÛÛÛÛ ÛÛÛÛÛ ßÛÛÛÛÛ² ÛÛÛÛÛ ÛÛÛ
Ûß Û ß ²ß Ûßß Û
ÜÛÛ² ܲÛ
ÜÛÛÛÛÛ ÜÛÛÛÛ
²Û ²ÛÛÛÛÛÛÛÛ² ²ÛÛÛÛÛ ²ÛÛÛÛÛ² ÛÛÛÛÛ ²ÛÛÛÛÛÛÛÛÛÛÛÛÛÛÛÛÛÛÛÛÛÛÛÛÛÛÛÛÛÛÛÛÛÛÛÛ² Û²
ÛÛÛÛ ÛÛÛÛÛ
ÛÛÛÛÛ
ÛÛÛÛ ÜÛÛÛÛ ÜÜÛÛ ÜÛÛÛÛÛÛÛÛ² ÜÛÛÛÛÛÛÛÛ ÛÛÛÛ °ÜÛÛÛ ÜÜÛÛÛÛÛÛÛÛÜ
ÛÛÛÛ ÛÛÛÛ ÜÛÛÛÛÛÛ ÛÛÛÛÛÛÛÛÛÛ² ²ÛÛÛÛÛÛÛÛÛÛ ÛÛÛÛÜÜÛÛÛ ÛÛÛÛ²ÛÛÛÛÛÛß
ÛÛÛÛÛÛÛÛß ÛÛÛÛÛÛÛ ÛÛÛÛ ÛÛÛÛ± ÛÛÛÛ ÛÛÛÛ² ÛÛÛÛÛÛÛß ÜÛÛÛÛß
ÛÛÛÛÛ ° ÛÛÛÛÛ ÛÛÛÛ ÛÛÛÛÛ± ÛÛÛÛÜ ÛÛÛ° ÛÛÛÛÛ ° ±ÛÛÛÛÛÛÛÛÛÜÜÜ
ÛÛÛÛ² ÛÛÛÛÛ ±ÛÛÛÛ ²ÛÛÛÛÛ± ÛÛÛÛ²ÛÛÛÛÛ ÛÛÛÛ² ± ÛÛÛÛÛÛÛÛÛÛÛÛÛ
ÛÛÛÛÛ ± ÛÛÛÛÛ ² ±ÛÛÛÛ Û ÛÛÛÛ² ÛÛÛÛ² ² ÛÛÛÛÛ ßßßÛÛÛÛÛÛÛÛÛ
± ÛÛÛÛÛÛÛ ²± ÛÛÛÛÛ Û °ÛÛÛÛÛ ÛÛÛÛÛ Ü ÛÛÛÛÛÜ ÜÛ Û ÛÛÛÛÛÛÛ ² Ü ßÛÛÛÛß
Û ÛÛÛÛÛÛß ²²² ÛÛÛÛÛ Û ÛÛÛÛ ÛÛÛÛÛ ² ²ÛÛÛÛÛÛÛÛ ÛÛ ÛÛÛÛÛÛ± ²² ÛÛÛÛÛÛÛÛÛÛÛß
ÛÛ ßÛÛÛÛ ÛÛÛ ÛÛÛÛÛ ÛÛ ÛÛß Û ßÛÛÛÛ ÛÜ °ßÛÛÛÛß ÛÛÛ ßÛÛÛÛ ÛÛ °ßÛÛÛÛÛÛÛß
ÛÛÛÛÜÜÜÜÜÜÛÛÛÛÛÜÜÜÜÜÜÜÛÛÜÜÜÜÛÛÛÛÜÜÜÜÜÜÛÛ² ÜÜÜÜÜÜÜÛÛÛÛÛÛÜÜÜÜÜÜÛÛÛÛ²ÜÜÜÜÜÜÜÜÜÜÜܲ
ÛÛÛÛÛÛÛÛÛÛÛÛÛÛÛÛÛÛÛÛÛÛÛÛÛÛÛÛÛÛÛÛÛÛÛÛÛÛÛÛÛÛÛÛÛÛÛÛÛÛÛÛÛÛÛÛÛÛÛÛÛÛÛÛÛÛÛÛÛÛÛÛÛÛÛÛÛÛÛÛ
ßÛÛÛÛÛÛÛÛÛÛÛÛÛÛÛÛÛÛÛÛÛÛÛÛÛÛÛÛÛÛÛÛÛÛÛÛÛÛÛÛÛÛÛÛÛÛÛÛÛÛÛÛÛÛÛÛÛÛÛÛÛÛÛÛÛÛÛÛÛÛÛÛÛÛßßßßÛ
ßÛÛÛÛÛÛÛÛÛÛÛÛÛÛÛÛÛÛÛÛÛÛÛÛÛÛÛÛÛÛÛÛÛÛÛÛÛÛÛÛÛÛÛÛÛÛÛÛÛÛÛÛÛÛÛÛÛÛÛÛÛÛÛÛÛÛÛß
ÛÛßÜÛÛÛÛÛÛÛÛÛÛÛÛÛÛÛÛÛÛÛßßßßßßÛÛÛßß ßßßßÛÛÛÛÛÛÛßßÛÛÛÛÛÛÛÛÛÛÛÛÛÛÛÛÛß|
Ü ß ßßßßßÛÛÛÛÛÛßßßß ßÝ ßÛßß ßßßÛÛÛÛßßß ß
ßÛß ß ÛÛ jer^dfs
ß ß ÞÝ
ß Ü
Newsoftwares.Folder.Protect.v1.9.4.Incl.Keygen.and.Patch-BRD


Cracked by...: BRD Cult Size.....: 1
Suplied......: BRD Cult Date.....: 07/17/2012
Packaged.....: BRD Cult Type.....: Keygen & Patch
Protection...: Serial Os.......: WinALL



ÜÜ Ü ÜÜÜÜ Ü Ü
ÜÛÛÛÛÛÛÜÜÜÜÜ ßß ÜÛÛÛ ßßÛÛÛÛÜÜÜÛÛÛÜÜÜÜÜÜÜ ß Ü ÜÜÜ ÛÛÜÜ Ü²ÛÛÛÛÛÜÛÛÛÛÛÛß
ßÛÛÛÛÛÛÛÛÛßÛÛÜÛÜÛÛÛÛÛÛ²ÛÛÛÛÛÛÛÛÛÛÛÛÛ²²ÛÛÛÛ ÛÛÛÛÜßÛÛÛÛÛÛÛÛÛÛÛÛßßÛÛÛÛÛÛÛÛÛ²ÛÛß
ßÛÛÛÛÛÛÛÛÛÛÛÛÛÛÛÛÛÛÛÛÛÛÛÛÛÛÛÛÛÛÛÛÛÛÛÛÛÛÛÛÛÛÛÛÛÛÛÛÛÛÛÛÛÛÛÛÛÛÛÛÛÛÛÛÛÛÛÛÛÛÛÛÛÛßßßßÛ
ßÛÛÛÛÛÛÛÛÛÛÛÛÛÛÛÛÛÛÛÛÛÛÛÛÛÛÛÛÛÛÛÛÛÛÛÛÛÛÛÛÛÛÛÛÛÛÛÛÛÛÛÛÛÛÛÛÛÛÛÛÛÛÛÛÛÛÛß
ÛÛßÜÛÛÛÛÛÛÛÛÛÛÛÛÛÛÛÛÛÛÛßßßßßßÛÛÛßß ßßßßÛÛÛÛÛÛÛßßÛÛÛÛÛÛÛÛÛÛÛÛÛÛÛÛÛß|
Ü ß ßßßßßÛÛÛÛÛÛßßßß ßÝ ßÛßß ßßßÛÛÛÛßßß ß
ßÛß ß ÛÛ
ß ß ÞÝ
ß DESCRiPTiON Ü

Folder Protect is a powerful concept in Data Security. Using
Windows Kernel level protection that even works in Safe Mode
ensuring complete security of password protected folders,
Folder Protect enables you to password protect your folders,
files, drives , installed programs, and popular extensions,
and lets you set variable access rights. Folder Protect goes
beyond normal file locking and encryption by letting you
customize your security between making files inaccessible,
hidden, delete-proof, or write-protected, with options to set
either one of these parameters in conjunction with the other.
You can lock, hide, block access, prevent data from being
deleted or modified, and mask popular media and document
extensions with a single-click. The program can work in
complete stealth mode and you can choose an idle time when
the data gets protected automatically.



URL: http://www.newsoftwares.net


ÜÜ Ü ÜÜÜÜ Ü Ü
ÜÛÛÛÛÛÛÜÜÜÜÜ ßß ÜÛÛÛ ßßÛÛÛÛÜÜÜÛÛÛÜÜÜÜÜÜÜ ß Ü ÜÜÜ ÛÛÜÜ Ü²ÛÛÛÛÛÜÛÛÛÛÛÛß
ßÛÛÛÛÛÛÛÛÛßÛÛÜÛÜÛÛÛÛÛÛ²ÛÛÛÛÛÛÛÛÛÛÛÛÛ²²ÛÛÛÛ ÛÛÛÛÜßÛÛÛÛÛÛÛÛÛÛÛÛßßÛÛÛÛÛÛÛÛÛ²ÛÛß
ßÛÛÛÛÛÛÛÛÛÛÛÛÛÛÛÛÛÛÛÛÛÛÛÛÛÛÛÛÛÛÛÛÛÛÛÛÛÛÛÛÛÛÛÛÛÛÛÛÛÛÛÛÛÛÛÛÛÛÛÛÛÛÛÛÛÛÛÛÛÛÛÛÛÛßßßßÛ
ßÛÛÛÛÛÛÛÛÛÛÛÛÛÛÛÛÛÛÛÛÛÛÛÛÛÛÛÛÛÛÛÛÛÛÛÛÛÛÛÛÛÛÛÛÛÛÛÛÛÛÛÛÛÛÛÛÛÛÛÛÛÛÛÛÛÛÛß
ÛÛßÜÛÛÛÛÛÛÛÛÛÛÛÛÛÛÛÛÛÛÛßßßßßßÛÛÛßß ßßßßÛÛÛÛÛÛÛßßÛÛÛÛÛÛÛÛÛÛÛÛÛÛÛÛÛß|
Ü ß ßßßßßÛÛÛÛÛÛßßßß ßÝ ßÛßß ßßßÛÛÛÛßßß ß
ßÛß ß ÛÛ
ß ß ÞÝ
ß iNSTALL NOTES Ü

Install program, apply patch (*) and use our keygen.

( * ) Also, instead of using the patch, you can modify by
hand the hosts file located in
WINDOWS\system32\drivers\etc\hosts
Adding the following lines:
127.0.0.1 www.password-protect-folders.net
127.0.0.1 www.newsoftwares.net

Enjoy!






ÜÜ Ü ÜÜÜÜ Ü Ü
ÜÛÛÛÛÛÛÜÜÜÜÜ ßß ÜÛÛÛ ßßÛÛÛÛÜÜÜÛÛÛÜÜÜÜÜÜÜ ß Ü ÜÜÜ ÛÛÜÜ Ü²ÛÛÛÛÛÜÛÛÛÛÛÛß
ßÛÛÛÛÛÛÛÛÛßÛÛÜÛÜÛÛÛÛÛÛ²ÛÛÛÛÛÛÛÛÛÛÛÛÛ²²ÛÛÛÛ ÛÛÛÛÜßÛÛÛÛÛÛÛÛÛÛÛÛßßÛÛÛÛÛÛÛÛÛ²ÛÛß
ßÛÛÛÛÛÛÛÛÛÛÛÛÛÛÛÛÛÛÛÛÛÛÛÛÛÛÛÛÛÛÛÛÛÛÛÛÛÛÛÛÛÛÛÛÛÛÛÛÛÛÛÛÛÛÛÛÛÛÛÛÛÛÛÛÛÛÛÛÛÛÛÛÛÛßßßßÛ
ßÛÛÛÛÛÛÛÛÛÛÛÛÛÛÛÛÛÛÛÛÛÛÛÛÛÛÛÛÛÛÛÛÛÛÛÛÛÛÛÛÛÛÛÛÛÛÛÛÛÛÛÛÛÛÛÛÛÛÛÛÛÛÛÛÛÛÛß
ÛÛßÜÛÛÛÛÛÛÛÛÛÛÛÛÛÛÛÛÛÛÛßßßßßßÛÛÛßß ßßßßÛÛÛÛÛÛÛßßÛÛÛÛÛÛÛÛÛÛÛÛÛÛÛÛÛß|
Ü ß ßßßßßÛÛÛÛÛÛßßßß ßÝ ßÛßß ßßßÛÛÛÛßßß ß
ßÛß ß ÛÛ
ß ß ÞÝ
ß GROUP NOTES Ü


Team BRD is not responsible for the bad usage of this product.
This release is for EVALUATION PURPOSES ONLY.
if you like it, u MUST buy it, Software Authors deserve support!.

Remember, this is an INTERNAL SCENE RELEASE, we DONT support
the spread of this rls over web or p2p networks.


The Black Riders Cult is looking for:

<.> Experienced Crackers, Unpackers and keygenners.
<.> Software Suppliers.


t h e b r d [at] m a i l [dot] r u


° Ü ß²ÛÛß °°° °° ÜÜÜÜÜÜÜÜÜ ° ° °° ° ß Ü °
ܲÜÜ Ü ß²ß ° °°° ÜÜÜÜÛÛ ÛÛÜÜÜÜ °° ° ߲߰ Ü ÜܲÜ
°ÜÛÛß Ü °° °°° ÜÜÛÛÛÛ°²² ÛÛÛÛÛÛ ° ÛÛÛÛÛÛ ²²°ÛÛÛÛÜÜ °° Ü ßÛÛÜ°
²ÛÛÛÛÜ ÜÜÛÛÛÛßßßßßÛÛÛÛÛÛ°ÛÛ ÛÛÛÛÛÛ °°° ÛÛÛÛÛÛ ÛÛ°ÛÛÛÛÛÛßßßßßÛÛÛÛÜÜ ÜÛÛÛÛ²°
ÛÛÛÛÛÛÛ ÛÛÛÛÛÛ°ÛÛÛ ÛÛÛÛÛÛ°ÛÛ ÛÛÛÛÛÛ ²Û² ÛÛÛÛÛÛ ÛÛ°ÛÛÛÛÛÛ ÛÛÛ°ÛÛÛÛÛÛ ÛÛÛÛÛÛÛ°
ÛÛÛÛÛÛÛ ÛÛÛÛÛÛ°ÛÛÛ ÛÛÛÛÛÛ°ÛÛ ÛÛÛÛÛÛ ÛÛÛ ÛÛÛÛÛÛ ÛÛ°ÛÛÛÛÛÛ ÛÛÛ°ÛÛÛÛÛÛ ÛÛÛÛÛÛÛ°
°ÛÛÛÛÛÛ ÛÛÛÛÛÛ°ÛÛÛ ÛÛÛÛÛÛ°ÛÛ ÛÛÛÛÛÛÜÜÜÜÜÛÛÛÛÛß ÛÛ°ÛÛÛÛÛÛ ÛÛÛ°ÛÛÛÛÛÛ ÛÛÛÛÛÛ°
°ßÛÛÛÛÛ ÛÛÛÛÛÛÜÜÜÜÜÛÛÛÛß ÛÛ ÛÛÛÛÛÛÛÛÛÛÛÛÛÛß ÛÛ°ÛÛÛÛÛÛ ÛÛÛ°ÛÛÛÛÛÛ ÛÛÛÛÛß°
°ÛÛÛÛÛ ÛÛÛÛÛÛÛÛÛÛÛÛÛß ÛÛ ÛÛÛÛÛÛßßßßßÛÛÜÜÜ ÛÛ°ÛÛÛÛÛÛ ÛÛÛ ÛÛÛÛÛÛ ÛÛÛÛÛ°
°ßÛÛÛÛ ÛÛÛÛÛÛßßßßßÛÛÛÛ °ÛÛ ÛÛÛÛÛÛ ÛÛÛ ÛÛÛÛÛÛ ÛÛ°ÛÛÛÛÛÛ ÛÛÛ°ÛÛÛÛÛÛ ÛÛÛÛß°
°ÛÛÛÛ ÛÛÛÛÛÛ°ÛÛÛ ÛÛÛÛÛÛ°ÛÛ ÛÛÛÛÛÛ ÛÛÛ ÛÛÛÛÛÛ ÛÛ°ÛÛÛÛÛÛ ÛÛÛ°ÛÛÛÛÛÛ ÛÛÛÛ°
°ÛÛÛÛ ÛÛÛÛÛÛ°ÛÛÛ ÛÛÛÛÛÛ°ÛÛ ÛÛÛÛÛÛ ÛÛÛ ÛÛÛÛÛÛ ÛÛ°ÛÛÛÛÛÛ ÛÛÛ°ÛÛÛÛÛÛ ÛÛÛÛ°
ÛÛÛÛ ÛÛÛÛÛÛ°ÛÛÛ ÛÛÛÛÛÛ°ÛÛ ÛÛÛÛÛÛ ²Û² ÛÛÛÛÛÛ ÛÛ°ÛÛÛÛÛÛ ÛÛÛ°ÛÛÛÛÛÛ ÛÛÛÛ°
ÛÛÛÛ ÛÛÛÛÛÛ°ÛÛÛ ÛÛÛÛÛÛ°ÛÛ ÛÛÛÛÛÛ ²²² ÛÛÛÛÛÛ ÛÛ°ÛÛÛÛÛÛ ÛÛÛ°ÛÛÛÛÛÛ ÛÛÛÛ°
°ÛÛÛÛ ßßÛÛÛÛÜÜÜÜÜÛÛÛÛÛÛ°ÛÛ ÛÛÛÛÛÛ °°° ÛÛÛÛÛÛ ÛÛ°ÛÛÛÛÛÛÜÜÜÜÜÛÛÛÛßß ÛÛÛÛ
°ÛÛÛÛÛÛÜÜÜÜÜÜÜÜÜ ßßÛÛÛÛ°ÛÛ ÛÛÛÛÛÛ ° ÛÛÛÛÛÛ ÛÛ°ÛÛÛÛßß ÜÜÜÜÜÜÜÜÜÛÛÛÛÛÛ°
²ÛÛÛÛÛÛÛÛÛÛÛÛÛÛÛÛÜÜÜÜÜÜÛÛ ßßßßÛÛ ÛÛÛßßß ÛÛÜÜÜÜÜÜÛÛÛÛÛÛÛÛÛÛÛÛÛÛÛÛÛ
ÛÛÛÛÛÛÛÛÛÛÛÛÛÛÛÛÛÛÛÛÛÛÛÛÛÛÛÛÛ ßß ßß ÜÛÛÛÛÛÛÛÛÛÛÛÛÛÛÛÛÛÛÛÛÛÛÛÛÛÛÛÛ
ßÛÛÛÛÛÛÛÛÛÛÛÛÛÛÛÛÛÛÛÛÛÛÛÛÛÛÛÛÛÛÛÛÛÛÛÛÛÛÛÛÛÛÛÛÛÛÛÛÛÛÛÛÛÛÛÛÛÛÛÛÛÛÛÛÛÛÛß
ÛÛßÜÛÛÛÛÛÛÛÛÛÛÛÛÛÛÛÛÛÛÛßßßßßßÛÛÛßß ßßßßÛÛÛÛÛÛÛßßÛÛÛÛÛÛÛÛÛÛÛÛÛÛÛÛÛß|
Ü ß ßßßßßÛÛÛÛÛÛßßßß ßÝ ßÛßß ßßßÛÛÛÛßßß ß
ßÛß ß ÛÛ jer^dfs
ß ß ÞÝ
ß Ü
you will never defeat the riddle of the black riders..

Setup/folder-protect-en.exe:F88F3762
Keygen/Keygen.exe:F9D99C48
Keygen/Patch.exe:FDDA8F8E
这里是其它用户补充的资源(我也要补充):
暂无补充资源