中文名: 屏幕动作录制工具
英文名: TechSmith Camtasia Studio
资源格式: 压缩包
版本: v8.0.1 Build 903
发行时间: 2012年
制作发行:
TechSmith Corporation
简介: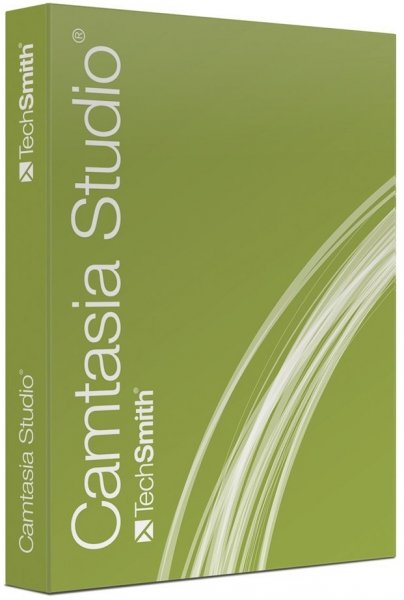 Camtasia Studio是由TechSmith开发的一款功能强大的屏幕动作录制工具,能在任何颜色模式下轻松地记录屏幕动作,包括影像、音效、鼠标移动轨迹、解说声音等。

另外,Camtasia Studio还具有强大的视频播放和视频编辑功能,可基于时间轴对视频片段进行剪辑、添加Zoom-n-Pan、画中画、转场效果,标题剪辑。

Camtasia Studio支持的输出格式也很全面,包括MP4、SWF、AVI、FLV、WMV、M4V、CAMV、MOV、RM、GIF,并能灵活自定义输出配置,是制作视频演示的绝佳工具。

TechSmith Camtasia Studio 是一款专门捕捉屏幕音影的工具软件。它能在任何颜色模式下轻松地记录屏幕动作,包括影像、音效、鼠标移动的轨迹,解说声音等等,另外,它还具有及时播放和编辑压缩的功能,可对视频片段进行剪接、添加转场效果。它输出的文件格式很多,有常用的AVI及GIF格式,还可输出为RM、WMV及MOV格式,用起来极其顺手。

TechSmith Camtasia Studio 还是一款视频编辑软件,可以将多种格式的图像、视频剪辑连接成电影,输出格式可是是 GIF 动画、AVI、RM、QuickTime 电影(需要 QucikTime 4.0 以上)等,并可将电影文件打包成 EXE 文件,在没有播放器的机器上也可以进行播放,同时还附带一个功能强大的屏幕动画抓取工具,内置一个简单的媒体播放器。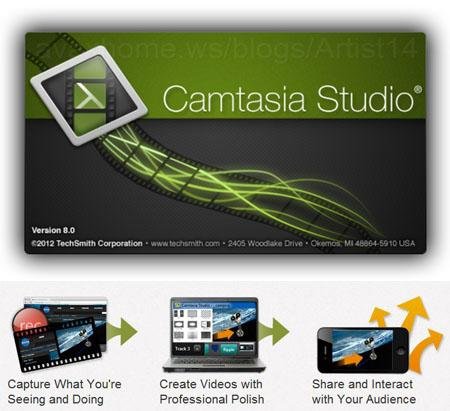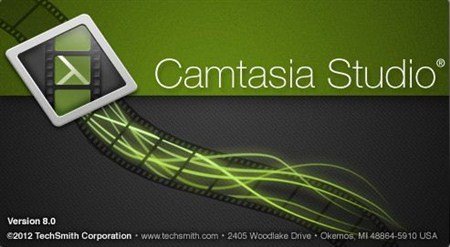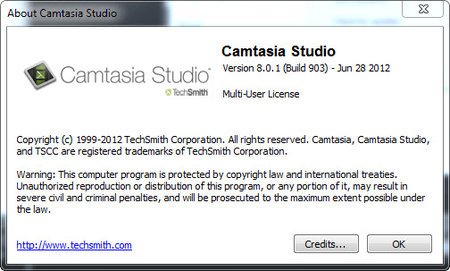 Home Page - http://www.techsmith.com/camtasia.asp


==========================================

下载链接来自sharevirus
未经过安装测试与安全检测,使用者后果自负与本论坛无关
软体版权归原作者及其公司所有,如果你喜欢,请购买正版

==========================================





Camtasia Studio is the complete professional solution for recording, editing and sharing high-quality screen video on the Web, CD-ROM and portable media players, including iPod. With support for a variety of video standards, you can ensure your content delivery now and in the future.


Easily record your screen, PowerPoint, multiple audio tracks, and webcam video to create compelling training videos, screencasts, and presentations without ever leaving your desk. With the power of interactive Camtasia Studio videos, you can deliver high-quality content anytime, to even your most remote audience.

Camtasia Studio helps you keep pace in a mobile world by making it easy to publish videos and MP3 files for iPod and other portable media players. Now your marketing message, screencast, lecture, or just-in-time training video can reach your audience practically anywhere – on the bus, in a coffee shop, or while they're jogging. Camtasia Studio videos are simply designed to share.

• Intelligent capture controls that adapt to you
• Crystal-clear playback at any size with Camtasia SmartFocus™
• Easy, versatile video sharing with TechSmith ExpressShow™
• Precise editing and butter-smooth onscreen movement
• Professional content without a ton of production time

With the smartest screen recording tools on the planet, Camtasia Studio makes everything from training videos to PowerPoint presentations to lectures look better, reach more people, and pack more punch. Which makes you look even smarter, too.

• Record Anything
Easily create training, demonstrations, presentations, online courses... the possibilities are endless. Connect with your audience by including screen recordings, audio, voice narration, PowerPoint, Picture-in-Picture and webcam video.

• Edit and Enhance
Edit and enhance your video with callouts, titles, credits, zooming, panning, quizzes and additional audio tracks. Camtasia Studio's extensive editing options are at your fingertips.

• Share
Publish in Flash, QuickTime and a variety of video formats, then share on the Web, CD or DVD. You can use the Production Wizard to assist you in choosing the best format and settings for sharing with your audience, or you can have complete control over audio and video codecs and quality, frame rate, color depth, and inclusion or exclusion of special effects.

Camtasia Recorder

* Fixed an issue that could cause Camtasia Recorder to crash when stopping the recording
* Fixed an issue that could cause an incorrect "Not enough disk space" error message in Recorder when starting the recording process
* Addressed an issue that could cause a cursor to not get recorded when choosing to record to the AVI file format instead of a camrec file
* Added the Hide Recorder command line option back into Recorder



Camtasia Studio 8 System Requirements
Minimum Requirements:
Microsoft Windows XP SP3, Windows Vista, or Windows 7
Microsoft DirectX 9 or later version
Microsoft .NET 4.0 Client Profile (included, except with MSI installer)
Dual-Core Processor minimum, Quad-Core Processor or better recommended
2GB RAM minimum, 4GB RAM or greater recommended
2GB of hard-disk space for program installation
Display dimensions of 1024x768 or greater
Dedicated Windows-compatible sound card, microphone and speakers recommended

Feature-specific Requirements:
Camtasia Studio Add-in for PowerPoint requires PowerPoint 2007 or 2010 (32 bit)
Import of .mov and production to .mov and .m4v requires Apple QuickTime 7.2 or later
Camera video recording requires a USB Web Camera. Recording live from a DV camera is not supported
Integration with Camtasia Relay requires Camtasia Relay Client Recorder
GPU acceleration requires DirectX 9 compatible video adapter with 128 MB of video memory or greater and Pixel Shader 2.0 or later


Camtasia Studio v8.0.1 Maintenance Release
Added support for small screen quizzing displays
Fixed an issue causing an artificial line on the right edge of the video in preview and production
Fixed an issue that did not allow adding key frames to media under a transition
Changing project information should now mark the project as modified
Black bars should no longer show on top and bottom in PPT recordings
New callouts should no longer have a fade in when the last transition had it turned off
It should now be possible to disable quizzing when the controller is disabled in the production wizard
Fixed a crash when opening projects from a network location
Markers on a media under a transition should now be included in a produced table of contents
Fixed a crash when adding a video with large dimensions to the timeline
Fixed various issues interfering with Camtasia running on Windows 8
Additional bug fixing




代码
Capture smooth, high-quality videos.
World-class Screen Recording Technology

Record high-quality videos in no time with Camtasia Studio's advanced screen recorder. Whether you're recording HD video,
a PowerPoint presentation, or a video game, you'll get smooth playback – that's blazing fast too.
Personalize your videos.
Import Media

Easily import HD video, photos, music, and more to create unique videos that stand out. Import existing videos you have for quick editing, images to enhance your videos, or your favorite song to make a presentation your own.
Unleash your creativity.
Multi-track Timeline

Construct more engaging videos faster with multiple video and audio tracks.
The ability to easily manipulate, overlay,
and group objects helps you produce professional-looking videos, while encouraging you to use your creativity. Quickly arrange video, audio, images, callouts, animated content, and more
on an unlimited number of tracks.
Create polished videos.
Media Asset Library

Intrigue your audience by adding a variety of pre-installed music tracks, callouts, buttons, banners, and animated backgrounds to your videos with drag-and-drop ease. Camtasia Studio's wide selection of new callouts and media themes help your videos look more consistent and professional – while
you look like a design genius.
Engage your viewers.
Visual Effects

Make your videos pop with enticing
visual effects. Insert cursor effects,
apply shadows, colorize objects, or
add a border to give your videos a polished look. Easily add transitions to keep your viewers intrigued, use Clip Speed to make your videos the perfect length, and hide sensitive information with the blur tool.
代码
ÛÛ ±Û
ÛÛÛ °Û±±Û±ÛÛÛ²
ÛÛ Û± °±° ÛÛ
ÛÛ ÛÛÛ²°°ÛÛÛÛ°
ÛÛ ±Û ÛÛ ÛÛÛ
ÛÛ ° ±ÛÛÛÛÛÛ°ÛÛ°
± ²ÛÛ ° ± ° ±ÛÛÛÛÛÛÛÛ
±ÛÛÛÛÛ²±±²²°°² °ÛÛÛÛ
Û± ÛÛÛÛ²±ÛÛÛÛÛÛÛÛÛÛÛ
ÛÛÛÛÛÛÛÛÛÛÛÛ°ÛÛÛÛÛÛÛÛÛÛÛ±
ÛÛÛÛÛ ± ÛÛÛÛÛÛÛÛÛ °ÛÛÛ
°±ÛÛÛÛ° ÛÛÛÛÛÛÛ° ÛÛÛ
°±ÛÛÛ ÛÛ ÛÛÛÛÛÛÛ ²Û ±ÛÛ
Û² ÛÛÛ ÛÛ ÛÛÛÛÛ± ÛÛ± ÛÛÛ
Û± ÛÛÛÛÛ ÛÛ° ÛÛÛÛÛ ²ÛÛ° ÛÛ MESMERiZE
Û ²ÛÛÛÛÛ ÛÛÛ ÛÛÛÛ ÛÛÛ° ±ÛÛ We just do it!
Û °Û°ÛÛÛ ÛÛÛ ÛÛÛ°±ÛÛÛ± ÛÛ
Û ÛÛÛ ÛÛÛ± °ÛÛ ÛÛÛÛ± ±ÛÛ
ÛÛÛ ÛÛÛ °ÛÛÛÛ Û± ÛÛÛÛ± ÛÛ°
ÛÛÛ²°ÛÛÛ ±ÛÛÛÛ± ±ÛÛÛÛ± ÛÛ°
ÛÛ±ÛÛÛÛ± °ÛÛÛÛÛ ÛÛÛÛÛÛ ÛÛ°
ÛÛÛ²ÛÛÛÛ°²ÛÛÛÛÛÛ²ÛÛÛÛÛÛÛ ²ÛÛÛ
ÛÛ²²ÛÛÛÛÛÛÛÛ±ÛÛÛÛÛÛ²±ÛÛÛÛÛÛÛÛ °ÿ
±²ÛÛÛÛÛÛÛÛÛ±ÛÛÛÛ±±±°ÛÛÛÛ°ÛÛÛ ° ° ß ÜÜ ²
±±ÛÛÛÛÛÛÛÛÛÛÛ° ±ÛÛ² ± ±Û ÜÛÛÛÜ ° Ü ßÛ²ÜßÜ Û
±ÛÛÛ Û± ÛÛÛÛ Û±ÛÛÛÛ ÜÛÛÛÛÛÛÛÛÛÛÛÛÛÛÛ²²²ÛÛÛÛÛÛÛÛ°°ÛÛÛÛÛܲÛÜÛÛÛÿÿÿÛ²
ÛÛ± ÛÛÛ°ÛÛÛÛÛÛÛ±ÛÛÛÛÜÛÛÛÛÛÛÛ²²±±°° ²ßß ßÛÛ ² ßÛÜÛ²ßÜÛÜÛÜ
ÛÛ°±ÛÛÛ°ÛÛÛ±ÛÛÛÛÛÛÛÛß ± ² ÛÛ²ßßÛÜÜÜÛ²ßÜ
ÛÛÛÛÛ ÛÛ±ÛÛÛÛ°° APP NOTES ± Û ÜÜÛÛßßÜÜÛÛÛ
ÛÛÛÛÛÛ± ²²±±±ÜÛÛÛÛÛÛßßß ° Û²ß ÜÜÛÛßß
±Û°± ±°ÛÛÛ² ±ÛÛÛÛÛÛÛÛß ÜÛÛÿ ²Ûß Û ß Ü
±Û²ÛÛÛÛÛÛÛÛÛÛÛÛÛ± Ü ßÛÜßÿ ² ÿ²
°ÛÛÛÛÛÛÛÛÛÛÛÛÛÛÛÛ° ßßÜ ± ܲ²
± ÛÛÛÛ ±± ± ±ÛÛ ßß°ßßß
°ÛÛÛ± ± ±ÛÛ Camtasia Studio v8.0.1.903
²ÛÛÛ± ²ÛÛÛÛÛÛÛÛ (c) TechSmith Corporation
°° ±±ÛÛ± ÛÛÛÛÛÛÛÛ
Û ÛÛÛ ± ²ÛÛ Supplier :..................... TEAM MESMERiZE
°ÛÛ° ÛÛÛÛ ÛÛÛ Cracker :..................... TEAM MESMERiZE
°±Û ÛÛÛÛ °ÛÛÛÛÛÛÛÛÛ Packager :..................... TEAM MESMERiZE
²ÛÛ²ÛÛÛÛ ÛÛÛ²²±±° Release Date :..................... 15th Jul 2012
ÛÛÛÛÛÛ ÛÛÛÛ²° ± Disks :..................... 26 x 10.00mb
ÛÛÛÛÛ° ±ÛÛÛÛÛÛÛÛ± Protection :..................... Serial
°ÛÛÛÛÛ² ÛÛ Requirements :..................... PC
ÛÛ°°ÛÛ²±±± ²°²±°±ÛÛ° Language :..................... English
²Û±ÛÛÛÛÛÛÛÛÛÛÛÛÛÛÛ URL :............ http://www.techsmith.com/
ÛÛ±±ÛÛ±ÛÛÛÛ±ÛÛÛÛ
ÛÛ±±ÛÛ±ÛÛÛÛ±ÛÛÛÛ °ÿ
±±ÛÛÛÛÛÛ°°²°ÛÛÛÛÛ ° ° ß ÜÜ ²
±ÛÛÛÛÛÛÛÛÛÛÛ ° ÜÛÛÛÜ ° Ü ßÛ²ÜßÜ Û
Û ÛÛÛÛÛÛÛ± ² ÜÛÛÛÛÛÛÛÛÛÛÛÛÛÛÛ²²²ÛÛÛÛÛÛÛÛÛ°°ÛÛÛÛÛ ²ÛÿÛÛÛÿÿÿÛ²
ÛÛÛÛÛ±°ÛÛÛ Û ÜÛÛÛÛÛÛÛ²²±±°° ²ßß ßÛÛ ² ßÛÜÛ²ßÜÛÜÛÜ
² ÛÛ °²°±Û°ÜÛÛÛÛÛÛß ± ² ÛÛ²ßßÛÜÜÜÛ²ßÜ
ÛÛÛ±±±±ÛÛÛÛÛ²ÛÛÛÛÛÛ° RELEASE NOTES ± Û ÜÜÛÛßßÜÜÛÛÛ
ÛÛÛÛ±°ÛÛÛÛ²ÛÛÛÛÛÛÛÛ²²±±±ÜÛÛÛÛÛÛßßß ° Û²ß ÜÜÛÛßß
ÛÛÛÛÛÛÛÛÛÛÛÛÛÛÛÛÛÛÛÛÛÛÛÛÛÛß ÜÛÛÿ ²Ûß Û ß Ü
² ÛÛÛÛ±Û ±ÛÛÛÛ²Û± Ü ßÛÜßÿ ² ÿ²
° Û°ÛÛÛ± ÛÛÛ±±° ßßÜ ± ܲ²
°± ÛÛ± ÛÛÛÛÛÛÛÛÛÛÛ ßßÜ°ßß
±Û ÛÛ ÛÛÛÛ²±ÛÛÛ ²±
²Û°ÛÛ² ±ÛÛÛÛÛ
±°ÛÛÛÛ ÛÛÛ±
°Û² ÛÛÛÛÛ °ÛÛÛ
²±ÛÛÛÛÛ±ÛÛÛ° ÛÛÛ
Û± ±ÛÛÛÛ²°²ÛÛ ÛÛÛ
°±ÛÛÛ±ÛÛÛÛÛÛ² ÛÛÛ More than a simple screen recorder, Camtasia
°ÛÛÛ ±ÛÛ± gives you the tools you need to truly
²ÛÛÛ °ÛÛÛ °°± customize and edit your videos. Record
ÛÛÛÛÛÛÛÛÛÛÛÛÛ²ÛÛÛ on-screen activity, add imported media,
° ±ÛÛÛÛÛÛ ÛÛÛÛÛÛÛÛÛ² create interactive content, and share
²°Û Û° ÛÛÛÛÛÛÛÛÛÛ²²²ÛÛ high-quality, HD videos that your viewers can
ÛÛ ÛÛÛÛ ±± ÛÛÛÛÛ±ÛÛÛÛ² watch anytime, on nearly any device.
±ÛÛ ÛÛ°ÛÛ ÛÛÛ±
°ÛÛÛÛ °ÛÛ ÛÛÛÛÛÛÛ±ÛÛ
Û °ÛÛÛÛ°Û± ÛÛ²²ÛÛÛÛÛÛÛÛÛÛÛ
ÛÛ° ÛÛÛÛÛÛÛÛÛÛÛÛÛ°²ÛÛÛÛÛ ±±
² Û° °±Û²ÛÛÛÛÛÛÛÛÛÛÛÛ±
ÛÛÛÛÛÛÛÛÛÛÛÛÛÛ ÛÛÛÛÛÛÛÛÛÛÛ±
ÛÛÛÛÛÛÛÛÛ°±ÛÛÛÛÛÛÛÛÛÛ² °°ÛÛÛ
° ±ÛÛÛÛÛÛ±²ÛÛÛÛÛÛÛÛÛ² ÛÛÛ
²Û±±ÛÛÛÛ±ÛÛ°ÛÛÛÛÛÛÛ ² °ÛÛ
±± °ÛÛÛ± ÛÛ ÛÛÛÛÛÛ ÛÛ ±ÛÛ
±±ÛÛÛ ÛÛ² ÛÛÛÛÛ °ÛÛ ÛÛÛ
ÛÛÛÛÛÛ ÛÛÛ ±ÛÛÛÛ ÛÛÛ° ÛÛ
Û°ÛÛÛ ÛÛÛ ÛÛÛ±°ÛÛÛ± ÛÛ
ÛÛ± ÛÛÛ± ÛÛÛ°ÛÛÛÛ° ÛÛ
ÛÛÛ ÛÛÛÛ Û°°ÛÛÛÛ ÛÛ±
±ÛÛÛÛ ±ÛÛÛÛ± ²ÛÛÛÛÛ ÛÛ²
±ÛÛÛ° ÛÛÛÛÛ ÛÛÛÛÛÛ ÛÛÛ
°ÛÛÛÛ ÛÛÛÛÛÛ±°ÛÛÛÛÛÛÛ ÛÛ°
ÛÛÛÛÛÛÛÛ±ÛÛÛÛÛÛ²ÛÛÛÛÛÛÛÛÛ
ÛÛÛÛÛÛÛÛ²ÛÛÛÛ°ÛÛ ÛÛÛÛÛÛÛÛ
ÛÛÛÛÛÛÛÛÛÛÛÛÛ² ° ±ÛÛ °±°°Û
ÛÛÛ °±± ÛÛÛÛ Û ÛÛÛÛ
ÛÛ± ÛÛÛ ±ÛÛÛÛÛÛ±²ÛÛÛÛ °ÿ
ÛÛ°±±ÛÛÛÛÛÛÛÛÛÛÛÛÛ² ° ° ß ÜÜ ²
ÛÛÛÛ² ÛÛ²ÛÛÛÛÛ° ÜÛÛÛÜ ° Ü ßÛ²ÜßÜ Û
± ° ±±ÛÛÛÛÛÛ² ± ÜÛÛÛÛÛÛÛÛÛÛÛÛÛÛÛ²²²ÛÛÛÛÛÛÛÛÛ°°ÛÛÛÛÛ ²ÛÿÛÛÛÿÿÿÛ²
± ² ± °°±²Û± °±ÛÜÛÛÛÛÛÛÛ²²±±°° ²ßß ßÛÛ ² ßÛÜÛ²ßÜÛÜÛÜ
±Û°±ÛÛÛ°ÛÛÛÛÛÛÛÛÛÛß ± ² ÛÛ²ßßÛÜÜÜÛ²ßÜ
²²ÛÛÛÛÛÛÛÛÛÛÛÛÛ°Û INSTALL NOTES ± Û ÜÜÛÛßßÜÜÛÛÛ
ÛÛÛÛ°± °Û²²±±±ÜÛÛÛÛÛÛßßß ° Û²ß ÜÜÛÛßß
Û ²±ÛÛÛ± ÛÛÛÛÛÛÛÛß ÜÛÛÿ ²Ûß Û ß Ü
±Û°°±ÛÛÛÛ ÛÛÛÛÛÛÛ±Û Ü ßÛÜßÿ ² ÿ²
°± ²ÛÛÛ ±ÛÛÛÛÛÛ±°Û ßßÜ ± ܲ²
°Û ÛÛ± ÛÛÛ±±ÛÛ² ßßÜ°ßß
ÛÛ° ÛÛÛÛ ±ÛÛ
ÛÛ°ÛÛÛÛ ²ÛÛÛÛÛÛÛÛÛ Unzip, unrar the release.
±±Û ²ÛÛÛ ÛÛÛÛÛÛÛÛÛÛ
±ÛÛÛÛÛ² ±ÛÛÛÛÛÛÛÛÛ± Add the entry
ÛÛÛÛÛ± ÛÛÛÛÛÛÛÛÛ±
±ÛÛÛÛÛ° ÛÛ± 127.0.0.1 activation.cloud.techsmith.com
Û±ÛÛÛÛÛ² ± ° ÛÛ²
±ÛÛÛÛÛÛÛÛÛÛÛÛÛÛÛÛÛÛ° to your hosts-file BEFORE you start the
Û±°ÛÛÛÛÛÛ²ÛÛÛÛÛÛ installation!
°ÛÛÛÛÛÛ°±²Û°ÛÛ²ÛÛ
±ÛÛÛÛÛÛÛÛÛÛÛÛÛ±± Use our keygen to generate your a serial.
Û ÛÛÛ²²ÛÛÛÛÛÛÛ ÛÛÛ
Û ±ÛÛÛÛÛÛ±ÛÛ±±ÛÛÛÛÛÛ
Û ÛÛÛ±°ÛÛÛÛÛÛÛÛÛ ° °±Û± Enjoy.
ÛÛ° ÛÛÛ±ÛÛÛÛ²ÛÛ°Û²±° °²
ÛÛÛ°±±ÛÛ°±ÛÛÛÛ²ÛÛÛ±Û° Û °
ÛÛÛÛ±±ÛÛÛÛÛÛÛÛÛÛÛÛÛÛÛÛ ÛÛ±
±ÛÛÛÛÛÛÛÛÛ±²°²²ÛÛÛÛÛÛÛ² ±ÛÛÛ
ÛÛÛÛÛÛÛÛ ± ² ÛÛÛÛÛ²
ÛÛ ÛÛÛÛÛ ÛÛÛÛÛ± °ÛÛÛ
Û²²±Û±ÛÛÛ ÛÛ°²ÛÛ °ÛÛÛ
Û²² ÛÛÛÛÛ ÛÛÛÛÛÛ ²ÛÛ± °ÿ
Û Û²ÛÛÛ ±ÛÛÛÛÛ ²ÛÛÛÛ ° ° ß ÜÜ ²
ÛÛÛÛ ÛÛÛÛÛÛ±ÛÛ ÜÛÛÛÜ ° Ü ßÛ²ÜßÜ Û
ÛÛÛ ÛÛÛÛ ÛÛÛÛÛ±± ÜÛÛÛÛÛÛÛÛÛÛÛÛÛÛÛ²²²ÛÛÛÛÛÛÛÛ°°ÛÛÛÛÛ ²ÛÿÛÛÛÿÿÿÛ²
ÛÛÛÛÛ °ÛÛÛÛÛ ±ÛÛ² ÜÛÛÛÛÛÛÛ²²±±°° ²ßß ßÛÛ ² ßÛÜÛ²ßÜÛÜÛÜ
Û±ÛÛÛÛ ÛÛ°ÛÛÛ ²ÛÛÛÛÛß ± ² ÛÛ²ßßÛÜÜÜÛ²ßÜ
Û²±ÛÛÛ ÛÛ ÛÛÛ Û°ÛÛ Û GREETINGS!ÿÿ ± Û ÜÜÛÛßßÜÜÛÛÛ
²°ÛÛÛ° ²ÛÛ ÛÛ° Û²²±±±ÜÛÛÛÛÛÛßßß ° Û²ß ÜÜÛÛßß
²²ÛÛÛÛÛÛÛÛÛ ÛÛÛÛÛÛÛÛÛÛÛÛÛß ÜÛÛÿ ²Ûß Û ß Ü
²ÛÛÛÛÛÛÛÛÛÛ²°°ÛÛÛÛÛ±ÛÛ° Ü ßÛÜßÿ ² ÿ²
²²Û ±Û±Û° ÛÛÛ± ÛÛ ±°ÛÛ ßßÜ ± ܲ²
²² ° ° ÛÛÛÛ±±ÛÛÛÛÛ± ßßÜ°ßß
²ÛÛÛÛÛÛÛÛÛÛÛÛ ²±
° ÛÛÛÛÛÛÛ² °Û
² °ÛÛÛÛÛÛÛ °Û
²Û Û±°ÛÛ
ÛÛ°Û Û
±ÛÛÛÛÛÛ
ÛÛ ÛÛ±²ÛÛÛ²
ÛÛ ÛÛ ÛÛ²
ÛÛ Û² ÛÛÛÛÛÛÛÛ
ÛÛÜ ² ÛÛÛÛÛÛÛÛ²² No greetings
²²ÛÛ ÛÛ± ²ÛÛÛÛÛ No [内容被过滤,请注意论坛文明]ings
²²²²²²ÛÛÛÛ ÛÛ ±
² Û±ÛÛÛÛ ÛÛ if we respect you
² ÛÛ ÛÛ²°Û± you will know it!
²² ÛÛ ÛÛÛÛÛ°
² ÛÛ ÛÛÛÛÛ
² ÛÛ ÛÛÛÛ±
ÛÛ ²ÛÛÛÛ
ÛÛÛÛÛÛÛÛ
±ÛÛÛÛÛÛÛÛ°
° ÛÛ ° Û
±Û±ÛÛ± ÛÛ±
ÛÛÛÛÛÛ±Û
²ÛÛ² ±ÛÛ±±
ÛÛ ±²Û ÛÛÛÛÛÛÛ ²²²²²²²
²°ÛÛ ÛÛÛÛ ±ÛÛÛ ²²²²²²²²²²²
ÛÛÛÛÛ ÛÛÛÛÛÛÛÛÛ²²²²
ÛÛÛÛÛÛÛÛÛÛÛÛÛÛ²²Û
°ÛÛÛÛÛÛÛÛÛÛÛÛÛÛÛÛÛÛÛ
±Û± ÛÛ° °°ÛÛ
Û± ÛÛ² ÛÛÛ
Û±Û ÛÛÛÛÛÛÛÛÛÛ ÛÛÛÛ°°
ÛÛÛÛ±²°ÛÛÛÛÛÛÛÛ± ÛÛÛÛÛ± ± °
Û °Û²²Û Û° ÛÛÛ² ÛÛÛ²ÛÛÛ° ° ÛÛÛ° ±ÛÛÛÛÛÛÛÛÛÛ
± Û° ±±±± ÛÛÛÛ° ÛÛÛÛ°Û±Û²Û ± ±Û² ° ÛÛÛÛÛÛÛÛÛÛÛÛÛÛÛ
±±² ÛÛ±±°ÛÛÛ° ÛÛÛÛ Û± Û Û ±° ÛÛÛ ÛÛÛÛÛÛÛÛÛÛÛÛÛÛÛÛÛÛ
± Û ÛÛÛÛÛ ÛÛÛÛÛ±Û±Û°± ° ÛÛÛ± ÛÛÛÛÛÛÛÛÛÛÛÛÛÛÛÛÛÛ°
±°ÛÛÛÛ± ÛÛÛÛÛÛÛÛÛÛ° ° ÛÛÛ ±°²ÛÛÛ±±±±±±²ÛÛÛÛÛ±
±±Û ÛÛÛÛ² ÛÛÛÛÛÛÛÛÛÛÛ ² ±ÛÛÛÛ° ± ²²²²²²°°°ÛÛÛÛ
Û ±±ÛÛÛ ÛÛÛÛ ÛÛÛÛÛÛÛ°Û± ² ±±±ÛÛÛÛ
Û ² ÛÛÛ °ÛÛÛ±° ÛÛÛÛÛÛÛÛ±±° ±±±ÛÛÛ
² Û ÛÛÛÛÛÛÛÛÛÛÛÛÛÛÛÛÛÛÛÛÛÛ ÛÛÛÛÛÛÛÛÛ°° °°°ÛÛÛ
²²ÛÛÛ° ÛÛ±±Û± °±Û Û ²ÛÛÛÛÛÛÛÛ±±±± ²°°°°Û
Û²² ± ÛÛ Û °Û±ÛÛ²°° ±²°±± ÛÛÛÛÛÛÛÛÛ±±±± °°°Û°
²² Û ÛÛ±ÛÛ°±ÛÛÛ ÛÛÛÛ Û ÛÛÛÛÛÛÛÛÛÛÛ±±± °°°ÛÛ
² ² ÛÛ ÛÛÛÛÛ±ÛÛÛ°°°² °ÛÛÛÛÛÛÛÛÛÛÛÛÛÛÛÛ±±± ±±±±±
² ±ÛÛÛÛÛ²ÛÛÛÛ± ÛÛÛÛÛÛÛÛÛÛÛÛÛÛÛÛÛÛ²²² °°°°
²±°² ±Û°ÛÛÛÛ° ÛÛÛÛÛÛÛÛÛÛÛÛÛÛÛÛÛÛÛ°±± ±±±±±
Û²°±±ÛÛÛÛ ÛÛÛ² ÛÛÛÛÛÛÛÛÛÛÛÛÛÛÛÛÛÛÛÛ°° ² °°²²
Û±°±±ÛÛÛÛÛÛÛ °ÛÛÛÛÛÛÛÛÛÛÛÛÛÛÛÛÛÛÛ°°°°°° °°°°
± ÛÛÛÛÛÛÛÛÛÛÛÛÛÛÛÛ ÛÛÛÛÛÛÛÛÛÛÛÛÛÛÛÛÛÛÛ°°°°° ²²²
ÛÛÛ° ° ²ÛÛ ÛÛÛÛÛÛÛÛÛÛÛÛÛÛÛÛÛÛÛ±±±±± ²²
± ±±ÛÛÛÛ ±ÛÛ ÛÛÛÛÛÛÛÛÛÛÛÛÛÛÛÛÛÛÛ±±±± ±±±
Û° ÛÛÛÛ± ÛÛÛÛÛÛÛÛÛ ±ÛÛÛÛÛÛÛÛÛÛÛÛÛÛÛÛ²²²² °²
°Û± ±ÛÛÛ° ²ÛÛÛÛÛÛÛÛÛ ÛÛÛÛÛÛÛÛÛÛÛÛÛÛÛ±°°°° °
° ±ÛÛ° ÛÛÛÛÛÛÛÛÛ ±ÛÛÛÛÛÛÛÛÛÛÛÛÛÛÛ±±±± ²±
ÛÛ ÛÛÛ ±ÛÛ± ±ÛÛÛÛÛÛÛÛÛÛÛÛÛ±±±±± °
ÛÛ°ÛÛÛ² ÛÛÛÛÛ ÛÛÛ ÛÛÛÛÛÛÛÛÛÛÛÛÛÛ±±±± Û
°ÛÛ ±ÛÛÛ ÛÛÛÛÛÛÛÛÛÛ ±ÛÛÛÛÛÛÛÛÛÛÛÛ±Û² °
±ÛÛÛÛÛÛ± ÛÛÛ°±ÛÛÛÛÛ ÛÛÛÛÛÛÛÛÛÛÛ±±±±±
ÛÛÛÛÛ± °ÛÛÛÛÛÛÛÛÛ° ±ÛÛÛÛÛÛÛÛ²°°°°
ÛÛÛÛÛ° ÛÛ± ±ÛÛÛÛÛÛÛÛ ÛÛÛ ±
ÛÛÛ°ÛÛ± ²Û± °ÛÛÛÛÛÛÛ°²°°
ÛÛÛÛÛÛÛÛÛÛÛÛÛÛÛÛÛÛÛ² ÛÛÛÛÛÛ±±±±
±Û°²ÛÛÛÛÛÛÛÛÛÛÛÛ±±± ²ÛÛÛÛÛ±±±°
ÛÛÛÛÛ±°Û°°°ÛÛÛÛ² ±ÛÛÛÛ±±±
±ÛÛÛÛÛÛÛ²°ÛÛÛÛ ²ÛÛ±±±±±
± ²ÛÛÛ²ÛÛ ²ÛÛ°±±
° °° ±±Û² ÛÛ ÛÛÛ°°
ÛÛÛ ²°
Û±ÛÛÛ±Û ±±
ÛÛ°ÛÛ ±Û ÿ
ÛÛÛÛ Û ÛÛ
ÛÛÛ Û Û ÛÛ
ÛÛÛÛ ÛÛ ÛÛ ÛÛ
Û ÛÛ ÛÛ
ÛÛ Û ÛÛ
ÛÛÛ ÛÛ ÛÛ
ÛÛ Û ÛÛÛ
ÛÛ ÛÛ ÛÛÛ
ÛÛ ÛÛÛÛ
²Û±±±± ÜÛÛÛÛÛÛÛÛÛÛÛÛÛÛÛÛÛ
ÛÛÛÛÛÛÛ²²ÛÛÛÛÛÛÛÛÛÛ _______ÜÛÛÛÛÛÛÛÛÛÛ ÛÛ
ÛÛÛÛÛÛÛÛÛÛÛÛÛÛÛÛ± ___ÛÛÛÛÛÛÛÛÛÛÛÛÛÛÛ ÛÛ
±ÛÛÛÛ __ ÛÛÛÛÛÛÛ ÛÛ
±Û±± ÛÛÛÛÛÛÛ ± ²Û
ÛÛÛÛ± ÛÛ ±
Û ±
Û



*******************************************************
ed2k:
//|file|Camtasia.Studio.v8.0.1.903.Incl.Keygen-MESMERiZE.zip|
253812364|4A147B016576BD58C8600BAC4E8C3314|
h=Q7HPSTUZHFCUMN2N7N7KYGETRR32526L|/
这里是其它用户补充的资源(我也要补充):
暂无补充资源