专辑英文名: The Other Side
专辑中文名: 另一边
音乐风格: 爵士
资源格式: FLAC
发行时间: 1995年12月12日
简介:


专辑介绍:

伊娃·卡斯迪(Eva Marie Cassidy,1963年2月2日-1996年11月2日),美国通俗音乐歌手。1992年她出版了首张唱片《The Other Side》,这是一张与go-go乐手Chuck Brown的二重唱。1996年,她出版了自己的独唱专辑《Live at Blues Alley》。尽管她获得了the Washington Area Music Association的奖励,但是除了她居住的华盛顿特区,外人对她一无所知,直到她1996年因黑色素瘤死去。四年之后,一个偶然的机会,她的唱片被英国BBC Radio 2的节目主持Terry Wogan听到,他挑选了《Over the Rainbow》一首在电台播放,一下子震憾了英国听众。听众要求详细介绍这位歌手和她的演唱,不久她生前录制的歌曲陆续被介绍给英国听众。不久又从英国蔓延到全球。伊娃·卡斯迪生前的本职工作是在一家植树学校当园丁。唱歌是她的业余爱好。她还爱好画画,留下一些美术作品。

伊娃·卡斯迪演唱的《Over the Rainbow》一歌不是她的首唱,而是翻唱30年代老牌歌星朱迪·加兰的歌曲。但是她唱出了自己的风格,令听众耳目一新。她翻唱的歌曲还有Simon & Garfunkel的《Bridge Over Troubled Water》、路易斯·阿姆斯壮的《What A Wonderful World》。英国作曲家Frederick Weatherly在1913年创作的民谣《Danny Boy》,40年代的爵士老歌《Time after time》,也被卡斯迪用自己的声音重新演绎,挖掘出老歌深藏的意蕴。

Audio CD (December 12, 1995)
Number of Discs: 1
Label: Liaison Records
ASIN: B000005FN2

Engineer – Kent Wood
Photography – Larry Melton
Produced, Recorded By – Chris Biondo

The Other Side is an album by D.C. go-go funk legend Chuck Brown and American singer Eva Cassidy. It was first released in 1992 by Brown's label Liaison records. The album comprises jazz, blues and soul standards and contains a mixture of solos and duets. It is the only studio album by Cassidy.


引用
When Chuck Met Eva
By Jefferson Morley
Washington Post Staff Writer
Sunday, March 8, 1998
While the rest of the musicians wanted to call it a night, Chuck Brown and Chris Biondo did not. Chuck and his band, the Soul Searchers, were finishing up "Hoochie-Coochie Man," a song that would end up on the seventh album of his career. Biondo was the sound engineer and owner of the studio, which was in the basement of a house on a cul-de-sac in Rockville. As the last of the Soul Searchers left, Biondo nodded at a bottle of vodka Chuck had been lugging around, a gift from a fan, and offered to mix some martinis.
Chuck Brown wasn't one to say no to a sensible proposition like a vodka martini at 1 in the morning. They broke out plastic cups, opened the bottle and kicked back with the ease of men who don't want to go home and don't have to.
Chuck didn't know Biondo all that much but liked him well enough. And Biondo suspected that they were natural-born collaborators despite their differences. He was 34, the son of a Wheaton lawyer, a sound engineer and bass player with an Italian American Afro and a sarcastic sense of humor. He'd built a reputation as an ace in the studio, recording every kind of music from country to reggae to rock to rap. Charles Moody Brown, the fiftysomething son of a North Carolina tobacco picker, was the king of go-go, the indigenous beat of Washington. A growly baritone given to wearing a cowboy hat and an Indian-style ponytail, he was also a rock-hard veteran of 30 years in the music business, having started playing in a cell at Lorton and gone on to stages in Hollywood, New York, Paris and Tokyo.
Once they had their feet up in the small cubby behind the mixing board, Biondo held up a digital audiocassette.
"This," he said, "is the best thing I've ever heard." He did not mention that he was falling in love with the woman singing on the tape. He was certain that romance in no way distorted his professional judgment.
"Yeah, sure," Chuck answered. But he was willing to indulge his new friend.
Biondo slipped the cassette into the tape deck and said, "Her name's Eva Cassidy."
"She any good?"
"Just listen," Biondo said, pushing the play button. From the massive speakers in the corners of the studio, a clear and brilliant voice started to flow:
They call it stormy Monday
.........
http://www.washingtonpost.com/wp-srv/style...0309.htm
引用
An Incredible Debut Album April 19, 2000
By C. Norbury
Format:Audio CD
Grabbing you from the first notes of "Let the Good TimesRoll" and holding you until the last chord of the immortalrendition of "Over the Rainbow" and then some, this CD showcases the incredible talent of Eva Cassidy. Chuck Brown proves to be a perfect foil to Eva's sultry, haunting, wailing, bluesy alto voice. His gravelly bass/baritone reminds me a bit of the great Johnny Hartman, but with more of an edge. They seem to be a perfect match on all their duets and obviously had great chemistry and synergy. Their musicianship is outstanding and the arrangements are first rate. "Let the Good Times Roll" sets the stage for what is to come, swinging perfectly, both singers flexing their chops, getting your toes tapping right away with a terrfic horn arrangement in the background. One of several excellent duets, "You Don't Know Me" is a tender, wistful ballad. Eva and Chuck trade verses and phrases, never coming together until the very end. "I Could Have Told You So" gets back in a nicely grooved jazz big band setting. Eva shows that she can scat with the best of them- and my god, this is her first featured album! She sounds like she has been scatting with Ella Fitzgerald for decades. "Gee Baby, Ain't I Good To You" is a bluesy, "last call" type of tune. It's easy to imagine the two singers sitting around the piano in an intimate little club, just tossing this one off effortlessly. One of the joys of listening to Eva is hearing tunes where she sings backup vocals as well as lead. "Drown In My Own Tears" features Eva on backup vocals and here she sounds like a choir of angels floating on the clouds. There are several standards covered on this CD, including "The Shadow of Your Smile", "Fever", "You've Changed", all which are done very well, but the two standouts are "God Bless The Child" and "Over The Rainbow". WOW! Eva solos on both and these two alone are worth buying the CD for. Billie Holiday wrote, and up until now had sung the definitive version of, "Child". I love Billie Holiday's music, but she has given up her spot as premier interpreter of this song to Eva. She starts softly, gently; builds gradually, bending notes pefectly, singing the bluesiest notes at the right time, then shrieking, shouting, crying in agony as she bemoans the fate of the blessed child. A three minute master class in how to sing a bluesy ballad. The crowning masterpiece of this CD is "Over The Rainbow". I've discussed this tune in another review of Eva's music, but suffice it to say, musical perfection such as this comes along once or twice in a lifetime, if one is lucky. If Eva's music EVER gets heard by a wide enough audience, this will go down in history as THE definitive version of this song, and one of the great works of popular music ever recorded. So buy this CD and start spreading the word. It may be the best money you ever spent on music.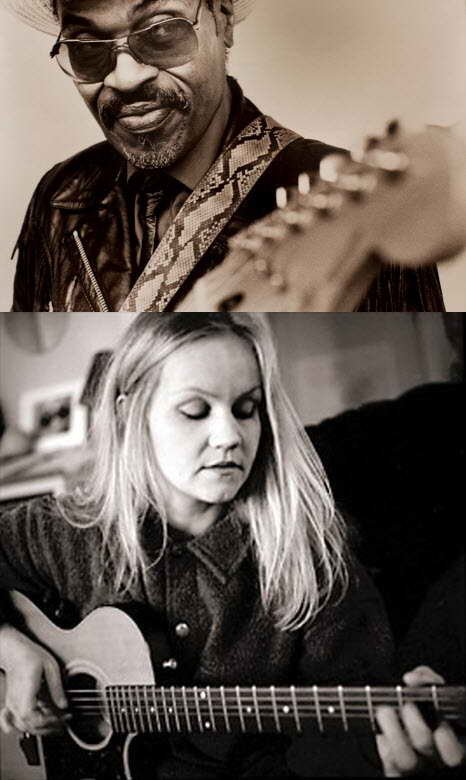 专辑曲目:
01. "Let the Good Times Roll" - 3:12
02. "Fever" - 4:16
03. "You Don't Know Me" - 4:59
04. "I Could Have Told You So" - 3:31
05. "Gee Baby, Ain't I Good To You" - 2:44
06. "I'll Go Crazy" - 2:50
07. "You Don't Know What Love Is" - 4:40 (Chuck Brown solo)
08. "Drown in My Own Tears" - 5:37
09. "God Bless the Child" - 3:18 (Eva Cassidy solo)
10. "Red Top" - 2:55
11. "Dark End of the Street" - 3:55 (Eva Cassidy solo)
12. "The Shadow of Your Smile" - 3:30
13. "Over the Rainbow" - 5:02 (Eva Cassidy solo)
14. "You've Changed" - 4:00
这里是其它用户补充的资源(我也要补充):
暂无补充资源