中文名: 有限元建模软件
英文名: ALTAIR SIMLAB
资源格式: 压缩包
版本: V10 WIN32|WIN64
发行时间: 2012年
制作发行:
Altair Engineering, Inc.
简介: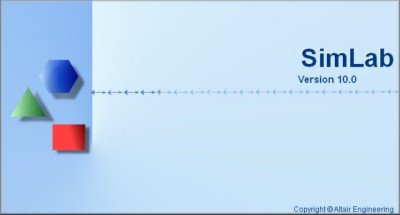 SimLab
简化复杂模型的建模流程

SimLab是一个面向流程,基于几何特征的有限元建模软件。它可以让你可以快速、准确地模拟复杂装配体的工作状态。SimLab将仿真建模任务大规模地自动化,大大减少了手工创建有限元模型和结果解释导致的人为错误和时间开销。SimLab不是一个一般的、通用的前后处理软件,而是一个用来捕捉仿真流程,并将之自动化的,针对行业应用的开发平台。

自动划分网格
实体的四面体、六面体网格划分
曲面的四边形、三角形网格划分
用于连接和定义接触的一维单元创建



基于几何特征的网格划分
自动识别CAD模型的几何特征
使用模板划分特定几何特征的网格
圆柱,倒角,孔等
自动识别接触面



基于分析和标准的网格划分
利用模板,捕捉知识,划分适用于不同分析类型的高精度网格
例如:强度,NVH,噪声,疲劳等



装配体管理
处理复杂装配体的可靠且完善的工具包- 自动识别配合面和接触面



载荷与边界条件
识别节点/单元并将其分组的自动化流程
快速、自动地给装配体中的各种分组定义边界条件
具备如下的自动化模板
螺栓建模
垫片、滚珠轴承载荷及连接定义
计算部件的质量和惯量,用集中质量代替实际模型
导入外部材料/属性定义,并自动赋予部件
接触识别与定义


高效的、基于几何特征的建模方式
提高建模的可重复性与建模质量
直接识别CAD软件所定义的几何特征 - 倒角,垫圈,圆柱等


复杂装配体建模任务的自动化
网格划分自动化
部件与组件装配自动化
装配面网格自动匹配
部件自动连接


消除乏味的CAD几何清理和几何错误修补过程
直观的,快捷的,流程驱动的图形用户界面
流程捕捉并重用


加速复杂装配体的CAE建模
应用先进的、基于模板的网格划分流程
摆脱手工网格清理
简化载荷与边界条件的定义


简化模型及装配体的修改
部件替代
增加或修改实体模型的加强筋
改变倒角/圆柱/孔的大小
局部网格变形


Altair 公司简介

全球领先的创新技术提供者

Altair为企业决策者提供创新技术实现对商业和工程信息的分析、管理和可视化。
Altair是一家私有公司,员工超过1500人,作为一家适应全球化的公司,其分支机构遍布北美,欧洲和亚太区。
Altair在创新产品设计和开发、先进工程软件和网格计算技术方面拥有26年的杰出成就。目前在全球拥有超过5000家客户,其行业分布在汽车,航空航天,政府和国防,消费品行业等。同时Altair公司在生命科学,金融服务和能源领域的市场份额也在显著提升。









==========================================

下载链接来自sharevirus
未经过安装测试与安全检测,使用者后果自负与本论坛无关
软体版权归原作者及其公司所有,如果你喜欢,请购买正版

==========================================


SimLab is a process oriented, feature based finite element modeling software that allows you to quickly and accurately simulate engineering behavior of complex assemblies. SimLab automates simulation-modeling tasks to reduce human errors and time spent manually creating finite element models and interpreting results. SimLab is not a traditional off the shelf Pre and Post processing software but a vertical application development platform to capture and automate simulation processes.


Feature based finite-element modeling
High quality mesh rapidly
Knowledge capture and sharing via templates

More:
http://www.altairhyperworks.com/Product,53,SimLab.aspx


What is HyperWorks?
Altair Engineering?s HyperWorks is a computer-aided engineering (CAE) simulation software platform that allows businesses to create superior, market-leading products efficiently and cost effectively. HyperWorks accomplishes this in two significant ways:

* A flexible software licensing model that replaces expensive traditional licensing plans with a pay-per-use system. Employees across organizational and geographic boundaries will be able to access simultaneously not only the HyperWorks suite, but also a broad range of complementary third-party programs and other Altair products at no extra cost.

* Simulation-driven design technologies that enables achievement of performance, timing, and cost targets through rapid, low-cost, virtual exploration that accelerates informed decision making throughout the product life cycle.




代码
Ü Ü
Ü ß ß þÜ °
° Üþß ß²Ü± °
° Ü²ß ß²ÛÜÜ ±
± ÜÜÜÛ²ß Ü² °Üܲ Ü ÞÛÛÛÛÛ۲ܰ
ÜÜܲÜÜÛÛÛÛÛÛ²Ý ÜÜÛÛÝ ÜÜÜÛÛÛÛ ÜÛ²ÛÜ ÛÛÛÛÛÛÛÛÛÛÛÜÜÜ
ÜÝ ß²²²²ÛÛÛÛÛ²² ÜÜÛÛÛÛÛÛÛÜ ÞÛÛÛÛÛÝ ÜܲÛÛÛÛÛÛßß²ÛÛÛÛÛÛÛÛÛ²ß ÞÜ°
ß²²²Ûßß ß Þ²²ÛÛÛÛÛ²²Ý ÞÛÛÛÛÛ۲߲²ÜÛÛÛÛÛ Þ²²²ÛÛÛÛÛÝ ²ÛÛÛÛÛ²²Û ß ßßÛ²²²ß
²² ° Û²ÛÛÛÛ²²² ÛÛÛÛÛÛÝ ß²ÛÛÛÛ² ÞÛ²ÛÛÛÛÛÛÝ ÞÛÛÛÛ²²²Ý ° ²²
²Ý ° °°°° ÞÛÛÛÛÛ²²² Û²ÛÛÛ²Ý ÞÛÛÛÛ² ÜÛÛÛÛÛÛÛÛÛ ÜÛÛÛÛÛÛÛ²Ý °°°° ° Þ²
²Ý °° ÞÛÛÛÛÛÛ²²Ý ßßÛÛÛ²²² ÜÛÛÛÛÛ²Ý ßÛÛÛÛÛÛÛÝ ßßßÛÛÛÛÛÛÛÝ °° Þ²
²Ý ° Þ²ÛÛÛÛÛ²²² ßß²²Ý ßßÛ²²² ß²ÛÛÛß °ßßÛÛÛÛ ° Þ²
Û²Ü ÛÛÛÛÛÛÛÛ²²ÛÜ ßß ß²²Ü ßß ßß²Ü Ü²Û
ß²Ûßßßß ß Ü²ßß° ßßß²²Û²Ü ß ßß ß²ß ß ß²²Ûßß ß ß ßßßß ß ß ßßßßÛ²ß
Þ ² ßß²Ü Þ² Ý
± ßþÜ Üß cH!<RiGOR>
° ß þ Ü þß


ÉÍÍÍÍÍÍÍÍÍÍÍÍÍÍÍÍÍÍÍÍÍÍÍÍÍÍÍÍÍÍÍÍÍÍÍÍÍÍÍÍÍÍÍÍÍÍÍÍÍÍÍÍÍÍÍÍÍÍÍÍÍÍÍÍÍÍÍÍÍÍÍÍÍÍÍ»
º SIMLAB V10 WIN32 (c) ALTAIR º
ȳÍÍÍÍÍÍÍÍÍÍÍÍÍÍÍÍÍÍÍÍÍÍÍÍÍÍÍÍÍÍÍÍÍÍÍÍÍÍÍÍÍÍÍÍÍÍÍÍÍÍÍÍÍÍÍÍÍÍÍÍÍÍÍÍÍÍÍÍÍÍÍÍͳ¼
ÀÄÄÄÄÄÄÄÄÄÄÄÄÄÄÄÄÄÄÄÄÄÄÄÄÄÄÄÄÄÄÄÄÄÄÄÄÄÄÄÄÄÄÄÄÄÄÄÄÄÄÄÄÄÄÄÄÄÄÄÄÄÄÄÄÄÄÄÄÄÄÄÄÄÙ

Packaged @: 24.06.2012 85 x 5,00 MB :..Number of Disks
Cracker...: Team LND Winall :.Operating System
Packager..: Team LND License :Serial/Protection
Supplier..: Team LND

ÄÄÄÄÄÄÄÄÄÄÄÄÄÄÄÄÄÄÄÄÄÄÄÄÄÄÄÄÄÄÄÄÄÄÄÄÄÄÄÄÄÄÄÄÄÄÄÄÄÄÄÄÄÄÄÄÄÄÄÄÄÄÄÄÄÄÄÄÄÄÄÄÄÄ¿
Product Description ³
ÖÄÄÄÄÄÄÄÄÄÄÄÄÄÄÄÄÄÄÄÄÄÄÄÄÄÄÄÄÄÄÄÄÄÄÄÄÄÄÄÄÄÄÄÄÄÄÄÄÄÄÄÄÄÄÄÄÄÄÄÄÄÄÄÄÄÄÄÄÄÄÄÄÄÄÙ
º
º SimLab is a process oriented, feature based finite
º element modeling software that allows you to
º quickly and accurately simulate engineering behavior
º of complex assemblies. SimLab automates simulation-
º modeling tasks to reduce human errors and time spent
º manually creating finite element models and
º interpreting results. SimLab is not a traditional
º off the shelf Pre and Post processing software but
º a vertical application development platform to
º capture and automate simulation processes.
º
º Feature based finite-element modeling
º
º High quality mesh rapidly
º
º Knowledge capture and sharing via templates
º
º http://www.altairhyperworks.com/Product,53,SimLab.aspx
º
ÈÍÍÍÍÍÍÍÍÍÍÍÍÍÍÍÍÍÍÍÍÍÍÍÍÍÍÍÍÍÍÍÍÍÍÍÍÍÍÍÍÍÍÍÍÍÍÍÍÍÍÍÍÍÍÍÍÍÍÍÍÍÍÍÍÍÍÍÍÍÍÍÍÍ͸
Install Description ³
ÖÄÄÄÄÄÄÄÄÄÄÄÄÄÄÄÄÄÄÄÄÄÄÄÄÄÄÄÄÄÄÄÄÄÄÄÄÄÄÄÄÄÄÄÄÄÄÄÄÄÄÄÄÄÄÄÄÄÄÄÄÄÄÄÄÄÄÄÄÄÄÄÄÄÄÙ
º
º Unpack
º Install
º See LEGEND dir for further info
º
º
ÈÍÍÍÍÍÍÍÍÍÍÍÍÍÍÍÍÍÍÍÍÍÍÍÍÍÍÍÍÍÍÍÍÍÍÍÍÍÍÍÍÍÍÍÍÍÍÍÍÍÍÍÍÍÍÍÍÍÍÍÍÍÍÍÍÍÍÍÍÍÍÍÍÍ͸
Legendary News & Info ³
ÖÄÄÄÄÄÄÄÄÄÄÄÄÄÄÄÄÄÄÄÄÄÄÄÄÄÄÄÄÄÄÄÄÄÄÄÄÄÄÄÄÄÄÄÄÄÄÄÄÄÄÄÄÄÄÄÄÄÄÄÄÄÄÄÄÄÄÄÄÄÄÄÄÄÄÙ
º
º Legends Never Die is dedicated to bring you quality software. Our primary
º focus is software in CAD/CAM/CAE/FEA. Your support is needed, so keep
º emailing us information about the software you might be able to
º contribute.
º
º We are also looking for good crackers, especially those that can crack
º WindowsNT programs. Keywords are FlexLM, Hasp, Sentinel. If you feel up
º for the job contact us on the email address below.
º
º Legends Never Die is a Non-profit organization. We dont make or give money
º for software.
º With Respect -DREAMTEAM 2002
º
ÈÍÍÍÍÍÍÍÍÍÍÍÍÍÍÍÍÍÍÍÍÍÍÍÍÍÍÍÍÍÍÍÍÍÍÍÍÍÍÍÍÍÍÍÍÍÍÍÍÍÍÍÍÍÍÍÍÍÍÍÍÍÍÍÍÍÍÍÍÍÍÍÍÍ͸
Legendary Application Info ³
ÖÄÄÄÄÄÄÄÄÄÄÄÄÄÄÄÄÄÄÄÄÄÄÄÄÄÄÄÄÄÄÄÄÄÄÄÄÄÄÄÄÄÄÄÄÄÄÄÄÄÄÄÄÄÄÄÄÄÄÄÄÄÄÄÄÄÄÄÄÄÄÄÄÄÄÙ
º
º If you wish to be a part of the team and can provide one of the following
º services then please get in touch with us at the address below, at this
º point we are only taking in the positions that are listed below but if
º you think you have something to offer us that we have not thought of, of
º course you can mail us about it.
º
º *) If you work for an Internet Service Provider or can provide services.
º *) If you can supply hardware to our cause.
º *) If you work at a software company or have access to new software.
º *) If you have the capability to remove software protection.
º
º Assholes & Lamers need not apply.
º
º *** WE DO NOT MAIL OUR RELEASES, OR PARTS OF OUR RELEASES.
º
º Contacting Legends Never Die:
º Email: lnd@hotbox.ru
º Irc : Closed
º
ÈÍÍÍÍÍÍÍÍÍÍÍÍÍÍÍÍÍÍÍÍÍÍÍÍÍÍÍÍÍÍÍÍÍÍÍÍÍÍÍÍÍÍÍÍÍÍÍÍÍÍÍÍÍÍÍÍÍÍÍÍÍÍÍÍÍÍÍÍÍÍÍÍÍ͸
Layout: Phr33phal ³
ÄÄÄÄÄÄÄÄÄÄÄÄÄÄÄÄÄÄÄÄÄÄÄÄÄÄÄÄÄÄÄÄÄÄÄÄÄÄÄÄÄÄÄÄÄÄÄÄÄÄÄÄÄÄÄÄÄÄÄÄÄÄÄÄÄÄÄÄÄÄÄÄÄÄÙ
这里是其它用户补充的资源(我也要补充):
暂无补充资源