中文名: 立体声混响效果器
英文名: ValhallaDSP ValhallaRoom|Shimmer|Mod
资源格式: 压缩包
版本: v1.1.0 WIN OSX
发行时间: 2012年
简介:




软件类型:软件>多媒体类
软件性质:破解软件
应用平台:WIN OSX
操作系统:WIN OSX
问题反馈: http://www.valhalladsp.com/contact
网站链接: http://www.valhalladsp.com
软件介绍:

Valhalla DSP 出品的音频混响插件产品,包含
ValhallaUberMod功能强大的多键调制延迟。多达48个独立的调制振荡器, 可以产生合唱和合奏效果,非线性和反相混响,失控的磁带回声。
ValhallaRoom 多功能的,真正算法的立体声混响。产生广泛的自然混响的声音:小氛围,温馨的客房,大厅,板材,大教堂。
ValhallaShimmer大声音设计一个算法的混响......从音乐厅到 Taj Mahal to the Halls of Valhalla 。独特的调制混响,加上变调的反馈路径,造成巨大的冰川音景。

==========================================

下载链接来自sharevirus
未经过安装测试与安全检测,使用者后果自负与本论坛无关
软体版权归原作者及其公司所有,如果你喜欢,请购买正版

==========================================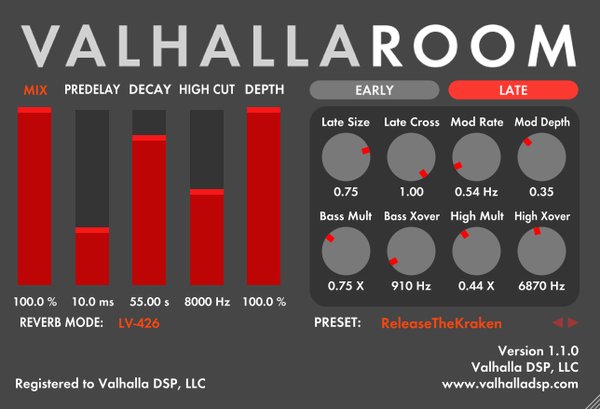 ValhallaRoom is a versatile, true stereo algorithmic reverb. It features eleven original reverberation algorithms (including the latest Dark reverb modes, Nostromo, Narcissus, Sulaco and LV-426), and has been designed from the ground up to produce a wide range of natural reverberation sounds. Sounds range from tight ambiences and rooms, through traditional hall and plate sounds, all the way up to vast modulated spaces. The algorithm designs have been influenced by some of the "classic" room simulation boxes, as well as state of the art modern theory.


Unique Early reverb section allows user to dial in subtle and short bursts of early reverberation energy, as well as gated reverbs up to 1 second in length.
The Late section produces natural reverb decays ranging from 0.1 seconds to 100 seconds. The decay can be controlled in 3 adjustable frequency bands.
Both Early and Late reverb sections have adjustable modulation, to produce sounds ranging from lush chorusing, to subtle and natural long decays.
ValhallaRoom is true stereo. The Early and Late reverb sections are both stereo-in, stereo-out. The spread of energy between the stereo channels can be controlled over time, which helps preserve the input spatial image.
The GUI has been designed for easy navigation, and is inspired by Joseph Müller-Brockmann, NASA control panels, and Sesame Street.
Resizable GUI. Make it really big, or really tiny, or whatever suits you best.
A comprehensive preset browser makes saving, recalling and sharing settings easy.
Fully compatible with 32 and 64 bit DAWs (32/64 bit VST for OSX and Windows, 32/64 bit Audio Units for OSX, 32-bit RTAS for OSX and Windows).
Eleven original reverberation algorithms:
Large Room – designed to emulate big rooms with a wide spatial impression, with smooth "detuning" modulation
Medium Room – sparser than Large Room, with a more random modulation
Bright Room – a lush, shinier-than-life reverb, with deep modulation and a somewhat slower attack
Large Chamber – a smooth decay with consistent high echo density and subtle detuning modulation
Dark Room – a new reverb mode added to V1.0.6. A hybrid between the grungy early digital reverbs and the modern algorithms found in ValhallaRoom, with reduced high frequency content, noisy yet lush randomized modulation, a HUGE spatial image, echo density ranging from grungy to dense while retaining clarity, and tons of mojo.
Dark Chamber. Similar to the original Large Chamber algorithm, but bigger and darker, with deeper detuning modulation.
Dark Space. A HUGE dark space, with a somewhat sparser early echo density and deep detuning modulation.
Nostromo. Deep, dark, echoing reverb. Very sparse early echo density, slow density build, random modulation, wide spatial image.
Narcissus. Dark, lush, wide, with random modulation that quickly builds into rich chorusing. The little sibling of Nostromo, but it is still big. Designed for low CPU consumption.
Sulaco. Dark with lush modulation, and a well-centered stereo image. The Late Size control can sweep the reverb from tight rooms to vast echoing spaces.
LV-426. New For Version 1.1.0. A dark, deep space reverb, with the wide spatial image of Nostromo and Narcissus, but with a much higher initial echo density than either of those reverbs. LV-426 has a somewhat slower attack than the other modes, and has highly diffuse random modulation for lush decays.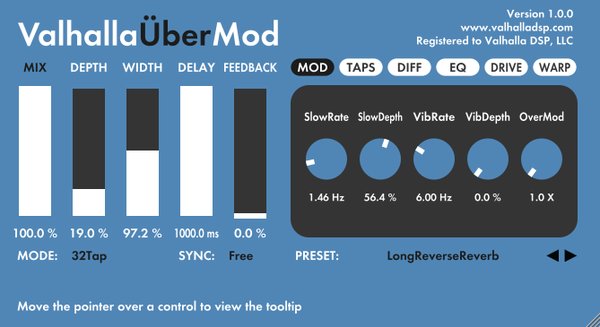 ValhallaÜberMod is a unique mutltap delay and modulation plugin. With up to 32 modulated delay taps, extensive diffusion and overdrive sections, and parallel slow and vibrato LFOs, ÜberMod can be used to create lush dimensional choruses, classic string ensembles, tape and BBD echoes, nonlinear and reverse reverbs, and a bunch of sounds that defy categorization. Updated to Version 1.0.1. New WARP InputPan control adds ping-pong echo/delay cluster/reverb goodness!

Feature List:

True stereo signal path, for maintaining the spatial image of stereo inputs.
Delay times that can be synced to tempo, to create modulated delays and nonlinear reverbs at specific beat rates
Unique WIDTH control, that varies the spatial image from mono to stereo to "super-stereo"
Separate parameters for the detune and vibrato oscillators, to have high level control of up to 32 independent LFOs
OverMod control, to turn up modulation depth beyond the bounds of sanity
A high level DEPTH parameter, for quick adjustments to the overall chorus modulation amount.
A large number of chorus tap modes (2/4/6/8/16/32 Taps, Dual Ensemble, 16Phase) for dialing in specific chorus, ensemble, and nonlinear reverb sounds
Diffusion section (with adjustable amount, size, mod width and mod depth) for creating delays that smear over time, diffusion choruses, and modulated reverbs
Drive section (with pregain, postgain, and noise gain) for emulating tape saturation & analog delays
Taps menu, for adjusting the spacing, slope, left/right skew, and randomization of the output taps
A simple yet powerful EQ section, for rolling off the high and low frequencies, and switching between bright and dark color modes.
SPEED control, to double the delay time and drop the pitch of the signal within the delay buffers.
All parameter changes are smoothed to avoid clicks, and to generate tape echo-esque effects. The smoothing time can be adjusted to create a variety of swishing, whooshing boing sounds.
Resizable GUI influenced by NASA Human Interface specifications & Swiss School of graphic design. Minimalist GUI, Maximalist Sound.™
High level controls have dedicated sliders, while the "tweakier" controls are selected via their own panels
Cross platform/DAW preset mechanism, that allows presets to be easily exchanged with other ÜberMod users via text based copy and paste.
WARP InputPan (new in version 1.0.1) allows for reversed stereo image, mono summing of signals sent to delays, or left/right panning of the input signal. This allows for ping pong echos, as well as ping ponging delay clusters, tape echoes, reverbs, inverse reverbs, and sounds that don't have names yet.






ValhallaShimmer is an algorithmic reverb designed for BIG sounds, from concert halls to the Taj Mahal to the Halls of Valhalla. All of the sliders have been designed to be tweaked in real time and have a smoothed response to avoid clicks when changing settings or automating the controls. At the same time, the algorithm has been highly optimized, so you get a huge reverb sound without straining your CPU.

By setting the Shift amount to +12 semitones, and the Feedback to 0.5 or greater, the classic "shimmer" sound is produced, as heard on Eno / Lanois productions for U2 and others. A wide variety of other sounds can be created by the algorithm, ranging from spring-esque reverbs to "reverse" reverbs, to glistening pitch shifted pads that are usually associated with high end hardware processors.

Overview:
At its core, ValhallaShimmer is a high quality reverberator, designed to produce a smooth decay, that is both dense and colorless. There are several reverberation modes available, to allow the user to dial in reverb decays of different sizes, ranging from smaller rooms to vast ambiences:

By adjusting the Feedback, Diffusion and Size controls, the attack, sustain and decay of the reverb signal can be fine tuned.
The modulation controls can be set to produce subtle mode thickening, glistening string ensemble-esque decays, and the distinctive random modulation of the older Lexicon hall algorithms.
Two tone controls and the Color Mode selector allow the timbre to be adjusted from bright and glistening to a more natural dark decay, similar to that produced by air absorption in large spaces.

In addition, ValhallaShimmer has the ability to pitch shift the feedback signal. There are 5 pitch shift modes available:

Single, where the feedback is shifted up or down by the Shift value.
Dual, where the feedback is shifted both up and down (in parallel) by the Shift value.
SingleReverse, where each grain is reversed before it is pitch shifted. This results in a smoother pitch shifting sound than the Single mode.
DualReverse. Similar to the Dual mode, but with reversed grains, for a smoother pitch shifting sound.
Bypass, which turns off the pitch shifting (useful for "standard" reverb sounds).



代码
ÜÜÜÜÜÜÜÜÜÜÜÜÜÜÜÜÜ ÜÜÜÜÜÜÜ
ÜÜ ÜÜÜÜÜ ÜÜÜÜÜÛÛ ÜÜ ÜÜ ÛÛ
ÜÜÜÜÜÜÜÜÜÜÜÜÜÜÜÜÜÜÜÜÜÜÜÜÜÜÛÛ Û²ÜÜÜÜÛ² ÛÛÜÛ² Û² ÛÛÜÜÜÜÜÜÜÜÜÜÜÜÜÜÜÜÜÜÜÜÜÜÜÜ
ÜÛßÛÛß ÜÜÜÜÜÜÜÜÜÜÜÜÜÜÜÜÜÜÜÜÜÜ ÜÜÜÜÜÜÜÜÜ ÜÜÜÜÜÜ ÜÜÜÜÜÜÜÜÜÜÜÜÜÜÜÜÜ ßÛÛßÛÜ
Û²°ÛÛ ÛÛÛß Ûß ßÛÛÜ ßÛ ÛÛÛÛ Û° ÛÛÜ ßÛß ßÛÛÜ°ßÛ °ÛÛ± Û
Û±±²Û ÛÛÛ °ÛÜÜÜÜÜÜÜÜÜÜÜÜÛÛÛ °Û° ÛÛÛÛ °Û° ÛÛÛ °ÛÜÜÜÜÜÜÜÜÜÜÜÛÛÛÛÜÛß °Û±²°Û
Û°²±Û ÛÛÛ°±Û° ÛÛÛ°±Û° ÛÛÛÛ°±Û° ÛÛÛ°±Û° ßÛÛÜÜÜ °Û°Û±Û
Û Û°Û ÛÛÛ±²Û° ÛÛÛ±²Û° ÛÛÛÛ±²Û° ÛÛÛ±²Û° ÛÛÜ°ßÛ° ±Û°Û²Û
Û°Û°ÛÜ ßßßßßßßß ßßßßßßßß ßßßßßßßßß ßßßßßßßß ßßßßßßßß ²Û°Û²Û
Û²Û°ÛÛÛÛÛÛÛÛÛÛÛÛÛÛÛÛÛÛÛÛÛÛÛÛÛÛÛÛÛÛÛÛÛÛÛÛÛÛÛÛÛÛÛÛÛÛÛÛÛÛÛÛÛÛÛÛÛÛÛÛÛÛÛÛÛÛÛÛÛÛÛ°Û²Û
Û²Û°Û²±°ÛÛݲ±ÛÛݲ±°Ý²±²ÛÛݲ±ÛÛݲ±ÛÛݲ±°Ý²±°ÛÛݲ±ÛÛݲ±°Ý²±²ÛÛݲ±ÛÛݲ±ÛÛݲ±²Û°Û²Û
Û²Û°Û±° ÛÛݱ°ÛÛݱ°°Ý±°°ÛÛݱ°ÛÛݱ°ÛÛݱ°°Ý±°°ÛÛݱ°ÛÛݱ°°Ý±°°ÛÛݱ°ÛÛݱ°ÛÛݱ°°Û°Û²Û
Û²Û°Û° ÛÛÝ° ÛÛÝ° °Ý° ÛÛÝ° ÛÛÝ° ÛÛÝ° °Ý° ÛÛÝ° ÛÛÝ° °Ý° ÛÛÝ° ÛÛÝ° ÛÛÝ° °Û°Û²Û
Û²Û°Û ÛÛÝ ÛÛÝ °Ý ÛÛÝ ÛÛÝ ÛÛÝ °Ý ÛÛÝ ÛÛÝ °Ý ÛÛÝ ÛÛÝ ÛÛÝ °Û°Û²Û
Û²Û°Û °Ý °Ý °Ý °Ý °Ý °Ý °Ý °Ý °Ý °Ý °Ý °Ý °Ý °Û°Û²Û
Û±Û°Û °Ý °Ý °Ý °Ý °Ý °Ý °Ý °Ý °Ý °Ý °Ý °Ý °Ý °Û°Û±Û
Û°Û°Û °Ý °Ý °Ý °Ý °Ý °Ý °Ý °Ý °Ý °Ý °Ý °Ý °Ý °Û°Û°Û
ÛÜÛ°ßÜÜÜÜßÜÜÜÜßÜÜÜÜßÜÜÜÜßÜÜÜÜßÜÜÜÜßÜÜÜÜßÜÜÜÜßÜÜÜÜßÜÜÜÜßÜÜÜÜßÜÜÜÜßÜÜÜÜßÜÜÜÜß°ÛÜÛ
ßÛÛÜÜÜÜÜÜÜÜÜÜÜÜÜÜÜÜÜÜÜÜÜÜÜÜÜÜÜÜÜÜÜÜÜÜÜÜÜÜÜÜÜÜÜÜÜÜÜÜÜÜÜÜÜÜÜÜÜÜÜÜÜÜÜÜÜÜÜÜÜÜÜÛÛß


PROUDLY PRESENTS

ValhallaDSP.ValhallaRoom.v1.1.0.WIN.OSX.Incl.Keygen

SUPPLIER ..: TEAM AiR
PROTECTION : KEYFILE+RSA-1024+MD5
SIZE ......: 02 * 9,54MB
DATE ......: 04/2012
URL........: http://www.valhalladsp.com

Ü
ßßßßßßßÛÛ ßßßßßßß Û² ßßßßßßß ßßßßßßÛÜ ÜÛßßßßßßßßßßßßß
Û± ßßÛÛÜ ²Ûßßßß Û± ²Ûßßßß ²ÛßßßßÛ± ßßßßßÛ² ±Ûßßßß
ßß ßßßßßßßßÛ° ßßßßßßßßßßßßßßßßßßßßßßßßßßÛß ßßßßßßßßß ßßßßßßßßßßßßßßßß ßß
ß

ValhallaRoom

An algorithmic vision of perfection and precision. It's Grade A class,
Number One in its division.

ValhallaRoom is a versatile, true stereo algorithmic reverb. It features
eleven original reverberation algorithms (including the latest Dark
reverb modes, Nostromo, Narcissus, Sulaco and LV-426), and has been
designed from the ground up to produce a wide range of natural
reverberation sounds. Sounds range from tight ambiences and rooms,
through traditional hall and plate sounds, all the way up to vast
modulated spaces. The algorithm designs have been influenced by some of
the "classic" room simulation boxes, as well as state of the art modern
theory.


Compatibility:

(WIN) VST,RTAS > 32bit and 64bit

(OSX) VST,AU,RTAS > 32bit and 64bit



Unique Early reverb section allows user to dial in subtle and short
bursts of early reverberation energy, as well as gated reverbs up to 1
second in length.

The Late section produces natural reverb decays ranging from 0.1 seconds
to 100 seconds. The decay can be controlled in 3 adjustable frequency
bands.

Both Early and Late reverb sections have adjustable modulation, to
produce sounds ranging from lush chorusing, to subtle and natural long
decays.

ValhallaRoom is true stereo. The Early and Late reverb sections are both
stereo
-in, stereo-out. The spread of energy between the stereo channels
can be controlled over time, which helps preserve the input spatial
image.

The GUI has been designed for easy navigation, and is inspired by Joseph
Mueller
-Brockmann, NASA control panels, and Sesame Street.

Resizable GUI. Make it really big, or really tiny, or whatever suits you
best.

A comprehensive preset browser makes saving, recalling and sharing
settings easy.

Fully compatible with 32 and 64 bit DAWs (32/64 bit VST for OSX and
Windows, 32/64 bit Audio Units for OSX, 32-bit RTAS for OSX and Windows).

Eleven original reverberation algorithms:

Large Room > designed to emulate big rooms with a wide spatial impression,
with smooth "detuning" modulation

Medium Room > sparser than Large Room, with a more random modulation

Bright Room > a lush, shinier-than-life reverb, with deep modulation
and a somewhat slower attack

Large Chamber > a smooth decay with consistent high echo density and
subtle detuning modulation

Dark Room > a new reverb mode added to V1.0.6. A hybrid between the grungy
early digital reverbs and the modern algorithms found in ValhallaRoom,
with reduced high frequency content, noisy yet lush randomized
modulation, a HUGE spatial image, echo density ranging from grungy to
dense while retaining clarity, and tons of mojo.

Dark Chamber. Similar to the original Large Chamber algorithm, but
bigger and darker, with deeper detuning modulation.

Dark Space. A HUGE dark space, with a somewhat sparser early echo
density and deep detuning modulation.

Nostromo. Deep, dark, echoing reverb. Very sparse early echo density,
slow density build, random modulation, wide spatial image.

Narcissus. Dark, lush, wide, with random modulation that quickly
builds into rich chorusing. The little sibling of Nostromo, but it is
still big. Designed for low CPU consumption.

Sulaco. Dark with lush modulation, and a well-centered stereo image.
The Late Size control can sweep the reverb from tight rooms to vast
echoing spaces.

LV-426. New For Version 1.1.0. A dark, deep space reverb, with the wide
spatial image of Nostromo and Narcissus, but with a much higher initial
echo density than either of those reverbs. LV-426 has a somewhat slower
attack than the other modes, and has highly diffuse random modulation for
lush decays.

ValhallaRoom has been designed from a psychoacoustic perspective.
Instead of creating a simplified physical model of a simplified
physical space, VRoom generates early and late acoustic energy that
provides the spatial and phase cues needed to create an "idealized" room
impression.


ÜÜ Ü Ü
ÜÜ ßßßßßßÛÜ ÜÛßßßßßßßßßßßßßßßßßßßÛÜ Û² Û²
Û² Û² Û² ßßßßßÛ± Û² ²ÛßßßßÛ² Û± Û±
ßß ßßßßßßßßßßßßßßßßßßß ßßßßßßßßß Û± ßß ßßßßßßßßßßßßßßßßßßßßßßßßßß ßß
ß
1) Unzip, Unrar and install

2) Use Keygen to create licenses
Load the plugin and locate the
appropriate keyfile ...

3) Have Phun!


ßßßßßßÛÜ ÜÛßßßßÛÛ ßßßßßßßßßßßßßßß ÜÛßßßßßß
Û² Û² Û± Û± Û² ²Ûßßßß ßßßßßÛ²
ßß ßßßßßßßßßßßßßßßßßß ßßßßßßßßßß Û± ßßßßßßßßßßßßßßßßßßßßßßßßßßßßßßß ßß
ß nFO bY ThE AiRBEARS 2011





这里是其它用户补充的资源(我也要补充):
暂无补充资源