中文名: AE 图象特效插件
英文名: Boris FX Final Effects Complete AE
资源格式: 压缩包
版本: V6.0.2
发行时间: 2012年
简介: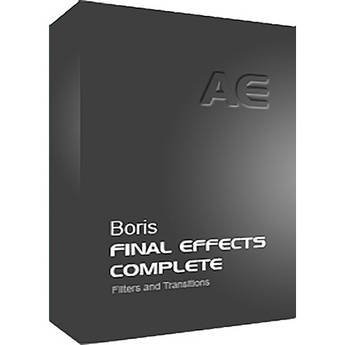 软件性质:多媒体类
软件性质:免费破解软件
操作系统:Windows
应用平台:WinAll
问题反馈:http://www.borisfx.com/support/
网站链接:http://www.borisfx.com/Adobe/fecae/
软件简介:


Boris FX出品的Final Effects Complete 6 AE提供超过110种设计特效和转换至Macintosh,Windows版本的Adobe After Effects,Premiere Pro CS5,CS4和CS3。从优美的模糊和边框到激进的扭曲和粒子效果,Final Effects Complete 能极大地增强你的创意。全功能3D和2D粒子动画包括球体运动,爆炸,扭曲,喷射,发丝,液态汞,射灯,色彩过渡等等。简单的过滤器结合本地主机接口能尽快让你熟练操作。大多数过滤器的功能,只有几个简单的参数需要建立完全独立的有机影响。

新的Version 6开放了对本地After Effects lights,on-screen迭加简化的工作流程控制部件,音频关键帧生成,以及新的比较模式,生成一个未过滤画面来对比过滤效果。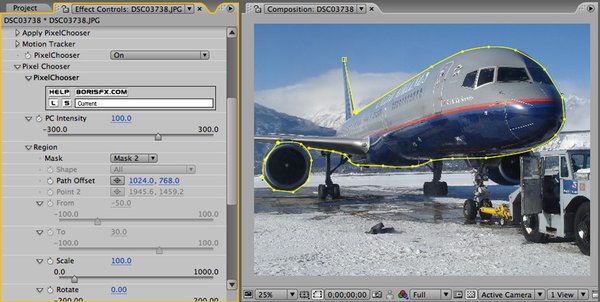 ========================================

下载链接来自Sharevirus,
未经过安装测试与安全检测,使用者后果自负与本论坛无关
软体版权归原作者及其公司所有,如果你喜欢,请购买正版

========================================


Final Effects Complete 6 AE brings over 110 designer effects and transitions to Macintosh and Windows versions of Adobe After Effects and Premiere Pro CS6, CS5, and CS4. Ranging from graceful blurs and edges to radical warps and particle generators, Final Effects Complete dramatically augments your creative arsenal. Full-featured 3D and 2D particle animations include ball action, explosions, distortions, jet trails, hair, liquid mercury distortions, spotlights, and color transitions. The simplicity of the filters combined with the native host interface reduces your learning curve to virtually zero. Most filters feature less than a dozen parameters; only a few simple adjustments are required to create totally unique organic effects.

The new Version 6 release features support for native After Effects lights, on-screen overlay control widgets for streamlined workflow, audio-driven keyframe generation, and a new Compare Mode feature to compare the filtered result with the unfiltered source via either a side-by-side or live split-screen view. Each Final Effects Complete filter has been re-engineered for 64-bit operating systems.



代码
ÜÜÜÜÜÜ ÜÜÜÜÜÜ
Û°ÜÜÜÛ ÛÛÛÛÛÛ ÜÜÛÛÛÛÛÛÛÛÛÛÛ
Û±ÛÛÛÛ ÛÛÛÛÛÛ ÜÛÛÛÛÛÛÛÛÛÛÛÛÛÛ
Û²ÛÛÛÛ ÛÛÛÛÛÛ ÞÛÛÛÛÛÛßßßßßßßßß
ßÜÛÛ ÛÛÛÛÛÛ ² ÛÛÛÛÛÛ ÛÛÛÛÛÛÜÜÜÜ

ßßßßßßßßÛßß ß ß ß ß ßßÛÜß
ÜÛÛÛÜ ßÛÛÛÛÜÜÜÛÛÛÛß ÜÜ ÛÛÛÛÛÛÛÛ ÜÛÛÛÛÛÛÛÜ ÛÛÛÛÛ ÜÛÛÛÜ ßÛÛÛÛÛÛÛ ÛÛÛÛÛÛÛÛ ÛÛÜ
Ü ßÛÛß ÜÛÛÛÛßßßÛÛÛÛÜ ßß ÛÛÛÛÛßßß ÛÛÛßßÛÛÛÛÛ

ÛÛÛÛÛÛÛÛÛÛÛÛ ÛÛÛßßßß ÛÛÛßßßßß Ûß Ü
ÜÛÛÛ ÛÛÛÛÛÛ ² ÛÛÛÛÛÛ ÛÛÛÛÛÛ ÛÛÛÛÛ ÛÛÛÛÛ ÛÛÛÛÛßÛÛÛÛÛß ÛÛÛ Û ÛÛÛÛÛÜÜ ÜÛÛÛÛÜ
ÜßÛÛ ÛÛÛÛÛÛ ± ÛÛÛÛ²Û ÛÛÛÛÛÛ ÛÛÛÛÛ ÛÛÛÛÛ ÛÛÛÛÛ ßßß ÜÛÛÛÛ ß

ÛÛÛÛÛßß ßÛÛÛßÜ
ÛÛÛÛÛÛ ÛÛÛÛ±Û ÛÛÛÛÛÛ ÛÛÛÛÛÜÜÛÛÛÛÛ ÛÛÛÛÛ ÛÛÛÛÛÜÜÜÜ ÛÛÛÜÜÜÜÜ
ÛÛÛÛÛÛ ÛÛÛÛ°Û ÛÛÛÛÛÛ ßÛÛÛÛÛÛÛÛß ÛÛÛÛÛ ßÛÛÛÛÛÛÛ ÛÛÛÛÛÛÛÛ
ÛÛÛÛÛÛ

ÛÜÜÜÜÛ ASCii<ROY>


P R E S E N T S

ÚÄÄÄÄÄÄÄÄÄÄÄÄÄÄÄÄÄÄÄÄÄÄÄÄÄÄÄÄÄÄÄÄÄÄÄÄÄÄÄÄÄÄÄÄÄÄÄÄÄÄÄÄÄÄÄÄÄÄÄÄÄÄÄÄÄÄÄÄÄÄÄÄÄÄÄÄ¿
³ ³
³

FINAL EFFECTS COMPLETE AE VERSION 6.0.2 ³
³ ³
ÀÂÄÄÄÄÄÄÄÄÄÄÄÄÄÄÄÄÄÄÄÄÄÄÄÄÄÄÄÄÄÄÄÄÄÄÄÄÄÂÄÄÄÄÄÄÄÄÄÄÄÄÄÄÄÄÄÄÄÄÄÄÄÄÄÄÄÄÄÄÄÄÄÄÄÄÂÙ
³ Type..........: EFFECTS ³ Packager......: TEAM XFORCE ³
³ Publisher.....:

BORISFX ³ Cracker.......: TEAM XFORCE ³
³ Supplier......: TEAM XFORCE ³ Release Date..: JUN 11TH 2012 ³


ÀÄÄÄÄÄÄÄÄÄÄÄÄÄÄÄÄÄÄÄÄÄÄÄÄÄÄÄÄÄÄÄÄÄÄÄÄÄÁÄÄÄÄÄÄÄÄÄÄÄÄÄÄÄÄÄÄÄÄÄÄÄÄÄÄÄÄÄÄÄÄÄÄÄÄÙ

ÚÄÄÄÄÄÄÄÄÄÄÄÄÄÄÄÄÄÄÄÄÄÄÄÄÄÄÄÄÄÄÄÄÄÄÄÄÄÄÄÄÄÄÄÄÄÄÄÄÄÄÄÄÄÄÄÄÄÄÄÄÄÄÄÄÄÄÄÄÄÄÄÄÄÄÄÄ¿
³ Release notes..

³
ÀÂÄÄÄÄÄÄÄÄÄÄÄÄÄÄÄÄÄÄÄÄÄÄÄÄÄÄÄÄÄÄÄÄÄÄÄÄÄÄÄÄÄÄÄÄÄÄÄÄÄÄÄÄÄÄÄÄÄÄÄÄÄÄÄÄÄÄÄÄÄÄÄÄÄÄÂÙ
³

³
³ ³
³ Final Effects Complete 6 AE brings over 110 designer effects

and ³
³ transitions to Macintosh and Windows versions of Adobe After Effects ³
³ and Premiere Pro CS6, CS5, and CS4. Ranging from graceful blurs and ³
³ edges

to radical warps and particle generators, Final Effects Complete ³
³ dramatically augments your creative arsenal. Full-featured 3D and ³
³ 2D particle animations

include ball action, explosions, distortions, ³
³ jet trails, hair, liquid mercury distortions, spotlights, and color ³
³ transitions. The simplicity of the filters

combined with the native ³
³ host interface reduces your learning curve to virtually zero. ³
³ Most filters feature less than a dozen parameters; only a few

simple ³
³ adjustments are required to create totally unique organic effects. ³
³ ³
³ The

new Version 6 release features support for native After Effects ³
³ lights, on-screen overlay control widgets for streamlined workflow, ³
³ audio-driven keyframe

generation, and a new Compare Mode feature to ³
³ compare the filtered result with the unfiltered source via either ³
³ a side-by-side or live split-screen view.

Each Final Effects Complete ³
³ filter has been re-engineered for 64-bit operating systems. ³
³

³
³ ³
³ ³
³

³
³ ³
³

³
³ ³
³ http://www.borisfx.com

³
³ ³
³ ³


³ ³
³ ³
³ INSTALLATION:

³
³ ------------ ³
³

³
³ 1. Unzip & Unrar, check Crack/install.txt ³
³

³
³ 2. Enjoy it ³
³ ³
³

³
³ ³
³

³
³ When so many groups bring you crap fakes non-working, X-FORCE always ³
³ gets you the Best of the Best. ACCEPT NO

IMITATION ! ³
³ ³
³ X-

Force 2012! ³
ÀÄÄÄÄÄÄÄÄÄÄÄÄÄÄÄÄÄÄÄÄÄÄÄÄÄÄÄÄÄÄÄÄÄÄÄÄÄÄÄÄÄÄÄÄÄÄÄÄÄÄÄÄÄÄÄÄÄÄÄÄÄÄÄÄÄÄÄÄÄÄÄÄÄÄÙ

ÚÄÄÄÄÄÄÄÄÄÄÄÄÄÄÄÄÄÄÄÄÄÄÄÄÄÄÄÄÄÄÄÄÄÄÄÄÄÄÄÄÄÄÄÄÄÄÄÄÄÄÄÄÄÄÄÄÄÄÄÄÄÄÄÄÄÄÄÄÄÄÄÄÄÄÄÄ¿
³

Group News & Greetings.. ³
ÀÂÄÄÄÄÄÄÄÄÄÄÄÄÄÄÄÄÄÄÄÄÄÄÄÄÄÄÄÄÄÄÄÄÄÄÄÄÄÄÄÄÄÄÄÄÄÄÄÄÄÄÄÄÄÄÄÄÄÄÄÄÄÄÄÄÄÄÄÄÄÄÄÄÄÄÂÙ
³

³
³ OUR DiAMONDS-4-EVER GREETiNGS MUST GO TO : ³
³

³
³ All our OLD friends ... and to all our fans ³
³

³
³ ³
³ ³


ÀÄÄÄÄÄÄÄÄÄÄÄÄÄÄÄÄÄÄÄÄÄÄÄÄÄÄÄÄÄÄÄÄÄÄÄÄÄÄÄÄÄÄÄÄÄÄÄÄÄÄÄÄÄÄÄÄÄÄÄÄÄÄÄÄÄÄÄÄÄÄÄÄÄÄÙ


[----------------- X-FORCE 2012 SMOKING THE COMPETITION --------01/01/12-]






这里是其它用户补充的资源(我也要补充):
暂无补充资源