专辑英文名: Couldn't Stand The Weather
专辑中文名: 受不了这鬼天气
音乐风格: 摇滚
版本: [SACD-R]
发行时间: 2011年05月31日
简介: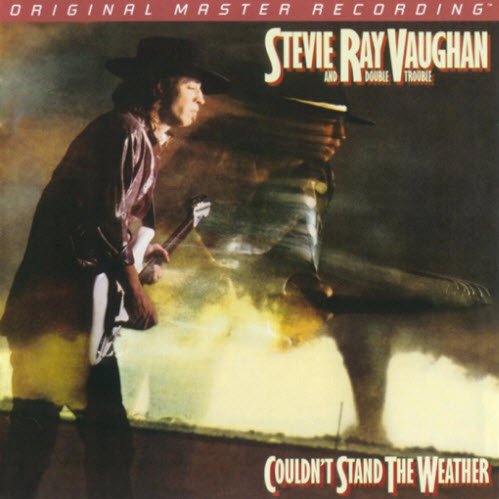 专辑介绍:

★ 音乐史上最伟大的吉他手史提夫雷范生涯第二张专辑,成功结合蓝调与摇滚,让蓝调音乐再度复兴的杰作!

★ AMG(All Music Guide)音乐网站★★★★四星高度评价,乐迷不可错过之经典!

★ 「齐柏林飞船」、「滚石」乐团指定母带处理大师Ray Staff在Alchemy录音室以原始类比母带精心混音,更胜原始版本的珍藏首选!

在第一张初试啼声的专辑「德州洪水」(Texas Flood)获得广大的成功之后,史提夫雷范(Stevie Ray Vaughan)乘胜追击,在1984年推出了这张「受不了的鬼天气」(Couldn't Stand the Weather),没多久就达到了金唱片的销售佳绩,排行榜的成绩也更上一层楼,打进Billboard专辑榜第31名。在蓝调音乐式微的80年代,史提夫雷范的成功不但意义非凡,更为后进的年轻蓝调乐手开啟了一条康庄大道。

专辑中不论是史提夫雷范自己的《Scuttle Buttin'》、《Couldn't Stand The Weather》到厚重的《The Things (That) I Used to Do》,还是Jimi Hendrix的《Voodoo Chile》、运指有如行云流水的《Cold Shot》到火辣的《Honey Bee》,每一首都堪称经典之作,而且都充满著史提夫雷范独一无二的个人特色,听完之后,保证让您大呼过癮!

Audio CD (May 31, 2011)
Original Release Date: 2011
Number of Discs: 1
Format: Hybrid SACD - DSD, Limited Edition, Original recording remastered
Label: Mobile Fidelity Koch
ASIN: B0041IU1HE

Stevie Ray Vaughan's second album, Couldn't Stand the Weather, pretty much did everything a second album should do: it confirmed that the acclaimed debut was no fluke, while matching, if not bettering, the sales of its predecessor, thereby cementing Vaughan's status as a giant of modern blues. So why does it feel like a letdown? Perhaps because it simply offers more of the same, all the while relying heavily on covers. Of the eight songs, half are covers, while two of his four originals are instrumentals -- not necessarily a bad thing, but it gives the impression that Vaughan threw the album together in a rush, even if he didn't. Nevertheless, Couldn't Stand the Weather feels a bit like a holding pattern, since there's no elaboration on Double Trouble's core sound and no great strides forward, whether it's in Vaughan's songwriting or musicianship. Still, as holding patterns go, it's a pretty enjoyable one, since Vaughan and Double Trouble play spiritedly throughout the record. With its swaggering, stuttering riff, the title track ranks as one of Vaughan's classics, and thanks to a nuanced vocal, he makes W.C. Clark's "Cold Shot" his own. The instrumentals -- the breakneck Lonnie Mack-styled "Scuttle Buttin'" and "Stang's Swang," another effective demonstration of Vaughan's jazz inclinations -- work well, even if the original shuffle "Honey Bee" fails to make much of an impression and the cover of "Voodoo Chile (Slight Return)" is too reminiscent of Jimi Hendrix's original. So, there aren't many weaknesses on the record, aside from the suspicion that Vaughan didn't really push himself as hard as he could have, and the feeling that if he had, he would have come up with something a bit stronger. ~ Stephen Thomas Erlewine, Rovi


引用
TEXAN FORCE OF NATURE June 12, 2011
By Stephen Golub
Format:Audio CD|Amazon Verified Purchase
couldn't stand the weather on mfsl sacd is a sonic masterpiece.every song jumps from the speakers with a clarity that puts you right in the control room.every song is a standout with voodoo child rivaling if not surpassing jimi hendrix original.the things that i used to do is a blues tour de force that has stevie spitting out red hot licks like no other.a force of nature that was cut down in his prime is brought back to life on this fantastic release.looking forward to the rest of the catalog being remastered to sacd in the near future.


Album Notes
Master Sound releases are 24-karat gold CDs remastered from first generation masters. This process utilizes 20-bit technology and Sony's "Super Bit Mapping" system.Personnel: Stevie Ray Vaughan (guitar, vocals); Jimmie Vaughan (guitar); Stan Harrison (tenor saxophone); Tommy Shannon (bass); Chris "Whipper" Layton, Fran Christina (drums).Producers: Chris Layton, Stevie Ray Vaughan, Tommy Shannon, Richard Mullen, Jim Capfer.Personnel: Stevie Ray Vaughan (vocals, guitar); Stan Harrison (tenor saxophone); Chris Layton (drums).Stevie Ray was already the hottest act in Austin, Texas, way before David Bowie used his guitar on "Let's Dance." Vaughan's 1983 debut album, TEXAS FLOOD, had alerted the world to a new guitar phenomenon who combined the blues power of Freddie and Albert King with the inspired ferocity of Jimi Hendrix. He made the Hendrix connection plain with his take on "Voodoo Chile (Slight Return)," which rapidly became a concert highlight. At the other extreme was "Tin Pan Alley," a slow blues made famous by Jimmy Wilson but now associated with the Texas hotshot. This was the time when Stevie Ray's celebrity and status among his peers was at least the equal of Eric Clapton. The pitfalls were beckoning.

Editorial Reviews
The late Texas guitarist was a fiercely distinctive blues-rock phenom whose sensitivity and imagination justified his rapid rise to prominence...
Entertainment Weekly (19990402)

4 Stars - Excellent - ...Vaughan's post-Hendrix Stratocasting still sparkles....a reminder of the wit that often informed his phrasing and his willingness to torch them boundaries...
Q (19950501)

4 stars out of 5 -- In studio and onstage, he morphs pitch-bending into a visceral art form....This roadhouse veteran sings quite well.
Down Beat

3 stars out of 5 -- [L]istening to him shred strings in front of an audience reminds us why he's so sorely missed.
Record Collector

Portions of this page Copyright 1948 - 2012 Muze Inc. All rights reserved.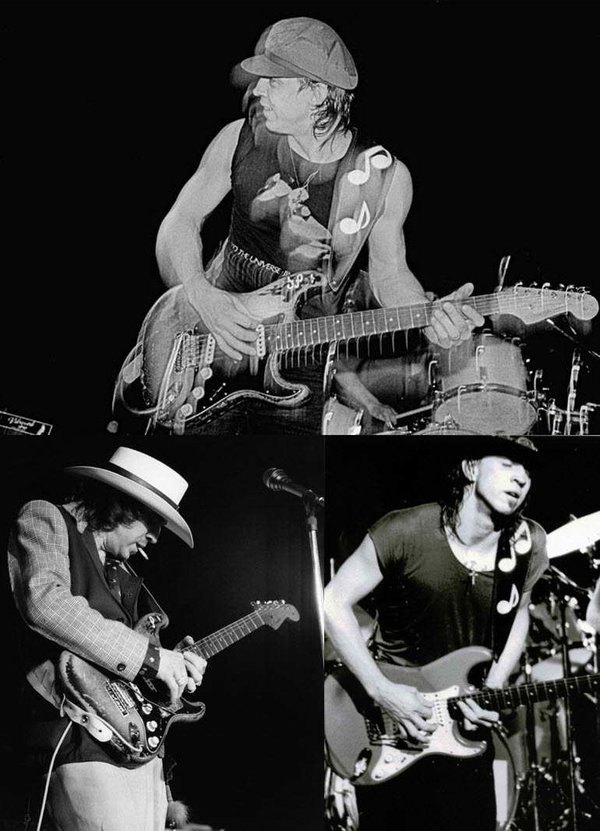 Stephen Ray "Stevie" Vaughan (October 3, 1954 – August 27, 1990) was an American guitarist, vocalist, songwriter, and a notable recording artist.
专辑曲目:
1. Scuttle Buttin'
2. Couldn't Stand the Weather
3. The Things (That) I Used To Do
4. Voodoo Chile (Slight Return)
5. Cold Shot
6. Tin Pan Alley (AKA Roughest Place In Town)
7. Honey Bee
8. Stang's Swang
这里是其它用户补充的资源(我也要补充):
暂无补充资源