专辑英文名: The Sky Is Crying
专辑中文名: 魂断蓝天
音乐风格: 摇滚
版本: [SACD-R]
发行时间: 2011年11月08日
简介: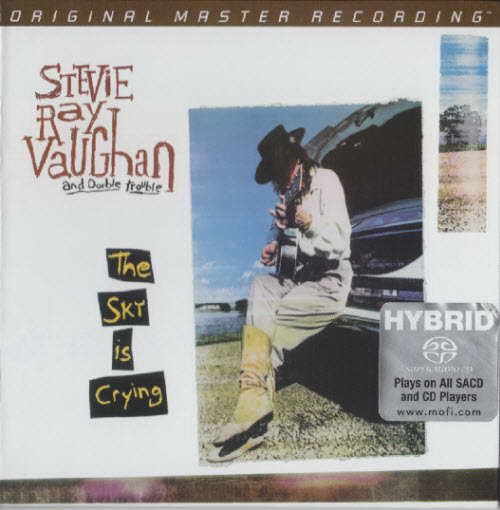 专辑介绍:

Stevie Ray Vaughan The Sky Is Crying

电风扇呼呼地搅著闷热的晚风
凝重的黑夜塞住毛孔无法发汗

漂泊的身影 
十字路的尽头 脖子上的帽子晃盪著 手里提著小猪鼻 脚踩著大步伐
德州的牛仔 半开的胸膛 蓬乱的髮丝随风飘荡
泛黄的天空 皱著黄沙滚滚的眉头 等著魔鬼的出现
他举起了吉他 ㄧ个音符一个音符地 数著苦日子
想起枕边爱人的激情 
想起路边潦倒的虚浪 
想起与酒瓶赌气的痛苦
什么时候 双脚早已无法承担灵魂的重量
他跪下了 
情绪使手指轮起了奔腾的乐句
压抑的音符 述地拔起了个尖儿 直从脚底衝到了脑门
在意识里搅起了个漩涡 从脑袋瓜儿又流遍了四肢
什么颤音 只是难掩激动
就让心中那股无名火 尽情的燃烧
直到 伏著的蛾 甘心自焚

风去 树静 沙平 
ㄧ切归於平静
最后 魔鬼还是没有开著他的宾士车出现
毕竟这只是个熙来攘往的十字路口
既然如此 来点快乐的舞曲吧
当然 
总是有点 却道天凉好个秋

The Sky Is Crying
怎知 竟是魂断蓝天
至今 还是许多人总想与你 在这浑身黏腻的夜里
共奏ㄧ首 全身鸡皮疙瘩的
Little Wing

Audio CD (November 8, 2011)
Original Release Date: 2011
Number of Discs: 1
Format: Hybrid SACD - DSD
Label: Mobile Fidelity Koch
ASIN: B0041IU1GA

The Sky Is Crying is an electric blues album released about one year after Vaughan's death in 1990, the album features ten tracks originally recorded between 1984 and 1989. The Sky Is Crying illustrates many of Vaughan's musical influences, including songs in the style of traditional Delta blues, Chicago blues, jump blues, jazz blues, and Jimi Hendrix. The album's tone alternates primarily between uptempo pieces and gritty, slow blues. The album includes a Grammy-winning extended instrumental cover version of Jimi Hendrix's "Little Wing"; "Chitlins con Carne", a jazz instrumental; and, "Life by the Drop", a song written by Vaughan's friend Doyle Bramhall and played on acoustic guitar.

Comprised of ten previously unreleased studio performances from Stevie Ray Vaughan and Double Trouble cut between late 1984 and early 1989, The Sky Is Crying serves as the legendary guitarists unofficial fifth album as well as an homage to extraordinary musicians exceptional abilities as a musician, songwriter, and interpreter. It also contains the tremendously moving Life By the Drop, the first-ever recorded take of Vaughan playing acoustic guitar. Few, if any, posthumous collections are more complete, satisfying, and revealing as this 1990 set. With the set never before remastered in any form, Mobile Fidelity has taken the honors seriously, remastering from the original master tapes and presenting these life-affirming songs in jaw-dropping fidelity…

…on hybrid SACD. At times, it feels as if you are sitting in the studio control room with the band just a few feet away, as nearly every selection here was recorded live with minimal overdubs. The degree of presence, immediacy, and detail is on par with the best-sounding blues albums on LP or CD in existence. When Vaughan was killed in a helicopter crash in August 1990, his brother, Jimmie, set to work on finding finished material that his younger sibling left in the vaults. To his surprise, there weren't many completed leftovers save for the tracks on this set, which lent to the opinion that, in some way, Vaughan intended The Sky Is Crying to be an actual record. Nearly every song here had long found its way into the groups live sets, including the supremely soulful title track, bathed in Reese Wynans warm organ accompaniment. It would be a standout on most albums, but this effort is filled with such nonpareil matter. Consider Boot Hill, a rarity in that Vaughan plays the slide guitar the very first time he's captured on record in this style. The song was left off of In Step due to its darker content. Or the insightful cover of Jimi Hendrix's Little Wing, which seamlessly moves from tender to tough and back again; listen and you will hear Vaughan's amp humming in the background. Vaughan's formative influences get channeled on a slow-burn version of Howlin' Wolf's May I Have a Talk With You, during which the Texan incorporates the lyrics of several blues standards into the narrative for extra oomph. No matter what Vaughan is playing, his expressive techniques, dynamic contrasts, and jazzy tonalities rise to the surface. This is due to Mobile Fidelity's retrieval of previously hidden information and meticulous engineering that gives the music that sought-after breath of life. Everything from Vaughan's syncopated rhythms to his hot-wired guitar licks sounds apiece, vibrant, and exactly as it should. Want to experience music played with ultimate conviction and soul-shaking integrity? Don't wait another second to dive into The Sky Is Crying.


引用
The sky is cryin....Can't you see the tears roll down the street老天在哭泣 你没看见掉落街上的泪水 The sky is cryin....Can't you see the tears roll down the street 老天在泣诉 你没见到掉落街上的雨滴 I've been looking for my baby我一直在找寻我的贝比 And I wonder where can she be 而我暗想她可能在那里

I saw my baby early one morning....She was walking on down the street我一大清早看见我宝贝 她走在那大街上 I saw my baby early this morning....She was walking on down the street我一清晨见到我贝比 她走在那大街上头 You know it hurt me, hurt me so bad你明了很伤我的 伤我至深矣 Made my poor heart skip a beat使得我弱心悸动了一下

I've got a real real real real bad feelin我有一个真的真地真的很糟的感觉 That my baby she don't love me no more我的宝贝她不再爱我了耶 I've got a real real bad feelin that my baby don't love me no more我有一股真的很糟糕的感受 我的贝比她不再爱我了呕 well , this guy, this guy's been cryin嗯 这男子 这男子汉一直在哭泣 Can you see the tears roll down my nose你们能否见到泪水低落我鼻头
引用
81 of 90 people found the following review helpful
A Life-Changing Event... February 2, 2001
By Gregory Bravo VINE™ VOICE
Format:Audio CD
That's not hyperbole. Man, I still remember it. It was 1995. I was browsing in a record store and came upon this album. I didn't know who the hell it was-- it wasn't like anything I would usually buy-- but I decided to try sometehing different. I was blown right out of my pants. I couldn't believe what I was hearing. I played the tape so many times in 6 months that it started to wear out. It made me want to learn to play, even though I never thought about playing the guitar before-- it was that good, that moving.

Every song on this CD is amazing. How can you talk about good and better when you've reached this level of mastery? You can't. It's like asking which van Gogh painting is your favorite. Still, could you ever buy a van Gogh for under $20?

That being said, there is one song on this CD that is maybe the best pure electric guitar ever recorded: "Little Wing" is a masterpiece among masterpieces. It has it all: such feeling in the slow sections that you cry, such blistering guitar in the power sections that you are stunned, and such subtle mastery throughout that you can hear different nuances each time you listen to the song. Just check out when and how he uses the natural harmonics-- and how he even throws in the Wes Montgomery Jazz/octave work-- each in exactly the right place. This guy wasn't just a guitar maniac-- he was a Master, with a capital "M"-- and on top of it all, he was a wonderful, caring man.

Putting "Life by the Drop" as the last song on the compilation is almost too much for me to handle-- knowing that, when that last note finishes resonating, there will NEVER be any more...

I cry every time I see his bio on MTV-- when I think about that helicopter crash.

There is something wrong with a world in which a man like this gets only 35 years.

I cry.
4 Comments |
Was this review helpful to you?
13 of 13 people found the following review helpful
Blues At Its Very Best!!! August 2, 2003
By "baberufus"
Format:Audio CD
I believe Jimmie Vaughan was truly inspired when he chose this collection of songs for his brother's posthumous CD. It is absolutely flooring. All the other reviews for this CD shed plenty of light on the most outstanding tracks (Little Wing, Boot Hill, etc.), except I didn't see too much mention on the title track, which I want to focus on. IT IS THE BEST SLOW BLUES SOLO EVER RECORDED! I'm not kidding--I've heard a lot of blues guitar and I play myself, but on that track he hits nuances and phrasing and TONE that just makes me explode, no matter how many times I've heard it (and I've heard it lots)! He takes the five-note pentatonic blues scale and does everything possible with it! One review complained that the song sounds too much like "May I Have A Little Talk With You"--well, geez, how many slow blues songs have been recorded over the past 100 years that sound basically the same? Thousands! Each recording has its own "stamp", and that's what you've got to hone in on in order to appreciate these on-the-surface "similiar" recordings, including the two on this CD. If you think they're too similar, then you're not listening close enough!!!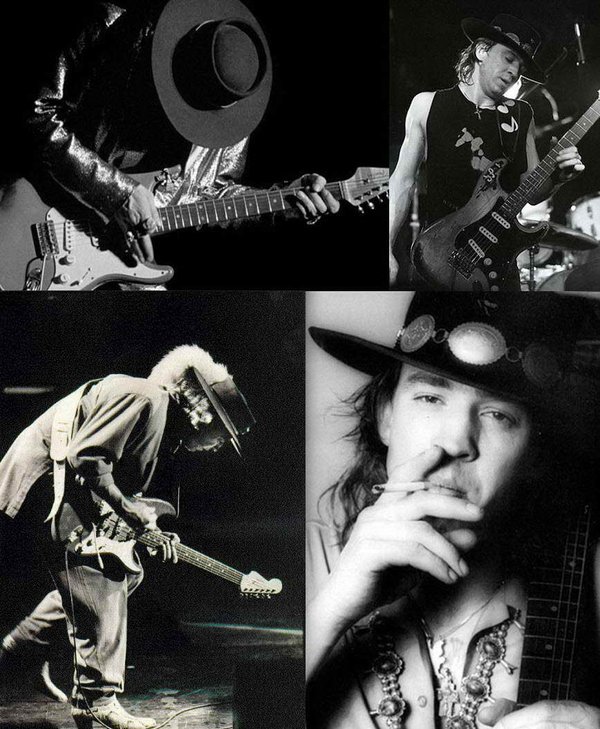 Stephen Ray "Stevie" Vaughan (October 3, 1954 – August 27, 1990) was an American guitarist, vocalist, songwriter, and a notable recording artist.
专辑曲目:
01. Boot Hill [2:18]
02. The Sky Is Crying [4:39]
03. Empty Arms [3:31]
04. Little Wing [6:52]
05. Wham [2:28]
06. May I Have A Talk With You [5:52]
07. Close To You [3:13]
08. Chitlins Con Carne [4:00]
09. So Excited [3:34]
10. Life By The Drop [2:28]
这里是其它用户补充的资源(我也要补充):
暂无补充资源