专辑英文名: Flute Adagios
专辑中文名: 长笛 慢板
古典类型: 全集作品
资源格式: FLAC
版本: [2 CD Set]
发行时间: 2009年01月05日
简介: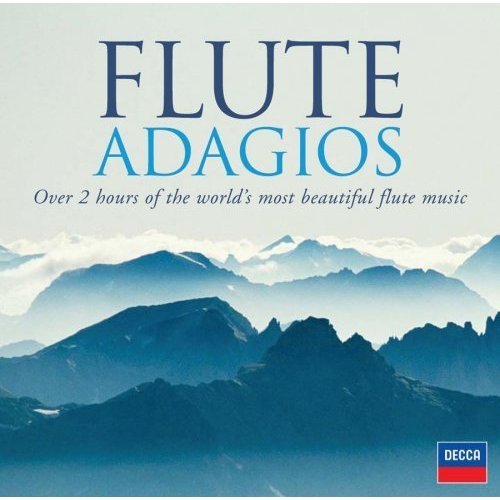 专辑介绍:

长笛是木管乐器家族中最古老的,十九世纪初期经过提奥波‧贝姆(Theobald Boehm)的改良,再由路易士洛特(Louis Lot)加上按键,成为现代法国式开孔长笛。而贝姆则继续延用自己的遮孔式长笛,也成为后来德国式长笛的基本型。贝姆本身为金与铁的工匠,深明金属与乐器之间的关係,他以毕生经验确定银是制造长笛的最佳金属,其制作也成为巴黎音乐院正式公认的长笛。从此,后世均採贝姆式长笛作为现代长笛的范本。在贝姆之前,早期巴洛克使用的是直式长笛,之后又有改良的横式长笛,但基本上都是採用木材制成,而且是依赖凿孔来控制音高,巴哈时代的许多长笛作品就是为这种长笛所创作。即使到莫札特时代,乐团中的长笛也都还多半是木制且没有按键,这或许就是为什么莫札特会一再表示他不喜欢长笛的原因。许多音乐学者推测,如果贝姆等人的长笛改良早一步来到,莫札特可能就会因为喜爱这项乐器,而为它写作更多名曲。本片中让我们听到从巴哈、韦瓦第以降的许多长笛名曲,其中也有多首是较少为人所知的法国近代作曲家创作。并特别挑选这些乐曲中最柔美、优雅的慢板乐章,以求表现出长笛静謐高雅的音色。演奏者则包括威廉.班奈特、嘉洛瓦、葛里密内利等长笛名家。

Product Description:
Featuring famous flute repertoire--Mozart, Bach, and Vivaldi Concertos and the treasured "Greensleeves." One of the most popular and successful classical music series, Adagios regularly hit the charts! Features over two hours of the world's most beautiful and relaxing flute music. Special 2-for-1 price! Features William Bennett, Jean-Pierre Rampal, Academy of St Martin-in-the-Fields, English Chamber Orchestra and many others. Compositions range from Bach and Vivaldi to Debussy and Fauré--giving the listener a varied and consistently beautiful listening experience.


引用
by Blair Sanderson

Decca's Flute Adagios is a double-disc compilation of short pieces and movements written or arranged for flute, drawn from the label's extensive catalog. The quality of music is quite high, as might be expected from a roster of composers that includes J.S. Bach, Antonio Vivaldi, Wolfgang Amadeus Mozart, Gabriel Fauré, and Claude Debussy, among several other masters, and a list of soloists featuring William Bennett, Roger Bourdin, Claude Monteux, Irena Grafenauer, Timothy Hutchins, and a handful of other notable flutists. The volume of the tracks is quite even throughout, whether recorded at chamber or full-orchestral levels, and the flute parts are quite prominent without seeming artificially boosted. As with other titles in Decca's Adagios series, the time range of the performances is quite wide. Here, recording dates run from 1967 to 1996, which means there are a fair number of digitally mastered analog recordings mixed in with the all-digital offerings. Yet the sound quality of the album is consistent, with only the barest traces of tape hiss on some of the older tracks, so there is nothing to distract the avid listener who chooses to play the set through in one sitting.

引用
4.0 out of 5 stars GREAT VALUE, 6 Nov 2009
By
Mr. Sr Harrup "nehpetsrh" (London) - See all my reviews
(REAL NAME)
This review is from: Flute Adagios (Audio CD)
This double album is great value for people who love flute music. The majority of tracks will be very well known pieces and are played by excellent and mostly well known musicians. It is one of a series of Decca 2CD sets that 'feature' a particular instrument (Guitar, Piano, Cello, Violin, Harp etc). If you like this one it is worth checking out the others, all offering the same excellent quality.
Help other customers find the most helpful reviews
Was this review helpful to you? Yes No
Report abuse | Permalink
Comment Comment


1 of 1 people found the following review helpful
5.0 out of 5 stars Pleasing flute, 13 Dec 2009
By
R. R. Adams "Raffles" (London) - See all my reviews
(REAL NAME)
This review is from: Flute Adagios (Audio CD)
This is a very recent addition to Decca's Adagio series and, in my opinion, one of its finest. There seems not to be many compilations of classical music featuring the flute and upon hearing the instrument in all its glory across two CDs, you tend to wonder why. It's a lovely album that has you drifting away to its tuneful sounds. I feel that the flute is a highly underated instrument of musical pleasure. I don't think you'll be disappointed if you opt to buy it. Highly recommended.
引用
CD 1:

[1] II Largo (3:11)
J.S. Bach: Concerto for Flute and Strings in G minor (from BWV 1056)
William Bennett / Academy of St Martin in the Fields / Neville Marriner
[2] Mozart: Andante in C major for Flute, K315 (6:02)
Claude Monteux / Academy of St Martin in the Fields / Neville Marriner
[3] II Cantilena (4:06)
Poulenc: Sonata for Flute and Piano
Patrick Gallois / Pascal Rogé
[4] Fauré: Pavane (6:28)
Academy of St Martin in the Fields / Neville Marriner
[5] II Adagio — (attacca) (2:22)
[6] III Rondeau (4:12)
Mozart: Flure Quartet in D major, K285
William Bennett / Grumiaux Trio
[7] II Andante alla siciliana (4:55)
Mercadante: Flute Concerto in D major
Andrea Griminelli / English Chamber Orchestra / Jean-Pierre Rampal
[8] I Pastorale: Lento, dolce rubato (7:01)
Debussy: Sonata for Flute, Viola and Harp
Roger Bourdin / Colette Lequien / Annie Challan
[9] Ravel: Pièce en forme de habanera (3:00)
Irena Grafenauer / Michael Grandt
[10] III Sicilienne: allegretto molto (3:52)
Fauré: Pelléas et Mélisande — Suite, op.80
Academy of St Martin in the Fields / Neville Marriner
[11] II Adagio non troppo (9:08)
Mozart: Flute Concerto No.1 in G major, K313
William Bennett / English Chamber Orchestra / George Malcolm
[12] III Adagio (4:19)
Handel: Sonata in A minor for Flute and continuo, HWV 374
William Bennett / Denis Vigay / Nicholas Kraemer
[13] IV Andante con variazioni (6:11)
Beethoven: Serenade in D major, op.25 for Flute, Violin and Viola
Maxence Larrieu / Arthur Grumiaux / Georges Janzer

CD 2:

[1] Gluck: Dance of the Blessed Spirits (6:34)
Robert Dohn / Stuttgarter Kammerorchester / Karl Münchinger
[2] Debussy: La plua que lente (arr.T. Hutchins) (4:18)
Timothy Hutchins / Janet Creaser Hutchins
[3] II Affetuoso (5:36)
J.S. Bach: Brandenburg Concerto No.5 in D major, BWV 1050
Richard Adeney / Emanuel Hurwitz violin / Philip Ledger harpsichord / English Chamber Orchestra / Benjamin Britten
[4] Debussy: Syrinx (2:55)
Roger Bourdin
[5] I Lent et grave (2:51)
Satie: Deux Gymnopédies
Orchestre symphonique de Montréal / Charles Dutoit
[6] II Andantino (8:25)
Mozart: Concerto for Flute and Harp in C major, K299
Claude Monteux / Osian Ellis / Academy of St Martin in the Fields / Neville Marriner
[7] Fauré: Morceau de concours (arr.A. Brief)(2:38)
Timothy Hutchins / Janet Creaser Hutchins
[8] III Sarabande (3:03)
J.S. Bach: Suite No.2 in B minor, BWV 1067
William Bennett / Academy of St Martin in the Fields / Neville Marriner
[9] II Andante (7:01)
Ibert: Concerto for Flute
Timothy Hutchins / Orchestre symphonique de Montréal / Charles Dutoit
[10] I Andante (6:08)
Mozart: Flute Quartet in G major, K285a
William Bennett / Grumiaux Trio
[11] Krishna (3:07)
Roussel: Joueurs de Flute
Irena Grafenauer / Michael Grandt
[12] Vaughan Williams: Fantasia on Greensleeves (4:15)
William Bennett / Academy of St Martin in the Fields / Neville Marriner
II Lent (4:03)
[13] Gaubert: Sonata No.1 in A major
Timothy Hutchins / Janet Creaser Hutchins
[14] Fauré: Fantaisie for Flute, op.79 (5:30)
William Bennett / Academy of St Martin in the Fields / Neville Marriner
[15] Vivaldi: Concerto in G minor, op.10 no.2, RV 439 "La notte"
Largo — I Fantasmi: Presto — Largo — Presto — Il sonno: Largo— Allegro 9:18
Andrea Griminelli / English Chamber Orchestra / Jean-Pierre Rampal
华文曲目的翻译是源自于 tangwei_16007 同学发布在10楼的评论
光盘:1
01。威廉·贝内特 - 拉哥3时15分
02。克劳德Monteux - 行板长笛乐团在C,K.3156时01分
03。帕斯卡尔ROGE - 2。 cantilena4:12
04。在Fields圣马丁 - 孔雀舞曲,Op.506:33
05。威廉·贝内特 - 2。慢板 - (attacca)2时22分
06。威廉·贝内特 - 3。回旋曲4:12
07。安德烈Griminelli - 2。行板阿拉Siciliana4:56
08。罗杰·布尔丹 - 1。田园7:04
09。伊雷娜Grafenauer - 件印版的哈巴涅拉3:06
10。圣马丁在Fields - Sicilienne3:57
11。威廉·贝内特 - 2。慢板非过于9:10
12。 3 - 场室内乐团圣·马丁学院。慢板4:20
13。马克桑斯Larrieu - 4。行板CON Variazioni6:14
光盘:2
01。斯图加特Kammerorchester - 有福精神6:37舞
02。蒂莫西·哈钦斯 - 香格里拉加上阙lente(L.121) - 编曲。为长笛由蒂莫西·哈钦斯4时24分
03。英国室内乐团 - 2。 affetuoso5:39
04。罗杰·布尔丹 - 西瑞克斯 - 举目无亲的长笛2:57
05。乐团,蒙特利尔交响乐团 - Gymnopédie12:52
06。克劳德Monteux - 2。行板8:26
07。蒂莫西·哈钦斯 - Morceau的竞赛 - 编曲Anabel Brieff2:41
08。威廉·贝内特 - 3。萨拉班德3:03
09。提摩太后书的哈钦斯 - 2。行板7:03
10。威廉·贝内特 - 1。行板6:10
11。伊雷娜Grafenauer - 克里希纳3:12
12。在Fields圣马丁 - 绿袖子4:17上的"幻想曲"
13。提摩太后书的哈钦斯 - 2。徐缓4:10
14。威廉·贝内特 - 幻想曲,Op.79 - 策划,1957年由路易·奥贝尔。 5:34
15。安德烈Griminelli - 为长笛,G小调,作品10,第二,R.439"晚报"9:27弦乐协奏曲
专辑曲目:
Disc: 1

01. William Bennett - Largo 3:15
02. Claude Monteux - Andante for Flute and Orchestra in C, K.315 6:01
03. Pascal Rogé - 2. Cantilena 4:12
04. Academy of St. Martin in the Fields - Pavane, Op.50 6:33
05. William Bennett - 2. Adagio - (attacca) 2:22
06. William Bennett - 3. Rondeau 4:12
07. Andrea Griminelli - 2. Andante alla Siciliana 4:56
08. Roger Bourdin - 1. Pastorale 7:04
09. Irena Grafenauer - Pìece en forme de habanera 3:06
10. Academy of St. Martin in the Fields - Sicilienne 3:57
11. William Bennett - 2. Adagio non troppo 9:10
12. Academy of St. Martin in the Fields Chamber Ensemble - 3. Adagio 4:20
13. Maxence Larrieu - 4. Andante con Variazioni 6:14

Disc: 2

01. Stuttgarter Kammerorchester - Dance of the Blessed Spirits 6:37
02. Timothy Hutchins - La plus que lente (L. 121) - Arr. for flute by Timothy Hutchins 4:24
03. English Chamber Orchestra - 2. Affetuoso 5:39
04. Roger Bourdin - Syrinx - for unaccompanied Flute 2:57
05. Orchestre Symphonique de Montréal - Gymnopédie No.1 2:52
06. Claude Monteux - 2. Andantino 8:26
07. Timothy Hutchins - Morceau de concours - Arranged Anabel Brieff 2:41
08. William Bennett - 3. Sarabande 3:03
09. Timothy Hutchins - 2. Andante 7:03
10. William Bennett - 1. Andante 6:10
11. Irena Grafenauer - Krishna 3:12
12. Academy of St. Martin in the Fields - Fantasia on Greensleeves 4:17
13. Timothy Hutchins - 2. Lento 4:10
14. William Bennett - Fantaisie, Op.79 - Orchestrated by Louis Aubert, 1957. 5:34
15. Andrea Griminelli - Concerto for Flute and Strings in G minor, Op.10, No.2, R.439 " La notte" 9:27
这里是其它用户补充的资源(我也要补充):
暂无补充资源