中文名: 文件管理工具
英文名: Ghisler Software Total Commander
资源格式: 压缩包
版本: v8.0
发行时间: 2012年
制作发行:
Christian Ghisler, Ghisler Software GmbH,
简介: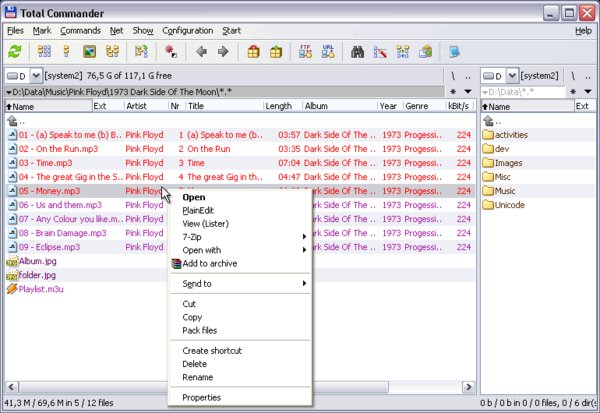 软件类型:应用软件-文件管理
软件性质:免费破解软件
操作系统:Windows
应用平台:Windows® 95/98/ME/NT/2000/XP/Vista/7, and Windows® 3.1.
问题反馈:http://www.ghisler.com/faq.htm
网站链接:http://www.ghisler.com/
软件介绍:

  功能强大的全能文件管理器(简称 TC)。支持随意自定义的菜单、工具栏、快捷键,给您最大的自由,打造个性 TC。一般的文件操作,如搜索、复制、移动、改名、删除等功能应有尽有,更有文件内容比较、同步文件夹、批量重命名文件、分割合并文件、创建/检查文件校验 (MD5/SFV) 等实用功能。内置 ZIP/TAR/GZ/TGZ 格式的压缩/解压功能,ZIP 格式还支持创建加密及自解包功能。此外,不仅可以直接打开(解开) ARJ/CAB/RAR/LZH/ACE/UC2 等压缩包,配合插件或相应的压缩程序,更可创建这些格式的压缩包,就像创建和打开文件夹一样简单。而搜索功能,无论是文件还是内容,同样支持在这些压缩包中进行。
  除了支持详细资料、列表、缩略图等资源管理器也有的显示方式外,利用内容插件,支持各式各样的自定义列视图,显示不同文件的内部信息,满足您查看不同文件的需求。多标签界面,让本来的两个窗口,可以扩展到几十个,操作空间更显自由。而贴心的历史和常用文件夹按钮,可以导出/导入的标签和文件列表,让您穿越各个空间更加快捷高效。
  通过工具栏和菜单,可以随意调用外部程序和内部命令。多种功能或强大或实用的插件,让 TC 如虎添翼、能原来所不能。批量重命名和文件搜索,利用插件和正则表达式,功能更多更强了。还有可以选择的美化界面,支持 FXP 和 HTTP 代理的 FTP 功能,

  Total Commander (原Windows Commander)是一款著名的磁盘文件管理软件,体积小巧但功能强大,可以完全取代资源管理器。除了具有一般的文件管理功能外,还能实现文件比较、快速搜索、快速查看、批量重命名、压缩、解压、分割、合并、编码、解码,FTP连接以及图像浏览等功能。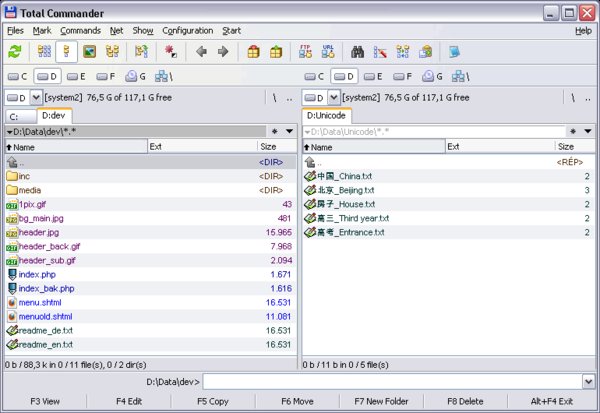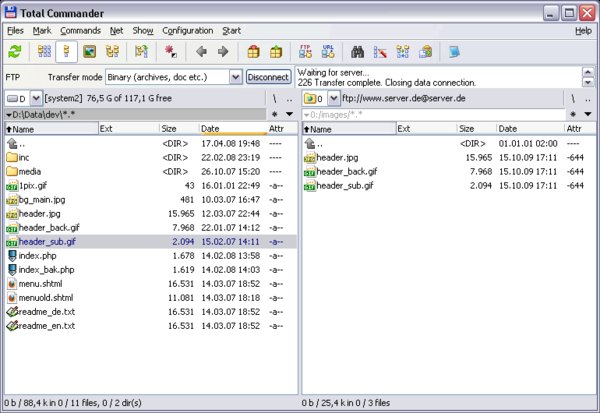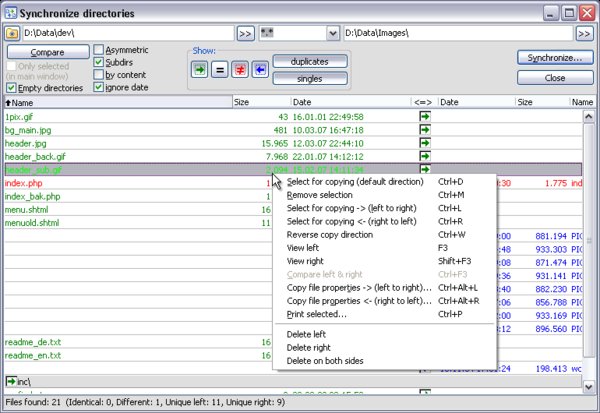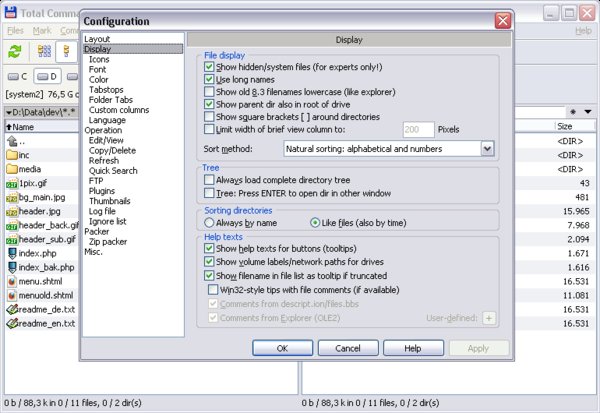 ======================================

下载链接来自sharevirus,
未经过安装测试与安全检测,使用者后果自负与本论坛无关
软体版权归原作者及其公司所有,如果你喜欢,请购买正版

======================================


Total Commander (former Wincmd) is a file manager for Windows similar to the Windows Explorer. But Total Commander uses a different approach: it has two fixed windows side by side like a well-known file manager for DOS. Total Commander (formerly know as Wincmd) is an file manager replacement for the Windows Explorer. This is the 32 bit version for Windows 95/98/ME and Windows NT/2000/XP. A 16 bit version is also available. Total Commander handles archives like subdirectories. It supports ZIP/ARJ/LHA/RAR/UC2/TAR/GZ/CAB/ACE archives, and has an internal ZIP-compatible packer. The search function allows to search for files inside archives, even for text. A command line helps starting programs with parameters, and a fully configurable button bar allows to launch programs and internal commands. The built-in viewer can show files in text, hex, binary, image and multimedia format.



代码
  
     
        
        
       
       
    
    
      
°    ° 
    
  °    
 °     °
     
 °  
   
   
 °±±°
° °±° 
   °
±‏ SINCE 2000 ‏±
 
‏ E A T P R E S E N T S ‏

Ghisler.Software.Total.Commander.v8.0.Cracked-EAT



‏ ‏
   
±²²   ²²±
²²°²  RELEASE INFO  ²°²²
² ²   ² ²
  ² ²  
² ²   ² ²
²² ±‏ ‏± ²²
 ‏ ²   ² ‏ 
²²‏   ‏²²
±²²     ²²±
±² ² ‏ ‏ ² ²±
± ± ± ±
° ± ± °
° ± SUPPLIER ....: TEAM EAT ± °
 ± PROG TYPE ...: APPLICATION ± 
 ° LANGUAGE ....: MULTI ° 
 RELEASE DATE.: 2012-05-24 
 ° ° 
 ° CRACKER ......: TEAM EAT ° 
 PROTECTION ...: DEMO-LIMITS 
 DIFFICULTY ...: GUESS! 
 
 PACKAGER ....: TEAM EAT 
 FORMAT ......: ZIP/RAR 
 ARCHIVE NAME.: eatwc800.zip 
 No OF DISKS .: [XX/01] 
 
 REQUIREMENTS .: Win9x/ME/NT/2000/XP/2003/Vista/Win7/Win8 
 PRICE ........: $38.00 
 WEBSITE.......: http://www.ghisler.com 
 
 
 
‏° °±‏
²² ²²
²² ° ²²
 ²    
² ² ²² ² 
° ²² ±²± 
² °²²° °²²° ²
° ²° °² °
² ²
² ²
 ² ² 
 


‏ ‏
   
±²²   ²²±
²²°²  RELEASE NOTES  ²°²²
² ²   ² ²
  ² ²  
² ²   ² ²
²² ±‏ ‏± ²²
 ‏ ²   ² ‏ 
²²‏   ‏²²
°²²     ²²°
°² ² ‏ ‏ ² ²°
° ² ² °
° ± ± °
° °
 ° ° 
 ° ° 
 
 Total Commander (former WinCmd) is a file manager 
 for Windows (TM) similar to the Windows Explorer. 
 But Total Commander uses a different approach: it 
 has two fixed windows side by side like a well-known 
 file manager for DOS. 
 
 Here are some key features of Total Commander: 
 
 * Keyboard functions similar to the DOS original. 
 * Supports Drag & Drop with the mouse, including to 
 the print manager. 
 * Extended copying, moving, renaming and deleting of 
 entire trees (Enables deleting "full" 
 directories). 
 * Archives are handled like subdirectories. You can 
 easily copy files to and from archives. The 
 appropriate archiving program is automatically 
 called. pkzip, arj, lha, rar, uc2 and ace are all 
 supported. 
 * Start-menu (User-defined commands) to place your 
 frequently used DOS or Windows programs into a 
 drop-down menu. The actual directory and/or the 
 file under the cursor can be delivered to the 
 application. 
 * Command line for the simple starting of programs 
 with parameters, simply by typing the program name 
 or by pressing CTRL+ENTER or CTRL+SHIFT+ENTER. 
 * Enhanced search function with full text search in 
 any files across multiple drives. 
 * Built in file viewer (F3) to view files of ANY 
 SIZE in hex, binary or text format, using either 
 the ASCII- (DOS) or the ANSI- (Windows) character 
 set. The line width and font size can now be 
 changed. 
 * Internal Unzip by Info-Zip, which allows unzipping 
 without calling an external program! The source 
 code in Turbo-Pascal is free and can be obtained 
 directly from the author. 
 * Configurable button bar to start external programs 
 or internal menu commands. 
 * Configurable main menu. 
 * Internal unpackers for ZIP, ARJ, LZH, GZ, TAR, RAR 
 and ACE formats. 
 * Internal ZIP packer, based on ZLib by Jean-loup 
 Gailly. 
 
 
 What's new in Total Commander 8.0 
 * When creating shortcuts (*.lnk) with 
 Ctrl+Shift+F5, do not cut name after last dot for 
 directories (AppendLnk=2 in wincmd.ini) 
 * Wincmd.ini, SelectionFocus=color: Surround file in 
 focus with special color when there are selected 
 files in the active panel. 
 * SubdirCopyOrder option in wincmd.ini allows to set 
 order in which files in subdirs are copied 
 * HideRemovableNoMedia option in wincmd.ini now also 
 works in "Drive not found" dialog and Search - 
 Drives 
 * GetTextMode option in wincmd.ini for screen 
 readers (for the visually impaired) 
 * Also show harddisks connected via Firewire with 
 removable disk icon, just like USB disks 
 * Synchronize dirs: Rename single files on the left 
 (F6) or right side (Shift+F6), also with slow 
 double click 
 * Directory hotlist (Ctrl+D): Option to add a new 
 entry directly to a submenu of the list 
 * Show harddisks connected via USB with removable 
 disk icon, just like USB sticks 
 * Search function: When restoring the last search 
 result, also restore the cursor position and top 
 index in the list 
 * More colors can now be changed via Configuration - 
 Options - Colors 
 * Copy function: Ask user when a directory cannot be 
 entered for copying (can be controlled with 
 CopyDirsAsAdmin option in wincmd.ini) 
 * Synchronize dirs: Faster deletion to recycle bin 
 on Vista/7 by deleting each directory as a whole 
 instead of each file 
 * Synchronize dirs: F2 shows list of saved 
 synchronize options 
 * Compare by content: CompareDeleteBak=1 set in 
 wincmd.ini: Delete .bak files when closing compare 
 tool 
 * Control TC with a Windows Media Center remote 
 control (Enable with MediaRemote=1 in wincmd.ini) 
 * Set style of Network Neighborhood with 
 NethoodStyle option in wincmd.ini 
 * Synchronize dirs: More detailed status line 
 (displayed and total number of files found) 
 * InplaceOkButton=2 shows confirm button to the left 
 of the edit box 
 * On Windows Vista and newer, show subfolder in 
 Network Neighborhood with "Entire Network" (as on 
 Windows XP) 
 * Compare by content: Show compare progress bar and 
 percent done in footer 
 * Synchronize dirs: Show number of filtered out 
 files in the footer 
 * Connect to FTP or HTTP: Always try all IP 
 addresses (IPv4 and IPv6) as long as connections 
 fail. 
 * Support SSL-encrypted FTP server to server 
 transfers 
 * Show button to the right of the inplace rename 
 edit box (Shift+F6) to confirm the renaming 
 * Alt+F10 tree: If TreeFileLocation isn't set, save 
 the tree in the same location as the thumbnail 
 cache on system drive and UNC paths 
 * AlwaysAsAdmin=1 in wincmd.ini auto-uses admin 
 functions after user confirmed "Always as 
 administrator" once 
 * Start TC with a larger default size 
 * New environment variable %COMMANDER_EXE% pointing 
 to the Total Commander program 
 * New WM_COPYDATA options for scripting 
 * Verify CRC checksum from clipboard directly for 
 the file under the cursor 
 * Compare by contents (x64 only): Support for files 
 >2GB 
 * Lister: Auto-rotate jpg images loaded via GDI+ to 
 the angle stored in the EXIF information 
 * New options in the search&replace section of the 
 Multi-rename tool dialog box: 1x (only first 
 occurrence) and [E] (change extension or not) 
 * Lister: F3 now also works with folders (mainly 
 interesting with plugins) 
 * Synchronize dirs: "By content" option now also 
 works with packer plugins which support the 
 "search by content" option 
 * These are bugfix releases, there are no major new 
 features 
 * Enhanced progress dialog handling: Progress is now 
 handled asynchronously, so it will no longer slow 
 down any file operations. Especially the copying, 
 moving and deleting of many small files should be 
 much faster now. Also the number of files and 
 bytes handled and the total files/bytes are shown now 
 * Lister: Show jpg, gif and png images in Lister 
 without plugins 
 * Search function: In field "Search in", a list file 
 can be specified like this: 
 @c:\path\searchfile.txt. The file must contain one 
 file/dir name per line, absolute or relative to 
 the location of the list file 
 * Multi-rename tool enhancements: Allow backslashes 
 in name field, directly create sub-folders for 
 moving files 
 * Draw new style (Windows Vista/7) expand/collapse 
 icons in tree 
 * Copy directly from FTP or virtual folders (e.g. 
 the desktop) to file system plugins 
 * "Skip all" in "copy as admin" function 
 * Use new Explorer method on Windows 7 to show file 
 time stamps (not changing between summer and 
 winter), can be changed via wincmd.ini 
 (NewTimeZoneMethod) 
 * See history.txt for all additions and fixes 
 
 
 
‏° °±‏
²² ²²
²² ° ²²
 ²    
² ² ²² ² 
° ²² ±²± 
² °²²° °²²° ²
° ²° COMMENTS °² °
² ²
² ²
 ² ² 
   
 
 Do NOT distribute this release outside of the scene 
 Keep the scene alive and secure! 
 
All good progs start as freeware,
then things get worse ...;-)

 
 
‏ ‏
²° °²
²° °²
² ²
² ²
² ²
   




‏ ‏
   
±²²   ²²±
²²°²  INSTALLATION NOTES  ²°²²
² ²   ² ²
  ² ²  
² ²   ² ²
² ²² ±‏ ‏± ²² ²
 ‏ ²   ² ‏ 
²²‏   ‏²²
±²²     ²²±
±² ² ‏ `TLB' ‏ ² ²±
± ± Try it, Like it, Buy it! ± ±
° ± ± °
° °
 ° ° 
 ° ° 
 ° ° 
 1. Unpack and install. 
 2. Copy included files to the installed folder. 
 Note: The keyfile is optional and replaceable. 
 
 That's all. Have fun using it!;-) 
 
 ___________________________________________________________________ 
 
 Always remember to block applications (or go off line) from calling 
 home 'during install'. Once installed, disable 'check for automatic 
 updates' option if available, so that you don't get it blacklisted. 
 
 
‏° °±‏
²² ²²
²² ° ²²
 ²    
² ² ²² ² 
° ²² ±²± 
² °²²° °²²° ²
° ²° °² °
² ²
² ²
 ² ² 
   
   
² ²
 
²   ²
² ‏²²   ²²‏ ²
  ² EAT CONTACT ²  
²²‏   ‏²²
±²²     ²²±
±² ² ‏ ‏ ² ²±
± ± ± ±
± ± ± ±
 ± ± 
±  ± ±  ±
±  ° EAT is a closed group. We would consider only: °  ±
±  ° °  ±
°  ° ‏ Excellent reverse-engineers °  °
° ° ‏ Experienced coders/scripters ° °
° ° ‏ Supplier of quality software who can do so on a ° °
 ° frequent basis (retail date not older then 6 months) ° 
 
 We do *NOT* want... 
 ‏ Distros, Shells, etc 
 ° ‏ Carders <You aren't what the scene is & bring even more ° 
 security risk> 
 ° ‏ Couriers ° 
 
 
 
‏° °±‏
²² ²²
²² ° ²²
 ²    
² ² ²² ² 
° ²² ±²± 
² °²²° °²²° ²
° ²° °² °
² ²
² ²
 ² ² 

‏ ‏
   
±²²   ²²±
²²°²  EAT NEWS  ²°²²
² ²   ² ²
  ² ²  
² ²   ² ²
² ²² ±‏ ‏± ²² ²
 ‏ ²   ² ‏ 
²²‏   ‏²²
±²²     ²²±
±² ² ‏ ‏ ² ²±
± ± ± ±
° ± ± °
° °
 ° ° 
 ° ° 
 ° ° 
 
 :::::::::::::::::::::::::: 
 
 
 
 
 
‏° °±‏
²² ²²
²² ° ²²
 ²    
² ² ²² ² 
° ²² ±²± 
²  ²²° °²² ²
°   °

‏ ‏
   
±²²   ²²±
²²°²  GREETINGS  ²°²²
² ²   ² ²
  ² ²  
² ²   ² ²
² ²² ±‏ ‏± ²² ²
 ‏ ²   ² ‏ 
²²‏   ‏²²
±²²     ²²±
±² ² ‏ ‏ ² ²±
± ± ± ±
° ± ± °
° °
 ° ° 
 ° ° 
 ° ° 
 All our friends out there ... 
 
 Respect goes out to the competition 
 and to those who keep the scene secure! 
 
 
 ²² 
 ² 
° ²±²²°°°°°²²±² °
° ±±²²°°°°°°°²²±± °
° ²²±²²°°°°°°°°°°°²²±²² °
°  ²±²²°°°°°°°°°°°°°°°²²±²  °
°  ²²²²±°°°°°°°°°°°°°°°±²²²²  °
°   ²²²²²°°°°°°°°°°°°°°°°°²²²²²  °
°  ± ²²²²±°°°°°°°°°°°°°°°°°±²²²²  °
° ²²²²±°°°°°°°°°°°°°°°°°±²²²²  °
 ²²²²°°°°°°°°°°°°°°°°°²²²² ± 
° ²²²²°°°°²²²²°°°°²²²² °
°² ²²²²°²²°²²²² ²°
°²²‏ ²²²²²²²²²²²²²² ‏²²°
 ‏ ²²²²²²²²²²²²²²²² ‏ 
 ±  ²²²²²²²°°°²²²²²²² ± 
‏  ± ²²²²²²²°°°²²²²²²²   ‏
±‏ ²± ²²²²²²²²²²²²²² ± ±² ‏±
±   ² ²²²²²²²²²²²²²²²²²² ²   ±
± ²  ²²²²²²²²²²²²²²²²²²²²²²²²  ² ±
° °  ²²²²²²²²²²²²²²²²²²²²²²²²²²  ° °
°    ²²²²²²²²²²²²²²²²²²²    °
° ±   ²²²²²²²²²²²²²²   ± °
° ±   ²²²²²²²²²²²²²²²²²²²   ± °
° °    ²²²²²²²²²²²²²²²²²²²²²²²²²    ° °
° ²  ²²²²²²²²²²²²²²²²²²²²²²²²²  ² °
° ²   ²²±²²²²²²²²²²²²²²²²²±²²   ² °
  ±‏ ±²²²²²±±±±²²²²± ‏±  
°    ± ²±±²±²±²²²±²±±² ±   °
°  ±  ± ±±±±±±±²²±±±±±² ±   °
°   ° ±±±±±²²±±±± °   °
  ±±±±±±  
  ° ±± ° n0!
  °  °   
 ° ²²²² °  ±
°  °
  °   ° 
° ± ° ° °
 ° ש ש NFO LAST UPDATE ON 2009 ש ש ° 
 ° ° 
  
 ° ± ° 
 ° ° 
 
‏ ‏



这里是其它用户补充的资源(我也要补充):
暂无补充资源