中文名: 系统驱动管理工具
英文名: Driver Checker
资源格式: 压缩包
版本: v2.7.5 DC 21.05.2012
发行时间: 2012年
简介: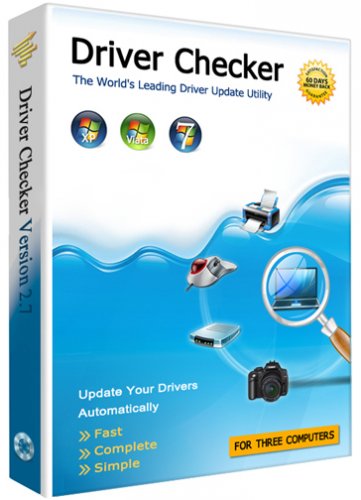 软件类型:软件>系统工具
软件性质:破解软件
操作系统:Windows
应用平台:Windows 7, 2000, 2003, XP and Vista
问题反馈:http://www.driverchecker.com/support/
网站链接:http://www.driverchecker.com/
软件介绍:


Windows驱动程序管理与检查,可以为您的整个硬件设备轻松地检测和更新最新的驱动程序。支持以下这些驱动程序:打印机驱动程序,USB驱动程序,声音/音频驱动程序,Vista的驱动程序,蓝牙驱动程序,鼠标驱动器,键盘驱动器,磁盘阵列驱动器,扫描仪驱动程序,视频驱动器,调制解调器驱动程序,网络驱动器, Linksys的驱动器,摄像头驱动程序,图形驱动器,VGA驱动程序及其它Windows驱动程序!

  Driver Checker是一款国外非常专业的驱动程序管理与更新检查软件,Driver Checker软件支持对磁盘阵列驱动器,扫描仪驱动程序,视频驱动器,调制解调器驱动程序,网络驱动器,打印机驱动程序,USB驱动程序,声音/音频驱动程序,Vista的驱动程序,蓝牙驱动程序,鼠标驱动器,键盘驱动器,Linksys的驱动器,摄像头驱动程序,图形驱动器,VGA驱动程序及其它Windows驱动程序等进行更新,为您的整个硬件设备轻松地检测和更新最新的驱动程序.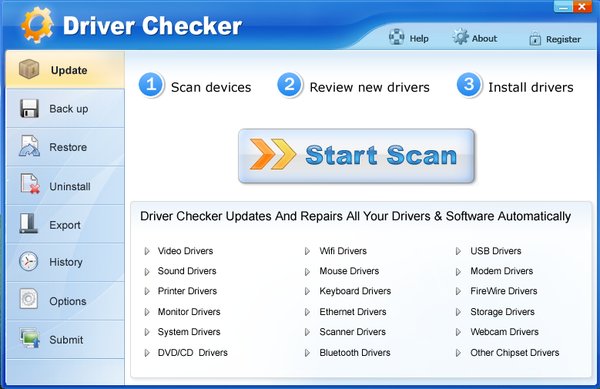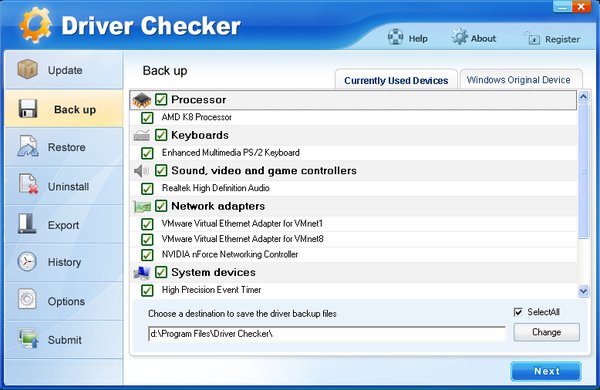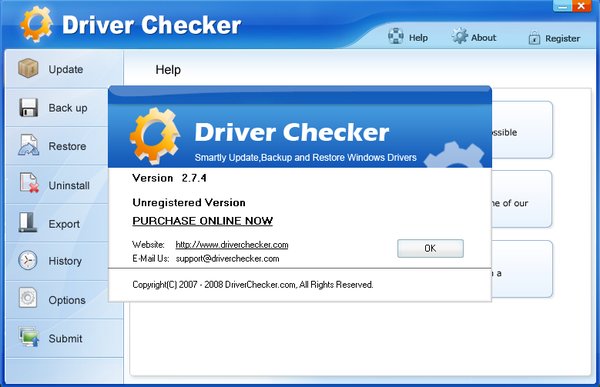 ==========================================

下载链接来自SV
未经过安装测试与安全检测,使用者后果自负与本论坛无关
软体版权归原作者及其公司所有,如果你喜欢,请购买正版

==========================================


Driver Checker is designed to effectively detect the outdated or broken device drivers and satisfy the application upgrade requirements if you can not find the new versions available from the original manufacturers. Driver Checker can deep scan your hardware devices, detect and update the outdated drivers if available, completely backup them and restore them if necessarily; You can also uninstall the drivers completely on demand. Driver Checker does all of these through the easy-to-use interface and makes your system running more secure, stable and always up-to-date.

Key Features and Benefits of Driver Checker:
Starightfoward and intuitive interface
Better PC performance and improved stability
Access to the largest drivers database in the industry
Continous updates for the latest manufacturer drivers
Submit the unavailable drivers updated in next version
Unlimited technical supports with our 24x7 technicians
Automatically update and maintain these drivers: Printer Drivers, USB Drivers, Sound/Audio Drivers, Vista Drivers, Bluetooth Drivers, Mouse Drivers, Keyboard Drivers, RAID Drivers, Scanner Drivers, Video Drivers, Modem Drivers, Network Drivers, Linksys Drivers, Webcam Drivers, Graphic Drivers, VGA Drivers & Other Windows Drivers!

Update (outdated/broken) drivers means: Avoid and minimize driver errors, Repair device bugs &Ensure the best system compatibility and performance.


Avoid and minimize driver errors

Drivers may relate to small software programs and share the same files. If any of the files is damaged which results in corrupted and outdated drivers, errors will occur on your computer endlessly. Your system will also generate a driver error message when the computer enters standby or hibernate mode.


Repair devices bugs.

After you have used your machine for a long time, you will face the fact that you have to fix parts of it from time to time. Periodically, the device manufacturers will release new drivers to fix device bugs and to optimize the device. By updating your device drivers, you are able to enjoy the best computer performance.


Get the best system compatibility and performance

After Microsoft released an operating system update, the driver may not be a perfect fit between the OS and the hardware. The latest drivers can lower the probability of errors to boost your PC efficiency and to give your game play a maximum performance. Streamlined updating process will ensure you are free of download and installation troubles.

Why Driver Checker is the best choice to
update PC drivers and fix driver errors?
More effective than the traditional Windows driver update.
Fast locate & remove drivers with clear instructions, which is easier than Device Manager.
Expert on detect corrupted driver that stuck in PC.
Ease of use and user-friendly interface.
Provide different ways of application download style: batch-by-batch, one-by-one.
Fully tested on Windows 7, 2000, 2003, XP and Vista. Support both 32-bit and 64-bit versions.
Show details of current installed drivers.
Fast driver scan and high speed driver downloads.
Instant access to 1,553,638+ specific driver update files.
Advanced Diagnostics Technology helps you find devices not working properly and efficiently.
Driver Checker updates and fixes all your drivers automatically.
Safe to use, secure and trusted device drivers from the original manufacturers.
Driver Checker guarantes you a 100% detection of your system devices. No device will be missed.
Immediate and unlimited technical support from our 24x7 technicians to all your driver problems.


System Requirements


Supported OS: Windows 2000, 2003, 2008, XP, Vista, or Windows 7 (both 32 and 64 bit version systems)

Minimum Requirements:64 MB RAM (128 MB RAM or higher is suggested);8 MB hard drive space;Additional hard disk space for driver downloads and backups.
这里是其它用户补充的资源(我也要补充):
暂无补充资源