中文名: 地震目标检测系统
英文名: DGB OpendTect Commercial
资源格式: 压缩包
版本: v4.2.0k x86|x64
发行时间: 2012年
简介: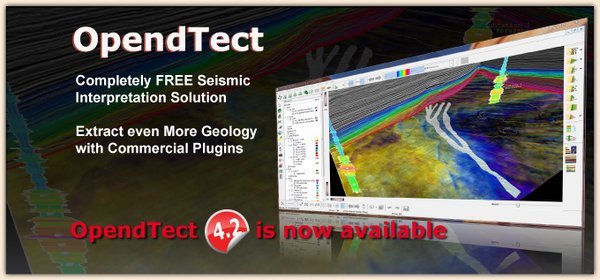 OpendTect软件是荷兰dGB公司研发的一个地震目标检测系统,集层序地层解释系统、倾角导向、地震颜色反演等功能为一体,可同时对多个地震属性体进行处理、可视化和解释。其中最具特色的技术是倾角导向和层序地层解释系统。

  该软件利用倾角导向可直接生成导向体,导向体包含空间每一个采样点的倾角和方位角信息,在多道属性处理及滤波时利用导向体来充分考虑地质目标体的空间展布,从而提高目标体及断裂检测的精度。

  此外,运用倾角导向功能还可自动追踪年代地层事件,进而进行沉积体系域解释,帮助研究人员更直观、更深刻地理解地层沉积演化过程。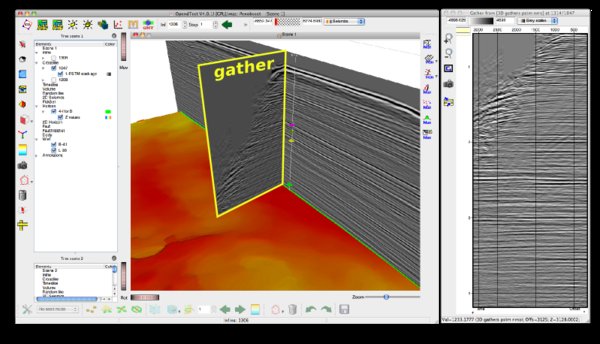 ==========================================

下载链接来自sharevirus
未经过安装测试与安全检测,使用者后果自负与本论坛无关
软体版权归原作者及其公司所有,如果你喜欢,请购买正版

==========================================



systems anyone can contribute to bring the software to a higher level. The closed source part of OpendTect consists of commercial plugins. These are developed by a growing number of oil company developers as in-house products and by software vendors such as: dGB Earth Sciences, ARK CLS, Earthworks and Geokinetics, as commercial plugins.
OpendTect started life as an open source seismic interpretation system back in 2003. It was in 2009, however, that the General Public License (GPL) was adopted and the system became truly open source. Between Sept. 1st. 2009 and 31 Dec. 2010, OpendTect was downloaded over 40,000 times implying that today it ranks amongst the most widely used seismic interpretation systems in the world.

About dGB Earth Sciences OpendTect

The OpendTect Connector plug-In for Petrel software, developed by ARK CLS using the Ocean* software development framework, will provide the Petrel user community with access to OpendTect's industry leading commercial plug-ins relating to areas, such as attribute and processing analysis, sequence stratigraphy, fluid migration, rock property predictions and velocity modeling.
3D horizons, including time/depth horizons, and high quality attribute volumes generated by OpendTect, can all be incorporated into Petrel software, enabling users to build robust reservoir models, maximize their geological data, and bridge the gap between seismic quantitative interpretation and more production-focused reservoir models.
In all cases, interpreters will be able to seamlessly export and import seismic data between the Petrel workflow manager and OpendTect with no need to move separate SEG-Y files back and forth between applications as was done previously.
Seismic interpreters will also be able to use Petrel software to access OpendTect's latest plug-in, HorizonCube, significantly increasing the number and density of mapped horizons and resulting in improved low frequency model building, more accurate inversion results, and geologically sound rock-property predictions.



代码

  LineZer0! ²   ² ² 
²²² ²     ² ²²  ² ²±
±²²   ²   ²²²² ²²²
² ² ²  ² ² ²²
² ²² ² ²  ²²² ² ²
²² ²² ²  ²²² ²² ² ²
²  ²²² ² ²²²  ²² ±² ²²±
² ²  ²²² ²²² ²²±
² ±² ² ²² ²²²²± ± ²
  ² ²°²  ² ² ²²² ² ±  ²²  
² ² ²²    ² ²²  ²  ² ²
 ²² ² ²²²² ²   ² ² ²² 
²² ²²²  ²  ² ² ²²² ²²± ²²
  ²²² ² ²²²  ²²²  
cpN²²² ±² ²²±±²²²²²°² ²± ²²²cRo
²² ±²²²²² ²²² ²²²²²²²± ²²
²²²² ±±²²²²²  ² ²² ²² ²²²²²±± ²²²²
² ²² ²²²² ²² presents ² ²±²² ²² ²
²² ² ²²  ² ² ²²
²² ²²± ²  ²  ² ±²² ²²
²² °°     °° ²²
² ²
² OpendTect Commercial v4.2.0k ²
     
²²² Release Date : 2012-05-13 ²²²
²² Nfo Date : 2012-05-13 ²²
²² ² ² ²²
²  Num. Disks : xx/28 OS : X64  ²
²  Nfo Time : 13:37 Rel Type : License  ²
²  Cracker : Team Lz0 Archive : lz0*.rar  ²
²  Packer : Team Lz0 Rating : Your choice  ²
²  Supplier : Team Lz0 Language : -  ²
²  Protection : N/A  ²
²   ²
²  Requirements : N/A  ²
²  : Always use a firewall.  ²
²  Publisher URL : http://www.opendtect.org  ²
²  Publisher : DGB  ²
²   ²
²  (x) Keyfile / License (-) Emulator  ²
²  (-) Patch (-) Serial  ²
²  (-) Cracked .EXE / .DLL (-) Retail  ²
²  (-) Keygen (-) Trainer  ²
²  ² (-) Loader (-) Other ²  ²
² ²   ² ²
²²     ²²
²² ²  1999 - 2012  ² ²²
² ²²  °°° °°°  ²² ²
  ²²² ² ² °±± ²² ±±° ² ² ²²²  
²²²   ² ±²² ²²± ²   ²²²
²²   ²²²² + I N F O + ²²²   ²²
²² ²  ²²²² ²  ² ²²
²   ²
²  OpendTect is an open source seismic interpretation software  ²
²  system for processing, visualizing and interpreting  ²
²  multi-volume seismic data, and for fast-track development of  ²
²  innovative interpretation  ²
²  tools.  ²
²  Optionally OpendTect can be extended with (closed source)  ²
²  commercial plugins.  ²
²   ²
²  2D, 3D, 4D  ²
²  and Prestack Seismic  ²
²  Analyze 2D, 3D, 4D pre- and post-stack seismic data.  ²
²   ²
²  2D and 3D Viewers  ²
²  Data processing and visualization are rigorously integrated in  ²
²  the OpendTect system. Visualization elements can be moved  ²
²  freely through data space to interactively analyze data from  ²
²  stored volumes, or data that are calculated on-the-fly.  ²
²   ²
²  Volume Rendering  ²
²  and Stereo Viewing  ²
²  Volume-rendering, stereo viewing and color blending are  ²
²  supported features.  ²
²   ²
²  Seismic Attributes  ²
²  Numerous attributes and filters, math and logic, attributes  ²
²  from attributes are supported in the industry's most powerful  ²
²  attribute engine.  ²
²   ²
²  Spectral Decomposition  ²
²   ²
²  Spectral Decomposition is used for imaging and mapping temporal  ²
²  bed thickness and geological discontinuities. Algorithms  ²
²  include FFT and CWT.  ²
²   ²
²  Movie-Style Parameter Testing  ²
²  Attribute parameters (frequency, time gate or step out) can be  ²
²  inspected in a movie-style way, to quickly find the optimal  ²
²  settings for your data.  ²
²   ²
²  Distributed Computing  ²
²  Heavy processing of large volumes can be carried out in batch  ²
²  mode on multiple machines and on multiple platforms that can be  ²
²  accessed through the network.  ²
²  Interpreters can share surveys.  ²
²   ²
²   ²
²  Horizon Tracking  ²
²  The updated horizon tracker has more user-friendly editing  ²
²  capabilities and is more robust due to the new step-wise  ²
²  tracker functionality.  ²
²   ²
²   ²
²  Faults  ²
²  Fault planes and fault-sticks sets.  ²
²   ²
²  Well-Tie  ²
²  The synthetic to seismic well-tie module enables the  ²
²  interpreter to tie wells to seismic.  ²
²  -Synthetic seismogram  ²
²  -Check-shot correction  ²
²  -Additional stretch and squeeze  ²
²  -Updated depth/time model  ²
²  -Statistical wavelet extraction  ²
²  -Deterministic wavelet extraction  ²
²   ²
²   ²
²  Time to Depth conversion  ²
²  Use an existing velocity model, or create one with the new  ²
²  Volume Builder.  ²
²   ²
²  Supports: on-the-fly TD conversion of display elements and  ²
²  batch processing of volumes.  ²
²   ²
²  Geobodies  ²
²  Insert an iso-surface in a volume rendered cube and save it as  ²
²  a geobody.  ²
²  Manually draw 3D bodies.  ²
²   ²
²  Madagascar Processing  ²
²  OpendTect has a generic user interface to Madagascar, the  ²
²  open-source software package for geophysical data processing  ²
²  and reproducible numerical experiments.  ²
²   ²
²  GMT Mapping  ²
²  Via the link to the open-source GMT package you can create  ²
²  within the OpendTect UI scaled maps of OpendTect results.  ²
²   ²
²   ²
²   ²
²   ²
²   ²
²  GapDecon  ²
²  A multiple removal tool through prediction error filtering.  ²
²  Auto-loaded in OpendTect base. (Sponsored by Addax)  ²
²   ²
²   ²
²   ²
²   ²
²   ²
²   ²
²  HorizonAttrib  ²
²  The Horizon attribute allows surface (horizon) data to be  ²
²  combined with cube data for calculations. Auto-loaded in  ²
²  OpendTect base.  ²
²   ²
²   ²
²   ²
²   ²
²   ²
²  Annotations  ²
²  Annotate seismic data with text-boxes, hyperlinks, (lap-out)  ²
²  arrows, and images. Auto-loaded in OpendTect base. (Developed  ²
²  as part of OpendTect SSIS; sponsored by Shell, BG-group,  ²
²  Statoil, TNO)  ²
²   ²
²   ²
²  MatchDelta  ²
²  Trace cross-equalization functionality that is used to correct  ²
²  small misalignments in 3D seismic volumes prior to further  ²
²  analysis. It is typically used to align time-lapse seismic  ²
²  data, multi-azimuth stacks or angle stacks (Residual NMO  ²
²  correction). Auto-loaded in OpendTect base.  ²
²   ²
² ²   ² ²
²²     ²²
² ²²   ²² ²
²  ²²  °°° °°°  ²²  ²
  ²²² ² ² °±± ²² ±±° ² ² ²²²  
²²²   ² ±²² ²²± ²   ²²²
²²   ²²²²+ N O T I C E ! +²²²   ²²
²² ²  ²²²² ²  ² ²²
²   ²
²   ²
²  Important information for site operators and other groups. By the  ²
²  first of April 2012 we will change our packaging ways to RAR/SFV  ²
²  and put the old ZIP/RAR/DIZ packaging to rest. It is long overdue,  ²
²  and this ancient way of packing has no meaning in 2012. We  ²
²  strongly encourage all other groups to do the same - and site  ²
²  operators, all you need to do is to add the 0DAY path to the  ²
²  SFV path of your setup, and your site will during the transition  ²
²  period do fine with both packaging standards. It's time to  ²
²  move forward.  ²
²   ²
² ²   ² ²
²²     ²²
² ²²   ²² ²
²  ²²  °°° °°°  ²²  ²
  ²²² ² ² °±± ²² ±±° ² ² ²²²  
²²²   ² ±²² ²²± ²   ²²²
²²   ²²²²+ I N S T A L L +²²²   ²²
²² ²  ²²²² ²  ² ²²
²   ²
²  1) Unpack and install.  ²
²  2) Install included FlexLM server and supply with included .lic  ²
²  file.  ²
²  3) Enjoy this release!  ²
²   ²
²  For more FLEXLM install information and more advanced install  ²
²  information for the app itself goto:  ²
²   ²
²  http://www.opendtect.org/index.php/download.html  ²
²   ²
²  NOTE: For obvious reasons you should always make sure that  ²
²  the title is restricted access to internet by a firewall  ²
²  to avoid any problems. Further, when running our  ²
²  keygens/patches you might need to run it with admin  ²
²  rights while in Vista/Win7 to ensure that it has  ²
²  enough privileges.  ²
²   ²
² ²   ² ²
²²     ²²
² ²²   ²² ²
²  ²²  °°° °°°  ²²  ²
  ²²² ² ² °±± ²² ±±° ² ² ²²²  
²²²   ² ±²² ²²± ²   ²²²
²²   ²²²² + J O I N + ²²²   ²²
²² ²  ²²²² ²  ² ²²
²   ²
²  So you are interested in joining one of the most successful  ²
²  groups of all time? Then you might want to continue reading.  ²
²  Not only can we offer whatever your heart might desire, but  ²
²  becoming part of the group will also be one of the more  ²
²  significant decisions you perhaps will take.  ²
²   ²
²  Ever since our beginning in 1999 we've strived to make a group  ²
²  that not only is a group of knowledge, but a gathering of  ²
²  people that wants friendship, devotion, respect and fun. Hard  ²
²  work is what has brought us where we are today, and hard work  ²
²  is also what we would expect from you.  ²
²   ²
²  Given the amount of hours we all put into this every day, we  ²
²  like to see our self as a secondary family. We strive to take  ²
²  care of each other and thus – mutual respect is the essence of  ²
²  our group. We never pushed for being elite, as we do not believe  ²
²  that any of us deserve the mark of the elitists. Every member  ²
²  of our group is taught to honor the next guy or gal with the  ²
²  same respect as he or her demands for themselves. The same  ²
²  thought applies to how we look at other groups.  ²
²   ²
²  Are you ready to become part of a family? Do you think you have  ²
²  what it takes? Then now is the time to get up and contact us.  ²
²  Perhaps you will find a new road to follow with us. Open  ²
²  positions are as follows, but if you do feel you have something  ²
²  to contribute with but feel that it doesn't match any of the  ²
²  open positions, then do contact us and let us be the judge  ²
²  of that.  ²
²   ²
²  CRACKERS  ²
²  Do you have a thrill to find solutions to various protection  ²
²  schemes? May it be unpacking, patching, finding algorithms  ²
²  or emulating? We're always open for individuals that want to  ²
²  expand their knowledge in reversing. You are required to have  ²
²  some former knowledge in reversing as we do not tutor people  ²
²  from scratch. Former experience from other scene groups is  ²
²  good, but not a necessity. Unsure if you qualify? Contact us,  ²
²  and we'll decide based on your qualities. Be prepared that  ²
²  we will demand examples of previous work.  ²
²   ²
²  CODERS  ²
²  You're enthusiastic about coding, you love to optimize and  ²
²  integrate various projects; we always have projects ranging  ²
²  from smaller ones to large ones that are in need of attendance.  ²
²  If you are joining our family as a coder you will be appointed  ²
²  a variety of projects that will push you to do your best and  ²
²  will probably also serve as a great way of becoming an even  ²
²  greater coder. Projects are ranging from database integrations,  ²
²  IRC bots, and cracktros to tools and security oriented  ²
²  development. Examples of previous work will be required and  ²
²  experience beyond 2 years is also a requirement.  ²
²   ²
²  SUPPLIERS  ²
²  Do you have access to good titles? Perhaps you work as an  ²
²  engineer, network administrator, or by any other means can  ²
²  acquire the latest versions of what you have access to? Then  ²
²  feel free to contact us and let us know what you have. We do  ²
²  not focus on anything in particular and as such you will find  ²
²  that we do titles ranging from CAD/CAM to more common graphics,  ²
²  music and programming titles – as well as ordinary shareware  ²
²  titles. Contact us today and we will see if your titles are  ²
²  something we'd like to put some effort into.  ²
²   ²
²  SITES  ²
²  You've been running a dedicated and well supported site for  ²
²  more than 6 months, the site has grown some reputation and your  ²
²  staff as well as the chosen link location is security oriented.  ²
²  We do not accept sites that are running of rented boxes;  ²
²  neither do we accept sites located in United States of America,  ²
²  Germany or Austria. The speed of the site does not matter, what  ²
²  do matter is that it's stable, it's secure and above all – the  ²
²  entire site as well as crew is operating encrypted. You feel  ²
²  that this might be you? Then let us know today, and we will  ²
²  be getting back to you shortly.  ²
²   ²
²  BOX OPERATORS  ²
²  You have been running hosting services for years; either being  ²
²  BNC solutions or IRC daemons – or perhaps just have some boxes  ²
²  that you might think we can use. You're an administrator of a  ²
²  network and have complete control over the box, the network  ²
²  area and access levels. If so, then you are someone we are  ²
²  interested to talk to. Keep in mind that we do not offer any  ²
²  boxes residing in the same countries as mentioned under "SITES".  ²
²   ²
²  Remember, we all started out somewhere so do not keep yourself  ²
²  from contacting us thinking you aren't good enough to help out,  ²
²  let us decide that.  ²
²   ²
² ²   ² ²
²²     ²²
² ²²   ²² ²
²  ²²  °°° °°°  ²²  ²
  ²²² ² ² °±± ²² ±±° ² ² ²²²  
²²²   ² ±²² ²²± ²   ²²²
²²   ²²²² + L E G A L + ²²²   ²²
²² ²  ²²²² ²  ² ²²
²   ²
²  Our releases are made to make sure that the end-user is able  ²
²  to fully test a title before going into a purchase as well as  ²
²  give the end-user an opportunity to make backup copies of  ²
²  titles he or she already owns. Please do respect our stance  ²
²  on this and make sure that you buy the required licenses upon  ²
²  deciding to buy the product. Respect the software authors  ²
²  that have put time, money and effort into creating the title  ²
²  you now have in your hand.  ²
²   ²
²  1. You should only use this title for the period of time  ²
²  as you decide if this is the right product for you  ²
²  personally or for your business. Upon deciding  ²
²  that this is the product you are looking for then  ²
²  we encourage you to buy the necessary licenses.  ²
²   ²
²  2. If you already own this title then this release can be  ²
²  used as a substitute to the original disks for backup  ²
²  and archiving purposes. This is convenient if you  ²
²  own a large set of various titles that all require  ²
²  dongles to run and you keep on mixing up the dongles.  ²
²  Our releases have removed those checks and thus will  ²
²  be more convenient to use. Again, this should only  ²
²  be the case if you own the required licenses.  ²
²   ²
²  3. We do not wish for our releases to be widely spread  ²
²  across web boards, P2P networks and the like. While we  ²
²  do know that occurs we strongly urge people to not  ²
²  share these titles at such places.  ²
²   ²
²  4. The group is not involved with the spreading of the  ²
²  release, partial files or any of the cracks. The  ²
²  distribution of our releases are all done by third  ²
²  parties – and as such according to the laws of the  ²
²  countries where our members reside, it is not our  ²
²  responsibility what others decides to do with  ²
²  these releases.  ²
²   ²
²  5. You are NOT allowed to distribute our titles with the  ²
²  intent of earning money. This title is not yours to  ²
²  sell. We, as a group, do not participate in such  ²
²  actions and we plead to those that are thinking about  ²
²  selling pirated titles, reconsider – not only are you  ²
²  hurting us seeing our releases being abused, but above  ²
²  all – you are actually stealing profit from the  ²
²  software authors.  ²
²   ²
²  6. We do not take any responsibility of computer or data  ²
²  loss that may occur from using our releases. Keep in  ²
²  mind that you are using a third party solution that  ²
²  does not come from the original software authors.  ²
²  However we strive to make perfect releases so the  ²
²  chances of something like that happening are slim.  ²
²   ²
²  7. The usage of our cracks is legal in most countries  ²
²  outside of the United States, if and only if you own a  ²
²  complete copy of the program or game. But you are  ²
²  required to read the end user license agreements (EULAs)  ²
²  that comes with the various titles to be sure that you  ²
²  are not violating any agreements.  ²
²   ²
²  According to the DMCA ACT in the United States you have no  ²
²  rights to circumvent any copy protection. Keep this in mind  ²
²  as the penalties for doing so there are harder than if you  ²
²  stole the actual title from the self. Our base of operation  ²
²  however is not located in the states, and thus we are not  ²
²  bound by any of the legislations like "no electronic theft act"  ²
²  "digital millennium copyright act" or "the patriot act". But  ²
²  you as a end-user might be, so be certain to read the EULAs  ²
²  that you agree to upon installing something to make sure  ²
²  you are not breaking any domestic laws.  ²
²   ²
²  Finally, we do encourage you to explore the open source  ²
²  community. In most cases you will find open and free software  ²
²  that does exactly what you need, and it won't cost you  ²
²  anything. At the same time you can enjoy the feeling of  ²
²  doing something good, and support the open source community.  ²
²   ²
²  By using this release you agree to the statement written above,  ²
²  and accept that the responsibility to whet ever the usage of  ²
²  this title is legal or not is with you and you only. Make sure  ²
²  that you understand the potential risks of using this release.  ²
²   ²
² ²   ² ²
²²     ²²
² ²²   ²² ²
²  ²²  °°° °°°  ²²  ²
  ²²² ² ² °±± ²² ±±° ² ² ²²²  
²²²   ² ±²² ²²± ²   ²²²
²²   ²²²² + G R E E T S + ²²²   ²²
²² ²  ²²²² ²  ² ²²
²   ²
²  HERiTAGE, RAZOR1911, F4CG, EMPHASiS, ZENiTH, MYTH  ²
²  GHOST RiDERS, LEGENDS NEVER DiE, ENFUSiA, BiN  ²
²  FATiGUED COURiERS NETWORK (FCN)  ²
² ²  CHEMiCAL REACTiON (CRO)  ² ²
²²     ²²
² ²²   ²² ²
²  ²²  °°° °°°  ²²  ²
  ²²² ² ² °±± ²² ±±° ² ² ²²²  
²²²   ² ±²² ²²± ²   ²²²
²²   ²²²²+ C O N T A C T +²²²   ²²
²² ²  ²²²² ²  ² ²²
²   ²
²  If you want to contact the group either for a open membership  ²
²  position, for a site offer or just want to let us know that  ²
²  some release might be flawed, then we welcome your response.  ²
²  However we do not send out releases, files from releases,  ²
²  cracks or information to where you might find this. For quick  ²
²  response you might want to search for us online, if you can  ²
²  manage to wait then send us an email on the address below.  ²
²   ²
²  ² EMAIL : linezer0@nerdshack.com ²  ²
² ²  UPDATED : 4th of November 2011   ²
²²     ²²
²     ²
²  ²  ²  ²
  ²    ²  
² ²²²  °°°      °°°  ²²² ²
² ² ² °±± ²²  ²² ±±° ² ² ²
  ² ±²²   ²²± ²  
 ²²²²²²   ²²²²²² 
²²² ascii proudly done ²²²²
²² by cpN of cRo ²²
²²  in 2oo6  ²²
 ²   ² 
²² ²     ² ²²
²²² ² ²²²
²  ²
²²
²

这里是其它用户补充的资源(我也要补充):
暂无补充资源