专辑英文名: Friends
专辑中文名: 挚友
音乐风格: 爵士
资源格式: FLAC
发行时间: 2011年11月27日
简介: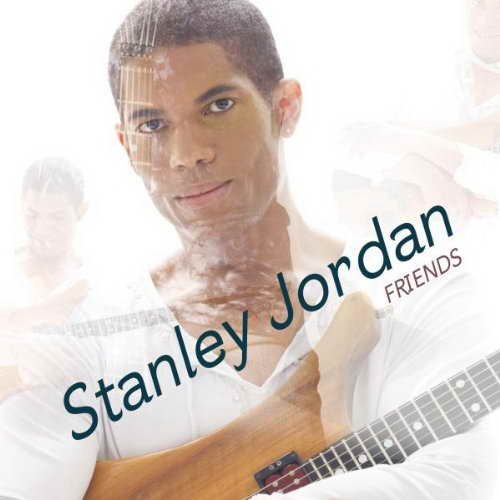 专辑介绍:

Stanley Jordan 是美国的爵士及融合乐派吉他手,这张〈Friends〉是他在Mack Avenue的第二张作品,邀请十几位才华洋溢的好友一起参与其中。他那独特的触弦技巧来弹奏吉他的方式最为著名,在〝I Kissed A Girl〞,展现同时间弹奏钢琴与吉他的高超技巧,将吉他这项乐器的演奏极限又往前推进了一大步。

Audio CD (September 27, 2011)
Original Release Date: 2011
Number of Discs: 1
Label: Mack Avenue
ASIN: B005EH3D1M

Review
There is no guitarist quite like Stanley Jordan, a star from the moment Blue Note Records launched its second life in 1985 with his own commercial debut, The Magic Touch. In response, a respected reviewer stated that the lanky 26-year-old fresh from several years spent refining his craft as a Manhattan street busker had extended the limits of the guitar, adding that few players in the history of music of music have brought an instrument to a more radical crossroad.
He reached the public for reasons pertaining both to his astonishing chops (his sui generis touch technique, a pianistic approach that enabled him to play melody, chords and basslines simultaneously), exemplary musicianship, and consistent devotion to melodic and creative imperatives. But at a certain point in the early 90s, Jordan retreated from his career, and although he soon returned to public performance he operated without a label until 2008, when he released State of Nature on the rising-star Detroit-based indie Mack Avenue.
Whether playing in public or in the studio, it has been Jordan s intention to make his own inventions the primary focus of the occasion. But on his forthcoming release,Friends [Mack Avenue] (said friends include guitar heros Mike Stern, Bucky Pizzarelli, Charlie Hunter, and Rusell Malone; saxophonists Kenny Garrett and Ronnie Laws; and violinist Regina Carter), Jordan is a consummate team player, prodding and igniting the flow on an 11-piece program that runs a 360-degree gamut of stylistic food groups.
At 52, Jordan has something consequential to SAY in each genre, as though he s thought deeply about each mode of expression over many years. Highlights include a four-to-the-floor, George Benson on steroids cover of Katy Perry s I Kissed A Girl (without overdubbing, Jordan plays the melody on piano while chording for himself on the guitar), an idiomatic investigation of Bela Bartok, a lively samba for Laws, and various ebullient, spectacularly executed interactions with each member of his guitar cohort.

By Ted Panken, Columnist
September 8, 2011 2:00 PM


引用
In a successful career of over 25 years, guitarist Stanley Jordan has always displayed his versatility equally adept at blues, straight-ahead jazz and ever inventive with classical masterpieces. His virtuosity and improvisational prowess are a given, and on Friends, he also shows his skill on piano on two numbers. Primarily, he brings in old pals from various backgrounds and delivers terrific arrangements, ranging across the jazz spectrum, mixing in originals with swing, post bop, samba, blues, pop and a couple from Bartók and Chopin. Jordan makes roughly two appearances with each main guest, with all the pairings in different styles; all are great.

The opener, Jordan's Capital J, features impressive solos by Kenny Garrett on soprano sax and Nicholas Payton on trumpet. Jordan shines, comping behind the two. The horns appear again in another Jordan original,Bathed in Light.It starts with a mellow blend from Garrett and Payton, who then contribute solos. Jordan follows suit, gently accentuating the romantic, meditative mood.
A real treat comes when he pairs up with guitarist Bucky Pizzarelli on Neal Hefti's Count Basie classic, Li'l Darlin,hearkening back several decades with this honey-coated ballad. The two then go back even further to the swing era, coming up with Charlie Christian's Seven come Eleven,made famous by Benny Goodman as a showcase for the guitarist and also featuring peerless guitarist Russell Malone. Pizzarelli has a rousing solo, followed by a hip, three-way guitar duel at the song's end.

Things go in a different direction with violinist Regina Carter onboard, as Jordan explores Bartók's Concerto for Orchestra in a sensitive, shimmering, hauntingly beautiful arrangement. On Jordan's Samba Delight,Carter follows Ronnie Laws on soprano, interjecting a tropical touch with her violin.

For Jordan's Walkin' the Dog, guitarist Charlie Hunter appears and the two guitarists become like peas in a pod, picked from B.B. King's field. They mesh beautifully again in Jordan's reworking of Katy Perry's pop tune I Kissed A Girl, giving it a delightfully bluesy.

In a press release, Jordan says that this collection truly speaks to his belief that when you integrate styles, you combine them into something new while still remaining true to the original sources. His best argument is this recording.

Larry Taylor
Published: September 7, 2011 --allaboutjazz.com Larry Taylor
Product Description
A release that its creator Stanley Jordan cites as his most realized project to date finds him in challenging company: fellow strummers Charlie Hunter, Russell Malone, Bucky Pizzarelli and Mike Stern; saxmen (and label mate) Kenny Garrett and Ronnie Laws; N'awlins trumpeter Nicholas Payton and the renowned violinist Regina Carter. Another label mate, Christian McBride, guests on bass when not handled by Stanley's long-time trio bassist Charnett Moffett. Kenwood Dennard of his trio holds down the drum chair. Truly, a collection of Friends whose benefit push Stanley into a heightened musical reality.


By
DAVID RICKERT,
Published: September 23, 2011
Stanley Jordan: Friends

Stanley Jordan's breakthrough recording, Magic Touch (Blue Note, 1985), was aptly named; the guitarist's two-handed tapping technique seemed to be achieved through sorcery rather than practice. People had used tapping before, but never to the level that Jordan did—comping and soloing at the same time, and giving the illusions of two guitarists playing at once. Those who have never seen it should view the YouTube clip below, to get their bearings on the guitarist's idiosyncratic style.

However, virtuosity does not equal artistry, and Jordan's releases have often been marred by poor song choice and a lack of focus. In large part this was because Jordan has a wide range of tastes—he's as likely to cover Led Zeppelin as Cole Porter—but to see that Jordan is covering Katy Perry's "I Kissed A Girl" on Friends will cause those familiar with his work to be a little wary of what might be forthcoming.

For the most part, though, Friends is a jazz guitar lover's feast, because Jordan has recruited some other axe slingers to join in on the fun. The slow burning funk of "Walkin' the Dog," with Charlie Hunter, is filled with tasty licks, and a slightly relaxed "Giant Steps," with jazz rocker Mike Stern, is a challenge that both guitarists clearly relish, with satisfying results. "Seven Come Eleven" recalls the great Charlie Christian, with both Bucky Pizzarelli and Russell Malone joining the frontline; Pizzarelli cuts everyone with a fantastic chord solo, but the three combine to solo in unison for a dizzying climax. Like the best jam sessions, these tracks operate at a very high level, bringing together a healthy dose of one-upmanship with a spirit of camaraderie, and it's also a marvel to see how many artists handle their instruments in completely different ways.

For a while, it seems like Jordan has finally created the fantastic follow up to Magic Touch that we all knew he had in him, but a few tracks in the middle almost capsize the recording, and the second half is not nearly as good as the first. And no, "I Kissed A Girl," where Jordan plays piano with one hand and comps on guitar with the other, is not that bad. The smooth jazz schmaltz of "Bathed in Light" sounds like the worst of eighties jazz, and an improvisation on a Bartók tune, with Jordan solely on piano and Regina Carter on violin, is an aimless, lengthy performance. A lovely "Reverie," with Jordan's trio, rights the ship, but "One For Milton," a free jazz exploration that doesn't fit in with the rest of the album, is for most people mercifully placed at the end so they can skip it.

Friends is really good when it's good and really boring when it isn't. Jordan is to be commended for pursuing the unexpected—hopefully his risks will pay off better the next time.

Track Listing: Capital J; Walkin' the Dog; Li'l Darlin'; Giant Steps; I Kissed A Girl; Samba Delight; Seven Come Eleven; Bathed In Light; Romantic Intermezzo From Bartok's Concerto For Orchestra; Reverie; One For Milton.

Personnel: Stanley Jordan: guitar, piano (5, 9); Bucky Pizzarelli: guitar (3, 6); Mike Stern: guitar (4); Russell Malone: guitar (6, 11); Charlie Hunter: guitar (2, 5); Regina Carter: violin (7, 9); Kenny Garrett: soprano sax (1, 8); Ronnie Laws: soprano sax (7); Nicholas Payton: trumpet (1, 8); Christian McBride: bass (1, 8); Charnett Moffett: bass (5, 6, 10); Kenwood Dennard: drums (1-8, 10, 11).

Record Label: Mack Avenue Records | Style: Fusion/Progressive Rock
引用
BETTER & BETTER: GUITAR WIZARD STANLEY JORDAN & FRIENDS September 28, 2011
By RBSProds TOP 500 REVIEWERVINE™ VOICE
Format:Audio CD|Amazon Verified Purchase
Five BRILLIANT Stars! Enjoyable, bright & hard-swinging! 6 months after purchase, I frequently listen to this CD by guitar wizard Stanley Jordan & his all-star cast, & it keeps getting better. Jordan is one of the giants of jazz guitar, having the genius to create his groundbreaking "SJ Technique": a two-handed "touch technique" that allows him to play a guitar fingerboard somewhat like a piano keyboard: plucking strings on chords, tapping strings on solos, or a mixture of both, often creating the illusion of multiple guitars (but a standard pick does surface on "Bathed in Light"). And Stanley is an excellent jazz and classical pianist who sometimes plays guitar and piano simultaneously. The 'best of the best' begins with Jordan's own "Capital J" which is a blazing performance with engaging solos from Kenny Garrett on soprano sax, Nicholas Payton on trumpet and Kenwood Dennard on drums. "Walkin' The Dog" is funky, tasty solo stuff from Jordan and guitar ace Charlie Hunter. Coltrane's "Giant Steps" is hard-swinging fare with sweet guitar solos from Jordan and Mike Stern trading melody, bass, and chord duties over Dennard's solid brushwork. Jordan demonstrates his simultaneous guitar and piano technique, transforming Katy Perry's "I Kissed a Girl" into a bluesy romp with Hunter's guitar back on stage. "Samba Delight" has Ronnie Laws on soprano and the hot & sweet violin of Regina Carter, who is outstanding both here and with Stanley on piano on the Bartok variation "Romantic Intermezzo". Charlie Christian's "Seven Come Eleven" is a smoking collage of unison notes and solos from SJ, Bucky Pizzarelli, and Russell Malone that got an immediate replay, as did the mellow "Bathed in Light", featuring Payton's lovely brass tone. By mixing up the personnel (which includes either Charnett Moffett or Christian McBride on bass), using excellent arrangements, delivering great solos, and mostly keeping the musical temperature high, Stanley Jordan and his friends deliver a jazzy musical winner. I'm upping it from Highly Recommended to my HIghest Recommendation. Five SMOKING Stars! (mp3 download of 11 tracks; Time 63m:11s. Stanley Jordan plays Vigier Arpege guitars.)
Comment |
Was this review helpful to you?
2 of 2 people found the following review helpful
Stanley Brings His "A" Game -- Again October 15, 2011
By Future User
Format:Audio CD|Amazon Verified Purchase
From the first note, this musical gem transported me to some kind of hip, old-school juke-joint. The first 8 tracks stand alone, and would make a great little party CD. Then the scene changes to a classical music hall, then to a relaxed interlude on a favorite old couch.... Then, when we think we've figured him out, Stanley takes us to the Twilight Zone on the final cut. Those of us who are longtime listeners know -- it's just Stanley being Stanley. His creative impulse cannot be bound to a single music genre, so he continually re-invents himself, and re-invents the listening experience.

I had often wondered how Stanley's unique touch-style picking would sound coupled with a smooth sax, or a little Count Bassie orchestration, and this CD finally lets it all hang out. Don't miss this trip. Stanley's "A" game is once again front and center.
musicians
Stanley Jordan - Vigier Arpege guitars, piano
Kenny Garrett - soprano sax
Mike Stern - guitar
Christian McBride - bass
Charnett Moffett - bass
Charlie Hunter - guitar
Ronnie Laws - soprano sax
Regina Carter - violin
Bucky Pizzarelli - guitar
Nicholas Payton - trumpet
Kenwood Dennard - drums
Russell Malone - guitar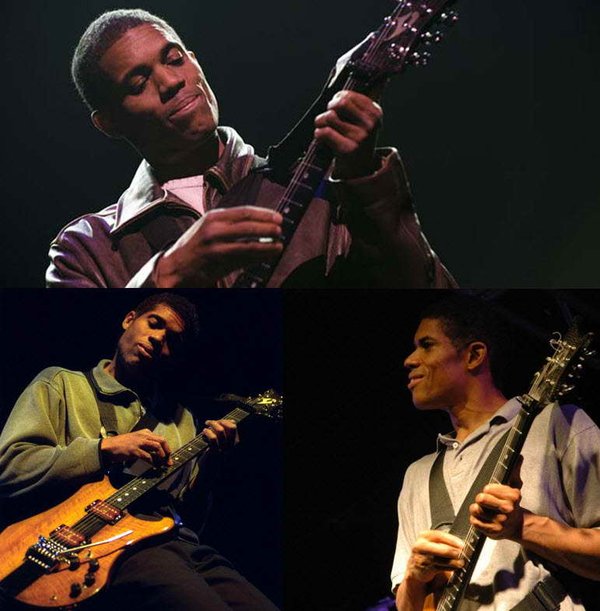 专辑曲目:
01. Capital J 6:42
02. Walkin' The Dog 6:13
03. Lil' Darlin' 5:43
04. Giant Steps 4:34
05. I Kissed A Girl 5:46
06. Samba Delight 5:31
07. Seven Come Eleven 5:32
08. Bathed In Light 7:50
09. Romantic Intermezzo From Bartok's Concerto For Orchestra 8:34
10. Reverie 3:59
11. One For Milton 4:11
这里是其它用户补充的资源(我也要补充):
暂无补充资源