中文名: 文件/文件夹比较同步软件
英文名: Deltopia Deltawalker
资源格式: 压缩包
版本: v1.9.8
发行时间: 2012年
简介:






软件类型:软件>应用软件
软件性质:破解软件
操作系统:windows
应用平台:WinALL
问题反馈:http://www.deltopia.com/support/index.jsp
网站链接:http://www.deltopia.com/compare-merge-sync/windows/
软件介绍:

DeltaWalker是Deltopia出品的文件和文件夹比较和同步软件,可以让你比较,编辑和合并文件和同步文件夹,本地和远程。DeltaWalker且能轻松与其他的程序进行集成来替代原来软件可能并不强大的比较工具。普通的文本对比还可以,还可以对比文本格式的pdf。但是无法进行二进制对比,这点很不爽。感觉比beyond compare还是差了些。而且是用java和Eclipse编写的,所以程序个很臃肿。似乎在苹果机下是很受欢迎的软件。

Deltopia DeltaWalker 是一款改动通知工具,能告诉你当前正在修改的文件已经做了多少改动。它能准确,有效地对比,编辑,合并文件,也能同步和对比文件夹。

软件需要JRE (Java Runtime Environment) 运行环境。在运行软件时,如提示您需要安装JRE虚拟机,请按云端提示下载JRE。当然,您也可以选择手动在本地安装JRE虚拟机。"

需要安装JAVA环境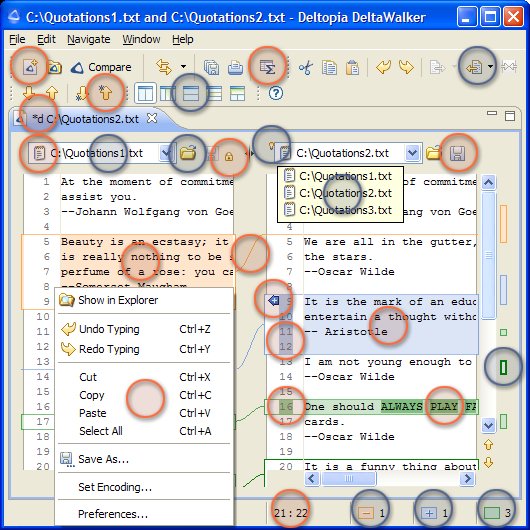 ========================================

下载链接来自SV,
未经过安装测试与安全检测,使用者后果自负与本论坛无关
软体版权归原作者及其公司所有,如果你喜欢,请购买正版

========================================



DeltaWalker, Deltopia's file and folder comparison and synchronization software application/diff tool for Windows, lets you compare, edit, and merge files and synchronize folders—local and remote. It does so visually and intuitively, offering clarity, productivity, ease of use, native looks and top performance. DeltaWalker sports industry's first and only one-click integration with Git, SVN, Mercurial, Bazaar and easily integrates with other SCMs and applications.


Audience

DeltaWalker presents a compelling offer to a wide audience—from savvy computer users to software professionals demanding the very best of their tools.

Software and Web developers—compare, analyze, and merge different versions of source files. Use three-way comparison to compare your changes and those of another contributor with a common ancestor and to automatically merge all non-conflicting differences in seconds. Compare and synchronize a local copy of a web site with its server using FTP, SFTP or WebDAV. View and compare XML files both as texts and structures. Compare and merge HTML files as text then preview in-place with the built-in browser. Visualize and compare JAR, EAR, ZIP and other compressed files as if they were simply folders.

Code reviewers—rely on accurate inline difference visualization to see and understand every change. Stay in context and in control within side-by-side integrated folder and file comparison. Generate HTML or XML comparison reports for archiving and auditing purposes or for exchange via email.

Release engineers and managers—visualize, navigate, analyze, edit, and merge complex changes in folder hierarchies and individual files. Reconcile changes from two contributors using three-way comparison and automatic merging.

Language translators—compare two folders with files in different languages and work your way through individual files simply by double-clicking them.

Legal and publishing professionals—let down-to-the-letter comparison accuracy show you even punctuation mark differences when comparing different document drafts. Trust DeltaWalker to quickly extract and compare the text of even the largest PDF and Office documents.

Scientists, researchers, and engineers—save time, eliminate guessing, and minimize errors when comparing text outputs and results of different experiments.

Computer users—eliminate information duplication with speed and confidence. Quickly compare entire drives and folders checking only file sizes and timestamps or use byte-by-byte comparison to guarantee that files are identical then synchronize with a few simple clicks.

Comparing and Merging Files
Comparing Files

DeltaWalker lets you compare just about any set of text files - plain text, software source code, XML, HTML, as well as compressed files—BZ2, EAR, GZ, JAR, TAR, TBZ2, TGZ and ZIP.

Load, or paste them, and enjoy the view. And don't worry if you accidentally attempted loading folders instead of files into the editors—DeltaWalker would correctly recognize their types and simply open them as you intended - as folders in a folder comparison window.
Merging Files

Contextual merge buttons, powerful in-place editing, automatic re-comparison in the background, unlimited undo/redo all work together to bring you easy and intuitive file merging functionality.
Three-way file comparison and merge

Three-way comparison (Oro Edition only) is the automated difference analysis between two modified files with respect to a common one—an ancestor. It evaluates to more than two standalone two-way comparisons as it also reflects the level of convergence between the two derivative works.

Three-way file merge is the automated merging of non-conflicting differences and it allows you to reconcile even the largest files in seconds. Conflicting lines of text, if any, are clearly highlighted and brought to your attention for resolution.


Comparing and Synchronizing Folders
Comparing Folders


Folders are compared side-by-side and visualized in a way consitent with Finder. Identical files and folders are shown dimmed, bringing focus to the actual, color-coded differences.

Folder and File comparison in DeltaWalker are ergonomically integrated. Double-clicking a pair of files in a folder comparison window opens them in a file comparison window just below the folder comparison.
Synchronizing folders

Synchronizing folders is powered by a flexible set of selection options and copy/move/delete operations. All operations execute on dedicated threads, keeping DeltaWalker's user interface responsive at all times.
Three-way Folder comparison and Synchronization

Three-way folder and automatic synchronization (Oro Edition only) is conceptually identical to three-way file comparison and merge, however it operates on folders. It scans the entire folder hierarchies performing three-way file comparison and merge on each file triplet.

Location Transparency

Built-in support for FTP, SFTP, HTTP, HTTPS, and WebDAV allows you to treat local and remote files and folders all the same.

Protocols like SSH File Transfer Protocol (SFTP) and Web-based Distributed Authoring and Versioning (WebDAV) often offer you the same power, security, and flexibility as if you were working with a local file system. Other protocols, like FTP, may present restrictions when copying, moving, or deleting files, or setting files' timestamps. Depending on the protocol and your network's performance you may not even notice you are working with remote resources as you'd have the full range and power of comparison and merge/synchronization operations at your disposal.

Your username and password are saved as part of your session and as part of the resource URIs so that they are available to you for later use. They, however, are discreetly omitted from the URI display strings in an effort to protect your privacy.
It's Your DeltaWalker

DeltaWalker takes personalization to a new level, with customization and assistance features that let you
modify its appearance and behavior to suit both your personal preferences and the specifics of the job at hand.

Attention to detail has been paid to all areas of DeltaWalker's user interface and its ability to transparently adapt to the way you work with it. From innovative idioms like local toolbars and menus used in the folder comparison window through state-of-the art graphic design and window animation, to the ability to customize anything from fonts and colors to tab positions and shortcut keys, DeltaWalker showcases a commitment to the highest standards of good user interface design.
Customizable Print and Print Preview

Printing a file or a folder comparison in DeltaWalker is a click away. A scalable print preview lets you see exactly what's going to be printed and the page setup dialog allows you to fully customize and preview your headers and footers before printing.
Report Generation

DeltaWalker is capable of producing both file and folder comparison reports in HTML and XML formats. You can optionally create linked folder comparison reports which are folder comparison reports with links to individual file comparison reports. XML and HTML reports are a great way to create electronic snapshots of the differences b/n pairs of files or folders. Such snapshots can easily be stored and used to trace the change history of files of interest; they are also well suited for electronic exchange e.g. via email.



代码

²²²²²²  ²²
 ²²     ²
     sCr! ²  
     ²²² 
²     ²²²² 
    ²² 
²² ² ²² ²  ²
 ²² ² ²  ²²²
  ²²²² ²²² ² ²² ²² ²²
²² ²²²² ²² ²²²² ²² ²²
²²² ²²² ²² ²² ²²² ²² ²²
²²  ²² ²²²²² ²² ²²
²²  ²² ² ² 
   ²² ²²     
  ²²     
  ²²      
 ²²   
²    ²
   
    It goes AGAiN, AGAiN...   
 ²    
²²  Deltawalker v1.9.8  ² 
²²²²²² (c) Deltopia  ²²
 ² ²²²²²²
  Cracker...: AGAiN ² 
  Supplier..: AGAiN  
  Packager..: AGAiN  
 Tester....: AGAiN  
  ²
²  ²
±  OS..........: Windows 
°  Language....: English  
 Protection..: Serial  
  Size........: 12 x 4.77mb  
²  Date........: 25/04/2012  
    
    ² 
 ²   
    
     ²²  
         
      
²  ²²²    
   
 ² R e l e a s e I n f o 
²   
²   
 
 DeltaWalker, Deltopia's file and folder comparison and 
  synchronization software application/diff tool for ² 
²  Windows, lets you compare, edit, and merge files and ² 
 synchronize folders—local and remote. It does so  ²
 ² visually and intuitively, offering clarity, 
²  productivity, ease of use, native looks and top ² 
²  performance. DeltaWalker sports industry's first and  
 only one-click integration with Git, SVN, Mercurial, 
 Bazaar and easily integrates with other SCMs and 
  applications. ² 
²  ² 
  ²
 ² 
²  ² 
²   
 
 
 ² 
     ²  
²   ²²²²²    
² I n s t a l l I n f o   ²²²    
      
 ² 
  Unzip and unrar release, install it. Copy ² 
²  patch&keymaker into installed directory, run it and  ²
 patch the program first, then generate your 
 ² registration data and register. ² 
²   
²  Reminder : java -jar keymaker or 
 java -jar keymaker --console if you run on text mode 
 ² ² 
²    
²    
       ²²²² 
       ²²   ² 
     ² 
²    - G r o u p ! -  ²
  
 ² ² 
²  There's the phoenix, immortality born with the flames,  
²  strength rised from the ashes, mythical magnificence 
 resurrected from the sky - soul of the spiritual 
 being, intense excitement, cosmic fire the world began ² 
  and will end in, death and rebirth regenerated. ² 
²   ²
 Things fade. Things die. He has been born again, he 
 ² lives again. WE LIVE AGAiN. Deathless inspiration. ² 
²   
²  team.again \at\ gmail.com 
   
       ² 
      ² 
²        ²
    
 ² G r e e t i n g s ² 
²   
²  SSG - LND - SAC 
² ²
    ²²
     ² 
      
    



  
 ² 
 ²²²
   sCr/strick9!  
    ²²²² 
      
         
           
          
       
       
      
    ² 
Ascii Header    
and layout by Scour/SAC 2003.  
Ascii footer by Scour and Strick9.    ²
  
AGAiNST THE ODDS! 


这里是其它用户补充的资源(我也要补充):
暂无补充资源