专辑英文名: Historic Russian Archives
专辑中文名: 贝尔曼:世纪精选
古典类型: 全集作品
资源格式: APE
版本: [7 CD Set]
发行时间: 2006年07月28日
简介: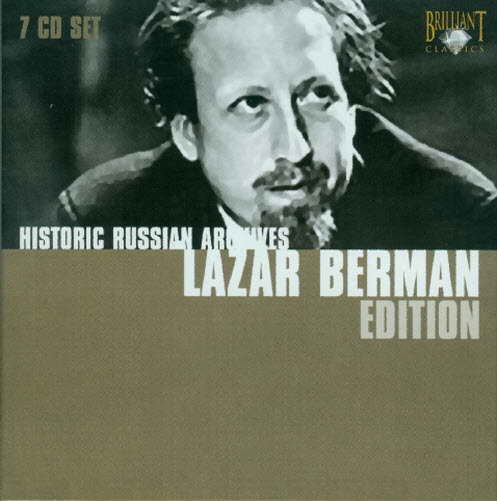 专辑介绍:

俄罗斯经典系列8

钢琴巨匠拉札‧贝尔曼:世纪精选
Historical Russian Archives: Edition

钢琴:拉札‧贝尔曼Lazar Berman
小提琴:帕佛‧贝尔曼Pavel Berman
孔德拉辛指挥莫斯科青年管弦乐团

录音:1950-1987年

1930年出生於列宁格勒的拉札‧贝尔曼,是继吉利尔斯、李希特之后成功征服国际乐坛的俄罗斯钢琴巨匠。他三岁开始学琴,七岁登台演奏,两年后进入中央音乐学校,1948年正式成为莫斯科音乐院学生,1956年赢得国际李斯特钢琴大赛首奖。贝尔曼让人惊艳的不仅是非凡的技巧,他对乐曲的全观与透视更令人佩服,在厚实的手掌下呈现的强大能量与细腻线条,堪称乐坛奇蹟。本辑收录贝尔曼1950至1987年间的现场录音,演奏曲目涵盖相当广泛,尤其是他绝顶美妙的李斯特作品,更是令人印象深刻。

For Berman fans, this set is a tremendous step in the right direction. Compared to Richter and Gilels, Lazar Berman ("Lyalik") has not been particularly well represented during the CD era. (He even was passed over in Philips's "Great Pianists of the 20th Century" series a few years back.) This mirrors the rather ambivalent attitude that the Soviet Union had about him until he left it in 1990. Despite his remarkable talent, Berman had many "strikes" against him during his lifetime, at least as far as the Soviet authorities were concerned. First he was a Jew by birth. Then he married a foreigner – a French woman. The Soviet Union kept him at home more often than not in 50s, 60s, 70s, and even as late as the early 80s. (It seems that there was an incident in 1980 in which Berman tried to "smuggle" forbidden American literature back into the Soviet Union in his suitcase.) Invitations for him to play abroad were ignored by Goskonsert, the state-run agency that controlled musicians' international tours. When he was allowed out of the country, he had "minders," and family members were forced to stay at home as insurance. At one point, he and his family lived in a two-room apartment – with one room almost completely filled by his piano! By the time he left the Soviet Union for Italy, the world had become distracted by other virtuosos, and he didn't get the studio time he deserved in the 15 remaining years before his death.

Early on, Berman established himself as a Liszt specialist. This probably buttressed his reputation – unfairly given, really – for playing fast, playing loudly, and perhaps being a little interpretively shallow. (Not that Liszt should be played that way, but his music is more susceptible to that type of approach than most.) Two and a half discs devoted to Liszt are included in this collection, including a very impressive B-minor Sonata from 1955, and selections from Book One, the Swiss collection, of Années de pelerinage, recorded in 1972. These performances in particular should give the lie to the notion that Berman was an unfeeling virtuoso… or, as Joan Chissell put it, that he had a tendency "to pull out all the stops rather too often."

Berman played surprisingly little Chopin. Supposedly this is because he had a bad experience at the International Chopin Competition in Warsaw – he did not qualify! – and it "injured [his] pride." Nevertheless, a dashing 1953 performance of Chopin's "Heroic" Polonaise is included here, as is a selection of études from three years earlier. Also on the same CD is a remarkable transcription by older Soviet pianist Samuel Feinberg of the third movement from Tchaikovsky's "Pathétique" Symphony. Berman's performance, also from 1950, will make your hair stand on end with its superhuman virtuosity. (Also, it's a great deal of fun!)

The fourth disc is devoted entirely to Prokofieff. Berman's approach to the music from Romeo and Juliet is a known quantity, thanks to his DG LP – out of print at the moment, apparently! This 1980 recording of the Piano Sonata #8 actually brings out more of the music's charm than usual. We also are treated to an excerpt from one of Berman's concerts (from 1987) with his son Pavel, a fine violinist in his own right.

Berman was not afraid of wrong notes – although they probably are what led to his failure to qualify at the Chopin Competition. Frankly, he played fewer wrong notes than several of his famous peers during their concerts. The two Beethoven sonatas, from 1980 ("Moonlight") and 1962 ("Appassionata") have their wild and woolly moments, particularly in the last movements, and I suppose performances like these are what give Berman's detractors their ammunition. Regardless, I find them exciting, if not terribly stylish. His Scarlatti, Clementi, and Haydn, however, are less "wow" driven, and show that Berman could be a master of earlier repertoire as well. (He made his concerto debut playing Mozart, after all.)

Most of the recordings are monaural, and many (if not most -the absence of applause doesn't prove anything!) are live. Even the oldest recordings, made in 1950 when the pianist was just 20, are in surprisingly good sound, and the most recent ones (the Prokofieff Violin Sonata, de Falla's Ritual Fire Dance, for example) match the quality of many a commercial studio recording. The box, which takes up less than one inch of shelf space, contains the seven discs (each in their own card stock envelope) and a 12-page booklet. This contains not only a biography of the pianist, short interviews with the pianist and his pupil Nadejda Vlaeva, and even short but penetrating notes about the music itself. Brilliant Classics has done an excellent job here. Need I mention that this is being sold at an almost giveaway price?

Copyright © 2006, Raymond Tuttle

CD编号 : B93006
演奏者 : 拉札贝尔曼
指挥家 : 孔德拉辛
乐团 :
作曲家 :
专辑名称 : 拉札贝尔曼:世纪精选
Lazar Berman Edition
音乐类型 : 古典音乐 [CD 器乐作品]
发行公司/日期 : 双木林 2006/7/28
制作公司 :
内含片数 : 7


引用
Born: February 26, 1930 - Leningrad, Russia
Died: February 6, 2005 - Florence, Italy

The Russian pianist, Lazar Naumovich Berman [Russian: Лазарь Наумович Берман, Lasari Naumovič Berman] was born to Jewish parents in Leningrad. His mother, Anna Makhover, had played the piano herself until ear problems stopped her. She introduced the boy to the piano, and he entered his first competition at the age of 3, and recorded a Mozart fantasia and a mazurka that he had composed himself at the age of 7, before he could even read music. Emil Gilels described him as a "phenomenon of the musical world". When Lazar was 9, the family moved to Moscow so that he could study with Alexander Goldenweiser at the Conservatoire, as well as with Sviatoslav Richter, Vladimir Sofronitsky and Maria Yudina. The next year he made his formal debut playing Mozart's Piano Concerto No. 25 with the Moscow Philharmonic Orchestra. In 1941, students, pupils and parents were evacuated to Kuibichev, a village on the Volga, because of World War II. Living conditions were so poor that his mother had to cut the fingers from a pair of gloves to allow him to continue to practise without freezing his hands.

Lazar Berman subsequently began to acquire a small international visibility. At the age of 12 he played Franz Liszt's La Campanella to a British audience over the radio; in 1956 he won a prize at the Queen Elizabeth Music Competition in Belgium, with Vladimir Ashkenazy; and in 1958, he performed in London and recorded for Saga records.

Although Lazar Berman was known to international music aficionados who had heard the occasional recording on the Russian Melodiya record label, as well as those who visited the Soviet Union, he was not generally well known outside Russia before his 1975 American tour, organised by the impresario Jacques Leiser. His New York debut at the 92 Street Y, where he played F. Liszt's Transcendental Etudes, was a lightning bolt of a sensation. Before that, he had been generally restricted to the Soviet concert circuit, playing on old and decrepit pianos to audiences of varied degrees of interest. Invitations to tour outside the Soviet Union were ignored by the Soviet state concert agency, Gosconcert. He lived in a tiny two room apartment in Moscow, with a grand piano occupying an entire room. But after his 1975 tour, he was immediately in great demand, with Deutsche Grammophon, EMI, and CBS vying to record him. He recorded the Tchaikovsky First Piano Concerto with Herbert von Karajan, as well as broadcasting it on international television with Antal Doráti, to mark United Nations Day in 1976. Most of his British appearances came in the late 1970's and early 1980's. In December 1976, he performed music by Sergei Prokofiev and Franz Liszt at the Royal Festival Hall, in 1978 he played F. Liszt's A major concerto with Klaus Tennstedt and the London Symphony Orchestra, and in 1984 he played Tchaikovsky's B-flat minor concerto with Sir John Pritchard at the Proms.

The Soviet authorities even then intermittently restricted Lazar Berman's international travels; in 1980 his scheduled appearance at the Llandaff Festival had to be cancelled. It was at that time when after a trip to the West, American literature banned in the Soviet Union was found in his luggage by the KGB watchdogs. As the result, his name was black-listed, and his career was black-flagged by the Soviet authorities. His being Jewish only aggravated the issue (In the Soviet Union, Jews were considered potential dissidents and subjects to flee the country.) The frequency of this interference declined, however, as the Soviet Union entered the last phase of its existence, and he finally left Russia for Italy in 1990, settling in Florence in 1995.

Lazar Berman's playing showed great technical brilliance, showmanship, emotional and physical force. He had the endurance to play three concertos or sonatas in one night, and was considered a brilliant interpreter of Franz Liszt, winning the 1977 Franz Liszt Prize in Hungary for his interpretation of the Transcendental Studies. He once described the driving forces of his style as being lyricism, clarity and virtuosity. He refused to play Chopin, explaining "Of course I used to play him, but many years ago I entered for a Chopin competition in Warsaw and I did not qualify. It was a tremendous blow to my pride, and I vowed that I would never play him again." His playing of Chopin, however, is well documented, in both a concert film and a DGG recording of the polonaises from the 1970's.

He was survived by his wife Valentina, also a pianist, whom he married in 1961, and their only son, the talented violinist and conductor Pavel Berman. Recently, his memoires were published in German and in Russian. They are titled "The Years of Peregrination. A Musician's Reverie".


Brilliant Classics' seven-CD portrait of Lazar Berman, taken live from Russian archive performances, 1950-87, may have you blowing hot and cold but it is a souvenir of a phenomenal pianist. True, there are moments when you feel mugged, left bruised and battered in the wake of Berman's power-house, all-gunsblazing virtuosity, but it is reassuring to find that his legendary physical bravura could be complemented by a touching inner warmth and poetry. Uninhibited when freed in his native Russia from Western notions of musical propriety, Berman's Mozart, Beethoven and Schubert may lack the pinpoint definition of other, more overtly sophisticated pianists, but his leisurely unfolding of, say, the Schubert B fist Sonata is wistful and heartfelt, a far cry from his later, more cautious and unilluminating EMI studio remake. Berman's way with Liszt's Nuages gris, with the dark-hued romanticism of the composer's final years, is no less a reminder that he hardly needed shoals of notes to keep him happy; that his was a more multi-faceted talent than current critical estimates allow.
All the same, it is when one gleefully turns to what I can only describe as the "blitzkrieg" items that one is made to understand the awe in which Berman was held by even his greatest compatriots. You will need to avoid his turbulent and rough-shod way with Ravel's Ondine (Berman once told me he avoided "Scarbo", as it was "a perfect gibet for the pianist") where the allpervading opening figure and syncopation emerge as a confused shake rather than a shimmer of harmony, a near-defiant insult to lovers of a more fastidious french pianism. More surprisingly, B minor Sonatas is overwhelming. Yet just when you have recovered from Berman bear-hug embrace you remember how memorably he could scale down his vast resources to give us Haydn of a concentrated vitality and charm, and recreates in his mind, heart and fingers at any given time. And caught, as it were, on the wing, his playing was of such poetic transparency that it prompted critics and pianists (most notably Alfred Brendel) to light to darker imaginings.
CD-1 李斯特F. Liszt
1 但丁读后感,奏鸣曲风幻想曲,选自巡礼之年第二年「义大利」Sonata "apres Une Lekture de Dante" (from Annees de Pelerinage ll: Italie)
2 第一号梅菲斯特圆舞曲Mephisto Waltz No.1
3-9 超技练习曲(选曲)
3 前奏曲,选自超技练习曲第一首Prelude
4 风景,选自超技练习曲第三首Paysage
5 鬼火,选自超技练习曲第五首Feux Follets
6 幻影,选自超技练习曲第六首Vision
7 f小调热情的,选自超技练习曲第十首Appassionata in F minor
8 黄昏的和声,选自超技练习曲第十一首Harmonies du soir
9 耙雪,选自超技练习曲第十二首Chasse neige
10 西班牙狂想曲Rhapsodie Espagnole
CD-2 李斯特
1-5巡礼之年第一年「瑞士」(选曲)Annees De Pelerinage Book1: Switzerland (selection)
 1 威廉泰尔的圣堂Chappelle de Guillaume Tell
 2 华伦斯泰湖畔 Au Lac de Wallenstadt
 3 奥伯曼山谷Vallee d'Obermann
 4 乡愁Le Mal du Pays
 5 日内瓦之鐘Les Cloches de Geneve
6-8 降F大调第一号钢琴协奏曲Piano concerto No.1 in F flat major(1952)
CD-3
1 李斯特:b小调奏鸣曲Sonata in B minor
2 拉威尔M. Ravel:水妖,选自「加斯巴之夜」 Ondine (from Gaspard de la nuit)
3 德布西C. Debussy:八指练习曲,选自十二首练习曲第六首Etude "Pour les huit doigts"
4 法雅M. Falla:火祭之舞Ritual Fire Dance
史克里亚宾A. Scriabin:
5-6 第四号钢琴奏鸣曲Piano Sonata No.4
7 b小调幻想曲Fantasy in B minor Op.28
8 降b小调练习曲Etude in B flat minor Op.8-11
9-11 卡兹拉耶夫Murad Kazhlaev:三首前奏曲3 Preludes(No.1-3)
CD-4 普罗柯菲夫S. Prokofiev
1 触技曲Toccata Op.11
2-6 芭蕾音乐「罗密欧与茱丽叶」选曲Romeo And Juliet, Selection from the ballet
7-9 降B大调第八号钢琴奏鸣曲Piano Sonata No.8 in B flat major Op.84
10-13 D大调第二号小提琴奏鸣曲Violin Sonata No.2 in D major Op.94a〈帕佛‧贝尔曼Pavel Berman,小提琴〉
CD-5
1-3 贝多芬L. V. Beethoven:升c小调钢琴奏鸣曲「月光」Piano Sonata in C sharp minor Op.27-2 "Moonlight"
4-6 贝多芬:f小调钢琴奏鸣曲「热情」Piano Sonata in F minor Op.57 "Appassionata"
萧邦F. Chopin:
7 降A大调波兰舞曲「英雄」 Polonaise in A flat major Op.53 "Heroic"
8 a小调练习曲Etude in A minor Op.10-2
9 降A大调练习曲Etude in A flat major Op.10-10
10 a小调练习曲Etude in A minor Op.25-4
11 降A大调练习曲 Etude in D flat major Op.25-8
12 b小调练习曲Etude in B minor Op.25-10
13 a小调练习曲Etude in A minor Op.25-11
14 柴可夫斯基P. I. Tchaikovsky:詼谐曲,选自第六号交响曲(Samuel Feinberg改编)Scherzo from Symphony No.6 "Pathetique"
CD-6
1 史卡拉第D. Scarlatti:d小调奏鸣曲Sonata in D minor
2-3 克莱门悌M. Clementi:b小调钢琴奏鸣曲Piano Sonata in B minor Op.40-2
4-6 海顿J. Haydn:G大调奏鸣曲Piano Sonata in G major Hob.XVI/27
7 莫札特W. A. Mozart:a小调轮旋曲Rondo in A minor K.511
8 李斯特:佩特拉卡短诗第二号Sonetto del Petrarca No.2
9 李斯特:灰色云Nuages gris
10 韩德尔G. F. Handel:曲调,选自德丁根讚美诗,为小提琴与钢琴Aria, from Dettinger Te Deum, from violin and piano
CD-7
1-4 舒伯特F. Schubert:降B大调钢琴奏鸣曲Piano Sonata in B flat major D960
舒伯特歌曲/李斯特改编F. Schubert/ F. Liszt: Song transcription
5 街头乐师Der Leiermann
6 幻觉Tauschung
7 纺车旁的葛丽卿Gretchen am Spinnrad'
8 年轻的修女Die junge Nonne
9 圣母颂Ave Maria
10 魔王Erlkonig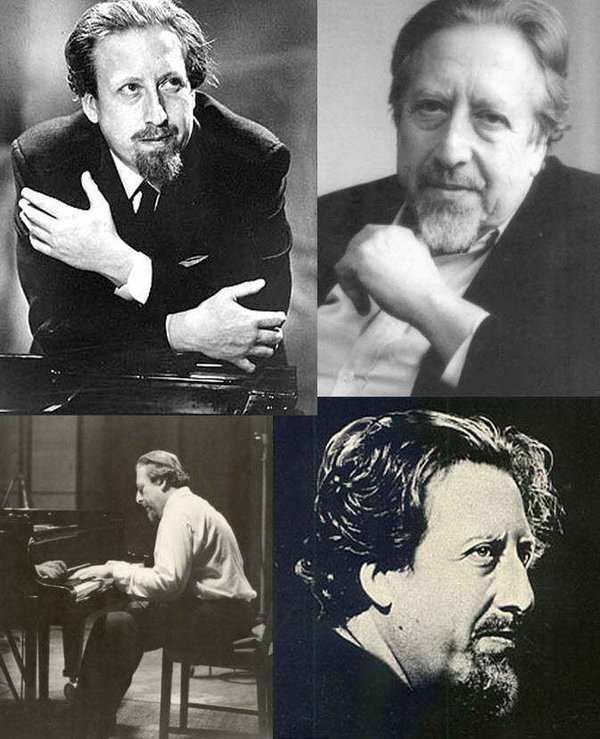 Lazar Naumovich Berman (Russian: Лазарь Наумович Берман, Lazarʹ Naumovič Berman; February 26, 1930 – February 6, 2005) was a Soviet Russian classical pianist.
专辑曲目:
Disc: 1
01. Aprés une lecture du Dante II, fantasia quasi sonata, for piano (Années II/7) S. 161/7 (LW 159/7)
02. Mephisto Waltz (I & II), for piano No. 1 (Der Tanz in der Dorfschenke), S. 514 (LW A189)
03. Études d'exécution transcendante (12 Transcendental Etudes), for piano, S. 139 (LW A172): Prelude
04. Études d'exécution transcendante (12 Transcendental Etudes), for piano, S. 139 (LW A172): Paysage
05. Études d'exécution transcendante (12 Transcendental Etudes), for piano, S. 139 (LW A172): Feux follets
06. Études d'exécution transcendante (12 Transcendental Etudes), for piano, S. 139 (LW A172): Vision
07. Études d'exécution transcendante (12 Transcendental Etudes), for piano, S. 139 (LW A172): Appassionata in F minor
08. Études d'exécution transcendante (12 Transcendental Etudes), for piano, S. 139 (LW A172): Harmonies du soir
09. Études d'exécution transcendante (12 Transcendental Etudes), for piano, S. 139 (LW A172): Chasse neige
10. Rhapsodie espagnole (Folies d'Espagne et jota aragonesa), for piano, S. 254 (LW A195)

Disc: 2
01. Années de pèlerinage, 1st Year ('Suisse'), suite for piano, S. 160 (LW A159): Chappelle de Guillaume Tell
02. Années de pèlerinage, 1st Year ('Suisse'), suite for piano, S. 160 (LW A159): Au lac de Wallenstadt
03. Années de pèlerinage, 1st Year ('Suisse'), suite for piano, S. 160 (LW A159): Vallée d'Obermann
04. Années de pèlerinage, 1st Year ('Suisse'), suite for piano, S. 160 (LW A159): Le Mal du Pays
05. Années de pèlerinage, 1st Year ('Suisse'), suite for piano, S. 160 (LW A159): Les Cloches de Geneve
06. Piano Concerto No. 1 in E flat major, S. 124 (LW H4): Allegro maestoso
07. Piano Concerto No. 1 in E flat major, S. 124 (LW H4): Quasi adagio-allegretto vivace-allegro animato
08. Piano Concerto No. 1 in E flat major, S. 124 (LW H4): Allegro marziale animato

Disc: 3
01. Piano Sonata in B minor, S. 178 (LW A179)
02. Gaspard de la nuit, for piano: Ondine
03. Pour les huit doigts, etude for piano, L. 136/6
04. Ritual Fire Dance, for orchestra (from 'El Amor brujo')
05. Piano Sonata No. 4 in F sharp major, Op. 30: Andante
06. Piano Sonata No. 4 in F sharp major, Op. 30: Prestissimo volando
07. Fantaisie for piano in B minor, Op. 28
08. Etude for piano in B flat minor, Op. 8/11
09. 3 Preludes, for piano: No. 1
10. 3 Preludes, for piano: No. 2
11. 3 Preludes, for piano: No. 3

Disc: 4
01. Toccata for piano in D minor, Op. 11
02. Romeo and Juliet, pieces (10) for piano, Op. 75: Morning Dance (the street awakens)
03. Romeo and Juliet, pieces (10) for piano, Op. 75: The arrival of the guests (Menuetto)
04. Romeo and Juliet, pieces (10) for piano, Op. 75: Mercutio
05. Romeo and Juliet, pieces (10) for piano, Op. 75: Montecchi e Capuletti (Dance of the knights)
06. Romeo and Juliet, pieces (10) for piano, Op. 75: Romeo and Juliet before parting
07. Piano Sonata No. 8 in B flat major ('War Sonata 3′), Op. 84: Andante moderato
08. Piano Sonata No. 8 in B flat major ('War Sonata 3′), Op. 84: Andante sognando
09. Piano Sonata No. 8 in B flat major ('War Sonata 3′), Op. 84: Vivace
10. Sonata for violin & piano No. 2 in D major, Op. 94 bis: Moderato
11. Sonata for violin & piano No. 2 in D major, Op. 94 bis: Scherzo
12. Sonata for violin & piano No. 2 in D major, Op. 94 bis: Andante
13. Sonata for violin & piano No. 2 in D major, Op. 94 bis: Allegro con brio

Disc: 5
01. Piano Sonata No. 14 in C sharp minor ('Moonlight'), Op. 27/2: Adagio
02. Piano Sonata No. 14 in C sharp minor ('Moonlight'), Op. 27/2: Allegretto
03. Piano Sonata No. 14 in C sharp minor ('Moonlight'), Op. 27/2: Presto agitato
04. Piano Sonata No. 23 in F minor ('Appassionata'), Op. 57: Allegro assai
05. Piano Sonata No. 23 in F minor ('Appassionata'), Op. 57: Andante con moto
06. Piano Sonata No. 23 in F minor ('Appassionata'), Op. 57: Allegro ma non troppo
07. Piano Sonata No. 3 in B minor, Op. 58, CT. 203
08. Etude for piano No. 2 in A minor, Op. 10/2, CT. 15
09. Etude for piano No. 10 in A flat major, Op. 10/10, CT. 23
10. Etude for piano No. 16 in A minor, Op. 25/4, CT. 29
11. Etude for piano No. 20 in D flat major, Op. 25/8, CT. 33
12. Etude for piano No. 22 in B minor, Op. 25/10, CT. 35
13. Etude for piano No. 23 in A minor, Op. 25/11, CT. 36
14. Symphony No. 6 in B minor ('Pathétique'), Op. 74: Scherzo

Disc: 6
01. Sonata for keyboard in D minor, K. 9 (L. 413), 'Pastorale'
02. Piano Sonata in B minor, Op. 40/2: Molto adagio e sostenuto – allegro con fuoco
03. Piano Sonata in B minor, Op. 40/2: Largo, mesto e patetico – allegro
04. Keyboard Sonata in G major, H. 16/27: Allegro con brio
05. Keyboard Sonata in G major, H. 16/27: Menuetto
06. Keyboard Sonata in G major, H. 16/27: Finale, presto
07. Rondo for piano No. 3 in A minor, K. 511
08. Sonetto del Petrarca No. 47 (Benedetto sia'l giorno; I), for piano (Tre sonetti No. 2), S. 158/2
09. Nuages gris (Trübe Wolken), for piano, S. 199 (LW A305)
10. Te Deum (Dettingen) for soloists, chorus & orchestra in D major, HWV 283: Aria

Disc: 7
01. Piano Sonata No. 21 in B flat major, D. 960: Molto moderato
02. Piano Sonata No. 21 in B flat major, D. 960: Andante sostenuto
03. Piano Sonata No. 21 in B flat major, D. 960: Scherzo, allegro vivace con delicatezza
04. Piano Sonata No. 21 in B flat major, D. 960: Allegro ma non troppo
05. Der Leiermann ('Drüben hinterm Dorfe…'), song for voice & piano (Winterreise), D. 911/24 (Op. 89/24)
06. Die Täuschung ('Im Erlenbusch'), song for voice & piano, D. 230 (Op. posth. 165/4)
07. Gretchen am Spinnrade ('Meine Ruh'…'), song for voice & piano, D. 118 (Op. 2)
08. Die junge Nonne ('Wie braust durch die Wipfel'), song for voice & piano, D. 828 (Op. 43/1)
09. Ellens Gesang III ('Ave Maria'), song for voice & piano, D. 839 (Op. 52/6)
10. Erlkönig ('Wer reitet so spät'), song for voice & piano, D. 328 (Op. 1)
这里是其它用户补充的资源(我也要补充):
暂无补充资源