专辑英文名: When I Look In Your Eyes
专辑中文名: 温柔眼神
音乐风格: 爵士
版本: [SACD-R]
发行时间: 2002年11月26日
简介: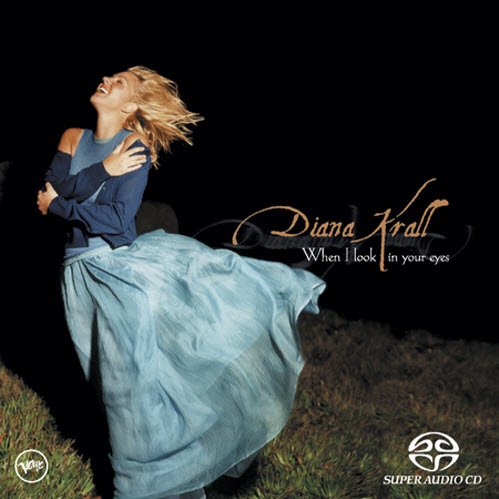 专辑介绍:

来自加拿大的戴安娜.克瑞儿从四岁开始学习钢琴,受到喜爱爵士乐的祖母影响,从小就跟著唱片哼哼唱唱。十多岁受僱於家乡的一家夜总会在週末做定期表演,让他熟悉许多经典曲目。尔后赢得奖学金前往波士顿百克里音乐学院继续进修。1995年在GRP唱片发行的第一张专辑《相信您的心》(Only Trust Your Heart)就引起爵士乐迷的热烈迴响,位第二张专辑《真心献给你》(All for You)催生。在这张像纳京高致意的作品中,月手的才华与自然的摇摆曲风赢得乐评与听眾的一致青睞,使该辑停留在告示牌的前10名达40週之久,并获得葛莱美奖提名。接著,广受喜爱的《爱情故事》(Love Scenes)在1997年9月出版以来,分别在三个年度坐上告示牌爵士乐第一名的宝座,在加拿大更写下第一个以爵士乐专辑拿到白金唱片的纪录。

  新作《温柔眼神》专辑则愈见黛安娜的洗鍊。这是她首次跳脱听眾熟悉的三重奏形式,专辑中有多首编曲大师Johnny Mandel的优雅弦乐,陪衬她聪敏易感的音乐天赋,呈现一种新的亲密聆感。倘若艺术作品反映作者成长轨迹,黛安娜毫无疑问以达成熟圆融的最佳状态。

  专辑第一首歌曲"Let's Face The Music and Dance"最能詮释这种完美组合,Russell Malone的吉他轻巧地滑进Bossa Nova节奏,Mandel的弦乐也自然地顺流而下,改变了Irvin Berlin作品的原貌,是营造音乐情境的杰出作品。三重奏的合作默契在弦乐加入后更表露无遗,像"Easty of the Sun (Water of the Moon)"一曲,吉他与贝斯轻鬆穿梭於琴音间,在弦乐的烘托下轻鬆挥洒即兴趣味。

  新专辑也记录了女歌手的嫵媚姿采,如充满情挑意味的"Do It Again",或是全是拉丁爵士乐名家Michael Frank名曲"Popsicle Toes"的淘气表现,都是她日形收放自如的证明。专辑特别收录的"Why Should I Care"一曲为热爱爵士乐的克林伊斯威特在新片《迫切的任务》当中的片尾曲。该曲不仅由伊斯威特本人创作,意味深长的词句中展现克瑞儿独有的抒情面貌,让人爱不释手。

Description
With this CD, the young Canadian singer/pianist/arranger joins forces with producer Tommy LiPuma, who places his orchestral stamp on eight of the 13 tracks. It is the latest attempt to push Krall to an even wider pop/smooth jazz audience than she already enjoys. After all, Nat Cole, Wes Montgomery, and George Benson, among others, went this route. Wonder if she'd agree the cuts sans strings were more fun and challenging? Krall does get to it with central help from bassists John Clayton and Ben Wolfe, drummers Jeff Hamilton and Lewis Nash, and guitarist Russell Malone, all stellar players. Krall's voice is sweet and sexy. She's also flexible within her range and at times a bit kitschy, mostly the hopeless romantic. On this CD of love songs, it's clear she's cool but very much in love with this music. Bob Dorough's "Devil May Care" and the insistent "Best Thing for You" really click. Favorites are a decent Shearing-esque "Let's Fall in Love" with vibist Larry Bunker; a suave slow bossa on the opening number, "Let's Face the Music"; the lusher-than-lush title track; and especially an incredible horn-fired fanfare intro/outro on the hip "Pick Yourself Up." Some might call this fluff or mush, but it depends solely on your personal taste. This will certainly appeal to Krall's fans, lovers, and lovers at heart. [When I Look in Your Eyes was also made available in a DVD-Audio version with a bonus track.] Michael G. Nastos.


引用
2001年新作"爱的容颜"筹备的时候,克瑞儿有天晚上在纽约的公寓里听著法兰克.辛纳屈、茱莉.伦敦、纳京高以及麦可.布雷克与编曲家克劳斯.欧格曼合作的唱片。随后她突发奇想跑去问汤米.利普玛,是否能与克劳斯.欧格曼在下张专辑中合作,因为克劳斯.欧格曼和强尼.曼德尔一直是克瑞儿最喜欢的作曲搭档兼编曲家。尤其欧格曼与辛纳屈、芭芭拉.史翠珊、安东尼.卡洛.乔宾合作过多张精彩专辑,更让人永远听不腻。虽然欧格曼已经不再为其他艺人编曲而专心於自己创作的钢琴奏鸣曲和小提琴协奏曲的作品,但克瑞儿仍然抱持希望。就在克瑞儿前往慕尼黑表演时,利普玛安排了他们的会面,最后欧格曼也欣然答应了这项合作计画。利普玛和欧格曼也超过十年未曾共事,"爱的容颜"再度将此两位传奇人物聚在一起,简直是破天荒的组合。

"爱的容颜"除汤米.利普玛负责制作,欧格曼担任编曲、指挥外,伦敦交响乐团,知名吉他手罗素.马龙都在伴奏的行列。内容上则包括多首爵士、流行经典,标题曲出自大名鼎鼎Burt Bacharach/Hal David之笔,这首歌原由女歌手Dusty Springfield与巴西乐手塞吉欧.曼德斯的合唱团两度唱红的流行曲。从茱莉.伦敦深情演唱的招牌作"Cry Me A River"、伤心小调"I Get Along Without You Very Well",到西班牙文浪漫经典"Besame Mucho"(热情拥吻)都是歌迷们期盼已久的克瑞儿式曲调。这张专辑制作时克瑞儿一口气灌唱多首歌曲,据她自己的说法:「真希望能发行成一张双片CD」,从这些歌曲中细心挑选成单张的"爱的容颜"绝对又会是黛安娜.克瑞儿新的里程碑。


Pros:With SACD Surround, you'll feel right in the middle of a jazz club with Diana.
Cons:SACD lacks video options available on DVD Audio
The Bottom Line: If you like smooth jazz and sultry voiced singers, you can't go wrong with this SACD from Diana Krall. She'll make you feel like you're at the jazz club.

I had the pleasure last year of seeing Diana Krall from the fourth row orchestra of the Wang Center. She sings and plays piano with a small ensemble of musicians. Although the Wang Center is a concert hall that seats a few thousand people, Diana Krall still made me feel like I was in a small intimate jazz club. (Being in the fourth row didn't hurt).

Diana Krall is one artist who has not only released many CDs, she is also an artist who has released several of her albums on both DVD-Audio and SACD. I have a few of her CDs and enjoyed them all. My first album pick from Diana Krall on Super Audio Compact Disc was "When I Look in Your Eyes". No particular reason for picking that one, I like her others as well. So, why do I tell you about my seeing Diana Krall in concert and what does that have to do with a SACD release review? On CD, Diana Krall sounds good, on SACD (surround sound mix) you can close your eyes, and picture yourself right inside a small intimate jazz club seated in the middle of the stage no less! It really reminded me of the concert experience. If you thought her voice could melt ice cream before, turn your freezer up before putting this SACD in your surround sound system. Okay, that line was a little hoakey, forgive me, but Diana's voice just sounds sultrier and sexier on the SACD. Most arrangements on "When I look in Your Eyes" are only four instruments. When you listen to this on SACD, it sounds like all four have been set up in your living room. Diana's piano seems as if it is right next to you, or slightly behind you. Her smooth voice just seems to float in the air in the middle of the room. The bass player usually plays in the center front stage, and guitar and drum are placed to the sides. (It varied from song to song).

The surround sound mix just really makes you feel right there. It provides an intimacy with the quartet that you just don't feel in stereo. I love to listen to this album in the sweet spot (you know, the cushy leather recliner right in the middle towards the rear of the sound field) with my eyes closed. That is not to say that the stereo track doesn't sound terrific, it does, I just prefer the surround sound mixes. This album will NOT play on a regular CD player, it only plays on SACD players. Some SACDs are hybrids which have tracks that will play on regular CD players and SACD players. When I look in Your Eyes has an SACD stereo track and an SACD surround sound track.

The SACD features a bonus track, " Why Should I Care?" co-written by Clint Eastwood (and Carole Sager & Linda Thompson). Yes, that Clint Eastwood, he is a big jazz fan.

I guess one thing I miss on the SACD, and this is my opinion on SACD vs. DVD-Audio in general, and not this album in particular, is the visual elements. I enjoy the added bonus videos, or the photo albums and visual menus that DVD-Audio uses. The only visual you will get with SACD is some print on your TV that says SACD track 1 or track 2 searching etc. I enjoy even seeing the still photos of the artist on my TV as I listen that DVD Audio provides. (Perhaps more so, when that artist is the lovely Diana Krall).

All of Diana Krall's recent albums have been available in CD, DVD-Audio and SACD, so she really gives her fans whatever options they want. I think next time I pick out a Diana Krall album, I will try one in the DVD Audio format.

As to the music itself, I will provide my brief opinion on the content as music. "When I Look In Your Eyes" is a selection of covers. Diana Krall in my opinion has a very smooth and sexy voice. It does far more for me than a Britney Spears or Christina Aguelira can any day of the week. The arrangements of the songs; the clarity and sound are very well done (even on the original CD which I owned prior to the SACD). In stereo or in surround, you can really hear the details in each individual instrument. Krall creates a jazz club atmosphere very well. The added depth and jazz club feeling of the surround sound mix is worth purchasing the SACD. The songs here are of the slow romantic variety.

引用
5.0 out of 5 stars You will love this album!, October 31, 2003
By
R. G. May "Bibliophile" (Scholar at large) - See all my reviews
(VINE VOICE) (REAL NAME)
This review is from: When I Look in Your Eyes (Sl) (Audio CD)
I am one of those compulsive nuts who has my radio permanently set on scan because I can't stand to listen to a song I don't like. I will never forget the day I heard the song "Why Should I Care" in my never ending search for the perfect song. I literally pulled my car off the road, turned up the radio and sat there in awe. I bought this CD the minute I had the chance. There is not a track on this album that is anything but great. If you are a jazz fan, and a Diana Krall fan in particular, this album will not disappoint.
Help other customers find the most helpful reviews
Was this review helpful to you? Yes No
Report abuse | Permalink
Comment Comment


10 of 10 people found the following review helpful
5.0 out of 5 stars Noticeably different from the CD, December 10, 2008
By
L. Harris "skytag" (Winter Haven, FL USA) - See all my reviews
(VINE VOICE) (REAL NAME)
Amazon Verified Purchase(What's this?)
This review is from: When I Look in Your Eyes (Sl) (Audio CD)
There are plenty of reviews discussing Diana Krall and this album, so I'll skip repeating what they say and just comment on the difference between the CD and SACD versions. I've had the CD version of this album for years and love it. I recently got the SACD version (which is also stereo, unfortunately; multi-channel would have been great) and was surprised at how different it sounds. The CD version is brighter and seems to have less bass. Which is truer to the original performance? I don't know, but the SACD version ends up sounding a little cleaner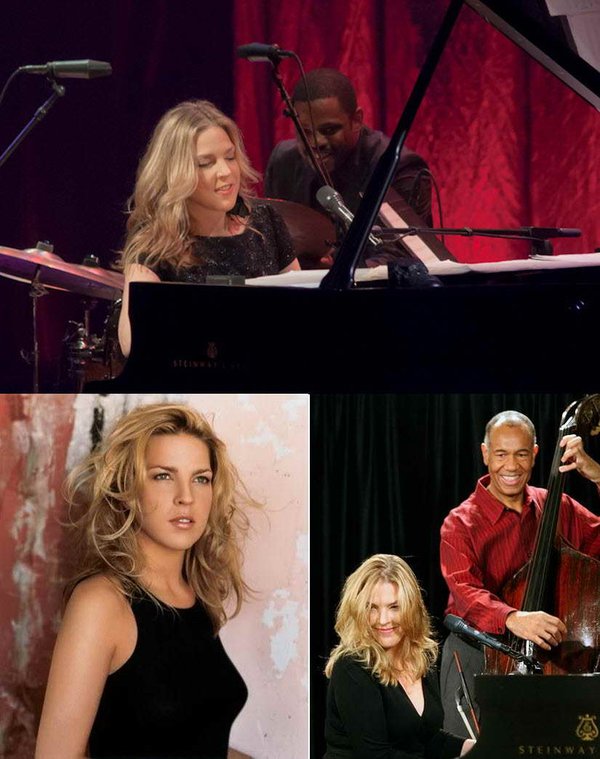 专辑曲目:
01. Let's Face the Music and Dance
02. Devil May Care
03. Let's Fall in Love
04. When I Look in your Eyes
05. Popsicle Toes
06. I've Got You Under my Skin
07. I Can't Give you Anything but Love
08. I'll String Along with You
09. East of the Sun (And West of the Moon
10. Pick Yourself Up
11. Best Thing For You
12. Do it Again
13. Why Should I Care
这里是其它用户补充的资源(我也要补充):
暂无补充资源