中文名: 系统管理工具
英文名: SystemTools Hyena
资源格式: 压缩包
版本: v8.8F x86|x64
发行时间: 2012年
制作发行:
SystemTools Software Inc.
简介: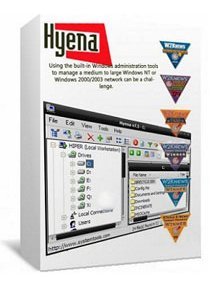 软件类型:软件>应用软件
软件性质:破解软件
操作系统:Windows
应用平台:Windows
问题反馈: http://www.systemtools.com/contact.htm
网站链接: http://www.systemtools.com/hyena/index.html
软件介绍:

一个功能很齐全的 Windows NT/2000/XP 管理工具,可跨域集中管理多台NT服务器、工作站。Hyena与Windows所提供的系统管理工具非常相似,但是功能方面要更为强大。它使用了资源管理器风格的用户界面,并且对于所有对象都可用右键点击弹出注释菜单,能够用来管理用户、用户组(本地和网络)、设置共享、域、计算机、服务、设备、事件、文件、打印机、打印工作、打开文件、磁盘空间、用户权限、信息、工作任务、程序进程等。有了这个软件你几乎可以完全对计算机进行管理、控制。它将Windows NT/2000所提供的管理工具集成在一起,使得用户的管理工作更为方便、快捷。

相当强大的Windows NT 2000/2003以及XP的管理工具,完全替代Windows自带工具。可以对于用户,用户组(本地以及网络),共享,域名,电脑主机,设备,事件,文件,打印机(打印作业),硬盘空间,用户权限,计划任务,进程等等众多项目进行周到的管理。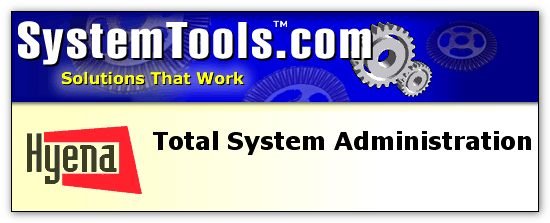 ========================================

下载链接来自STF,
未经过安装测试与安全检测,使用者后果自负与本论坛无关
软体版权归原作者及其公司所有,如果你喜欢,请购买正版

========================================


Using the built-in Windows administration tools to manage a medium to large Windows 200x network or Active Directory environment can be a challenge. Add multiple domains, hundreds or thousands of servers, workstations, and users, and before you know it, things can get out of hand. Hyena is designed to both simplify and centralize nearly all of the day-to-day management tasks, while providing new capabilities for system administration. This functionality is provided in a single, centralized, easy to use product. Used today by tens of thousands of system administrators worldwide, Hyena is the one tool that every administrator cannot afford to be without.

Hyena uses an Explorer-style interface for all operations, including right mouse click pop-up context menus for all objects. Management of users, groups (both local and global), shares, domains, computers, services, devices, events, files, printers and print jobs, sessions, open files, disk space, user rights, messaging, exporting, job scheduling, processes, and printing are all supported. For an example of a typical enterprise-wide view in Hyena, click here.

In addition to supporting standard Windows system management functions, Hyena also includes extensive Active Directory integration. In fact, Hyena can be used on any Windows client to manage any Windows NT, Windows 2000, Windows XP/Vista, or Windows Server 2003/2008 installation.

Hyena also includes full exporting capabilities and both Microsoft Access and Excel reporting and exporting options. All of these features are part of the Standard Edition of Hyena. The Enterprise Edition adds support for:

Terminal Server user properties and session administration.
Exchange 2000/2003/2007*/2008 Server mailbox integration and properties management.
WMI integration.



Hyena v8.8 New Features

Support for new Windows 2.0 Task Scheduler

Hyena v8.8 fully supports the Windows 2.0 task scheduler used by Windows 7 and Windows Server 2008. Options include viewing all scheduled tasks on one or more computers, viewing tasks by folder location, showing running tasks, task termination and more.

Viewing Tasks on Multiple Computers

Viewing tasks on a single computer is one thing. But trying to see if the same task is scheduled on multiple computers can be a challenge even for Microsoft's own tools. Just as with the Windows Task Scheduler 1.0 interface in Hyena's previous versions, you can also view all scheduled tasks, and sort appropriately, for all computers accessible by Hyena.

View Tasks by Folder or by Computer: It's your choice

Tasks with the new Task Scheduler are folder-based, which is great for organizing tasks into different management areas. But what if you don't know which folder the task is in ? Hyena does not force anyone to know what folder a task might be in. You can choose to either see all tasks on a computer (ie a 'flat view'), or if you know the folder location, you can navigate the task folder structure and go right to it.

And More...

Viewing the running tasks on a computer, setting properties, and starting and stopping tasks are all standard features supported by Hyena's support for Task Scheduler 2.0.

Update and Revision History


Rev 'B' - Forced the LDAP provider name to uppercase when manually pasting directory path into the Move dialog.


Rev 'B' - Changed the display of the LDAP path on the Object dialog for directory objects to be mixed case instead of forcing it to lower case.


Rev 'B' - Added default line break indicator for Active Directory attributes to be <Cr/Lf> instead of nothing, to make it more obvious that a line break is in the data. This behavior can be changed under Tools->Settings->Advanced, AdCrLfReplacementString.


Rev 'C' - Fixed a problem in the new Task Scheduler v2.0 interfaces that prevented setting the Idle conditions to 'True'.


Rev 'D' - Added the menu option to create tasks using the older Windows AT-style task system


Rev 'D' - Corrected a problem with importing and other Task Scheduler v2.0 functions whereby the operation would revert to the local computer instead of the selected remote computer.


Rev 'E' - Changed the batch service startup function to accept passwords longer than 20 characters. The new default is now 30, but this can be changed by setting the MaxW2kPasswordLength setting under Tools->Settings->Advanced.


Rev 'E' - Added capability to double-click on the drive space results in the right window to run Windows Explorer with the 'open' command on the current drive.


Rev 'E' - Fixed problem (error: unable to delete) with deleting DFS links.





代码
Ü ß ß Ü
Ü ÜÜÛß ßÛÜÜ Ü
ÜßßÛÜ ÜÛß ÜÜßÛÛß ßÛÛßÜÜ ßÛÜ ÜÛßßÜ
Ü ÞÛÜß Ü ßß ÜÛÛß t h e c r a c k e r s o f ßÛÛÜ ßß Ü ßÜÛÝ Ü
ßÜ ÛÛÛÜ ß ÜÜÜß ÛÛÛ ÛÛÛ ßÜÜÜ ß ÜÛÛÛ Üß
ß ÜÜ ßßßÜßÛÛÛß ÛÛÛ ÜÜÜ ÜÜÜ ÜÜÜ ÜÜÜÜ ÜÜÜ ÛÛÛ ßÛÛÛßÜßßß ÜÜ ß
ÛÛÛ ßÛß ÛÛÛ ÜÛÛ²²ÛÛÜ ÜÛÛÛ²ÛÛÜ ÛÛÛÛ²ÛÛÜ ÞÛ²²ÛÛÛ²ÛÝ ÛÛÛ ßÛß ÛÛÛ
ÛÛÛ ß ÛÛÛ ÛÛ²ÛßßÛÛÛÝÛ²ÛÛßßÛÛ²ÛÞÛ²ÛßÛÛÛÝ ²²ÛÛßÛÛßß ÛÛÛ ß ÛÛÛ
ÛÛÛ ÛÛÛ ÞÛÛÛÝ Û²ÛÞÛÛÛÝ ÞÛÛ ÛÛÛÝ Û²Û ÞÛÛÝ ÛÛÛ ÛÛÛ
ÛÛÛÛÛ ÞÛ²Û ÞÛÛßÞÛÛÛ ÛÛÛÝÛÛÛ ÜÛÛÛÝÛÛ²ÛÜÜÜ ÛÛÛÛÛ
ÛÛÛ ÛÛÛÝ Û²ÛÝ ÞÛ² Þ²ÛÛÛ²Ûß ÞÛÛÛÛÛÛÝ ÛÛÛ
ÜÛÜÜÜÛÜ ÞÛÛÛ ÛÛÜÞÛÛÛ ÛÛÛÝÛÛÛßßÛÛÛ ²ÛÛ²ßßß ÜÛÜÜÜÛÜ
[rAD!s] ÛÛÛßß ßßÜ Û²ÛÝ ÞÛÛÝÛÛÛÝ Þ²Û Û²Û Û²ÛÝÞÛÛÛÝÜÜ Üßß ßßÛÛÛ
ÛÛß ÞÛ²ÛÛÜÛ²ÛÝÞÛ²ÛÛÜÛÛÛÝ ÛÛÛ ÞÛÛÛ Û²ÛÛÛ²ÛÜ ßÛÛ
²ÛÛÜ ßÛÛÛ²ÛÛß ßÛÛÛ²²Ûß ÞÛ²ÛÝ ÞÛ²ÝÞ²ÛÛ²ÛÛÛÛÝ Ü²Û²
ß²²Û ßßß ßßß ßßßßß ßßß ßßßßß Û²Ûß
²Ý Ü ßÛÝ ÞÛß Ü Þ²
ÞÝ Û ÛÝ p r e s e n t t h e 2 0 k - c o l l e c t i o n ÞÛ Û ÞÝ
² ² þßß ßßþ ² ²
ÞÝ ÛÝ SystemTools Hyena v8.8F *INCL.KEYMAKER* ÞÛ Þ
þ ÞÛ ÛÝ þ
ÛÝ ÞÛ
ÞÛ Cracked by....: Cyrex Release-Name..: CR-RVR03.ZIP ÛÝ
ÛÛ Supplied......: CORE Release-Date..: 2012/04/01 ÛÛ
ÛÛÝ Packaged......: CORE Release-Type..: Util ÛÛ
Û²Ý Protection....: Serial OS............: Windows Þ²Û
ÞÛÛ Crack/SN......: Keymaker Language......: English ÛÛÝ
ÞÛÛÝ Rating........: [You decide!] Disks.........: 02 ÛÛÝ
ÞÛÛ ÛÛÝ
Û²Û Û²Û
ÛÛÛ ßÛÜ ÜßßßÜ ÜÛß ÛÛÛ
ÛÛÛÜ ßÜ ÜÛ²ßÜÜß ßÜÜß²ÛÜ Üß ÜÛÛÛ
þ ßÛ²ÛÜÜ ßßÜÜ Üßß ßÜ Üß ßßÜ ÜÜßß ÜÜÛ²Ûß þ
ßÜÜ ßßÛÛÛÛÛÜ ßÜ Þ ßÜÜ Üß ßÜ ÜÜß Üß ÜÛÛÛÛÛßß ÜÜß
ßßÛÜÜÜ ßÛ²ÛÛ Û ß ßßÛÜ ÜÛßß ß Û ÛÛ²Ûß ÜÜÜÛßß
Ü ßßÛÛß ßÛ þß Üßß Þ°² ²°Ý ßßÜ ßþ Ûß ßÛÛßß Ü
Üþ Ü Ü ÞÝ ±±Ý Þ±± ÞÝ Ü Ü þÜ
ÛÝ ß ²ÜÜß ßÜÜ ßÜÜ ²²Û Û²² ÜÜß Üßß ßÜܲ ß ÞÛ
Þ²ÛÜܱ ÜÜÜÛÛß ß Üܲ²ß ß²²ÜÜ ß ßÛÛÜÜÜ ±ÜÜÛ²Ý
ß²Û²ÛÛÛÛ²²Û ÜÛ²ß ß²ÛÜ Û²²ÛÛÛÛÛ²Û²ß
ßßßßß °Ûß ßÛ° ßßßßßßß
°Û ÜßßÜ ÜßßÜ Û
ÞÝ°²ß ÞÝ ÞÝ ß²°Þ
ßÜ Üß ßÜ Üß
ßß ßß
Üþ þÜ ÜÜß Üß²Ü
ܲßÜ ßÜÜ ÛÝ ß ²ÜÜß ßÜܲ ß ÞÛ Üßß ÜÜÜ Û
Û ÜÜÜ ßßÜ Þ²ÛÜܱ ÜÜÜÛÛß ßÛÛÜÜÜ ±ÜÜÛ²Ý ÞÝ Ü²° ßßÜÜ
ÜÜßß °²Ü ÞÝ ß²Û²ÛÛÛÛ²²Û Û²²ÛÛÛÛÛ²Û²ß ßÜ ß ß Ü ßÜ
Üß Ü ß ß Üß ßßßßß ßßßßßßß ßß²° Ûß ÞÛ
ÛÝ ßÛ °²ßß þß ²Ý
Þ² ßþ ..: DESCRiPTiON :.. ²Ý
Û² ²Û
Û² ²Û
² Hyena is a tool for day-to-day administration of Windows systems. ²Û
² ²Û
² Hyena brings together all of the administrative tools from Windows ²Û
² NT such as User Manager, Server Manager, and File ²Û
² Manager/Explorer, and many of the MMC components from Windows ²Û
² 2000/2003 into a single, easy-to-use, centralized program. Hyena ²Û
² arranges all system objects, such as users, servers, and groups, ²Û
² in a hierarchical tree for easy and logical system administration. ²Û
² ²Û
² http://www.systemtools.com/hyena/index.html ²Û
Û² ²Û
Þ²ÝÜ ÜÞ²Ý
ß°ß ß°ß
þß ßþ
ßÜ ÜÜ Ü Ü ÜÜ Üß
ß Ü þ Üßß ß ß±ß ß±ß ß ßßÜ þ Ü ß
ÞÝ ß Ü Ü Ü Ü ß ÞÝ
ܲßÜ ßÜÜ ßþ Ü þß ßþ Ü þß ÜÜß Üß²Ü
Û ÜÜÜ ßßÜ Üßß ÜÜÜ Û
ÜÜßß °²Ü ÞÝ ÞÝ Ü²° ßßÜÜ
Üß Ü ß ß Üß ßÜ ß ß Ü ßÜ
ÛÝ ßÛ °²ßß ..: iNSTALL/REGiSTER NOTES :.. ßß²° Ûß ÞÛ
Þ² ßþ þß ²Ý
Û² ²Û
Û² ²Û
² Use our keymaker to register the application. ²Û
² ²Û
Û² ²Û
Û² ²Û
Û² ²Û
Û² Thanks for choosing ²Û
Û² (C)hallenge (O)f (R)everse (E)ngineering! ²Û
Û² ²Û
Û² ²Û
ÞÛ² ²ÛÝ
ÞÛ² Üþ þÜ ÜÜß Ü߲ܲÛÝ
ßÜ ßÜÜ ÛÝ ß ²ÜÜß ßÜܲ ß ÞÛ Üßß ÜÜÜ
ÜÜÜ ßßÜ Þ²ÛÜܱ ÜÜÜÛÛß ßÛÛÜÜÜ ±ÜÜÛ²Ý ÞÝ Ü²° ßßÜÜ
ÜÜßß °²Ü ÞÝ ß²Û²ÛÛÛÛ²²Û Û²²ÛÛÛÛÛ²Û²ß ßÜ ß ß Ü ßÜ
Üß Ü ß ß Üß ßßßßß ßßßßßßß ßß²° Ûß ÞÛ
ÛÝ ßÛ °²ßß þß ²Ý
ÜÜ Ü ..: CORE NEWS AND iNFOS :.. Ü ÜÜ
ÜÛÛÛÛ ßÜ Üß ÛÛÛÛÜ
ÞÛÛ²ÛÛÝ ÞÝ ÞÝ ÞÛÛ²ÛÛÝ
ÛÛ²ÛÛÛ Û - not available - Û ÛÛÛ²ÛÛ
Þ²Û²ÛÝ Üß ßÜ ÞÛ²Û²Ý
Û²ÛÛ ÞÝ ÞÝ ÛÛ²Û
ÞÛ²Ý ßÜÜ ÜÜß Þ²ÛÝ
ÛÛÝ ßÜ Üß ÞÛÛ
ßÛ ÞÝ ÞÝ Ûß
² Üß ßÜ ²
ÜÛß ßÛÜ
Üßß ßßÜ
Üß ßÜ
ÜÛÝ ÞÛÜ
²ÛÝ ÛÛ²
ÞÛÛ ÞÛÝ
ÛÛ ÛÛ
ÛÛ ÛÛ
ÛÛ ÛÛ
²ÛÛ ÛÛ
ÞÛÛÝ þßÜ Üßþ ÞÛÝ
Û²ÛÜ ÞÝ ÞÝ ÜÛ²
ßÛÛÛÛÜÜ ÜÜÜÜÛß ßÛÜÜÜÜ ÜÜÛÛÛÛ
ÛÛÛÛ²ÛÛÛÛÛßß ßßÛÛÛÛÛ²ÛÛÛÛ
Þ²Û ßßß ßßß Û²Ý
ÞÛÝ ÞÛÝ
ÞÛÝ ÞÛÝ
Û² ²Û
ÞÛÝ ÞÛÝ
Û² ²Û
ÞÛÝ ÞÛÝ
Û² ²Û
ÛÝ ÛÛ
ÛÛ ÞÛÝ
ÞÛÝ ÞÛÝ
Þ²Ý Þ²Ý
ÛÛ Ü ßþ þß Ü ÛÛ
Þ²Ý þ ß ß þ Þ²Ý
ÛÛ ÜÛßßÜÜ Ü ß ß ß ß Ü ÜÜßßÛÜ ÛÛ
Þ²ÝÜßß ßÛÜ ß²ß ß²ß ÜÛß ßßÜÞ²Ý
ÛÛ ß ß ÛÛ
ÛÛÛ ÛÛÛ
²ÛÛ ÛÛ²
ÞÛÛÝ ÞÛÛÝ
²ÛÛ ÛÛ²
ÛÛ² ²ÛÛ
²ÛÛ Û²Û
ÛÛÛ ÛÛÛ
ÛÛÛ ÛÛÛ
ÛÛ ÛÛ
ÞÝ ÞÝ
Û ÜÜÜ ÜÜÜ Û
Û Üßß ßßÜ lAYOUt & hEADER bY. [rAD!s] Üßß ßßÜ Û
ßÜ ßÜ Û nfO UPdATED ON [2012/01/13] Û Üß Üß
ßßÜÜÜ ÜÜÜß Ü (c) C.O.R.E. 2 0 1 2 Ü ßÜÜÜ ÜÜÜßß
ßßßßß ßßßßß
ú CRC 906C:2372
这里是其它用户补充的资源(我也要补充):
暂无补充资源