中文名: 网络视频捕捉
英文名: WebcamXP Pro
资源格式: 压缩包
版本: v5.5.1.5.33554 Multilingual
发行时间: 2012年
简介:





软件类型:软件>多媒体类
软件性质:破解/免费软件
操作系统:Windows
应用平台:Windows XP, Vista, 7,
2003 and 2008 Server
问题反馈:http://www.webcamxp.com/support.aspx
网站链接:https://www.regnow.com/checkout/product/5060-3
软件介绍:


WebcamXP 是一款最为流行的网络摄像软件,供个人使用或者进行专业应用,提供了独特的功能和无比简单的用法,让你可以进行广播或者管理你的Video源或者为你的公司进行安全监控,每个电脑最多支持五个摄像头,支持几乎所有for Windows的摄像头产品和大多数基于文件或者IP的摄像头。

使用广泛的私人和专业用途的网络视频捕捉软件,提供了独特的功能,并易于使用,可最多网络直播或管理5个视频源,支持来自Windows/WDM 和多数基于文件的或者IP的视频源。抓取时可改变格式、视窗大小、开放/停止分享服务。程序内置Dynamic links连结,不用您手动更改动态IP。


WebcamXP可以把你的摄像头的画面直接输出到软件的Http服务器上,通过网络和朋友们分享,朋友们只用访问你给的一个类似http://169.254.10.21:8080/的地址即可(地址是软件自动生成的),在这样的一个页面中,是你的摄像头画面和一个文字聊天室,大家(或你的一个朋友)可以边看你的秀,边聊天!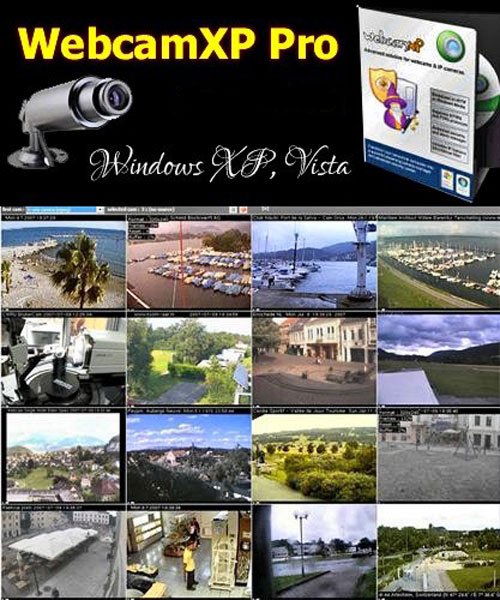 ========================================

下载链接来自SV,
未经过安装测试与安全检测,使用者后果自负与本论坛无关
软体版权归原作者及其公司所有,如果你喜欢,请购买正版

========================================




webcamXP PRO is an online video streaming application that can work with up to 100 webcams at the same time, providing a bunch of other tools to make the overall experience much more captivating. One of the most useful things about webcamXP PRO is that you don't need to set up a separate server to stream the webcam content online because the application does that job for you.



Features:
Local and remote pan & tilt control (Logitech Orbit, Create LiveMotion! and IP cameras).
Motion detector with many possible ways to handle alerts (local recording, ftp, http post, launch external applications)
Integrated gallery manager to store and manage your captures
Integrated chat system
Advanced users manager to grant time-limited access or expire at a fixed date and can be loaded from an external server.
Overlay editor which supports picture in picture, animated gifs, alphablending and advanced text editing.



代码
i'm the black rider, always faster than you...

°°°°
° °°±²²±²²°
 ±°°°° ± °° ±
°²   ±±  °° ° ²±
± ±² ²²  ±±±  ² ²² ² ²° 
° ± ±° ² °°² 
²±²²°
°°
²°²°²²
 ±²°± ± ²
°  ²
°² ² °²²²
± ° ²
 ²° ²
² °° 
° ±² ²
° °²²²± °
 ° °²° ±
 °²²²° °
  ²²  ±±
 ± ² 
 °°  ² °
²± ° ² ² ° °° °±
   °±²± ± ±±
°    °  
±    ² 
°² °² ² °°
² ²²²  ±
²²°² ± ± ±±
± ²²²  ² ± 
 °² ² °±²±° ±±±
± °  ²± ²²° ± °
° ° ²² ° ±
  ²
²± ² ²
 ² ²°°
° ²²²² °  °²°
± ² °²²± ± ±
² ²  ° ²²
 ²± ° ²  ±
°  ²°±  
² ²² ± ±±
² ²± 
 ² 
 ²± 
°± ² 
± ±²²± ° °±
 ²  
°²±²²  ± ° 
 ±²² ²° 
°± ²² °²
  ²
  
²° 
²

 ²
   ² ² °² ²
° ² ²²   °²² °° 
° ‏.   ² °²°  .‏ °
 ²  ² ‏  
   °
  ²
   °
² ±     °
²     
  ² ² ±  
° ± ±    ²  ±
       
       
° ²     
     ² 
     ²  
   ²  
² ²
 
² ²² ² ²²  ²² ²
 

   ²   ° 
   ² ²  ²
   ±  ²  
 °   ±  °  ° ±
²  ± ²± ² ² ± 
 ±  ² ±  ² ² ²  
±  ²±   °       ²  
  ²²²     ² ²  ± ²² 
         °    °
² ²²



 |
      
   jer^dfs
  
 
WebcamXP.Pro.v5.5.1.5.33554.Multilingual.Incl.Keygen.and.Patch-BRD


Cracked by...: BRD Cult Size.....: 2
Suplied......: BRD Cult Date.....: 03/29/2012
Packaged.....: BRD Cult Type.....: Keygen & Patch
Protection...: Serial Os.......: WinALL



    
        ²
²²² ²


 |
      
  
  
 DESCRiPTiON 

webcamXP is a powerful webcams and network cameras
monitoring, recording and streaming software for private and
professional use. it offers unique features and unequaled
ease of use to let you manage multiple video sources on the
same computer. it is the ideal tool to secure your goods and
keep an eye on them remotely from your phone or over
internet.

supported devices:

- usb webcams (WDM driver required)
- tv, analog or multi-input capture cards (WDM driver
required)
- ip cameras (JPEG/MJPEG/MPEG4)
- Windows Media streams (ASF)
- local video files (AVI/WMV/MP4/MOV/...)

supported streaming modes:

- still jpeg images for low-tech devices
- flash client (compatible with most operating systems and
handheld devices)
- javascript clients (MJPEG or JPEG PUSH)
- Windows Media streaming

additional key features:

- local and remote pan & tilt control (Logitech Orbit,
Creative LiveMotion! and IP cameras).
- supports FTP/FTPS and HTTP/HTTPS Post
- motion detector (optical or acoustic) with many possible
ways to handle alerts (local recording, ftp, http post,
launch external applications)
- advanced users manager to grant limited or unlimited access.
- overlay editor supporting picture in picture, animated
gifs, alpha-blending and text editor.
- DVR (permanent recording deleted after X hours)

supported devices:

- usb webcams (WDM driver required)
- tv, analog or multi-input capture cards (WDM driver
required)
- ip cameras (JPEG/MJPEG/MPEG4)
- Windows Media streams (ASF)
- local video files (AVI/WMV/MP4/MOV/...)
- wowwee rovio (mobile ip camera)

supported streaming modes:

- still jpeg images for low-tech devices
- flash client (compatible with most operating systems and
handheld devices)
- javascript clients (MJPEG or JPEG PUSH)
- Windows Media streaming (audio + video) [webcamXP]
- Flash Video streaming (audio + video) [webcam 7] new!
- Windows Mobile 5.0 / 6.0 client
- iPhone client (3rd party application required)

additional key features:

- local and remote pan & tilt control (Logitech Orbit,
Creative LiveMotion! and IP cameras)
- supports FTP/FTPS and HTTP/HTTPS Post
- motion detector (optical or acoustic) with many possible
ways to handle alerts (local recording, ftp, http post,
launch external applications)
- advanced users manager to grant limited or unlimited access.
- overlay editor supporting picture in picture, animated
gifs, alpha-blending and text editor.
- DVR (permanent recording deleted after X hours)
- run as service
- interract with PowerHome automation software
- support audio from network cameras (panasonic, axis,
etc...) [webcam 7] new!

available languages:

- english
- french
- german
- italian
- dutch
- spanish
- portuguese
- russian



URL: http://www.webcamxp.com


    
        ²
²²² ²


 |
      
  
  
 iNSTALL NOTES 

Install program, apply patch and use our keygen.
Enjoy!




    
        ²
²²² ²


 |
      
  
  
 GROUP NOTES 


Team BRD is not responsible for the bad usage of this product.
This release is for EVALUATION PURPOSES ONLY.
if you like it, u MUST buy it, Software Authors deserve support!.

Remember, this is an INTERNAL SCENE RELEASE, we DONT support
the spread of this rls over web or p2p networks.


The Black Riders Cult is looking for:

<.> Experienced Crackers, Unpackers and keygenners.
<.> Software Suppliers.


t h e b r d [at] m a i l [dot] r u


°  ² °°° °°  ° ° °° °   °
²  ² ° °°°   °° ° ²°  ²
°  °° °°° °²²  °  ²²° °°  °
² °  °°°  ° ²°
 ° °  ²²  ° ° °
 ° °    ° ° °
° ° °  ° ° °
°    ° ° °
°    °   °
°  °    ° ° °
° ° °    ° ° °
° ° °    ° ° °
 ° °  ²²  ° ° °
 ° °  ²²²  ° ° °
° °  °°°  ° 
° °  °  ° °
²   
   

 |
      
   jer^dfs
  
 
you will never defeat the riddle of the black riders..

Keygen/Keygen.exe:FE36F269
Keygen/Patch.exe:FDD670A7
Setup/wlite551.exe:FDAF8702
这里是其它用户补充的资源(我也要补充):
暂无补充资源