专辑英文名: 99 Most Essential Romantic Masterpieces
专辑中文名: 99首好听的浪漫古典乐曲选集
古典类型: 全集作品
资源格式: MP3
发行时间: 2010年02月13日
简介: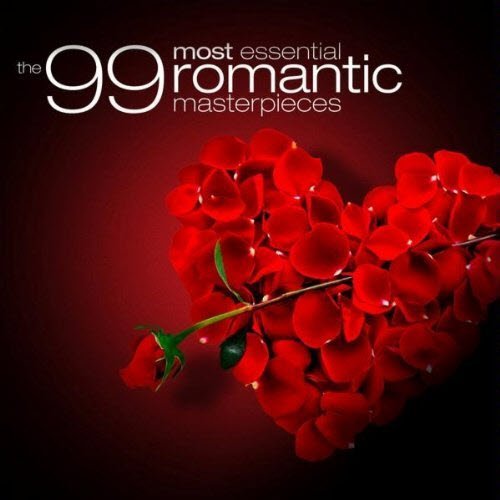 压缩码率: 210Kbps (VBR)

专辑介绍:

99首最浪漫的古典音乐名曲,The 99 Most Essential Romantic Masterpieces。情人节的烛光晚餐,就不愁没有背景音乐了。

Label: X5 Music Group

About Love

There are many kinds of love: selfish love, mutual love, unselfish love. Still, there are many ways to express love, and the results will be different. Everyone has his explanation to love, Let's have a look at the words about love of the founder of a religion in Persia.

Love is of three varieties: unselfish, mutual, and ordinary or selfish. Unselfish love is of the highest kind. Here, the one who loves, seeks only the welfare of the beloved and does not care whether he suffers pains and hardships thereby.

The second kind of love is mutual love in which the one who loves desires not only the happiness of his beloved, but has an eye to his own happiness also. Selfish love is the lowest. It makes a man care only for his own happiness without having any regard for the feelings of the beloved.


引用
爱是恒久忍耐、又有恩慈.爱是不嫉妒.爱是不自夸.不张狂.不作害羞的事.不求自己的益处.不轻易发怒.不计算人的恶.不喜欢不义.只喜欢真理.凡事包容.凡事相信.凡事盼望.凡事忍耐。爱是永不止息.
歌林多前书13:5-8

"Love is patient, love is kind. It does not envy, it does not boast, it is not proud. It is not rude, it is not self-seeking, it is not easily angered, it keeps no record of wrongs. Love does not delight in evil, but rejoices with the truth. It always protects, always trusts, always hopes, always perseveres. Love never fails. 1 Corinthians 13:4"
引用
4.0 out of 5 stars Classical music for lovers. Well, at least some of it., March 12, 2011
By
T. Fisher - See all my reviews
(TOP 50 REVIEWER) (VINE VOICE)
This review is from: The 99 Most Essential Romantic Masterpieces (MP3 Download)
Not sure what to make of this release. It was released originally on February 13, 2010 as a Valentine's Day promotional "Daily Deal". I paid $2.99 for that version, which can be found here. There are a few reviews on that page, including my original review at the time. The only apparent difference between the two versions of the set is that tracks 5 and 6 are reversed. This release of the set is now on sale for $1.99, which is a nice deal.

This set has the typical strengths and weaknesses found in many releases in the "99" series -- a lot of stray snippets and movements from larger works taken out of context. But also a lot of great music for a great value. And it's not all chopped up -- there are quite a few excellent shorter integral works, such as the Meditation from Jules Massenet's opera "Thaïs", Bachianas Brasileiras No. 5 by Heitor Villa-Lobos, a good "Rhapsody in Blue" by Gershwin, and many others.

This is supposed to be a set of classics for lovers, but I'd suggest editing your own playlist out of this material rather than just putting the MP3 player on shuffle and romanticizing. Some of the music lends itself well to a romantic mood, but a lot of it does not. So take the marketing ploy here with a grain of salt.

This is 9.8 hours of music, with a total download size of 954 MB. Bitrates are variable and average between 184 and 245 kbps.

If you have been buying a lot of these "99" sets but somehow missed this one, you'll find a very high repeat rate - although I don't have any numbers this time since this came out quite a while ago.

A nice collection of music I've come back to several times. Recommended at the bargain price, but not essential.

华文曲目的翻译是源自于明月同学发布在 43-45 楼的评论
01. 马斯内:苔依丝-沉思曲
02. 拉赫曼尼诺夫:E小调第二交响曲 第三乐章 柔板 op.27
03. 德彪西:钢琴组曲 L.75
04. 夏尔.古诺:圣母颂(万福玛丽亚) -其使用的伴奏是巴赫《平均律钢琴曲集》(Well-Tempered Clavier 1)第一首《C大调前奏曲与赋格》(BWV846)的前奏曲部分
05. 海特尔.维拉.罗伯斯:第五号巴赫风格巴西组曲 A.390 咏叹调~柔板
06. 古斯塔夫.马勒:升C小调第五交响曲 小柔板
07. 贝多芬:F大调第二浪漫曲(为小提琴和管弦乐队而作) op.50
08. 亨德尔:歌剧『雷纳尔多』 "让我痛哭吧"
09. 格里格:最后的春天
10. 埃里克.萨蒂: 裸祭舞曲1号/金诺佩蒂1号
11. 马斯卡尼:歌剧『乡村骑士』 第一幕 交响间奏曲
12. 巴赫: D小调双小提琴协奏曲 BWV1043 第二乐章 不太过分的广板
13. 史丹利.麦尔斯:短歌 (选自电影『猎鹿人』)
14. 威尔第:歌剧『纳布科』 - 希伯莱奴隶合唱曲
15. 爱德华.埃尔加:E小调大提琴协奏曲 op.85 第三乐章 柔板
16. 莫扎特:C大调第21号钢琴协奏曲 K467
17. 贾科莫.普契尼:歌剧『贾尼.斯基基』 - 噢!我亲爱的爸爸
18. 巴赫:G大调无伴奏大提琴第一组曲之前奏曲 BWV1007
19. 古斯塔夫.霍尔斯特:行星组曲 ~ 金星,和平使者 柔板
20. 维瓦尔第:四季 - 春 快板
21. 莫扎特:G大调第13号小夜曲 K.525 第二乐章 浪漫曲-行板
22. 肖邦:降E大调第二钢琴夜曲 Op. 9/2, CT. 109
23. 塞缪尔.巴伯:弦乐柔板 op.11
24. 格鲁克:歌剧『奥菲欧与尤丽迪丝』~ 第三幕 受佑精灵之舞 wq.41
25. 巴赫:哥德堡变奏曲 BWV 988 第一乐章 咏叹调
26. 乔治.比才:阿莱城的姑娘 第一组曲之第三乐章 小柔板
27. 维瓦尔第: 四季之冬 第贰乐章 广板
28. 巴赫:D大调第三管弦乐组曲 ~ 咏叹调 BWV1068
29. 哈恰图良:芭蕾舞剧 『斯巴达克斯』 柔板
30. 福雷:升F小调孔雀舞 op.50
31. 贝多芬:致爱丽丝
32. 罗德里格:阿兰胡埃斯吉它协奏曲 第二乐章 柔板
33. 肖邦:F小调第二钢琴协奏曲 Op. 21, CT. 48 第二乐章 小广板
34. 格里格:培尔.金特第一组曲 Op. 46 晨歌
35. 德彪西:钢琴前奏曲~亚麻色头发的少女 L 117
36. 亨德尔:歌剧『塞尔斯』~ 树影怎会迟来 HWV 40
37. 格里格:A小调钢琴协奏曲 op.16 第二乐章 柔板
38. 帕赫贝尔:D大调卡农
39. 鲍罗丁:D大调第二弦乐四重奏 第三乐章 小夜曲
40. 德沃夏克:B小调大提琴协奏曲 B. 191 (Op. 104) 第二乐章 不太慢的柔板
41. 莫扎特:为长笛与乐队而作的C大调行板 K315
42. 贝多芬:降B大调第二钢琴协奏曲 op.16 第二乐章 柔板
43. 莫扎特:A大调单簧管协奏曲 K622 第贰乐章 柔板
44. 德彪西:阿拉伯风格曲之一 L66
45. 海特尔.维拉.罗伯斯:肖罗舞曲1号(吉它) A161
46. 拉威尔:悼念公主的孔雀舞
47. 李斯特:爱之梦 - 降A大调第三小夜曲 S542
48. 拉赫曼尼诺夫:C小调第二钢琴协奏曲 op.18 第二乐章 持续不变的柔板
49. 舒伯特:A大调鳟鱼钢琴五重奏 D667
50. 贾科莫.普契尼:歌剧『波希米亚人』~ 你那双冰冷的小手
51. 亚马逊芭蕾组曲~第12首 摇篮曲 柔板
52. 舒伯特:圣母颂 D.839
53. 圣-桑:动物狂欢节之天鹅
54. 爱德华.埃尔加:爱的礼赞 op.12
55. 乔治.比才:卡门第二组曲 - 夜曲
56. 巴赫:婚礼康塔塔 BWV202
57. 勃拉姆斯:一朵绽放的玫瑰花 ~ 11首圣咏前奏曲之八 op.122
58. 埃里克.萨蒂:松弛
59. 莫扎特:A大调单簧管五重奏 K581 第二乐章 小广板
60. 拉赫曼尼诺夫:帕格尼尼主题狂想曲 op.43 18变奏曲~如歌的行板
61. 德沃夏克:E大调弦乐小夜曲 B.52 第四乐章 小广板
62. 爱德华.埃尔加:谜语变奏曲 ~ 第九首 猎人
63. 拉赫曼尼诺夫:G小调大提琴与钢琴奏鸣曲 op.19 第三乐章 行板
64. 德沃夏克:寂静的森林 (选自『波西米亚森林』)
65. 贝多芬:F大调第六交响曲 ~ 田园 op.68 第贰乐章 非常快的行板
66. 巴赫:C大调管弦乐第一组曲 BWV1066
67. 李斯特:降D大调第三练习曲 ~ 轻盈 S144
68. 西贝柳斯:悲伤圆舞曲 op.44
69. 贾科莫.普契尼:歌剧『托斯卡』~第三幕 今夜星光灿烂
70. 莫扎特:为小提琴所作的E大调柔板 K261
71. 海顿:C大调弦乐四重奏 ~皇帝 op.76 如歌
72. 马蒂尼:爱的喜悦
73. 贝多芬:D大调第二交响曲 op.36 第二乐章 小广板
74. 泰勒曼:G大调中提琴协奏曲 第一乐章 广板
75. 格里格:6首民歌之天鹅
76. 布鲁赫:G小调第一小提琴协奏曲 op.26 第二乐章 柔板
77. 弗兰克:天神赐粮
78. 莫扎特:G大调第三小提琴协奏曲 K216 第二乐章 柔板
79. 肖邦: 两首钢琴夜曲 Op. 27, CT. 114-115
80. 莫扎特:C大调长笛与竖笛协奏曲 K299
81. 海顿:D大调第53号弦乐四重奏 ~ 云雀 第二乐章 如歌的柔板
82. 勃拉姆斯:D大调小提琴协奏曲 op.77 第二乐章 柔板
83. 理查德.施特劳斯:四首歌曲之早晨
84. 贝多芬:C小调第八钢琴奏鸣曲 op.13 第二乐章 柔板
85. 门德尔松:E小调小提琴协奏曲 op.64 第二乐章 广板
86. 莫扎特:降B大调第十号小夜曲 K361
87. 贝多芬:F大调第五小提琴与钢琴奏鸣曲 ~ 春天 op.24 第二乐章 非常富有感情的柔板
88. 格里格:G大调霍尔堡组曲 op.40 萨拉班德舞曲
89. 拉赫曼尼诺夫:第14练声曲 op.34
90. 莫扎特:F大调第12钢琴奏鸣曲 K332 第二乐章 柔板
91. 莫扎特:D小调第20号钢琴协奏曲 K466 第二乐章 浪漫曲
92. 埃里克.萨蒂:我需要你
93. 阿曼多:双簧管小协奏曲 op.11 第二乐章 如歌的行板
94. 拉威尔:G大调钢琴协奏曲 第二乐章 极柔的柔板
95. 海特尔.维拉罗伯斯:E大调第二无伴奏吉它前奏曲
96. 巴赫:狩猎康塔塔 羊儿得以安然地吃草 BWV 208
97. 韦伯:F大调第一单簧管协奏曲 J114 第二乐章 不太过分的柔板
98. 格什温:蓝色狂想曲
99. 贾科莫.普契尼:图兰朵~今夜无人入睡
专辑曲目:
01. Thais: Meditation - Pieter Schoeman, - London Philharmonic Orchestra and David Parry
02. Symphony No. 2 in E Minor, Op. 27: III. Adagio - Royal Scottish National Orchestra
03. Suite Bergamasque, L 75: Clair de lune - Finghin Collins
04. Ave Maria (after J.S. Bach) - London Philharmonic Orchestra, London Philharmonic Choir and David Parry
05. Bachianas Brasileiras No. 5 for Soprano and Eight Cellos (1945): I. Aria (Cantilena): Adagio - Donna Brown, Sao Paulo Symphony Orchestra and Roberto Minczuk
06. Symphony No. 5: Adagietto - London Philharmonic Orchestra & David Parry
07. Romance No. 2 in F Major for Violin and Orchestra, Op. 50 - Alexeij Bruni, State Symphony Capella of Russia and Ilmar Lapinsch
08. Rinaldo, HWV 7: "Lascia ch'io pianga" - Yoshikazu Mera, Japan Philharmonic Orchestra and Shigeo Genda
09. Two Elegiac Melodies, Op. 34:2: Last Spring - Royal Stockholm Philharmonic Orchestra and Magnus Ericsson
10. Gymnopedie No. 1 - Finghin Collins
11. Cavalleria Rusticana: Intermezzo sinfonico - Bonn Classical Philharmonic and Heribert Beissel
12. Double Concerto in D Minor for Two Violins and Strings, BWV 1043: III. Largo ma non tanto - Ryo Terakado, Natsumi Wakamatsu, Bach Collegium Japan and Masaaki Suzuki
13. Cavatina - Craig Ogden
14. Nabucco: Chorus of the Hebrew Slaves (Va', pensiero, sull'ali dorate) - London Philharmonic Orchestra, London Philharmonic Choir, The London Chorus and David Parry
15. Concerto in E Minor for Cello and Orchestra, Op. 85: III. Adagio - Torleif Thedeen, Malmo Symphony Orchestra and Lev Markiz
16. Piano Concerto No. 21 in C Major, K. 467: Andante - Finghin Collins, - London Philharmonic Orchestra and David Parry
17. Gianni Schicchi: "O mio babbino caro" - Orlando Philharmonic Orchestra
18. Suite No. 1 in G Major for Solo Cello, BWV 1007: I. Prelude - Torleif Thedeen
19. The Planets, Op. 32: II. Venus, the Bringer of Peace - Saint Louis Symphony Orchestra and Walter Susskind
20. The Four Seasons, Op. 8, "Spring", cwer.ru RV 269: Allegro - Pieter Schoeman, - London Philharmonic Orchestra and David Parry
21. Serenade No. 13 in G Major, K. 525, "Eine Kleine Nachtmusik": II. Romance: Andante - Camerata Salzburg
22. Nocturne No. 2 in E-Flat Major, Op. 9 - Finghin Collins
23. Adagio for Strings, Op. 11a - London Philharmonic Orchestra & David Parry
24. Orpheus and Eurydice: Dance of the Blessed Spirits - Gunilla von Bahr, Stockholm Chamber Orchestra and Jan-Olov Wedin
25. Goldberg Variations, BWV 988: I. Aria - Tatiana Nikolaeva
26. L'Arlesienne Suite No. 1, Op. 23: III. Adagietto - Barcelona Symphony Orchestra and National Orchestra of Catalonia
27. The Four Seasons (Le quattro stagioni), Op. 8 - Concerto No. 4 in F Minor, RV 297, "Winter" (L'inverno): II. Largo - Nils-Erik Sparf and Drottningholm Baroque Ensemble
28. Orchestral Suite No. 3 in D Major, BWV 1068: Air - London Philharmonic Orchestra & David Parry
29. Spartacus: Adagio - Sofia Symphony Orchestra and Ivan Marinov
30. Pavane, Op. 50 - London Philharmonic Orchestra & David Parry
31. Bagatelle in A Minor, WoO 59, "Fur Elise" - Finghin Collins
32. Concierto de Aranjuez for Guitar and Orchestra: II. Adagio - Orchestra Of St. John's, Smith Square, & John Lubbock
33. Concerto No. 2 in F Minor for Piano and Orchestra, Op. 21: II. Larghetto - Abbey Simon, Hamburg Symphony Orchestra and Heribert Beissel
34. Peer Gynt Suite No. 1, Op. 46: Morning Mood - London Philharmonic Orchestra & David Parry
35. Preludes, Book I, L 117: VIII. La Fille Aux Cheveux De Lin (The Girl With The Flaxen Hair): Tres Calme Et Doucement Expressif - Peter Schmalfuss
36. Xerxes, HWV 40: "Ombra mai fu": Largo - Yoshikazu Mera, Japan Philharmonic Orchestra and Shigeo Genda
37. Piano Concerto in A Minor, Op. 16: II. Adagio - Eva Knardahl
38. Canon in D Major - London Philharmonic Orchestra & David Parry
39. String Quartet No. 2 in D Major: III. Notturno: Andante - Lucerne String Quartet
40. Concerto in B Minor for Cello and Orchestra, Op. 104, B. 191: II. Adagio ma non troppo - Frans Helmerson, - Gothenburg Symphony Orchestra and Neeme Jarvi
41. Andante in C Major for Flute and Orchestra, K. 315 - Gunilla von Bahr
42. Piano Concerto No. 2 in B-Flat Major, Op. 19: II. Adagio - Fumiko Shiraga
43. Concerto in A Major for Clarinet and Orchestra, K. 622: II. Adagio - Wurttemberg Chamber Orchestra, Heilbronn
44. Deux Arabesques (Two Arabesques), L 66: No. 1 - Peter Schmalfuss
45. Choro no. 1, "Choro tipico" (1920) - Celia Linde
46. Pavane pour une infante defunte (Pavane for a Dead Princess), M. 19 - Minnesota Orchestra & Stanislaw Skrowaczewski
47. Liebestraum No. 3 in A-Flat Major, G 541, Op. 62: "O lieb so lang' du lieben kannst" - Jerome Rose
48. Concerto No. 2 in C Minor for Piano and Orchestra, Op. 18: II. Adagio sostenuto - Abbey Simon, Saint Louis Symphony Orchestra & Leonard Slatkin
49. Quintet in A Major, D. 667, "The Trout": II. Andante - Rochester Chamber Players
50. La Boheme: "Che gelida manina" - Charles K. L. Davis, New York Stadium Symphony Orchestra and Wilfred Pelletier
51. Amazons Ballet Suite (1998): Lullaby: Adagio - Tbilisi Symphony Orchestra and Jansug Kakhidze
52. Ellen's Chants, D. 839: Ave Maria - Musica Antiqua New York
53. Carnival of the Animals: The Swan (Le Cygne) - Stockholm Chamber Duo
54. Salut d'Amour - Mostar Symphony Orchestra & Ilmar Lapinsch
55. Carmen Suite No. 2: Nocturne - Paris Radio Symphony Orchestra
56. Cantata, BWV 202, "Wedding Cantata": Weichet nur, betrubte Schatten - Musica Antiqua New York
57. Eleven Chorale Preludes, Op. 122: VIII. Es Ist Ein Ros Entsprungen (There Is A Rose In Flower) - Atlanta Symphony Orchestra
58. Tendrement - Elaine Bonazzi and Frank Glazer
59. Quintet in A Major for Clarinet and Strings, K. 581: II. Larghetto - Endres Quartet
60. Rhapsody on a Theme of Paganini, cwer.ru Op. 43: Variation 18: Andante cantabile - Tbilisi Symphony Orchestra
61. Serenade in E Major for String Orchestra, Op. 22: IV. Larghetto - Suk Chamber Orchestra and Josef Suk
62. Enigma Variations, Op. 36: Nimrod - The London Symphony Orchestra
63. Sonata in G Minor for Cello and Piano, Op. 19: III. Andante - Markus Stocker and Viktor Yampolsky
64. Waldesruhe (Silent Woods) for Cello and Orchestra, Op. 68: Lento e molto cantabile - Mark Drobinsky, Lithuanian Chamber Orchestra and Saulius Sondeckis
65. Symphony No. 6 in F Major, Op. 68, "Pastoral": II. Andante molto mosso - London Symphony Orchestra & Josef Krips
66. Suite No. 1 in C Major for Orchestra, BWV 1066: IV. Forlane - Slovak Chamber Orchestra
67. Trois Etudes de Concert, S.144: Etude No. 3 in D-Flat Major, "Un sospiro" - Dubravka Tomsic
68. Valse triste, Op. 44 - Gothenburg Symphony Orchestra
69. Tosca, Act III: E lucevan le stelle - Jose Perez, Nuremberg Symphony Orchestra and Hanspeter Gmur
70. Adagio in E Major for Violin and Orchestra, K. 261 - Emmy Verhey, Royal Concertgebouw Orchestra and Eduardo Marturet
71. String Quartet No. 62 in C Major, Op. 76:3, "Emperor": II. Poco adagio: Cantabile - Quartetto Pressenda
72. Plaisir d'Amour - Frank Morelli & Susan Jolles
73. Symphony No. 2 in D Major, Op. 36: II. Larghetto - London Philharmonic Orchestra
74. Concerto in G Major for Viola and Orchestra, TWV 51:G9: I. Largo - Capella Istropolitana
75. Six Poems by Henrik Ibsen, Op. 25: II. En Svane (A Swan) - Berlin Symphony Orchestra
76. Concerto No. 1 in G Minor for Violin and Orchestra, Op. 26: II. Adagio - Pavel Popov, St. Petersburg Radio Symphony Orchestra and Stanislav Gorkovenko
77. Panis Angelicus - Latvian Philharmonic Orchestra, Riga Radio Choir and Ilmar Lapinsch
78. Concerto No. 3 in G Major for Violin and Orchestra, K. 216: II. Adagio - Michail Gantvarg and St. Petersburg Soloists
79. Nocturnes, Op. 27: No. 2 in D-Flat Major: Lento sostenuto - Abbey Simon
80. Concerto in C Major for Flute, Harp and Orchestra, K. 299: II. Andantino - Peter Jancovic, Renata Modron, SWR Symphony Orchestra and Ernest Bour
81. String Quartet No. 53 in D Major, Hob. III:63, Op. 64:5, "The Lark": II. Adagio cantabile - Quartetto Pressenda
82. Concerto in D Major for Violin and Orchestra, Op. 77: II. Adagio Borika van den Booren, - Berlin Symphony Orchestra and Eduardo Marturet
83. Four Songs, Op. 27: Morgen (Morning) - Yoshikazu Mera, Japan Philharmonic Orchestra and Shigeo Genda
84. Sonata No. 8 in C Minor for Piano, Op. 13, "Sonata Pathetique": II. Adagio cantabile - Alfred Brendel
85. Concerto in E Minor for Violin and Orchestra, Op. 64: II. Andante - Jaime Laredo and Scottish Chamber Orchestra
86. Serenade No. 10 in B-Flat Major, K. 361, "Gran Partita": III. Adagio - The New York Philomusica Winds
87. Sonata No. 5 in F Major for Violin and Piano, Op. 24, "Spring Sonata": II. Adagio molto espressivo - Emmy Verhey and Carlos Moerdijk
88. Holberg Suite in G Major, Op. 40: II. Sarabande - Bergen Philharmonic Orchestra
89. Vocalise, Op. 34 - Yoshikazu Mera, Japan Philharmonic Orchestra and Shigeo Genda
90. Sonata for Piano No. 12 in F Major, K. 332: II. Adagio - Carmen Piazzini
91. Concerto No. 20 in D Minor for Piano and Orchestra, K. 466: II. Romance - Berlin Symphony Orchestra
92. Je te veux (I Want You) - Elaine Bonazzi and Frank Glazer
93. Concertino for Oboe and Strings, Op. 11: II. Andante cantabile - Pauline Oostenrijk, Sonora Hungarica and Gergely Vajda
94. Concerto in G Major for Piano and Orchestra, M. 83: II. Adagio assai - Dubravka Tomsic, RTV Slovenia Symphony Orchestra and Anton Nanut
95. Five Preludes for Solo Guitar, W 419: Prelude No. 2 in E Major: Andantino espressivo - Sonja Prunnbauer
96. Cantata BWV 208, "Was mir behagt, ist nur die muntre Jagd!": IX. Schafe konnen sicher weiden (Sheep may safely graze) - Musica Antiqua New York
97. Concerto No. 1 in F Minor for Clarinet and Orchestra, Op. 73: II. Adagio ma non troppo - Moscow Radio Symphony Orchestra
98. Rhapsody in Blue - Jeffrey Siegel, Saint Louis Symphony Orchestra and Leonard Slatkin
99. Turandot: Nessun Dorma - Andrej Kucharsky
这里是其它用户补充的资源(我也要补充):
暂无补充资源