中文名: 系统防御/修复/优化/工具
英文名: Avanquest Fix-It Utilities Professional
资源格式: 压缩包
版本: v12.0.38.28
发行时间: 2012年
简介: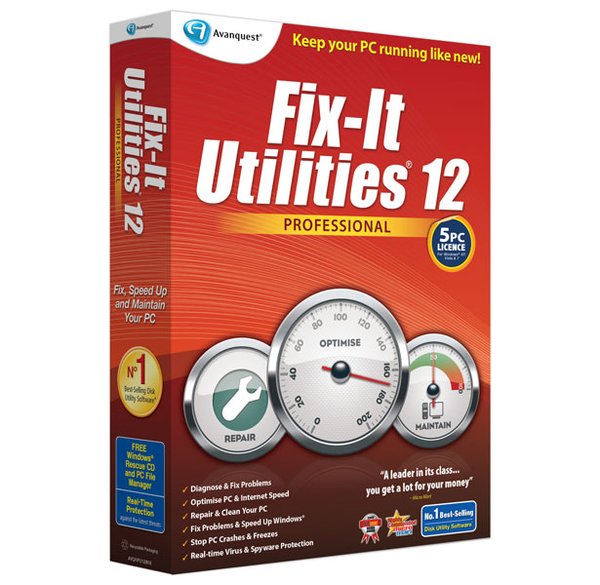 Avanquest公司的系统工具之一。 它几乎包含我们要找的每一个功能,其优越的性能,网络防御工具,主动防火墙和电子邮件防御功能用一个方式加强彼此的联系而提升你的系统性能。

  Avanquest Fix-It Utilities™ 是一个系统修复还原工具,含有: 硬件测试, 系统诊断, 抗病毒, 防止间谍程序, 加速系统启动, 去除磁盘碎片, 优化寄存器数据库, 应急起动与系统还原等等众多的功能.

  Avanquest Fix-It Utilities™ l能优化系统性能,及时发现和预防系统的问题,并能帮助用户更方便的维护系统及调度维护操作,使PC系统保持最高的运行效率。

修复- IT的专业工具™

保持你的新电脑上运行!
诊断和修正问题
自动优化计算机性能
停止电脑崩溃和冻结
提供病毒和间谍软件防护
注册表修复与维护
实时系统报告
兼容Windows XP中,Vista和7

系统要求

Windows XP, Windows Vista 32-bit, Windows Vista 64-bit, Windows XP 64-bit, Windows 7, Windows 7 64-bit, Windows 7 32-bit

Windows® XP, Windows Vista® (32-bit or 64-bit) or Windows 7 (32-bit or 64-bit)
Internet connection is required for updates. nternet Explorer 5 or later
Anti-virus and anti-spyware features are optional and not required during installation.
Live update technology ensures you get the latest version of Fix-It Utilities free for one year.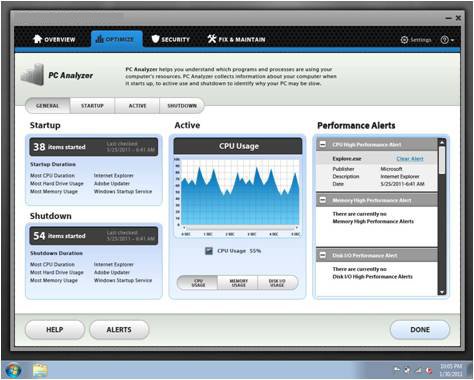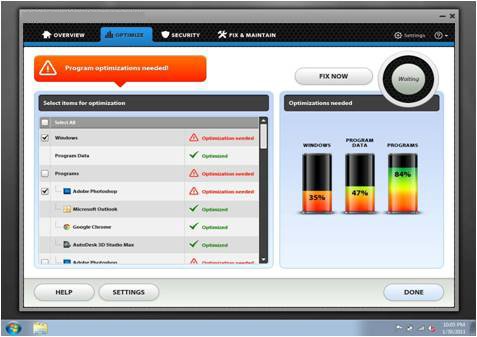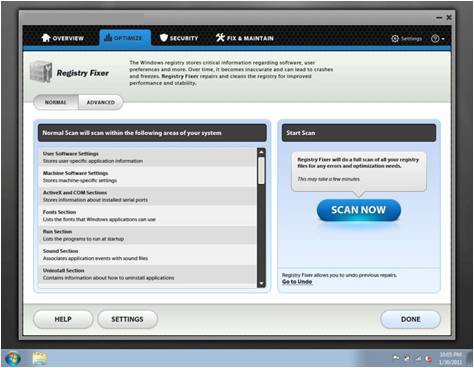 ==========================================

下载链接来自sharevirus,
未经过安装测试与安全检测,使用者后果自负与本论坛无关
软体版权归原作者及其公司所有,如果你喜欢,请购买正版

==========================================




Fix-It Utilities™ 12 Professional
£30.62
Keep Your PC Running Like NEW!

Keeps your PC running like new
400% faster registry optimiser
Intelligently identifies system slowdowns
Fixes problems and speeds up Windows
Real-time virus & spyware protection
Stops PC crashes & freezes
Protection for up to 5 PC's.


Welcome to the unique experience of the newly designed Fix-It Utilities Version 12. This year's Fix-It release see exceptional changes to this already successful, award- winning utility title.

Still keeping your PC running like new, you can now also enjoy a sleeker redesigned workflow that makes your Fix-It user experience not only easier but more intuitive.

This uniquely revamped version see the introduction of some powerful new features (including Patent-pending technology), innovative graphics, newly designed tool categories, site navigation and much more. You won't be disappointed with the powerfulness or professionalism this all-round PC Fix-It solution has to offer.

New! Patent-Pending PC Analyser Technology: Analyses Windows services, processes and programs so that you can turn off the items that slow down your PC.

New! 400% Faster Registry Repair: Registry Fixer has been redesigned to fix registry problems faster and optimise Windows performance.

New! Program Optimiser: Accelerate program launch and responsiveness by fixing slowdowns.

New! Anti-Virus-Anti Spyware Engine: Now scans and removes threats 35% faster! Get more protection for your PC from even the most malicious outside threats!


Fix-It Utilities Professional is your ultimate all in one PC repair and maintenance solution. Fix-It Professional allows you to take control of your PC with one-click comprehensive diagnostic tests that leave your computer running like new.

So What Makes Fix-It Utilities Professional So Unique? Simple, no other repair and maintenance program can offer Powerful, Patent-pending PC Analyser Technology!

This exclusive new feature analyses Windows services, processes and programs from start-up, to active use, to shutdown to identify why your PC is slow.

Easily turn off processes that use too many system resources without affecting your work.

Automatically Repair, Speed Up and Protect Your PC!
One-Click PC Maintenance
Easy-to-use wizards let you fix, clean, optimise and protect your system.
Speed Up Windows
Clean out hard drive clutter, optimise file systems and repair Windows security vulnerabilities.
Recover Lost Data & File Shredder
Remove deleted files, photos and more. Or securely erase sensitive data.
Stop Frustrating PC Crashes
Identify and eliminate PC slowdowns and freezes with step-by-step system tune-up tools.
Internet Speed Optimiser
Accelerate your browser, download and web surfing speeds.

Fix, Speed Up and Actively Protect Your PC!
Fix Windows Problems
Powerful diagnostic tools find and repair Windows problems automatically.
PC Health Status Monitoring
Real-time system reports give you an instant overview of your PC's health and security.
Improved! Broken Shortcut Fixer
Offers a even better detection and handling of network shortcuts.
Speed Up Windows
Regain wasted disk space, repair hard drive problems and speed up Windows startup.
New Program Optimiser
Accelerate program responsiveness by optimising program files.
New 400% Faster Registry Repair
Defrag, fix, clean and optimise your Windows registry.
Memory Optimiser
mprove system performance by optimising how Windows uses system memory.
Improved! File Shredder
Now shows a progress displays, allows up to 999 file shreds at a time, plus shreds everything in the Recycle bin.

Top-Rated, Integrated Anti-Virus & Anti-Spyware Protection

Award-Winning Fix-It Utilities removes existing viruses, malware and spyware from your PC and safeguards against future infections by monitoring your computer for malicious behaviour.

New! Anti-Virus-Anti Spyware Engine
Now scans and removes threats 35% faster! Get more protection for your PC from even the most malicious outside threats!



But what happens if you want to use your own installed anti-virus solution and not the one provided in Fix-It? Then that is completely fine! Our anti-virus and anti-spyware feature is not compulsory and is not required during installation is you decide to stick with your current solution.

Not a PC Expert? Don't Worry!

Faulty settings, clutter and fragmentation are the cause of most PC problems and unfortunately they come with everyday use.

With Fix-It's One-Click Optimise, Fix and Security Wizards plus Active Intelligence Technology, you can fix everything easily and automatically – no expertise required!





代码
   
   
     
     t h e c r a c k e r s o f     
         
            
   ²² ² ² ²²²   
   ²²²² ²²   
   ²   ²   
 ²   ² 
  ² ² ²²  
    ²² 
[rAD!s]   ²  ² ² ²  
 ²²²   ²² 
² ² ²² ² ²²² ²²
²²      ²
²     ²
   p r e s e n t t h e 2 0 k - c o l l e c t i o n   
² ² ‏ ‏ ² ²
  Avanquest Fix-It Utilities Professional v12.0.38.28 *INCL.KEYMAKER*  
  
‏   ‏
 
 Cracked by....: KaiZer SoZe Release-Name..: CR-FUE12.ZIP 
 Supplied......: CORE Release-Date..: 2012/03/30 
 Packaged......: Bergelmir Release-Type..: Util 
² Protection....: Serial OS............: Windows ²
 Crack/SN......: Keymaker Language......: English 
 Rating........: [You decide!] Disks.........: 28 
 
² ²
    
  ² ²  
‏ ²       ² ‏
          
 ²       ² 
   ‏  °² ²°  ‏   
‏    ±± ±±    ‏
  ²   ²² ²²   ²  
²±   ²² ²²   ±²
²²²² ² ² ²²²²
 ° ° 
°   
°²   ²°
   
 
‏ ‏  ²
²    ² ²     
   ²±   ±²  ²° 
 °²  ²²²² ²²²²     
       ²°  
  °² ‏ ²
² ‏ ..: DESCRiPTiON :.. ²
² ²
² ²
² Fix-It Utilities Professional is your ultimate all in one PC ²
² repair and maintenance solution. Fix-It Professional allows you to ²
² take control of your PC with one-click comprehensive diagnostic ²
² tests that leave your computer running like new. ²
² ²
² So What Makes Fix-It Utilities Professional So Unique? Simple, no ²
² other repair and maintenance program can offer Powerful, Patent- ²
² pending PC Analyser Technology! ²
² ²
² This exclusive new feature analyses Windows services, processes ²
² and programs from start-up, to active use, to shutdown to identify ²
² why your PC is slow. ²
² ²
² Easily turn off processes that use too many system resources ²
² without affecting your work. ²
² ²
² ²
° °
‏ ‏
     
  ‏   ± ±   ‏  
       
²  ‏  ‏ ‏  ‏  ²
     
 °²   ²° 
         
  °² ..: iNSTALL/REGiSTER NOTES :.. ²°  
² ‏ ‏ ²
² ²
² ²
² Use our keymaker to register the application. ²
² ²
² ²
² ²
² ²
² Thanks for choosing ²
² (C)hallenge (O)f (R)everse (E)ngineering! ²
² ²
² ²
² ²
² ‏ ‏  ²²
    ² ²    
  ²±   ±²  ²° 
 °²  ²²²² ²²²²     
       ²°  
  °² ‏ ²
  ..: CORE NEWS AND iNFOS :..  
   
²   ²
²  - not available -  ²
²²   ²²
²   ²
²   ²
   
   
²   ²
 
 
 
 
² ²
 
 
 
 
² 
 ‏ ‏ 
²   ²
   
² ²
²   ²
 
 
² ²
 
² ²
 
² ²
 
 
 
² ²
  ‏ ‏  
² ‏   ‏ ²
         
²  ² ²  ²
   
 
² ²
 
² ²
² ²
² ²
 
 
 
 
   
   lAYOUt & hEADER bY. [rAD!s]   
   nfO UPdATED ON [2012/01/13]   
   (c) C.O.R.E. 2 0 1 2   
 
ת CRC D3F0:3A46
这里是其它用户补充的资源(我也要补充):
暂无补充资源