专辑英文名: Sax-A-Go-Go
音乐风格: 爵士
资源格式: FLAC
发行时间: 1993年02月25日
简介: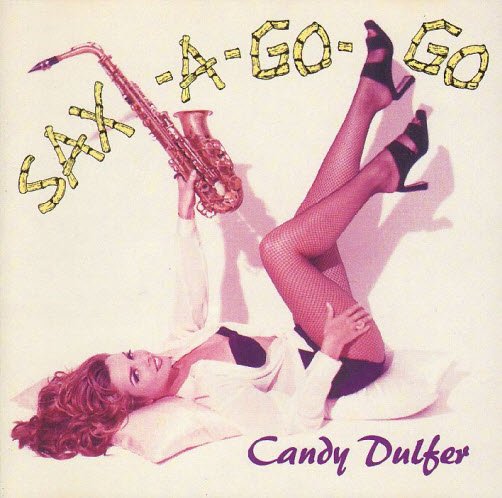 专辑介绍:

  坎迪·杜弗尔是当代爵士乐坛不可多得的绝代才女,首次在公众面前露面是在摇滚鬼才Prince的音乐录影带《Partyman》之中。杜弗尔不仅拥有漂亮的金发和俏丽的面庞,她吹奏中音萨克斯的技巧也堪称一流。
  杜弗尔从小便受到吹奏高音萨克斯的父亲的熏陶,桑尼·罗林斯、寇曼·霍金斯、德克斯特·戈登都是她心中的偶像。由于她的父亲是荷兰一位很有名的乐手,杜弗尔很顺利的被介绍进入爵士乐界。她从12岁起便跟著Rosa King这位从美国流亡到荷兰的乐手的乐队演出。15岁组建自己的Funky Stuff乐队。由于个性突出,这支乐队还被著名摇滚歌手Madonna邀请参加她的欧洲巡演。在因与Prince的合作而名闻天下后,杜弗尔得到音乐制作人DaveStewart的协助,录制了一些大受好评的乐曲。
  这是杜弗尔的第二张个人专辑,在1993年推出,她的略带放克风格的萨克斯一经面世便带起了流行旋风,成为当代爵士一种重要的构成因素。她随后推出的作品承接吸收了越来越多的音乐元素,显示了更为丰沛活跃的创造力。

Candy Dulfer – Sax-A-Go-Go
Label:BMG – D 153804
Format:CD, Album
Country:US
Released:1993
Genre:Funk / Soul, Jazz
Style:Soul-Jazz, Jazz-Funk

Alto saxophonist Candy Dulfer was brought into the limelight by Prince, who introduced her to the world via his video for "Partyman." Raised in a family heavily involved in the Dutch jazz scene, Dulfer is the daughter of Hans Dulfer, a respected jazz tenor saxophonist. Thanks to him, she listened to and studied the recordings of Sonny Rollins, Coleman Hawkins, and Dexter Gordon. He also introduced her to the stage early in life. When she was 12, she began playing in a band with Rosa King, an American expatriate who lived in Holland. Her career began by playing with brass bands but soon she was fronting her own band, Funky Stuff, who were invited to backup Madonna...

Credits▼

Drums, Lead Guitar, Rhythm Guitar, Bass, Vocals, Keyboards, Percussion, Producer, Mixed By – Ulco Bed
Lead Vocals, Backing Vocals – Wies Ingwersen (tracks: 1, 4, 6, 10)
Percussion [Additional], Drums [Additional], Recorded By, Mixed By – Frans Hendrix*
Rap [Ad Libs] – Denise Jennah* (tracks: 1, 4, 6, 10), Wendell Arthur Morrison Junior* (tracks: 1, 4, 6, 8, 10)
Recorded By [Additional] – Albert Boekholt, Jan Piet Exalto*
Vocals, Sampler, Alto Saxophone, Baritone Saxophone, Soprano Saxophone, Tenor Saxophone, Producer, Mixed By – Candy Dulfer


引用
5.0 out of 5 stars Excellent CD by a real player!, December 11, 1999
By A Customer
This review is from: Sax-A-Go-Go (Audio CD)
The first time I heard Candy Dulfer was on a Northwest Airlines music program. The tune was "Lily Was Here." Unfortunately, when I got off the plane, I didn't remember the name of the song, but I did remember her name. So when I went to the record store, I bought the first and only Candy Dulfer CD I found, which happened to be this one. Although the sorority girl image on the cover made me slightly dubious about whether I'd like the contents, I was not diappointed! This album is one of those rarest of items in my collection: a CD that I totally love from beginning to end. And now, several years after that purchase, I have no reason to revise my opinion. There are NO songs on this CD that I want to skip. Her playing, her compositions, and her selections of other artists' music to play are all excellent and the sequence of the tunes flows naturally. Want a quick way to decide whether to buy this CD? Listen to her rendition of the AWB's "Pick Up the Pieces" - Candy Dulfer is a player! She clearly loves the music she plays and she is fathful to the spirit of the music she covers at the same time she that injects her own personality and style into it. This is equally evident in her cover of "I Can't Make you Love Me" and the wonderfully lyrical "Sunday Afternoon." And perhaps best of all, she doesn't take herself too seriously, as anyone who has seen her perform live will attest. She knows her striking appearance is a focus for many, but she makes sure that everyone is very clear: her focus is on the music! Candy Dulfer is a professional in every respect, with a musical maturity that is truly impressive for someone as young as she is. This CD illustrates these atributes beautifully.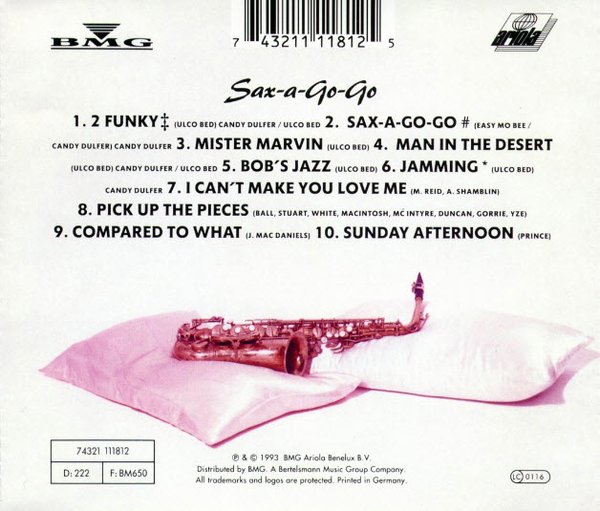 专辑曲目:
01. 2 Funky - Ulco Bed, Candy Dulfer
02. Sax-A-Go-Go
03. Mister Marvin
04. Man in the Desert - Ulco Bed, Candy Dulfer
05. Bob's Jazz
06. Jamming
07. I Can't Make You Love Me
08. Pick Up the Pieces
09. Compared to What
10. Sunday Afternoon
这里是其它用户补充的资源(我也要补充):
暂无补充资源