专辑英文名: 99 Most Essential Piano Pieces
专辑中文名: 99首好听的的钢琴曲选集
古典类型: 全集作品
资源格式: MP3
发行时间: 2010年10月04日
简介: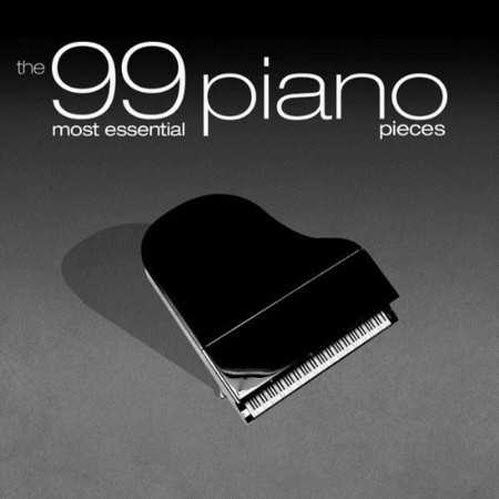 压缩码率: 210kbps (VBR)

专辑介绍:

99首最著名的钢琴曲,The 99 Most Essential Piano Pieces,有人说,如果可以把这99首曲子听得滚瓜烂熟,听音乐功力一定可以提昇不少, 就别再犹豫了。。。勇敢的踏出您的一小步。

Label: X5 Music Group


引用
20 of 20 people found the following review helpful:
5.0 out of 5 stars Less overlap than some collections, November 13, 2010
By
Threeundertwo - See all my reviews
This review is from: The 99 Most Essential Piano Pieces (MP3 Download)
If you've been collecting these X5 "99 Most Essential" sets, you'll find that this one has 76 unique pieces. This yields 8.9 hours of "new" music. If you don't have duplicates, the intact album has 10.9 hours of music.

I eliminate duplicate works by the same artist, but keep works by alternate artists. Therefore I kept "Gymnopedie No. 1" even though I have a half dozen versions of it, for example. The two "Liebestraum" that another reviewer mentioned are quite different interpretations of the same piece by two different artists.

27 composers are represented, with emphasis on Chopin, Liszt, Beethoven and Mozart.
曲目的翻译 源自于 明月弄舞同学 发布在 9-11楼的评论 !
01. 巴赫:十二平均律钢琴曲集--C大调前奏曲 BWV846
02. 莫扎特:A大调钢琴奏鸣曲 K331
03. 李斯特:爱之梦(降A小调夜曲第三号) G54 op.62
04. 贝多芬:升C小调第十四钢琴奏鸣曲(月光奏鸣曲)
05. 肖邦:降D大调前奏曲 op.28 No.15--水滴
06. 萨蒂:金诺佩蒂1号
07. D大调键盘奏鸣曲 KK. 1, L 366
08. 巴赫:哥德堡变奏曲 BWV988
09. 贝多芬:致爱丽丝(A小调小品曲) WoO 59
10. 李斯特:B小调钢琴奏鸣曲 S.187
11. 德彪西:贝加莫组曲 L75
12. 莫扎特:A小调第八号奏鸣曲 K310
13. 肖邦:降E大调夜曲 op.9
14. 贝多芬:F小调第二十三钢琴奏鸣曲 '热情' op.57
15. 肖邦:降A大调第六号波兰舞曲 '英雄'op.53
16. 拉威尔:悼念公主的孔雀舞曲
17. 拉赫曼尼诺夫:幻想曲作品 3-2.升C小调前奏曲
18. 贝多芬:第八号钢琴奏鸣曲(悲怆) op.13
19. 肖邦:G小调叙事曲 op.23
20. 德彪西:前奏曲 Book2 四月斋
21. 贝多芬:C小调第三十二号钢琴奏鸣曲 op.111 第一乐章:庄严地——有活力的、热情的快板
22. 门德尔松:无词歌 op.30
23. 德彪西:2首阿拉伯风格曲 L.66 No.1
24. 贝多芬:C小调第三十二号钢琴奏鸣曲 op.111 第二乐章:小抒情曲;非常纯朴的、如歌的柔板
25. 肖邦:降B小调第二号钢琴奏鸣曲 op.35
26. 穆索尔斯基:图画展览会(漫步)
27. 舒伯特:降G大调第三即兴曲 op.90 D899
28. 肖邦:E小调第4号前奏曲 op.28
29. 拉威尔:夜之幽灵 M.55 水妖
30. 贝多芬:C小调第二十一钢琴奏鸣曲"华尔斯坦"第一乐章 快板
31. 肖邦:升C小调即兴幻想曲 op.66
32. 肖邦:F小调第一即兴曲 op.142 D935
33. 舒曼:童年情景 op.15 第七乐章 梦幻曲
34. 肖邦:降A大调第三叙事曲 op.47
35. 贝多芬:E大调第三十奏鸣曲 op.109
36. 拉威尔:库普兰之墓
37. 肖邦:B小调第三钢琴奏鸣曲 op.58
38. 李斯特:升C小调第二号匈牙利狂想曲 S.244
39. 普罗科耶夫:第七钢琴奏鸣曲 op.83
40. 舒曼:狂欢节--小场景与四个注脚
41. 肖邦:F小调幻想曲 op.49
42. 德彪西:版画集--塔 L.100
43. 李斯特:十二首超技练习曲--第三首 风景
44. 德彪西:儿童乐园--第六首 木偶的步态舞
45. 斯克里亚宾:升F大调第五钢琴曲 op.53
46. 格里格:抒情钢琴小品 Book.8 op.65~第6首 特洛豪根的婚礼日
47. 拉赫曼尼诺夫:升G小调第12前奏曲 op.32
48. 莫扎特:A小调第八奏鸣曲 K310
49. 李斯特:降D大调第三号安慰曲 S.172
50. 阿沃.帕特:致阿丽娜
51. 李斯特:爱之梦(三首夜曲)降A大调第三夜曲 S541
52. 肖邦:降D大调'小狗'圆舞曲 op.64
53. 贝多芬:第17暴风雨奏鸣曲 op31/2
54. 柴可夫斯基:降B小调第一钢琴协奏曲 op.23 第1乐章:不太快的和极其庄严的快板—生气勃勃的快板
55. 柴可夫斯基:降B小调第一钢琴协奏曲 op.23 第2乐章:朴素的小行板—最急板—初速
56. 柴可夫斯基:降B小调第一钢琴协奏曲 op.23 第3乐章:火热的快板
57. 莫扎特:C大调第16号钢琴奏鸣曲 K545 第一乐章 快板
58. 肖邦:升C小调第三谐谑曲 Op.39
59. 门德尔松:D小调严肃变奏曲 op.54
60. 李斯特:旅行岁月之二 意大利游记 S161
61. 肖邦:b小调第一谐谑曲 Op.20
62. 格里格:A小调钢琴协奏曲 Op.16
63. 斯克里亚宾:第9钢琴奏鸣曲 Op68 F大调"黑色弥撒曲"
64. 巴赫:炫彩幻想与赋格 BWV903
65. 莫扎特:C大调第十钢琴奏鸣曲 K.330
66. 肖邦:A大调波兰舞曲--军队 op40
67. 格里格:A小调钢琴协奏曲 op.16 2-柔板
68. 莫扎特:C大调第二十一钢琴协奏曲 K.467 第一乐章 快板
69. 莫扎特:C大调第二十一钢琴协奏曲 K.467 第二乐章 行板
70. 莫扎特:C大调第二十一钢琴协奏曲第三乐章 极活泼的快板
71. 肖邦:降D大调摇篮曲 op.57
72. 斯卡拉蒂: D大调键盘奏鸣曲 KK.1
73. 肖邦:升F大调威尼斯船歌 op.60
74. 舒曼:狂欢节 op.9 -高贵的圆舞曲
75. 门德尔松:E大调变幻无常的回旋曲 op.14
76. 肖邦:升C小调圆舞曲 op.64 No.2
77. 舒伯特:F小调音乐的瞬间 op.94 No.3 D780
78. 莫扎特:F大调第十二钢琴奏鸣曲 K.332
79. 德彪西:意象集之一 水中倒影 L110
80. 贝多芬:降E大调第五 钢琴协奏曲 "皇帝"op.73 第一乐章 快板
81. 贝多芬:降E大调第五 钢琴协奏曲 "皇帝"op.73 第二乐章 稍快一些的慢板
82. 贝多芬:降E大调第五 钢琴协奏曲 "皇帝"op.73 第三乐章 回旋曲,快板
83. 拉赫曼尼诺夫:前奏曲 No.5 op.23
84. 肖邦:降D大调第二号夜曲 op.27
85. 巴赫:降B大调德国组曲(帕蒂塔)BWV.825
86. 格里格:A小调钢琴协奏曲 op.16 第一乐章 中庸的快板
87. 拉赫曼尼诺夫:幻想小品曲 op.3
88. 肖邦:G小调第一叙事曲 op.23
89. 斯克里亚宾:升D小调练习曲 op.8 No.12
90. 柴可夫斯基:四季 op.37a 秋之歌
91. 肖邦:降E大调华丽大圆舞曲 op.18
92. 德彪西:12首钢琴练习曲 L136 第一首 五指练习曲
93. 李斯特:第一首梅菲斯特圆舞曲 S.514
94. 舒曼:幻想曲集 op.12 之'夜晚'
95. 肖邦:升C小调第二夜曲 Op. Posth. 72
96. 巴拉基列夫:伊思拉美~东方幻想曲
97. 贝多芬:第25号钢琴奏鸣曲(杜鹃)G大调 op.79
98. 巴托克:小奏鸣曲
99. 舒曼:C大调阿拉伯风格曲 op.18
专辑曲目:
01. The Well-Tempered Clavier, Book 1: Prelude No. 1 In C Major, BWV 846 Kveta Novotna 1:31
02. Piano Sonata No. 11 In A Major, K. 331: Rondo: Alla Turca Finghin Collins 3:25
03. Liebestraum No. 3 In A-Flat Major, G 541, Op. 62: ''O Lieb So Lang' Du Lieben Kannst'' Jerome Rose 4:18
04. Piano Sonata No. 14 In C-Sharp Minor, Op. 27:2, ''Moonlight Sonata'': Adagio Sostenuto Finghin Collins 5:36
05. Preludes, Op. 28: No. 15 In D-Flat Major, ''Raindrop'' Ketevan Badridze 5:49
06. Gymnopedie No. 1 Finghin Collins 3:40
07. Keyboard Sonata In D Minor, KK. 1, L 366: Allegro Dubravka Tomsic 1:57
08. Goldberg Variations, BWV 988: I. Aria Tatiana Nikolaeva 3:58
09. Bagatelle In A Minor, WoO 59, ''Fur Elise'' Finghin Collins 3:16
10. Sonata In B Minor, S. 178 Dag Achatz 29:53
11. Suite Bergamasque, L 75: Clair De Lune Finghin Collins 5:13
12. Sonata For Piano No. 8 In A Minor, K. 310: III. Presto Carmen Piazzini 3:15
13. Nocturne No. 2 In E-Flat Major, Op. 9 Finghin Collins 4:53
14. Sonata No. 23 In F Minor For Piano, Op. 57, ''Appassionata'': I. Allegro Assai Sylvia Capova 10:21
15. Polonaise In A-Flat Major, Op. 53, ''Heroic'': Maestoso Peter Schmalfuss 6:24
16. Pavane Pour Une Infante Defunte Yukie Nagai 7:44
17. Morceaux De Fantasie, Op. 3: II. Prelude In C-Sharp Minor: Lento Tomislav Bavnov 4:14
18. Sonata No. 8 In C Minor For Piano, Op. 13, ''Pathetique'': II. Adagio Cantabile Dubravka Tomsic 5:36
19. Ballade In G Minor, Op. 23 Staffan Scheja 9:25
20. Preludes, Book 2: Lent (La Terrasse Des Audiences Du Clair De Lune) Yukie Nagai 5:06
21. Sonata No. 32 In C Minor, Op. 111: I. Maestoso - Allegro Con Brio Ed Appassionato Freddy Kempf 8:50
22. Songs Without Words, Op. 30: Song Of The Venetian Gondolier Jeno Jando 2:40
23. Deux Arabesques (Two Arabesques), L 66: No. 1 Peter Schmalfuss 3:55
24. Sonata No. 32 In C Minor, Op. 111: II. Arietta. Adagio Molto Semplice E Cantabile Freddy Kempf 16:44
25. Sonata No. 2 In B Minor For Piano, Op. 35: IV. Funeral March: Lento Vitaly Margulis 8:14
26. Pictures At An Exhibition (Piano): Promenade 1 Sergei Oskolkov 1:23
27. Impromptus, Op. 90, D. 899: No. 3 In G-Flat Major: Andante Sylvia Capova 6:38
28. Preludes, Op. 28: No. 4 In E Minor Ketevan Badridze 2:21
29. Gaspard De La Nuit For Piano, M. 55: I. Ondine Jana Brovkina 6:37
30. Sonata No. 21 In C Major, Op. 53, ''Waldstein'': I. Allegro Con Brio Ronald Brautigam 10:04
31. Fantaisie Impromptu In C-Sharp Major, Op. 66: Allegro Agitato Peter Schmalfuss 4:35
32. Impromptus, Op. 142, No. 1 In F Minor, D 935: Allegro Moderato Sylvia Capova 10:09
33. Kinderszenen, Op. 15: VII. Traumerei Roland Pontinen 3:15
34. Ballade No. 3 In A-Flat Major, Op. 47: Allegretto Peter Schmalfuss 6:39
35. Sonata No. 30 In E Major, Op. 109: I. Vivace, Ma Non Troppo Freddy Kempf 4:04
36. Le Tombeau De Couperin: Prelude Yukie Nagai 3:10
37. Sonata No. 3 In B Minor For Piano, Op. 58: I. Allegro Maestoso Sergio Tiempo 9:04
38. Hungarian Rhapsody No. 2 In C-Sharp Minor, S. 244 Dieter Goldmann 9:23
39. Sonata No. 7 In B Major, Op. 83: Precipitato Anthree Nikolsky 4:32
40. Carnaval, Op. 9, ''Scenes Mignonnes Sur Quatre Notes'': XII. Chopin Tamara Sanikidze 1:23
41. Fantaisie In F Minor, Op. 49 Peter Schmalfuss 12:08
42. Estampes, L 100 (1913): I. Pagodes Alexander Botalov-Mironovich 4:45
43. 12 Etudes D'execution Transcendante: Paysage Laszlo Simon 5:06
44. Children's Corner, L 113: VI. Golliwogg's Cake-Walk Peter Schmalfuss 2:43
45. Sonata No. 5, Op. 53 Yevgeny Sudbin 11:13
46. From Lyric Pieces, Book 8, Op.65: VI. Bryllopsdag Pa Troldhaugen (Wedding-Day At Troldhaugen) Eva Knardahl 7:10
47. Preludes, Op. 32: No. 12 In G-Sharp Minor: Allegro Andrei Ivanovich 2:34
48. Sonata For Piano No. 8 In A Minor, K. 310: II. Andante Cantabile, Con Espressione Carmen Piazzini 7:58
49. Consolation No. 3 In D-Flat Major, S. 172: Lento Placido Dubravka Tomsic 4:57
50. Fur Alina Alexei Lubimov 2:22
51. Liebestraume (Three Nocturnes For Piano), Nocturne No.3 In A Major, S. 541 Aldona Dvarionaite 5:54
52. Waltzes, Op. 64: No. 1 In D-Flat Major, ''Minute Waltz'' Vitaly Margulis 1:53
53. Sonata No. 17 In D Minor For Piano, Op. 31/2 (The Tempest): III. Allegretto Herbert Waltl 7:40
54. Concerto No. 1 In B-Flat Minor For Piano And Orchestra, Op. 23: I. Allegro Non Troppo E Molto Maestoso - Allegro Con Spirito Peter Toperczer, Slovak Philharmonic Orchestra and Bystrik Rezucha 20:16
55. Concerto No. 1 In B-Flat Minor For Piano And Orchestra, Op. 23: II. Andantino Semplice - Prestissimo - Tempo Primo Peter Toperczer, Slovak Philharmonic Orchestra and Bystrik Rezucha 7:07
56. Concerto No. 1 In B-Flat Minor For Piano And Orchestra, Op. 23: III. Allegro Con Fuoco Peter Toperczer, Slovak Philharmonic Orchestra and Bystrik Rezucha 7:02
57. Sonata No. 16 In C Major For Piano, K. 545, ''Sonata Facile'': I. Allegro Carmen Piazzini 3:00
58. Scherzo No. 3 In C-Sharp Minor, Op. 39 Mitsuko Uchida 7:20
59. Variations Serieuses, Op.54 Lucia Negro 12:12
60. Annees De Pelerinage II Italie, S 161, No. 7: Apres Une Lecture De Dante (Fantasia Quasi Sonata) Alfredo Perl 17:06
61. Scherzo No. 1 In B Minor, Op. 20 Povilas Stravinsky 9:56
62. Concerto In A Minor For Piano And Orchestra, Op. 16: III. Allegro Moderato Molto E Marcato - Quasi Presto - Andante Maestoso Marian Lapsansky, Slovak Philharmonic Orchestra and Bystrik Rezucha 10:20
63. Sonata No. 9, Op. 68, "Black Mass" Roland Pontinen 8:35
64. Chromatic Fantasia, BWV 903 Michael Habermann 9:42
65. Sonata For Piano No. 10 In C Major, K. 330: I. Allegro Moderato Carmen Piazzini 6:09
66. Polonaises, Op. 40: No. 1 In A Major, ''Military'' Dubravka Tomsic 4:33
67. Concerto In A Minor For Piano And Orchestra, Op. 16: II. Adagio Marian Lapsansky, Slovak Philharmonic Orchestra and Bystrik Rezucha 6:07
68. Concerto No. 21 In C Major For Piano And Orchestra, K. 467: I. Allegro Carmen Piazzini, St. Petersburg Soloists and Michail Gantvarg 13:46
69. Concerto No. 21 In C Major For Piano And Orchestra, K. 467: II. Andante (''Elvira Madigan'') Carmen Piazzini, St. Petersburg Soloists and Michail Gantvarg 5:39
70. Concerto No. 21 In C Major For Piano And Orchestra, K. 467: III. Allegro Vivace Assai Carmen Piazzini, St. Petersburg Soloists and Michail Gantvarg 6:36
71. Berceuse In D-Flat Major, Op. 57: Lullaby Peter Schmalfuss 5:10
72. Keyboard Sonata In D Minor, KK. 1: Allegro Dubravka Tomsic 1:57
73. Barcarolle In F-Sharp Major, Op. 60 Kveta Novotna 8:06
74. Carnaval, Op. 9: Valse Noble Tamara Sanikidze 1:55
75. Rondo Capriccioso In E Major, Op. 14: Andnate - Presto (Live) Sergio Tiempo 6:33
76. Waltzes, Op. 64: No. 2 In C-Sharp Minor Dubravka Tomsic 3:28
77. Moment Musicaux, Op. 94: No. 3 In F Minor, D. 780 Elisso Bolkvadze 1:41
78. Sonata For Piano No. 12 In F Major, K. 332: II. Adagio Carmen Piazzini 5:23
79. Images Pour Piano, Set 1, L 110: III. Mouvement Noriko Ogawa 3:30
80. Concerto No. 5 In E-Flat Major For Piano And Orchestra, Op. 73, ''Emperor'': I. Allegro Peter Toperczer, Slovak Philharmonic Orchestra and Libor Pesek 20:54
81. Concerto No. 5 In E-Flat Major For Piano And Orchestra, Op. 73, ''Emperor'': II. Adagio Un Poco Mosso (Attacca) Peter Toperczer, Slovak Philharmonic Orchestra and Libor Pesek 8:19
82. Concerto No. 5 In E-Flat Major For Piano And Orchestra, Op. 73, ''Emperor'': III. Rondo: Allegro Peter Toperczer, Slovak Philharmonic Orchestra and Libor Pesek 10:41
83. Prelude No. 5 In G Minor, Op. 23 Mario-ratko Delorko 4:46
84. Nocturnes, Op. 27: No. 2 In D-Flat Major: Lento Sostenuto Peter Schmalfuss 5:33
85. Partita In B-Flat Major For Harpsichord, BWV 825: I. Prelude Dubravka Tomsic 2:10
86. Concerto In A Minor For Piano And Orchestra, Op. 16: I. Allegro Molto Moderato Marian Lapsansky, Slovak Philharmonic Orchestra and Bystrik Rezucha 13:05
87. Morceaux De Fantasie, Op. 3: II. Prelude In C-Sharp Minor Dubravka Tomsic 4:23
88. Ballade No. 1 In G Minor, Op. 23 Makiko Takeda 9:14
89. Twelve Etudes For Piano, Op. 8: No. 12 In D-Sharp Minor, ''Patetico'' Sophia Lisovskaya 2:41
90. The Seasons, Op. 37a: Herbstlied Helene Gal 3:50
91. Waltz In E-Flat Major, Op. 18, ''Grande Valse Brilliante'' Elisso Bolkvadze 5:13
92. Twelve Etudes For Piano, L 136: Etude 1 Pour Les Cinq Doigts D'apres Monsieur Czerny (Five Fingers, After Monsieur Czerny) Noriko Ogawa 3:27
93. Mephisto Waltz No. 1, S. 514 Pavica Gvozdic 11:41
94. Fantasy Pieces, Op. 12: Des Abends (The Evening) Jura Margulis 4:04
95. Nocturnes, Op. Posth. 72: No. 2 In C-Sharp Minor: Lento Con Gran Espressione Roland Pontinen 4:46
96. Islamey: An Oriental Fantasy For Piano Boris Lvov 8:52
97. Sonata No. 25 (Sonatine) In G Major, Op. 79: Vivace Ronald Brautigam 2:28
98. Piano Sonatina (1905): III. Anime Liselotte Weiss 4:10
99. Arabesque In C Major, Op. 18 (1838): Arabesque In C Major, Op. 18 (1838) Minore I & II Freddy Kempf 6:17
这里是其它用户补充的资源(我也要补充):
wukekk 2012/03/18 11:50:15 补充
(part1: part2: part3:)
该内容尚未提供权利证明,无法提供下载。