中文名: CG人物造型设计软件
英文名: Smith Micro Poser Pro
资源格式: 压缩包
版本: 2012 Mac OS X
发行时间: 2011年
制作发行:
Smith Micro Software, Inc.
简介: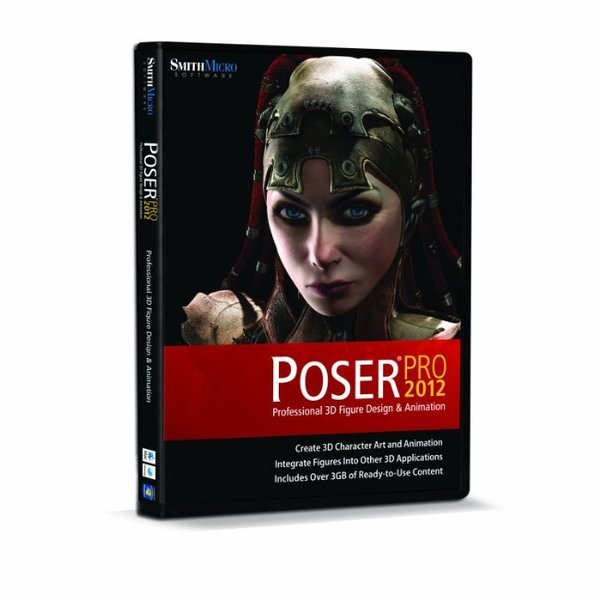 Smith Micro Poser -----人体三维动画制作软件,俗称"人物造型大师"。它提供了丰富多彩的人体三维模型,使用这些模型可轻松快捷地设计人体造型和动作,免去了人体建模的繁琐工作。

Smith Micro Poser 适合於多数 2D 与 3D 二者领域的制作环境, 提供综合专业等级应用的特点和功能, 64 位元算图引擎,和网路算图支持。 Poser Pro 的基本要求 ─ 减少设计和制作时间以及使用成千上万的设置和贴图素材的 3D 模型。

Smith Micro Poser 带来具有影响力的3D角色设计,并且创造了角色细致与生动的无限可能。提供制作角色所需的美工技术丶插图说明丶虚拟影像丶动画绘制丶漫画丶网站制作丶版画印刷丶教育知识丶医学显像丶美容整形丶游戏丶故事架构…等素材。

核心功能:
– 次表面散射
– 简单、直观的用户界面
– 渲染性能得到改善
– 70个现成图形
– 支持顶点权重贴图配置
– 超过3GB的Poser内容
– 64位应用程序和FireFly渲染引擎*
– 创作3D动画和插图
– 顶点权重贴图编辑工具套件*

– 更新的PoserFusion插件和对COLLADA的支持*


*Poser Pro 2012独有的功能。如需了解所有Poser功能和优点,
请访问:www.smithmicro.com/poser/features。

What's new in Poser 9 and Poser Pro 2012?

We've stuffed a long list of improvements into these latest versions, but here's a quick look at the top five. We'll be posting a new walk-through video each week so that you can see how the new features work—and start thinking how it might be used in your next project. Want all the info now? Visit the full detailed list of all the product features below. Vertex Weight Map Creation Tools


Poser Pro 2012 delivers the most complete suite of Weight Map Creation tools in the world of Poser. Creating and tweaking Weight Maps is easy using Pro 2012's updated Joint Editor. The Paint Mode interactively paints vertices. Apply Symmetry to transfer bend and bulge Weight Maps from side to side. Convert existing Poser figures to Weight Maps. Combine Weight Maps with Zones for Hybrid Joint Rigging. With Pro 2012's new Weight Map Auto Transfer, you'll be able to move existing Weight Map Rigs onto any new figure. This state of the art suite of Weight Map Creation Tools is going to change the face of content development for Poser.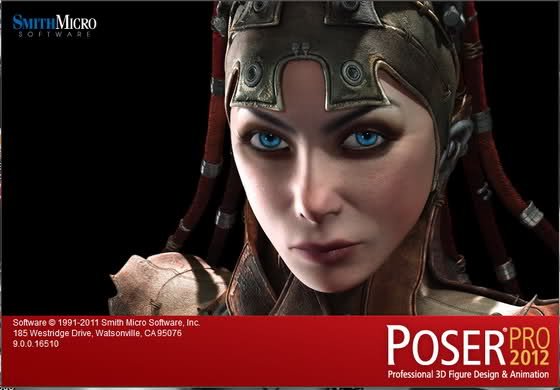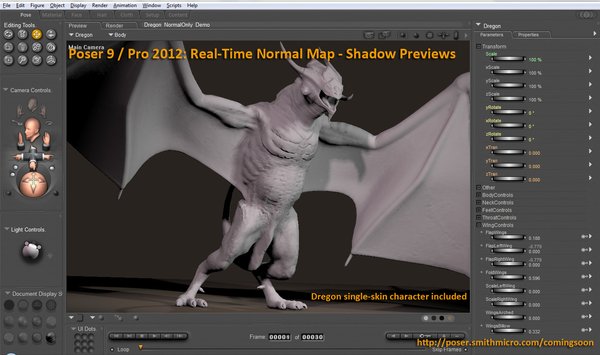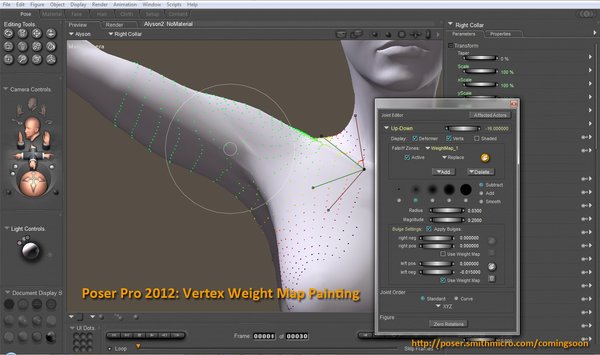 ======================================

下载链接来自sharevirus,
未经过安装测试与安全检测,使用者后果自负与本论坛无关
软体版权归原作者及其公司所有,如果你喜欢,请购买正版

======================================



Requirements

Mac OS X

Mac OS X 10.5, 10.6, or 10.7
1.5 GHz Intel Core processor (Core 2 Duo or faster recommended, 64-bit CPU required for 64-bit support, PPC supported for Queue Manager only)
1 GB system RAM (2 GB or more recommended)
OpenGL enabled graphics card or chipset recommended (recent NVIDIA GeForce and ATI Radeon required for advanced real-time preview features)
24-bit color display, 1024 x 768 minimum resolution
3 GB free hard disk space (5 GB recommended)
DVD-ROM drive (physical product only)
Internet connection required for Content Paradise
Adobe® Flash® Player 9 or newer (embedded library)
Adobe® AIR® (external library)
Hosting plugins require a valid English language installation of their respective host application: Maxon CINEMA 4D R10-13 (64 & 32-bit), Autodesk Maya 2010-2012 (64 & 32-bit), and NewTek LightWave 3D 9.6-10.1 (64 & 32-bit).





引用
Poser Pro 2012 is a new edition of the well-known 3D manager from the company Smith Micro. It is definitely the most effective method for professional designers to include a pre designed and completely distinctive three-dimensional people or physical objects to their projects with ease. This software is created with the professional designer and production group at heart. Nevertheless, with Poser it's simple to make three dimensional artwork, regardless of whether you're a skilled designer or you're dabbling in graphics for the first time. This software program offers the most comprehensive collection of weight map development equipment in the modern world of Poser, and consists of all of the tools and content material you require to begin developing three dimensional character artwork and computer animation within minutes. Poser Pro 2012 includes all you need to quickly bring life to the project.

Poser Pro 2012 helps you to make the most of high performance 64 bit Microsoft windows os's and computer hardware using the 64 bit Poser Pro software, the queue manager along with the FireFly engine. Poser Pro 2012 contains user-friendly resources and computer animation productions, which make it work together with three-dimensional figures and items relatively easy. Three dimensional figures which can be easier posed with natural joint parts throughout the entire body. Poser Pro 2012 is enhanced for 32 and 64 Bit and multi-core systems, much better utilizing system memory space and multiple threads to enhance efficiency and lower rendering times, with background object rendering so that you can carry on taking care of other tasks. Poser Pro 2012 was made with Poser character designers as the primary goal, and incorporates a collection of weight map cropping and editing tools, such as automated transport of weight to permit the development of a new weight. Information is shown from a pre-existing installation, generation of latest cards in the weight on the pre-existing zones Poser; pressure sensitive painting weight maps as well as a display of color impacted nodes. Poser Pro 2012 encourages HDRI output to create a perception with complete shadow, coloring, contrast and concentration of selection. Poser Pro 2012 may be the quickest technique for expert designers to incorporate a pre-configured and completely distinctive three dimensional figures or items for their tasks. With more than 3GB of integrated content material libraries and highly diverse 3rd party Poser content material, Poser Pro 2012 is the ideal link amongst professional development tools and ready to use three dimensional character resources, saving development some time and resources.
这里是其它用户补充的资源(我也要补充):
暂无补充资源