中文名: 主页制作工具
英文名: EZGenerator
资源格式: 压缩包
版本: v4.0.0.434
发行时间: 2012年
制作发行:
Image-Line Software
简介: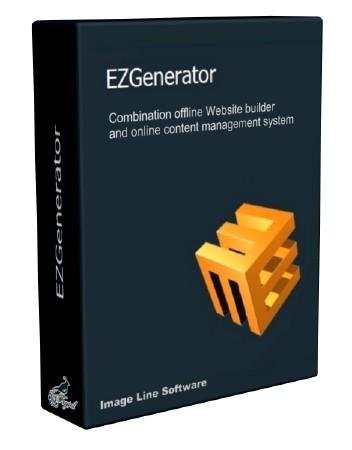 软件类型:多媒体类-主页制作
软件性质:免费破解软件
操作系统:Windows
应用平台: Windows XP/Vista/W7
问题反馈:http://forum.image-line.com/viewforum.php?f=1934
网站链接:http://www.ezgenerator.com/
软件介绍:


一款网站建设程序.它的使用很简单,不要求任何专业技巧,通过此程序任何使用者都可以建立一个高质量,超强界面效果的网站.可以在家或者办公室通过本程序建立流畅的网站管理系统,通过互联网可以随时随地更新你的网站.

EZGenerator 是Web Site的构建工具,它是家庭用户及组织正在寻找一种容易和负担得起的解决方案,可以创建一个高质量和令人满意的Website。EZGenerator不需要专门的技巧,不需要特别的CGI脚本、没有对所有者寄存服务的限制。

EZGenerator 使得website的管理成为一件轻松的事情并可以让你用一个Internet连接从你的家庭和办公室中的PC来即刻更新网站。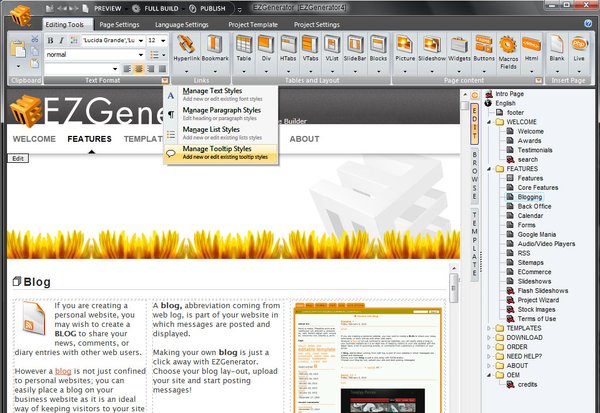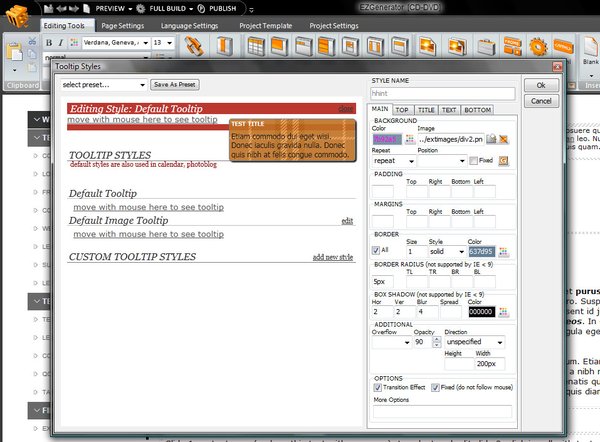 ============================================


下载链接来自sharevirus
未经过安装测试与安全检测,使用者后果自负与本论坛无关
软体版权归原作者及其公司所有,如果你喜欢,请购买正版


============================================


EZGenerator is a combination offline Website builder and online content management system. Create the structure of your website offline, add pages, blogs and other features then upload it and continue to edit 'live' content online.

Easily create a website without installing any other software on your PC or server, EZGenerator does all the hard work for you and set-up everything you need to have online.

Features:

Login windows are never exciting, but they are also a pain when your visitors can't find them on the page or they hog space.
EZGenerator 4 allows a 'Float login bar' placed at the top or to the left of the template. It remains hidden when you browse pages but appears when the visitor presses the small login button. This draws attention to the login form and also keeps your precious screen real-estate free for more content.
There is also an option (left_zero) that let's you add information in an editable area for the Float login.
How to add floating login form in project:
* Go to Project Template.
* Choose style from the Float Login drop down box
* Press the Apply button (icon) to the right and it will be added to template.


New to EZGenerator 4 is the Slide-bar window that contains images and or text with an integrated scroll-bar. This is a great way to fit more easily accessible content on your pages. You can also scroll the content automatically and adjust the speed of the transition.


Tooltips are pop-up texts that appear when the visitor places their mouse cursor over a link or feature. In EZGenerator 4 you now can design your own tool-tip boxes and make them into 'styles' to be used in your project.
From the 'Manage Tooltip Styles' dialogue (second thumbnail below) there are five tabs: Main, Top, Title, Text and Bottom. From these you can input settings to define background colour, font colour and image dimensions etc.
If you want to use a transparent image, as shown in the example you must remove background colours from all the tabs where it is present.


Administration, you gotta love it, we do!
The Central Admin panel has been given a facelift in EZGenerator 4.
Set password-protected pages, change the layout (skins) by choosing the style (click on the online administration button in project settings).


MySQL is the standard format for saving and manipulating data (customer, product, stock etc) on a web-server. Interactive pages then can access and manipulate this data to create rich and interactive visitor experience.


With EZGenerator 4 all Catalogs and Online Shops now use MySQL as their server-side data format. Once you setup the database with your server, simply input all the settings into the MySQL dialogue (click image to the left) this can be found on the Project Settings tab. If you have a project in version 3 that uses PHP to handle a shop or catalog, it will guide you to get this data converted. Make sure you have properly entered your database settings into EZGenerator first.
You can use MySQL to handle all scripts throughout your project by clicking the box next to it in the MySQL settings box and we also added a handy feature – 'editable area shop mini-cart' support, so visitors can have their shopping cart visible all the time.


引用
System Requirements


Pentium II or higher

Windows XP/Vista/W7

Internet Explorer v7.0 (or higher version)

Screen resolution: 1024 x 768 pixels (or higher)

Internet connection


When using PHP-enabled pages (eg. shop, blog, calendar, Newsletter, ...) your web hosting provider needs to support minimum PHP v4.3 (but don't worry as about 97% of all web hosting providers support PHP!).


MySQL is optional, but required for E-commerce page (shop).
这里是其它用户补充的资源(我也要补充):
暂无补充资源