专辑英文名: The Super Audio Surround Collection Volume 2
专辑中文名: 环绕王II
音乐风格: 爵士
版本: [SACD-R 2.0 + 5.1]
发行时间: 2006年01月01日
简介: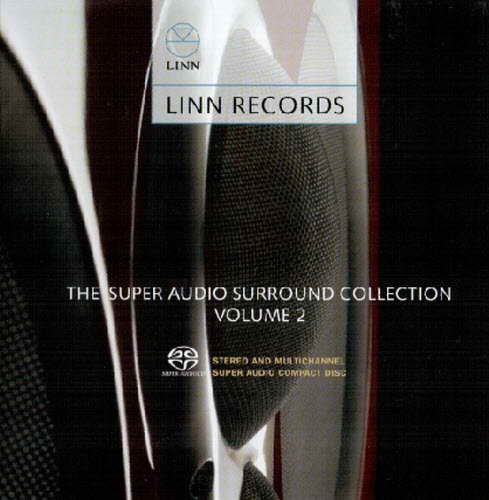 专辑介绍:

音响迷梦寐以求的17首豪华精选!!

身为高级音响制造商的Linn,为何会跨行推出音乐唱片?他们在二十多年前推出经典的Soundeck LP12黑胶唱盘时,工程师们发现市面上的一般唱片品质不足以测试出他们唱盘品质的精良之处,因此开始自行压制一些唱片以便测试,后来更进而自行找到艺人灌录自己的唱片,这就是Linn Records的由来。在这样的背景下,他们录音的效果是绝对可以肯定的。从黑胶、CD到SACD时代,Linn对高品质录音的坚持一直不减。

Linn的录音好在哪里?自然、甜美、活生是最大的优点,他们的宣称是:「没有什么比Linn的录音更接近真实音乐的震撼」,如果你有一套好的音响,不论是两声道或多声道、不论是CD或是SACD,你都可以体会到Linn优异的录音品质。在这张精选集中,Linn不但大方的将SACD两声道与多声道声轨都收录其中,就连CD层也加入了HDCD高解析度数位编码,透过HDCD解码的CD唱盘系统,你可以享受极高的数位重播品质。这张专辑的音质有一种非常迷人的甜美澄澈味道,只要音响系统够好,肯定你能够体会到他们录音优越、美质的特性。

那么,难道非音响迷们就无法享受Linn的唱片吗?如果光有发烧音质,一家唱片公司怎么可能维持20年?Linn Records对艺人的谨慎挑选,让他们拥有极佳的艺人阵容:像是克莱玛婷、芭菠杨格等女歌手都是英国爵士音乐界的重要人物,还有「爵士吉他新教父」马丁泰勒、英国2004年最佳爵士歌手伊恩萧等艺人也都广获好评。除了爵士乐、民谣之外,他们也有极佳的古典音乐艺人,像是女高音艾玛贝尔、苏格兰室内管絃乐团等的作品都有著极佳的评价。本张唱片更抢先收录芭菠杨格尚未发行的歌曲「Who Do You Love」,这位英国香颂歌后改唱蓝调歌曲的詮释功力绝对让你有迴肠荡气之感,加上Linn向来的发烧级的高品质录音,你还考虑什么呢?

Following the success of Volume One of our SACD sampler series, which Audio & Video Lifestyle called the best consumer sound quality available today *****, Linn Records have released "The Linn Surround Sound Collection Volume 2" which features many new tracks and new artists, all in glorious Linn Surround Sound.

Produced by various

Following numerous requests from the audiophile community, Linn Records has produced a stunning new collection of demonstration quality tracks that showcase our artists at their very best. Encompassing classical, jazz and Celtic music, the Linn Super Audio Surround Collection Vol. 2 exemplifies Linn Records' commitment to quality, originality and diversity. Many of the artists featured have never before appeared on a Linn Records compilation CD.

Making their debut are La Scala and Covent Garden favourite Emma Bell, whose soaring soprano voice garnered her numerous five star reviews for her 2005 album "Handel Operatic Arias", the inimitable Girl Talk, a trio of divas whose witty and politically incorrect showstoppers have delighted UK audiences for seven sell-out years, Ian Shaw, recently nominated for 'Best Vocalist' at this year's BBC Jazz Awards and named Britain's leading male jazz singer by The Guardian and Baroque specialist Alison McGillivray whose debut album "Geminiani Cello Sonatas" was awarded Best Classical CD of 2005 by the Financial Times. Tracks by William Carter and Ian Bruce, not originally released on the SACD format, have been specially mastered for inclusion on this compilation.

Particularly exciting is the inclusion of a new track by Barb Jungr, from her new album "Walking in the Sun" due for release in October 2006. This is the first time a new track has ever been previewed on a Linn compilation.

The speaker featured on the front cover is the new ARTIKULAT loudspeaker system from Linn Products. The ARTIKULAT delivers stunning audio performance from a gorgeous cabinet design. Leading edge technologies encased in an exceptionally sophisticated and elegant cabinet make ARTIKULAT Linn's highest performing multi-channel loudspeaker system. The Linn Super Audio Surround Collection Vol. 2 is the perfect demonstration partner for the ARTIKULAT, beautifully complementing its amazing surround sound capabilities.


引用
7 of 7 people found the following review helpful:
5.0 out of 5 stars Audiophile Surround Sound Hybrid SACD, September 2, 2011
By
Richard Schwab "Rick" (Monterey, CA) - See all my reviews
Amazon Verified Purchase(What's this?)
This review is from: The Super Audio Surround Collection Volume 2 (Audio CD)
This is a fine collection / sampler of music from the Linn Records catalog. Seven of the Seventeen selections are popular music and the remaining nine are classical. Once gets nearly sixty-four minutes of interesting music by a variety of artists recorded in audiophile quality sound. The sound is superb whether listening in 5.1 SACD surround, two-channel SACD or ordinary two-channel stereo on the CD layer. The surround sound tends to be more of the "ambience" style were the main sound is located in the front soundstage and the surrounds add a feeling of the room.

I highly recommend this disc and the whole series of Linn SACD samplers to audiophiles and/or music lovers.
引用
Various - Linn Super Audio Surround Collection Volume 2 Sampler - Instrument Page

Audiophile Audition
"a nice mix of classical, pop and jazz selections."

01 November 2006
Instrument Page

The characteristic of a sound system (turntables, amplifiers, loudspeakers) is impossible to measure; there is no such precision instrument. You need a much more sensitive apparatus to achieve this - the human ear. One can hear deviation of a well-known instrument, or a deformation of the stereo soundstage. However, you need a perfect reference recording to execute useful listening tests. This kind of reference CD is available from Linn Records.

You now have a new tool with which to test audiophile speakers and sound systems - a hybrid SACD sampler from Linn Records. The music is a mixture of different styles including classical, jazz and folk; the quality of the recordings are excellent. Some virtuoso's debut for the very first time on Linn Records; Emma Bell - the star from La Scala and the Covent Garden, Girl Talk, Ian Shaw - a BBC Jazz Award winner and the outstanding cellist Alison McGillivray.
01. Barangrill 巴恩葛利尔
02. Any Place I Hang My Hat Is Home 歇息之处皆我家
03. Minor Swing 轻轻摇摆
04. That Old Black Magic 传说中的魔法
05. I Enjoy Being A Girl 当女孩真好
06. Who Do You Love 你爱的是谁
07. The Meaning Of The Blues 蓝调的意义
08. Little Auk 小海雀
09. Britten: Variations On a Theme of Frank Bridge - Aria Italiana 布列顿:变奏曲 - 义大利抒情民谣
10. Dvorak: Czech Suite - Polka 德弗乍克:捷克组曲 - 波卡舞曲
11. Mozart: Flute Concerto - Rondo: Allegro 莫札特:长笛协奏曲 - 轮舞曲(快板)
12. Chopin:Fantaisie Impromptu in C# Minor Op.66 萧邦:幻想即兴曲 - 升C小调作品66
13. Orrida a gl'occhi miei (To My Eyes) 韩德尔歌剧:阿里欧兰特
14. Erskine : Overture in C Op.1 No.2 – Allegro 厄尔斯金:C大调序曲作品1,第二号 - 快板
15. Geminiani : Sonata Op.5 No.4 – Allegro 杰米尼亚尼:奏鸣曲作品5,第四号 - 快板
16. Gigue a la Maniere Anglois 柯贝塔:吉格舞曲
17. Lassie wi' the Lintwhite Locks 戴著白色头巾的少女
专辑曲目:
01. Barangrill by Ian Shaw Joni Mitchell arr. Ian Shaw
02. Any Place I Hang My Hat Is Home by Richard Rodney Bennett Johnny Mercer, Harold Arlen
03. Minor Swing by Martin Taylor Reinhardt, Grappelli arr. Taylor
04. That Old Black Magic by Sarah Moule Johnny Mercer, Harold Arlen arr. Simon Wallace
05. I Enjoy Being A Girl by Girl Talk Richard Rodgers, Oscar Hammerstein II
06. Who Do You Love By Barb Jungr Ellas McDaniel
07. The Meaning Of The Blues by Claire Martin Bobby Troup, Leah Worth arr L.Cottle
08. Little Auk by Haftor Medboe Group
09. Aria Italiana by The Scottish Ensemble Benjamin Britten
10. Czech Suite - Polka by the Scottish Chamber Orchestra Antonin Dvorak
11. Flute Concerto - Rondo: Allegro by the Scottish Chamber Orchestra with Alison Mitchell - flute Wolfgang Amadeus Mozart
12. Fantaisie Impromptu in C# Minor Op.66 by Artur Pizarro Frederic Chopin
13. Orrida a gl'occhi miei (To My Eyes) by Emma Bell Georg Frederic Handel
14. Overture in C Op.5 No.4 - Allegro by Concerto Caledonia Thomas Erskine
15. Sonata Op.5 No.4 - Allegro by Alison McGillivray
16. Gigue a la Maniere Anglois by William Carter Francesco Corbetta
17. Lassie wi' the Lintwhite Locks by Ian Bruce Robert Burns

Total Time: 64:16
这里是其它用户补充的资源(我也要补充):
暂无补充资源