专辑英文名: Delta Crossroads
专辑中文名: 密西西比十字路口
音乐风格: 蓝调
资源格式: FLAC
版本: [Mp3 + Flac]
发行时间: 2000年07月25日
简介: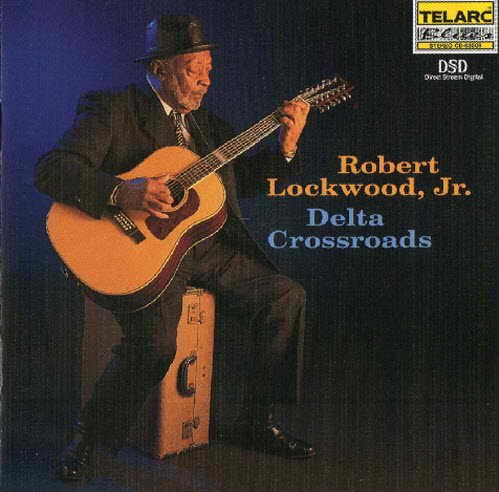 压缩码率: 320Kbps

专辑介绍:

身为密西西比蓝调之王罗伯强生的唯一嫡传弟子,拉克伍德多年来一直坚持著乡村蓝调传统,以纯粹深刻的音乐,感动了无数的蓝调乐迷,就像在这张《密西西比十字路口》专辑里面,拉克伍德一人一琴,以最简单的自弹自唱,呈现出动人无比的声音。专辑中拉克伍德弹奏十二弦民谣吉他,整个音乐空间更加丰富满盈,拉克伍德的吉他演奏技巧绝佳,能够以一把吉他同时表现旋律与节奏,让听眾产生有两个吉他手同时演奏的错觉。专辑中他演唱了罗伯强生的〈32-20Blues〉、"闪电"霍普金斯的〈C C Rider〉等蓝调经典名曲,以及拉克伍德自己的创作曲,情感浓郁的演唱,让人再三低迴,久久不能自己。

By
ED KOPP,
Published: August 1, 2000

Robert Lockwood Jr. is a blues treasure. Common-law stepson and one-time protégé to the legendary Robert Johnson (who lived on and off with his mother), Lockwood remains a very vital musician at age 85. On Delta Crossroads, the Arkansas-born singer/guitarist again pays tribute to his stepfather with a solo performance that's spare but powerful.

Lockwood's song choices seem a bit too obvious here, but his sturdy, avuncular vocals and deft picking on 12-string amplified guitar (a hollow-bodied acoustic) make the familiar sound new. Eight of these 16 songs were written by Johnson, including "32-20 Blues," "I Believe I'll Dust My Broom," and "Ramblin' on My Mind ." Lockwood tosses in sundry other chestnuts ("C.C. Rider, "Keys to the Highway"), as well as a few new originals.

Lockwood's synopated guitar work is obviously descended from Johnson's style, but with significant differences. For one thing, Lockwood doesn't use a bottleneck here. Furthermore, he executes some changes that would confound most present-day guitarists, never mind a bluesman from the '30s. His voice is less ominous than Johnson's, but it conveys the spirit of a man who's lived long and hard.

Lockwood makes these old tunes sound so natural. I guess when you've been singing and picking the blues for 70 years, you get it right after awhile. A century or so after the Delta blues was born, the music still lives and breathes on Delta Crossroads.

Record Label: Telarc Records | Style: Blues


引用
Born: March 27, 1915 in Turkey Scratch AR

Died: November 21, 2006 in Cleveland OH

Mentored in the blues by the legendary Robert Johnson, Robert Lockwood Jr. was, well into the new millennium, the most accomplished champion of Johnson's Delta-born guitar style. Although Lockwood recorded sporadically throughout his lifetime, and the constant questions about Johnson often irritated the guitarist, he quietly forged a significant career than would win him two W.C. Handy Awards, a Grammy™ Award, and induction into the Blues Hall of Fame. Lockwood would influence a generation of younger bluesmen, including B.B. King.
Robert Junior

Lockwood was born in 1915 in a rural village known as "Turkey Scratch," west of Helena, Arkansas, although his birthplace is often credited as Marvell AR. Not much is known of Lockwood's early life, save that he began playing the organ in his father's church at 8 years of age. After his parents were divorced, his mother Esther took up with Delta blues legend Robert Johnson, who lived with the women, when not on the road performing, for over a decade.

The young Robert abandoned organ in favor of guitar, and was taught the rudiments of the instrument by Johnson, who had become the boy's de facto "stepfather." By the age of 15, Lockwood was performing professionally around Helena, sometimes with Johnson, but typically with Sonny Boy Williamson II (Rice Miller) or Johnny Shines. Throughout the 1930s, Lockwood played juke joints, fish fries, house parties, and street corners throughout the Mississippi Delta region, where he was known as "Robert Junior" due to his relationship with Johnson.
Making Of A Legacy

After Johnson's death in 1938, Lockwood began to make a musical legacy of his own. Lockwood was one of the first bluesmen to begin playing an electric guitar, and he would expand beyond the country blues of the Mississippi Delta to include jazzier elements in his sound. During the late 1930s and early 1940s, Lockwood would travel between Helena, Memphis, St. Louis, and Chicago. He performed as both a solo act and as a duo with Williamson, appearing regularly on the harp player's King Biscuit Time radio program on KFFA radio in Helena. Lockwood also played with Howlin' Wolf in Memphis.

Lockwood made his first recordings in 1941 for Bluebird Records, traveling to Aurora, Illinois to record four songs, including "Take A Little Walk With Me" and "Little Boy Blue," staples of the guitarist's live shows for decades. Lockwood continued to perform across the south throughout the 1940s, finally moving to Chicago in 1950, where he would become a session player for Chess Records. During the 1950s, Lockwood would record and perform with a number of the blues biggest stars, including Little Walter, Sunnyland Slim, and Muddy Waters, among many others.

引用
Review

by Curtis Zimmermann

For Delta Crossroads, Robert Lockwood Jr., a former student of Robert Johnson, returns to his Delta blues roots. This 16-track album features Lockwood with only his 12-string acoustic guitar. It is rather strange hearing old Delta blues sung by one of its originals on a modern recording. All of the notes from the guitar are clear. Plus, his voice isn't scuffed up by the scratches and pop of the vinyl recording. Lockwood plays a mix of Robert Johnson tunes, a few of his own, and some blues standards including "C.C. Rider." With its high production quality and Lockwood's unique and possibly near-extinct style of singing, Delta Crossroads is a strong testament to the endurance of a Delta blues original.


5.0 out of 5 stars Another gem by a master, September 12, 2000
By
R. Weinstock (Falls Church, VA USA) - See all my reviews
(VINE VOICE) (REAL NAME)
This review is from: Delta Crossroads (Audio CD)
Robert Lockwood, Jr., remains a national blues treasure who still sounds as fresh and vital today as he did decades ago. Telarc has issued a new cd, Delta Crossroads, which is surprising in being a solo acoustic album. Robert is heard on fine performances of a number of blues associated with his stepfather, Robert Johnson's songs, several other blues standards and his own originals.This is not his first acoustic blues album. He recorded for a French label, Plays Robert & Robert which has been reissued in the US on Evidence. And he has included tracks on prior albums in a similar vein. Robert has recorded most of the songs heard here in the past, although perhaps under different titles. For example, his This Little Girl of Mine was recorded with his band as Hold Everything on his first Trix album. This writer is familiar with other renditions of most of the Robert Johnson songs. Johnson's 32-20 Blues that opens this album may be the one song I have not heard him on record do before. Lockwood, in fact, recorded Dust My Broom prior to Elmore James, although it was issued later, and he did Rambling on My Mind on his Steady Rolling Man album on Delmark. He plays with his usual skill and sings straightforwardly and without any artifice. Its nice to hear renditions of performances of blues classics he regularly performs including C.C. Rider and Leroy Carr's Mean Mistreater and In the Evening, which is juxtaposed with a rendition of Love In Vain, which uses the latter tune's melody. This is beautifully recorded and produced by Joe Harley and is a worthy addition to his growing body of recordings. Hopefully we will get a new album of Robert with his band real soon.
专辑曲目:
01. 32-20 Blues / Johnson 3:16
02. Mean Mistreatin' Mama / Carr, Robinson 4:17
03. This Little Girl of Mine / Lockwood 4:03
04. Stop Breakin' Down / Blues Johnson 3:35
05. My Woman Came Came Walking Down / Lockwood 5:16
06. C.C. Rider / Hopkins, Hurt 3:57
07. Little Queen of Spades / Johnson 2:10
08. I Believe I'll Dust / My Broom James, Johnson 4:02
09. In the Evening (When the SunGoes Down) / Carr 5:03
10. We're Gonna Ball Tonight / Lockwood 3:21
11. Mr. Downchild / Johnson, Simmonds, Youlden 3:29
12. Run Your Mama / Lockwood 4:21
13. Ramblin' on My Mind / Johnson 2:51
14. Love in Vain Blues / Johnson 3:27
15. Train My Baby / Lockwood 3:34
16. Keys to the Highway / Gillum 4:24
这里是其它用户补充的资源(我也要补充):
暂无补充资源